This McDonald's SWOT analysis reveals how the most successful fast-food chain company of all time uses its competitive advantages to continue dominating fast-food industry.
It identifies all the key strengths, weaknesses, opportunities and threats that affect the company the most. If you want to find out more about the SWOT of McDonald's, you're in the right place.
For more information on how to do a SWOT analysis please refer to our article.
Keep reading.
Company Overview
Name
McDonald's Corporation
Founded
May 15, 1940
Logo
Industries served
Restaurants (McDonald's, McCafé, McExpress, McStop)
Geographic areas served
Worldwide (40,275 restaurants in 120 countries) (2022)
Headquarters
Oak Brook, Illinois, United States
Current CEO
Chris Kempczinski
Revenue (US$)
$23.183 billion (2022)
Net Income (US$)
$6.177 billion (2022)
Employees
offices and company-owned restaurants: 150,000 (2022)
including franchises: around 1,700,000
Main Competitors
Burger King Worldwide, Inc., Darden Restaurants, Inc., Doctor's Associates, Inc. (Subway), Domino's, Inc., Dunkin' Brands Group, Starbucks Corporation, Wendy's Company and many other restaurant chains.
McDonald's Corporation's business overview from the company's financial report:
The Company operates and franchises McDonald's restaurants, which serve a locally-relevant menu of quality food and beverages sold at various price points in more than 100 countries. McDonald's global system is comprised of both Company-owned and franchised restaurants.
McDonald's franchised restaurants are owned and operated under one of the following structures – conventional franchise, developmental license or affiliate. The business relationship between McDonald's and its independent franchisees is of fundamental importance to overall performance and to the McDonald's Brand.
This business relationship is supported by an agreement that requires adherence to standards and policies essential to protecting our brand.
The Company is primarily a franchisor, with more than 90% of McDonald's restaurants currently owned and operated by independent franchisees.
Franchising enables an individual to be their own employer and maintain control over all employment related matters, marketing and pricing decisions, while also benefiting from the strength of McDonald's global brand, operating system and financial resources.
The Company's typical franchise term is 20 years. The Company requires franchisees to meet rigorous standards and generally does not work with passive investors. The business relationship with franchisees is designed to ensure consistency and high quality at all McDonald's restaurants.
Conventional franchisees contribute to the Company's revenue through the payment of rent and royalties based upon a percent of sales, with specified minimum rent payments, along with initial fees paid upon the opening of a new restaurant or grant of a new franchise.
Products
McDonald's restaurants offer a substantially uniform menu, although there are geographic variations to suit local consumer preferences and tastes. In addition, McDonald's tests new products on an ongoing basis.
McDonald's menu includes hamburgers and cheeseburgers, chicken sandwiches, wraps, french fries, salads, oatmeal, shakes, desserts, sundaes, soft serve cones, pies, soft drinks, coffee and other beverages. In addition, the restaurants sell a variety of other products during limited-time promotions.
McDonald's restaurants in the U.S. and many international markets offer a full or limited breakfast menu. Breakfast offerings may include Egg McMuffin, Sausage McMuffin with Egg, McGriddles, biscuit and bagel sandwiches and hotcakes.
Quality, choice and nutrition are increasingly important to our customers and we are continuously evolving our menu to meet our customers' needs."[1]
You can find more information about the business in McDonald's official website or Wikipedia's article.
McDonald's SWOT analysis
Strengths
Weaknesses
1. The second-largest restaurant network serving customers in over 120 countries
2. The most recognizable brand in restaurant industry
3. "System" alignment and geographic diversification
4. Focus on improving customer experience through stronger digital capabilities
5. The largest advertising budget among competitors
1. The reputation of a cheap place to eat at
2. Too complex menu slowing down ordering and delivery
3. Lack of focus on improving food quality
4. Large debt
Opportunities
Threats
1. Further expansion of home delivery in the U.S. and other major international markets
2. Introduction of a loyalty program for mobile ordering and payment app
3. The demand for higher quality ingredients
4. Diversification through acquisition of smaller growing fast casual chains
5. Growing middle class in China
1. Intensifying competition
2. New food safety and work regulations
3. Declining demand for fast-food
Strengths
1. The second-largest restaurant network serving customers in over 120 countries
As of 2018, McDonald's operates the second-largest restaurant network in the world. In total, the company and its franchisees operate 37,241 restaurants in 120 countries.
Figure 1. Largest quick service restaurant (QSR) chains by number of locations in 2018
| Rank | Brand Name | Locations |
| --- | --- | --- |
| 1. | Subway | 43,772 |
| 2. | McDonald's | 37,241 |
| 3. | Starbucks | 27,339 |
| 4. | KFC | 21,487 |
Source: The respective Companies' financial reports and official websites [1][2][3][4][5]
In terms of sales, McDonald's outrivals any other QSR chain in the world with US$23.183 billion in sales in 2022 alone. The sheer size of the company's restaurant network is a strength that provides many advantages over competitors, including:
Economies of scale. The company can share its fixed costs over many restaurants locations, which makes McDonald's one of the cheapest places to eat at.
Huge gains from implementing best practices. The company can identify better ways of performing tasks, managing restaurants or hiring new employees and can achieve huge gains by implementing these best practices in its vast network of restaurants.
Market power over suppliers and competitors. Due to its size, McDonald's can exercise its market power over suppliers by requiring lower prices from them. The company clearly demonstrates this with The Coca Cola Company. Because of McDonald's and The Coca Cola Company's agreement, no other restaurant chain can sell Coca Cola drinks for lower prices than McDonald's, even if it means losing the business to PepsiCo. The Coca Cola Company could easily get out of such agreement if McDonald's wouldn't be so huge and would generate less income for The Coca Cola Company. McDonald's can also use its size to affect the competition by underpricing some of its items or driving them out of the best locations.
Wide audience reach. McDonald's restaurant network allows the chain to reach more customers than most of its rivals could reach. According to the Company's CEO[6], in five of its largest markets, 75% of population lives within 3 miles of McDonald's restaurants. Wide audience reach does not only help the company to target more customers and increase brand awareness, but also to introduce new services, such as home delivery.
2. The most recognizable brand in restaurant industry
McDonald's opened its first restaurant in 1940.[7] Since then, the company has become the world's largest restaurant chain in terms of revenue with the most recognizable brand in the market.
According to Forbes[8] and Interbrand[9], McDonald's brand is 9th and 12th most valuable brand in the world, worth US$40.3 billion and US$41.533 billion, respectively. No other restaurant brand, except Starbucks, is included in the list of the top 50 most valuable brands.
The brand value is closely related to the brand recognition and reputation. Usually, the more valuable a brand is the better it is recognized worldwide. McDonald's, which operates in 120 countries, where billions of people live, enjoys some of the greatest brand awareness among all global corporations.
Only KFC operates in more countries (131)[4] than McDonald's and can compare in brand awareness with it. Brand awareness also helps to introduce new products or sell the current ones faster as the company needs to spend less money on advertising.
While, McDonald's reputation has suffered a lot during the years, the company is still recognized for its innovations in fast-food industry and the American business values it brings to other countries.
Figure 2. McDonald's brand value 2000-2017
Few direct competitors have such a valuable and recognizable brand, which strengthens the company.
3. "System" alignment and geographic diversification
One of the key McDonald's strengths is the alignment between the company, its franchisees and suppliers (called the 'System'). McDonald's has a well geographically diversified portfolio. The company earns only 35.1% of its total revenue in the domestic U.S. market. Most of McDonald's competitors heavily rely on one country to generate the majority of their revenue. Starbucks generates 73.8%[3], while Burger King, Subway and Wendy's receive over 50% of their revenue from the U.S. alone. On the other hand, Yum! Brands, which operates KFC, Pizza Hut and Taco Bell brands, rely on China to generate the majority of its revenue.
Figure 3. Geographic breakdown of McDonald's revenue in 2017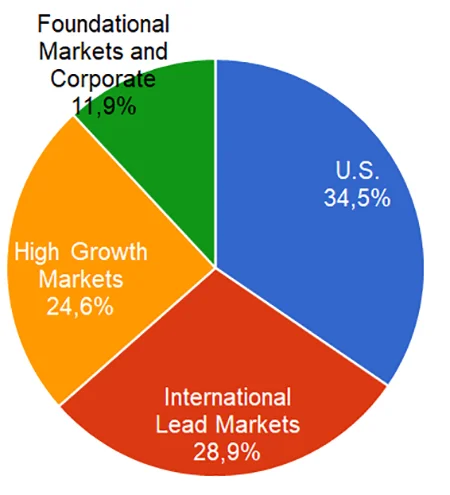 Heavy geographic diversification leads to two things:
Menu localization. Fast-food restaurant chains operate in many diverse cultures. Consumers' food preferences vary from one country to another. Therefore, the ability to adapt food menus to local tastes is very important for McDonald's if it wants to attract new customers and gain local support. Often, meals and their tastes are modified for different regions in the same country.
Fragmented supply chain. Supply chains created in one country can rarely be extended to serve the restaurants in another. Therefore, new supply chains have to be organized in every new geographical market. Different supply chains add to the supply chain complexity and costs.
Geographic diversification is an advantage for as long as the company is able to effectively control its operations. This is where the System's (McDonald's, it's franchisees and supply chain) alignment is the key to successful geographic diversification. McDonald's is able to secure franchisees' and suppliers adherence to the company's standards through various agreements and land or lease control.
In addition, System's alignment helps to implement and scale the ideas that meet customers' changing needs faster and more easily.
According to the company: "McDonald's continually builds on its competitive advantages of System alignment and geographic diversification to deliver consistent, yet locally-relevant restaurant experiences to customers as an integral part of their communities."[1]
Few of McDonald's rivals highlight their relationship with franchisees, supply chain management and geographic diversification as their competitive advantages.
4. Focus on improving customer experience through stronger digital capabilities
Over the last few years, McDonald's struggled to revive its slowing sales. The traffic to the company's restaurants was decreasing each year up until 2017 when it improved only slightly. Customers are turning away to newer brands, which offer both, better quality food and service. In order to combat that, McDonald's CEO Steve Easterbrook has announced a new plan, which focuses on improving customer experience through stronger digital capabilities.[14]
The company has been lacking in its digital efforts and lagged behind rivals, such as Starbucks, Panera Bread and Dunkin' Donuts. In 2016, the company has announced a new concept of its restaurants called 'Experience of the Future'. The new concept of restaurants is aimed at improving customer experience through faster and more convenient ordering. The new restaurants include digital ordering kiosks, order personalization and table service as well as improved functionality of McDonald's app. The company has already seen the success with the 'Experience of the Future' concept and is accelerating the deployment of such restaurants across the U.S. and international markets. [14]
In addition to the new concept restaurants, McDonald's has introduced mobile ordering and payment app, which allows skipping lines entirely. The company is also planning to facilitate drive-thru experience by introducing more digital solutions to its customers.
Although it's just the beginning of McDonald's efforts to build stronger digital capabilities, the introduction of new digital solutions and expansion of Experience of the Future restaurants has already improved ordering process and overall customer experience. Few companies are capable of converting their digital efforts to real gains for their customers.
5. The largest advertising budget among competitors
McDonald's spent US$532.9 million on advertising and related expenses in 2017.[1]. Even though, McDonald's advertising spending has declined over the last 2 years, the company still spent the same amount as what Yum! Brands (US$245 million)[4], Starbucks (US$282.6 million)[3] and Burger King (US$7.4 million)[5] spent combined.
Figure 4. McDonald's and its competitors advertising spending (in US$ millions)
| Company | 2017 | 2016 | 2015 |
| --- | --- | --- | --- |
| McDonald's | 532.9 | 645.8 | 718.7 |
| Starbucks | 282.6 | 248.6 | 227.9 |
| Yum! Brands | 245 | 260 | 255 |
| Burger King | 7.4 | 5.5 | 13.7 |
Source: The respective companies' financial reports[1][3][4][5]
In general, the more a company spends on advertising the more customers and sales it will generate. No rival can match McDonald's huge spending on advertising and the associated brand awareness it brings.
Weaknesses
1. The reputation of a cheap place to eat at
Even though McDonald's has invested heavily in its premium menu, it is still seen as a budget place to grab a quick bite. This hurts the company in two ways.
First, the company offers US$1, US$2 and US$3-dollar menu, which is aimed to attract price-sensitive consumers whose incomes are low and who are McDonald's primary customers. [15] Nonetheless, for quite some time most of the meals on its menu have been priced well above this amount. Some are priced at US$5 or above. Price increases significantly lower the demand from such customers.
Second, McDonald's has invested heavily in redesigning its traditional restaurants, introducing its premium menu and expanding the network of McCafé restaurants, whose purpose was to attract more premium customers that can afford to spend US$5 or US$7 for a meal. However, relatively few premium customers were attracted due to the chain's association with cheap food and poor quality service.
2. Too complex menu slowing down ordering and delivery
When McDonald's opened its first restaurant, the company was selling only a few key items on its menu. For the first McDonald's restaurants to thrive, it was enough to sell only a few different burgers, french fries, milkshakes and a few side items. That's because the company was focusing on the speed and low-cost quality food. Usually the more items are offered on the menu the longer it takes for a customer to make his decision. With complex menu, orders also became more difficult for employees to fulfill.
This is one of the reasons why McDonald's performance has downgraded over the years. The first McDonald's restaurant offered only 9 items on its menu.[16] This number increased to 85 items in 2007 and to around 120 items in 2018.[17] With so many items on its menu, McDonald's service has slowed down significantly.
According to QSR drive-thru performance studies,[18][21] McDonald's average drive-thru service speed increased from 184.2 seconds in 2011 to 239.03 seconds in 2017.
Figure 5. McDonald's average drive-thru service speed in 2011-2017 (in seconds)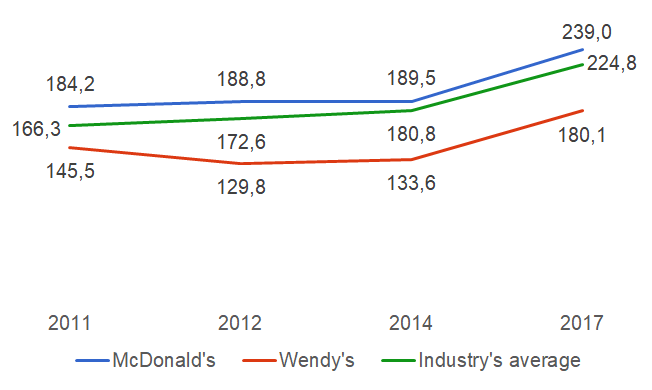 Over the last 7 years, McDonald's drive-thru service times increased each year. The company was never able to outperform the industry's average service time since 2011 and is well behind the industry's top performers. In 2017, Dunkin' Donuts and Wendy's average drive-thru service time was only 173.85 and 180.5 seconds, accordingly, compared to McDonald's 239.03 seconds.
Longer service time results in poor customer experience, more stress for employees and fewer sales.
3. Lack of focus on improving food quality
In 2017, McDonald's revealed a new global growth plan.[1] The company outlined the following 5 key objectives it focuses on to successfully achieve growth:
Enhancing digital capabilities;
Delivery in the U.S.;
More 'Experience of the Future' restaurants in the U.S.;
New cash returns;
New financial targets.
The problem is that these objectives do not address the key problem McDonald's customers have with the chain. It's food quality.
In a Consumer Reports survey[22] 32,000 respondents identified McDonald's as the worst fast-food chain from a list of the 21 largest fast-food chains. The chain scored lowest in food quality and freshness.
Figure 6. Best rated burger chains in 2017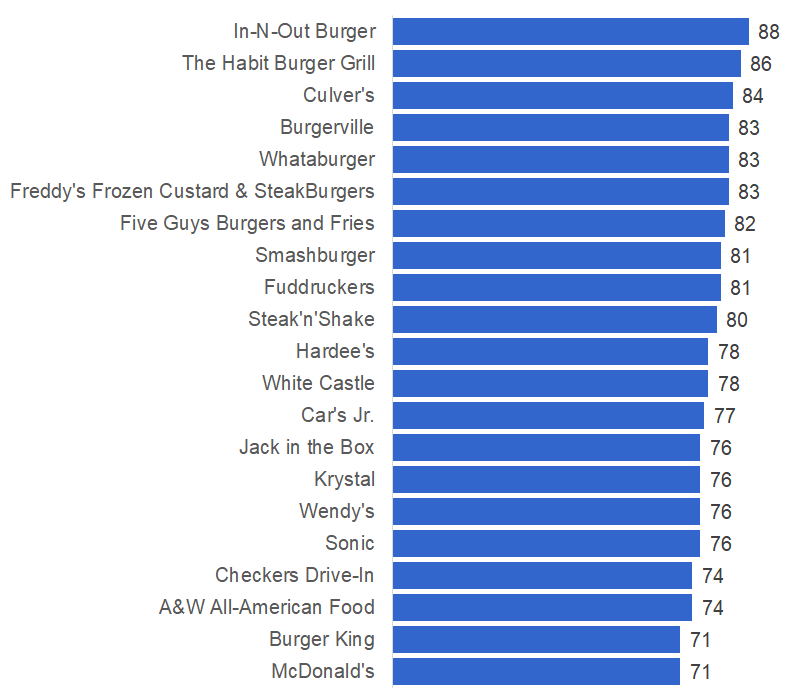 A different study by Consumer Reports,[23] which evaluates the fast-food chains on their efforts to eliminate the 'antibiotic' meat from their supply chains, rated McDonald's only with a score of C+. McDonald's has eliminated all the chicken raised with medically important antibiotics (antibiotics, which are also used in treating human illnesses) from its supply chain, but has made little effort to do so with beef and pork.
The chain should review its strategic objectives and focus on food quality, which the consumers care most about. That's one of the best ways for McDonald's to regain their lost customers and to stop current customers from searching for better quality food in other fast-food chains.
4. Large debt
McDonald's debt has increased significantly over the last few years. The company's debt grew by 117% from US$13.633 billion in 2012 to US$29.536 billion in 2017.
Figure 7. McDonald's debt (debt in US$ billions)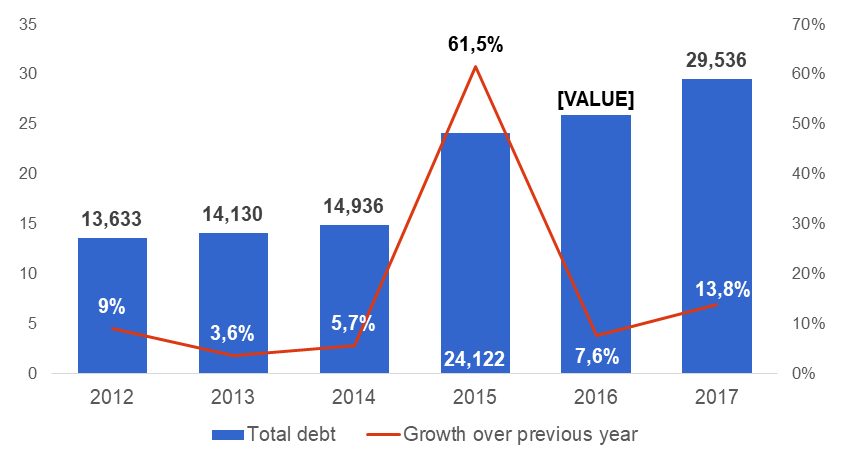 In 2015, McDonald's debt increased significantly, mainly due to the company's extensive share buyback program. Almost all of the US$10 billion used for share repurchase were financed with a debt. This increased the company's total liabilities considerably. In 2017, McDonald's liabilities grew higher than the company's assets again. If this trend continues, soon McDonald's won't have enough assets to cover its debts.
An enormous debt has many disadvantages. First, the company's credit rating may suffer and it would limit the company's abilities to obtain more funding in favorable terms. Second, McDonald's will find it hard to accelerate the deployment of 'Experience of the Future' restaurant concept across the U.S. because it requires heavy capital expenditure. Third, the company has announced a new shareholder cash return plan and expects to spend another US$22 billion to US$24 billion to repurchase shares.[26] This will further increase an already huge company's debt.
Few of the company's rivals have such large debt and poor financials overall.
Opportunities
1. Further expansion of home delivery in the U.S. and other major international markets
McDonald's introduced its first food delivery service in the U.S. in 1993,[24] and since then, rapidly expanded it into many Asian, Middle Eastern and Latin American countries. The company had little success with the delivery service in the U.S. Nonetheless, across various markets, including China, South Korea and Singapore, delivery has generated sales of nearly $1 billion for McDonald's in 2016 alone.[6]
In 2016, McDonald's announced home delivery service in 200 cities in the U.S.[25] By July 2017, the company expanded the delivery service to 3,500 locations in the U.S. and in total to 7,800 restaurants across 47 countries.[6]
According to Gallup's research, U.S. home delivery market for QSR restaurants was US$26 billion in 2016. The company estimates that the home delivery for QSR will grow on average by 36.5% annually to US$38 billion by 2020.[27]
McDonald's home delivery service is still new in the U.S. and the company should further expand the service to the majority of its 14,036 U.S. restaurants.[28]
2. Introduction of a loyalty program for mobile ordering and payment app
McDonald's introduced its first mobile order-and-pay app in early 2017. The company launched the app across all of its U.S. locations and additional 6,000 locations worldwide by the end of 2017.
According to Business Insider report,[29] mobile ordering market for QSR should reach US$38 billion in the U.S. by 2020. That equals to 10.7% of the total QSR sales in the U.S. McDonald's, which earned US$8.006 billion in the U.S. in 2017, has a great opportunity to increase its sales through its new order-and-pay app.
In order to effectively compete with rivals' apps, McDonald's should introduce a loyalty program, which would reward the chain's customers for using mobile ordering. Starbucks, which has the most popular order-and-pay app in the industry, has been successfully using the loyalty program to increase transaction frequency and average order size.
3. The demand for higher quality ingredients
Fast-food chains, including McDonald's, begin to recognize that consumers, who require healthier foods, do not necessarily mean the foods that are low in calories, but rather the foods that are made with quality ingredients. Customers who visit McDonald's usually don't want healthier options, but still demand foods that are made of quality ingredients.
McDonald's has recognized this opportunity and has already removed artificial flavors from its ice-cream, started offering fresh beef instead of frozen beef, only buys cage-free chicken eggs and now serves antibiotic-free chicken.[30]
Nonetheless, McDonald's is still lacking in food quality and freshness. In a Consumer Reports survey,[22] McDonald's customers rated the chain's food quality and freshness only as fair (the second worst rating possible). The only other QSR chains that received the same rating in burger category was Burger King and Checkers Drive-In.
To fully exploit this opportunity and win customer back, McDonald's should step up its efforts in improving food quality, so customers could enjoy their meals and be ready to pay more for the quality.
4. Diversification through acquisition of smaller growing fast casual chains
Fast casual chains differ from the more common fast-food (QSR) chains due to their higher quality food, more diverse menu and upscale restaurant design. Fast casual chains are on the rise. Even the established brands like Panera Bread, Chipotle Mexican Grill and Five Guys Burgers and Fries are experiencing growth. On the other hand, QSR restaurants like McDonald's, KFC and Burger King struggle to grow due to their association with poor quality food and service.
McDonald's Corporation, which controls McDonald's restaurant chain could diversify and acquire smaller but quickly growing fast casual brands like the ones listed below.
Figure 8. Restaurant Chains On the Rise 2017
| Chain | U.S. Systemwide Sales (US$) | % Change in Sales | Total U.S. Units |
| --- | --- | --- | --- |
| The Halal guys | 25,200,000 | 740 | 35 |
| Cava Grill | 26,800,000 | 76.3 | 25 |
| Luna Grill | 36,900,000 | 58.4 | 35 |
| Ike's Place | 32,400,000 | 42.7 | 34 |
| Jinya Ramen Bar | 39,400,000 | 42.8 | 20 |
| Vitality Bowls | 32,400,000 | 58.1 | 33 |
| California Fish Grill | 34,000,000 | 25.9 | 17 |
| Snooze, an A.M. Eatery | 27,500,000 | 45.5 | 20 |
| &pizza | 26,100,000 | 69.5 | 20 |
| Burger Lounge | 28,800,000 | 33.3 | 21 |
Source: Restaurant Business and Technomic[31]
Instead of share repurchasing programs, McDonald's could use its money to acquire one or few smaller brands that have the potential to become huge national or even international restaurant chains. McDonald's Corporation has the expertise and capabilities to grow these brands into something bigger and as a result could diversify its portfolio by venturing into different food categories and by targeting different consumer segments.
5. Growing middle class in China
China is still a growth market and is the largest in the world in terms of middle class consumers. The middle class, which is the primary consumer segment for McDonald's, is expected to account for 76% of China's urban population by 2022.[32] That equals to 550 million people. This growing middle class will increase the demand for fast-food and beverage products that McDonald's offers.
McDonald's increased the number of restaurants in China from 1,705 restaurants in 2012 to 2,631 restaurants in 2017. The company expects that its franchisees will open a further 2,000 restaurants in China until 2022. [33] While this might appear to be significant growth for McDonald's, it doesn't match the growth of Yum! Brands or Subway stores in China.
While China's market is still underserved, McDonald's has the opportunity to aggressively expand its chain in the country, increasing both its market share and brand awareness among Chinese consumers.
Threats
1. Intensifying competition
McDonald's operates in a highly competitive fast-food industry, where it has to compete with international, national, regional and local rivals, each specializing to serve specific consumer segments. As the fast-food industry's growth has slowed, competition has significantly intensified. McDonald's traditional rivals like Burger King and Wendy's are constantly introducing new meals to directly compete with McDonald's offerings. Another rival, Starbucks, has also changed its strategy. The coffee chain giant is moving away from only selling coffee to becoming a destination for breakfast and lunch. In addition, new rivals like Chick-fil-A and Chipotle are growing faster than the industry's average and are taking market share from the more established chains like McDonald's.
In the U.S., fast-food industry is expected to grow 2-3%[34] on average over the next few years. McDonald's, which is the leader in the fast-food industry, is experiencing slowing sales in the U.S. market mainly due to decreased traffic to its restaurants.[1] Customers, who were eating at McDonald's now choose restaurants like Five Guys Burgers or similar fast-casual chains, which offer better quality food and customer experience.
McDonald's will see an ever growing competition in the industry and will have to adapt to consumer and industry trends faster in order to sustain in the business.
2. New food safety and work regulations
According to McDonald's, one of the main threats affecting its operations is increasing food safety and work regulations:
"In many of our markets, we are subject to increasing regulation, which has increased our cost of doing business."[1]
McDonald's adds:
"Our success depends in part on our ability to manage the impact of new, potential or changing regulations that can affect our business plans and operations. These regulations include product packaging, marketing, the nutritional content and safety of our food and other products, labeling and other disclosure practices.

We are also impacted by the costs and other effects of compliance with U.S. and international regulations affecting our workforce, which includes our staff and employees working in our Company-operated restaurants."[1]
Increasing workplace regulations may add to McDonald's business costs and decrease its profits. The company is and will continue to be subject to many regulations in the future.
3. Declining demand for fast-food
During 2012-2017 the sales of the fast-food restaurants grew on average 3.1% annually in the U.S. This is one the lowest growth rates in the history of the fast-food industry and it indicates that the market is nearly saturated.
Another report from the Black Box Intelligence[36] shows that traffic to the brand chains (mainly QSR and fast casual restaurants) has been dropping constantly from 2015 to 2018.
Figure 9. Restaurant customer traffic growth rate in the U.S. 2015-2018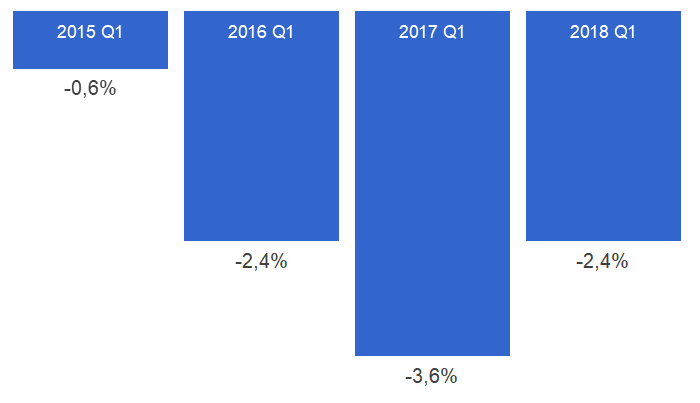 Both reports reveal that McDonald's faces the most severe threat of all – declining demand for fast, cheap and poor quality food that McDonald's is serving.
Summary
McDonald's has one of the most iconic brands in the world, which helped the company to grow in the past. Nowadays, McDonald's has to rely on other strengths for successful growth.
The key areas McDonald's should focus on is to improve customer experience and food quality across the whole restaurant network. Customer experience can be improved by better customer service and shorter ordering and delivery time. McDonald's is moving to the right direction by introducing more digital solutions that help to order and pay for the food faster and more conveniently.
As for the weaknesses, McDonald's should improve the poor quality of its food. This would improve the chain's brand image and would attract more customers, which prefer healthier ingredients in their food.
There are two significant opportunities for McDonald's. First is to expand the delivery across all of its restaurant network in the U.S. This would quickly increase the company's sales. Another opportunity is to diversify by acquiring new growing fast food chains that serve different markets. This way McDonald's wouldn't need to rely so strongly on its own brand.
Threats that affect McDonald's also affecting every other fast food chain. For the company, the most dangerous one is declining demand for fast food, which means that it will be harder for McDonald's to grow in the future.
Sources