This article takes an in-depth look at Dunkin' to evaluate its current strengths, weaknesses, opportunities, and threats. Such strengths and weaknesses come from within the company, and opportunities and threats from outside the company.
Further, this article will demonstrate how Dunkin' can leverage such strengths and opportunities to tackle weaknesses and threats.
Company Overview
Dunkin', originally named Dunkin' Donuts, is a global chain of quick-service restaurants that specializes in coffee, baked goods, and breakfast sandwiches. Founded in 1950 in Quincy, Massachusetts by William Rosenberg, Dunkin' has grown to become one of the largest coffee and baked goods chains in the world, with over 12,000 locations in 42 countries.
In 2018, the company dropped "Donuts" from its name to reflect a focus on beverages and other menu items. Dunkin' operates as a subsidiary of Inspire Brands, a holding company that also owns several other restaurant chains.[1],[2]
The company is committed to delivering fast, high-quality coffee while providing exceptional customer service in a welcoming environment. The company strives to become the leading global chain for coffee and baked goods.
Dunkin' achieves this by continuously improving its menu and providing a diverse range of food and beverages to suit its customers' preferences.
| | |
| --- | --- |
| Parent Company | Inspire Brands |
| Parent Logo | |
| Dunkin Logo | |
| Foundation Year | 1950 |
| Founders | Bill Rosenberg |
| Company Network | Under Dunkin Brands: Dunkin', Mister Donut, Baskin-Robbins |
| Industry | Food and Beverage, Quick Service Restaurants |
| Headquarter(s) | Canton, Massachusetts, United States |
| Geographic Presence | Over 36 countries |
| Number of Dealerships | 12,900 |
| CEO | Dave Hoffman |
| Consolidated Revenue (in USD) | $1.37 Billion (2020) |
| Number of Employees | 270,000 (54% women, 46% men) |
| Business Model | Franchise Global Business Model |
| Mission | "FROM COFFEE BEANS TO JELLY FILLING Everything we do is about you. From chefs who create exciting new flavors, to crew members who know exactly how you want your drink—we prioritize what you need to get you on your way." |
| Vision | "We strive to keep you at your best, and we remain loyal to you, your tastes and your time." |
| Global Competitors | Starbucks, Au Bon Pain, Einstein Bros, Caribou Coffee, Krispy Kreme, IHOP, McDonald's, Dutch Bros etc |
| Official Website | https://www.dunkindonuts.com |
Dunkin' Swot Analysis
This SWOT analysis of the Dunkin' brand explores the latest dimensions of the company's internal strengths and weaknesses with dynamics of external threats and opportunities.
Strenghts
Weaknesses
1. Strong brand recognition and reputation
2. Loyal customer base and community
3. Core competency in Supply Chain Management
4. Strong positioning
5. Sustainable business model
1. Dependence on a US market
2. Limited expansion
3. Limited offerings
4. Weak financial position
Opportunities
Threats
1. Healthy menu adaption
2. Diversification
3. Expansion
4. Improved variety
1. Higher competitive rivalry
2. Loss of control
3. Increasing costs
4. Supply chain to ensure freshness of food
Strengths
1. Strong brand recognition and reputation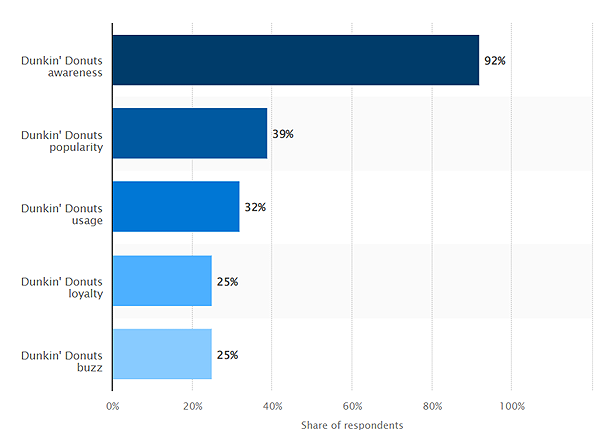 Dunkin is one of the well-known popular brand names, and it is almost synonymous with breakfasts.[4] Moreover, a report by Statista of August 2022 shows a quarter of customers who visit restaurant chains in the United States have come across Dunkin' Donuts in the media, social media, or ads in the past three months. This suggests that the brand is generating some buzz in the country.
2. Loyal customer base and community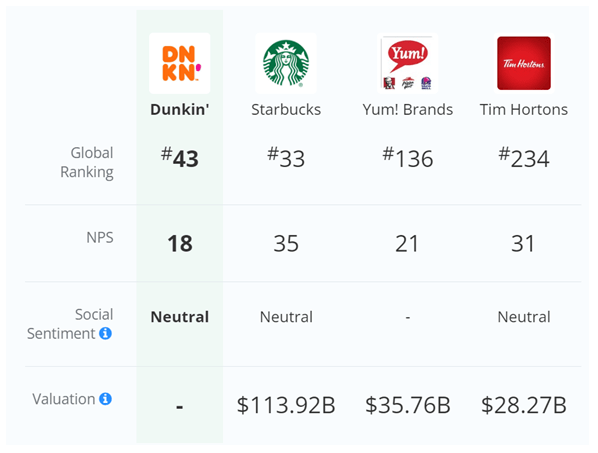 Dunkin' has a loyal following of customers who appreciate the brand's unique combination of coffee, donuts, and other breakfast items. The company has a long history of delivering high-quality products at affordable prices, which has helped it build a strong customer base and thus made them achieve #1 Brand in 2021 and consecutively for breakfast choice.[7]
Dunkin' has also made significant investments in its digital strategy, offering mobile ordering and delivery services to enhance the customer experience. The company's reward program, DD Perks, showed great success in bringing customer loyalty by offering exclusive discounts and other perks to members who opted for it.
3. Core Competency in Supply Chain Management
Dunkin' has become an expert at managing the flow of products and materials from suppliers to their franchises, ensuring that everything runs smoothly and efficiently.
Dunkin' knows how to coordinate transport and logistics so that fresh, tasty donuts and other baked goods are delivered to their franchises twice daily. They've also formed strong partnerships with suppliers so that they can offer a wide variety of quality products to their customers.
One of the things that really sets Dunkin' apart is their inventory management. They've got a great system for making sure that everything they need is in stock, but they're not overburdened with excess inventory. This helps keep costs down and ensures that they can consistently offer high-quality products to their customers.
4. Strong Positioning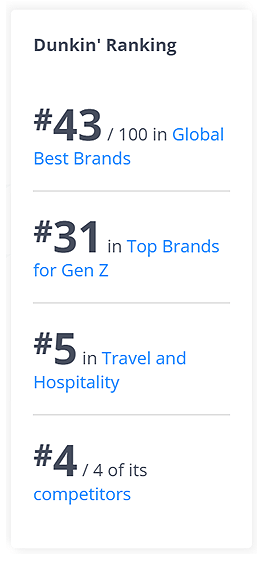 Dunkin' has a strong brand positioning in the quick-service restaurant industry. Dunkin' has earned a reputation for delivering excellent coffee and baked goods at reasonable prices, which has made it a top choice for consumers.
With over 8,500 locations across the United States, Dunkin' has established a solid presence in the country and is now expanding its reach globally. One of the secrets to Dunkin's success has been its ability to diversify its menu offerings and add new items that appeal to a wider range of customers.
This strategic positioning has helped the company to maintain a loyal customer base and grab a larger share of the highly competitive market. Due to its strong positioning and customer-oriented approach, Dunkin' has become a beloved and trusted brand among coffee and pastry enthusiasts alike.
5. Sustainable Business Model
Dunkin' has achieved a sustainable business model that has helped the company to maintain steady growth and to retain customers. The company's focus on franchise operations has enabled it to expand quickly with minimal capital expenditures from the side of the company.
Dunkin' has also made significant investments in technology, such as mobile ordering and delivery, to enhance the customer experience and derive sales. The most important thing in the quick-service industry is to not compromise on service and delivery, where Dunkin has ensured its boundaries to achieve that effectiveness in both. Thus, Dunkin's sustainable business model has helped the company to maintain its competitive edge in the quick-service restaurant industry.
Weaknesses
1. Dependence on the USA Market.
Dunkin' US segment accounted for approximately 47% of the company's total revenue in 2019. This means that Dunkin' heavily relies on the US market for its revenue generation.
As a popular coffee and baked goods chain with a significant presence in the US, Dunkin' has established a strong brand and customer base in the country. The company has over 9,000 stores in the US alone, which is more than double the number of stores it has in all other countries combined.[9]
While Dunkin' has been expanding globally, particularly in emerging markets such as China, the US market remains the primary revenue driver for the company. This reliance on the US market makes Dunkin' vulnerable to any changes or disruptions that may occur in the country's economy or consumer behavior.
2. Limited Expansion
Dunkin' expansion is limited compared to some competitors like Starbucks and McDonald's. While Dunkin' has over 12,000 locations in 42 countries, Starbucks has over 30,000 locations in 82 countries and McDonald's has over 50,000 in 100-plus countries. This limited expansion can be a weakness for Dunkin' when it comes to competing with larger brands that dominate the market.
Furthermore, Dunkin' has a weaker international presence compared to some of its competitors. For instance, in 2020, Dunkin' only had 1,400 locations outside the United States, while Starbucks had over 16,000. This limited international presence can make it more difficult for Dunkin' to grow its brand globally and compete with larger international brands.
3. Limited Variety
One of the weaknesses of Dunkin' is the limited variety and innovation in its menu. Dunkin' is known for its coffee and donuts, which are considered as finest with great texture and freshness softness, but it lacks the variety that its competitors like Starbucks, Tim Horton and McDonald's offer. Dunkin' only had 42 items on its menu in 2020, compared to 80 and 145 for Starbucks and McDonald's, respectively.[10]
This can be a weakness for the company as it won't be able to serve people who are looking for more diverse food and drink options.
In addition to limited variety, Dunkin is late in adopting change and it lacks in innovation in its menu and marketing strategies. For instance, when Starbucks introduced its "Unicorn Frappuccino" in 2017, Dunkin did not have any alternate product for that, and until 2020 Dunkin couldn't even realize that mere donuts association may limit its growth potential. This lack of innovation may make it more difficult for Dunkin' to attract new customers and retain existing ones over time.
4. Weak Financial Position
Dunkin' Brands' weak financial position may have been a reason for its acquisition by Inspire Brands. In 2020, Dunkin' Brands reported a net income of $63.6 million, which was a huge decline from that of 2019, which was $242.9 million. The COVID-19 pandemic also had a significant impact on Dunkin's financial performance, with same-store sales decreasing by 18.7% in the second quarter of 2020.
Dunkin' Brands' weak financial position limited its ability to invest in new products and marketing strategies, which contributed to its limited variety and innovation. Additionally, Dunkin' Brands' dependence on franchisees and their fulfilments made it hard to keep up, which thus impacted its financial performance.
Inspire brands acquired Dunkin' at $11.3 billion (including Dunkin's debt). While Inspire Brands' acquisition of Dunkin' may help address some of these weaknesses, it remains to be seen how Dunkin' will evolve and compete in the future.[11]
Opportunities
1. Healthy Menu Adaption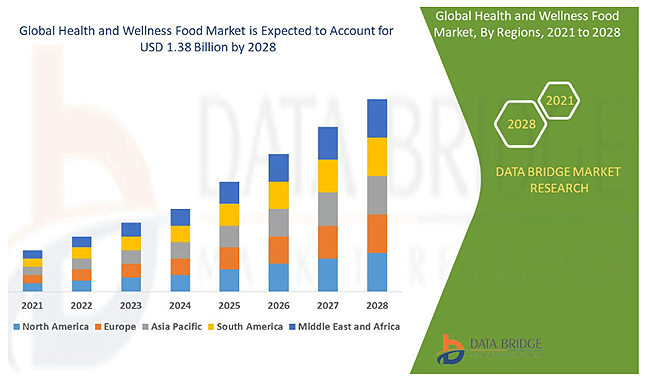 The global health and wellness market is expected to grow by about 9.3% from 2021 to 2028. People nowadays are more health-conscious and want healthier food options. Dunkin can take advantage of this by adding healthier choices to their menu, such as fresh fruit, whole-grain bread, low-fat milk, and plant-based options.
They can also remove artificial sweeteners, flavors, and preservatives from their menu. By doing this, Dunkin can attract customers who want healthy breakfast and snacks. They can also advertise their healthy menu on social media platforms to let people know and attract customers who are looking for healthier options.[13]
2. Diversification into New Variants and Food Product Categories
Dunkin can also acquire the opportunity of diversification by introducing new product lines in its menu, such as new sandwich variants, salads, snacks, smoothies, juices, and tea, which can be adapted to tastes region or culture-wise. Customers are looking for a wider variety of food and beverage options, and Dunkin can attract them by offering co-branded products and partnerships with other companies.
3. Expansion into New Countries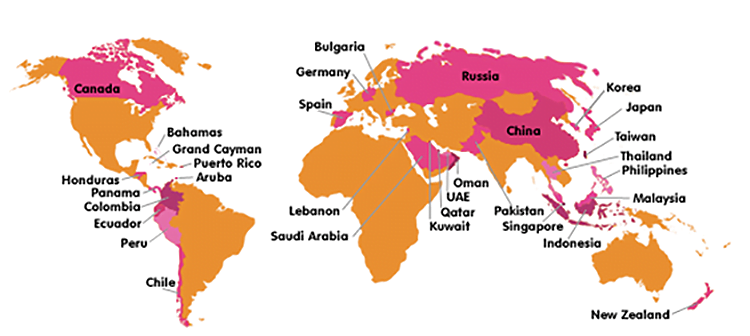 Dunkin can acquire the opportunity of expansion by opening new stores in areas where it does not currently have a presence. This can include international markets, smaller towns, and rural areas.
Dunkin can also consider partnering with other companies to open stores in non-traditional locations such as airports, train stations, and malls. Dunkin can also focus on opening drive-thru stores to cater to customers who prefer quick and convenient service.[15]
4. Improve Current Variety
Dunkin has an opportunity to add seasonal items. This can help attract customers who are looking for unique and exclusive options. Dunkin can also consider introducing regional flavors and specialty drinks to cater to local tastes. Dunkin can also conduct surveys and focus groups to gather feedback from customers and use this information to improve its menu and offerings.
Threats
1. Higher Competitive Rivalry
Dunkin Brand is facing a significant threat from high competition. Its competitors, such as Starbucks, McDonald's, and Tim Hortons offer similar products and services and operate in close proximity to Dunkin' outlets. This has made it challenging for Dunkin' to keep its market share and attract new customers.
To overcome this, Dunkin' should enhance its product offerings, provide better customer service, and increase marketing efforts. It can also invest in innovative technology solutions to improve efficiency and reduce costs, which can help it remain competitive and maintain its market position.
2. Loss of Control
Dunkin' faces a big threat of losing control over its franchisees. Franchisees run Dunkin's outlets, but Dunkin' can't always control the quality of their products and services. This can be a problem if franchisees don't follow Dunkin's standards or provide a consistent customer experience.
To tackle this problem, Dunkin' should work closely with its franchisees to make sure they understand and follow the company's rules. Dunkin' could also provide more training and support for franchisees and regular checks to ensure that its standards are being met.
3. Increasing Costs
Dunkin' is at risk of higher costs due to increased expenses for things like rent, labor, and raw materials. These additional costs may reduce the company's profits and limit its capacity to invest in growth opportunities.
To address this threat, Dunkin' can work on reducing expenses by improving operational efficiency and cost management. This may involve optimizing its supply chain, decreasing waste and inefficiencies, and exploring new cost-saving measures. The company could also increase prices or implement new revenue-generating initiatives to balance out the cost hikes.
4. Supply Chain Maintenance to ensure the Freshness of Food
Dunkin can have issues and challenges with the supply chain as it grows in the future, and it can struggle to keep its food products fresh. The company needs to ensure that its suppliers deliver fresh products on time.
Any delays can harm the quality of the products and the company's reputation. To solve this issue, Dunkin' can work closely with suppliers to follow quality standards and procedures. It could also invest in new technology to manage the supply chain better and reduce the risk of delays. Dunkin' could also explore alternative sourcing options or make contingency plans to mitigate any potential supply chain disruptions.
Sources
1 Dunkin' Brands Group Inc. (2022). Bloomberg. Retrieved March 23, 2023, from https://www.bloomberg.com/profile/company/DNKN:US#xj4y7vzkg
2 Dunkin' (2023). About Us. Retrieved March 23, 2023, from https://www.dunkindonuts.com/en/about/about-us#:~:text=We%20have%20more%20than%2011%2C300,international%20restaurants%20across%2036%20countries!
3 Alexander Kunst. (2022, September 25). Dunkin' donuts brand profile US 2022. Statista. Retrieved March 23, 2023, from https://www.statista.com/forecasts/1335731/dunkin-donuts-restaurant-chains-brand-profile-in-the-united-states#:~:text=In%20August%202022%2C%20about%2025,Donuts%20in%20the%20United%20States
4 Industry News. (2019). Why Dunkin' donuts is still winning breakfast customers. QSR magazine. Retrieved March 24, 2023, from https://www.qsrmagazine.com/news/why-dunkin-donuts-still-winning-breakfast-customers
6 Comparably. (2023). Dunkin' is ranked #31 in Top Brands for Gen Z. Retrieved March 24, 2023, from https://www.comparably.com/brands/dunkin
7 Dunkin. (2021). Dunkin' once again named #1 brand for customer loyalty. Dunkin'. Retrieved March 24, 2023, from https://news.dunkindonuts.com/blog/blog_custom-20190204-6741988
8 Comparably. (2023). Dunkin' is ranked #31 in Top Brands for Gen Z. Retrieved March 24, 2023, from https://www.comparably.com/brands/dunkin
9 Trefis. (2019, December 16). Is Dunkin' Donuts' US Segment 40%, 50%, Or 60% Of Dunkin' Brands Total Revenue? NASDAQ. Retrieved March 24, 2023, from https://www.nasdaq.com/articles/is-dunkin-donuts-us-segment-40-50-or-60-of-dunkin-brands-total-revenue-2019-12-16
10 Micheline Maynard. (2018, April 24). Starbucks, Trailing Dunkin', Tim's And McDonald's, Wants To Speed Up Its Drive-Thru. Forbes. https://www.forbes.com/sites/michelinemaynard/2018/04/24/starbucks-trailing-dunkin-tims-and-mcdonalds-wants-to-speed-up-its-drive-thru/?sh=2f761c14446f
11 Noam Galai. (2020, October 30). Inspire brands to buy Dunkin' brands group for $11.3 billion including debt. CNBC. Retrieved March 24, 2023, from https://www.cnbc.com/2020/10/30/inspire-brands-to-buy-dunkin-brands-group-for-11point3-billion-including-debt.html
12 CDN Newswire. (2022, April 7). Health and Wellness Food Market Emerging Trends, Growth Factors and Business Opportunities Industry Trends and Forecast to 2028 ||. Digital Journal | Elevating voices. https://www.digitaljournal.com/pr/health-and-wellness-food-market-emerging-trends-growth-factors-and-business-opportunities-industry-trends-and-forecast-to-2028
13 CDN Newswire. (2022, April 7). Health and Wellness Food Market Emerging Trends, Growth Factors and Business Opportunities Industry Trends and Forecast to 2028 ||. Digital Journal | Elevating voices. https://www.digitaljournal.com/pr/health-and-wellness-food-market-emerging-trends-growth-factors-and-business-opportunities-industry-trends-and-forecast-to-2028
14 Dunkin' Global Presence (2023). Retrieved March 23, 2023, from https://dd.ge/en/globalpresence