This Starbucks SWOT analysis reveals how the largest coffee chain in the world uses its competitive advantages to continue growing so successfully all over the world.
It identifies all the key strengths, weaknesses, opportunities and threats that affect the company the most. If you want to find out more about the SWOT of Starbucks, you're in the right place.
For more information on how to do a SWOT analysis please refer to our article.
Keep reading.
Company Background
Key Facts
Name
Starbucks Corporation
Founded
March 31, 1971
Logo
Industries served
Restaurants (Coffeehouses)
Geographic areas served
Worldwide (31,256 coffeehouses in 81 countries)
Headquarters
Seattle, Washington, United States
Current CEO
Kevin R. Johnson
Revenue (US$)
26.509 billion (2019) 7.2% increase over 24.720 billion (2018)
Profit (US$)
3.599 billion (2019) 20.3% decrease over 4.518 billion (2018)
Employees
346,000 (2019)
Main Competitors
Caribou Coffee Company, Costa Coffee, Dunkin' Brands Group, Inc., Green Mountain Coffee Roasters, Luckin Coffee Inc., McDonald's Corporation, Nestlé S.A. and many other restaurant chains and coffeehouses.
Starbucks Corporation's business overview from the company's financial report:
"Starbucks is the premier roaster, marketer and retailer of specialty coffee in the world, operating in 81 markets. We purchase and roast high-quality coffees that we sell, along with handcrafted coffee, tea and other beverages and a variety of high-quality food items, including snack offerings, through company-operated stores.
We also sell a variety of coffee and tea products and license our trademarks through other channels such as licensed stores, as well as grocery and foodservice through our Global Coffee Alliance with Nestlé S. A. ("Nestlé"). In addition to our flagship Starbucks Coffee brand, we sell goods and services under the following brands: Teavana, Seattle's Best Coffee, Evolution Fresh, Ethos, Starbucks Reserve and Princi.
Our objective is to maintain Starbucks standing as one of the most recognized and respected brands in the world.
To achieve this, we are continuing the disciplined expansion of our global store base, adding stores in both existing, developed markets such as the U.S., and in newer, higher growth markets such as China, as well as optimizing the mix of company-operated and licensed stores around the world.
In addition, by leveraging the experience gained through our traditional store model, we continue to offer consumers new coffee and other products in a variety of forms, across new categories, diverse channels and alternative store formats.
Starbucks® company-operated stores are typically located in high-traffic, high-visibility locations. We are continuing the expansion of our stores, particularly Drive Thru formats that provide a higher degree of access and convenience, and alternative store formats, which are focused on an elevated Starbucks Experience for our customers."[1]
You can find more information about the business in Starbucks' official website or Wikipedia's article.
Starbucks SWOT analysis
Strengths
1. Operating efficiency and strong growth leading to superior financial performance
2019 marked continuing Starbucks growth both financially and physically. The company had yet another great financial year. The company's revenue grew by 7.2% and 1,932 new stores were opened. Starbucks' operating profit margin remained above 15% and its cash flow generated US$5.047 billion, despite the company's enormous expansion.
Figure 1. Starbucks' consolidated revenue 2013-2019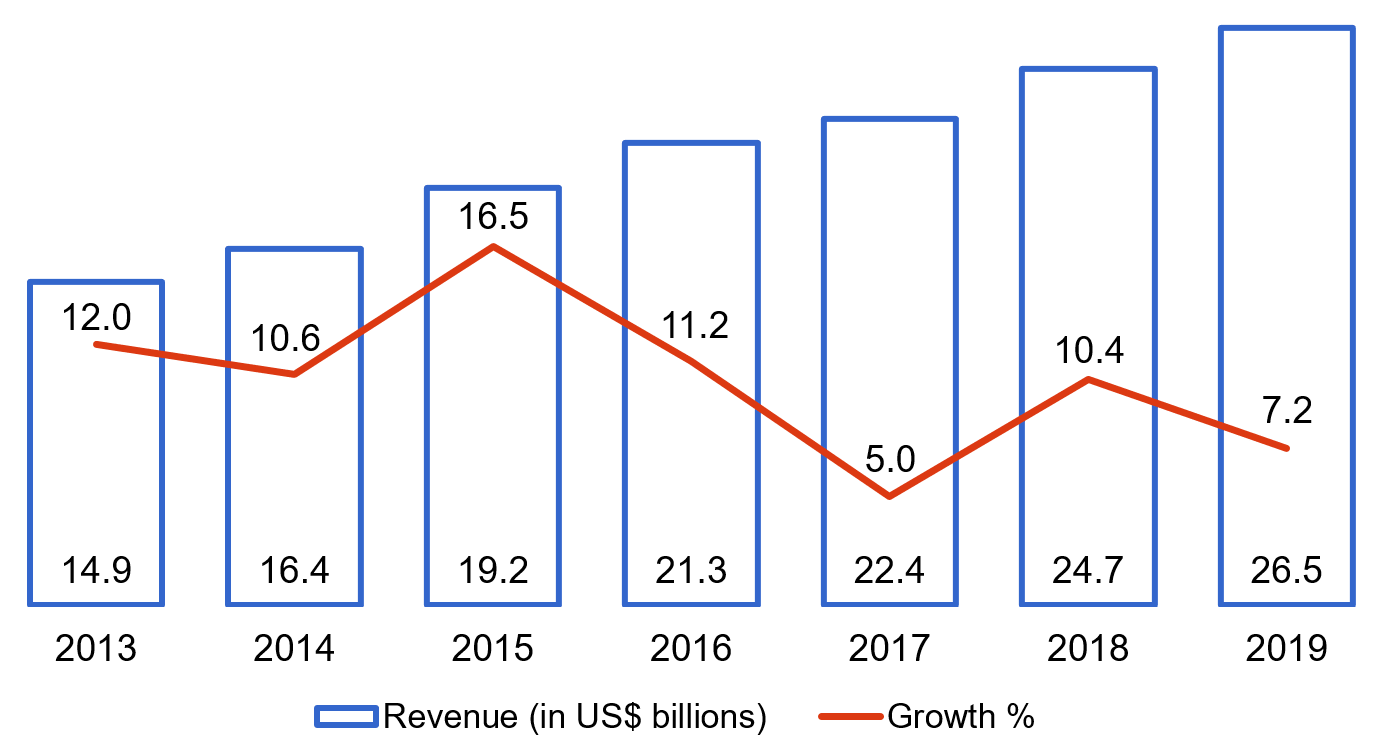 Source: Starbucks financial report[1]
Figure 2. Starbucks' operating profit margin 2012-2019

Source: Starbucks financial report[1]
Figure 3. Starbucks consolidated store count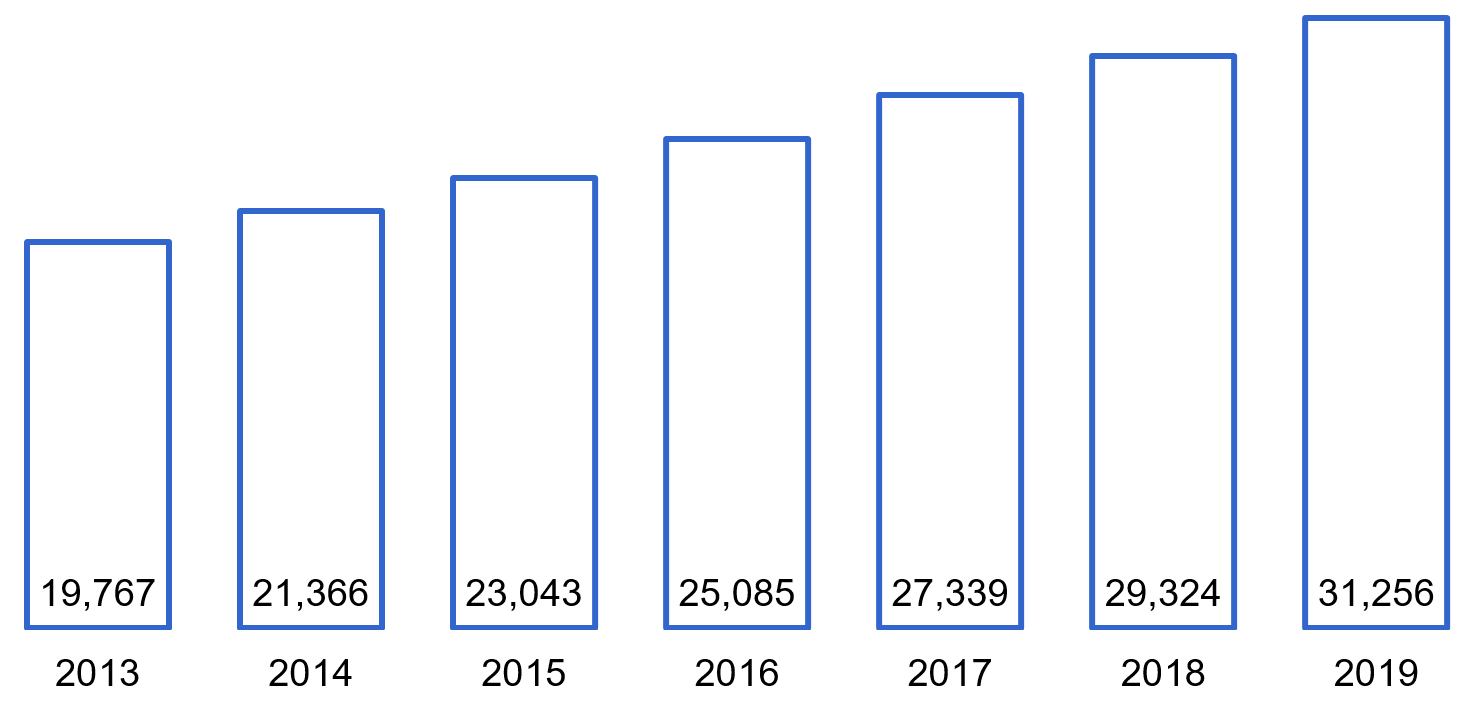 Source: Starbucks financial report[1]
The company's net profit stayed high at $3.594 billion and was actually higher than in 2018 if not including the US$1.4 billion one-time profit increase due to the acquisition of East China joint venture in the previous year.
On the other hand, Starbucks' balance sheet weakened in 2018 and 2019. The company's assets decreased, long-term debt increased, which also increased debt-to-asset ratio. Even if the balance sheet should be looked at with caution, the company's financial position is still as strong as ever.
What does this mean for the company? Despite the fast expansion, company's significant revenue growth, strong operating and net profits mean that Starbucks is managing its operations very efficiently. The company's healthy financial numbers provide confidence for investors and allow the company to engage in speculative investments that wouldn't be feasible otherwise.
2. Fast growing store network in China
Currently, Starbucks has 4,123 restaurants in China, which is more than Costa Coffee's 449 restaurants (data only from 2018)[2], McDonald's 3,300 restaurants[3] and Luckin Coffee's 3,680 restaurants.[4]
The number of Starbucks locations has grown significantly over the past few years. In 2011, the company had only 570 coffeehouses in China. Since then it grew its presence to 4,123 locations or 723% in just 8 years.
Figure 4. Number of Starbucks locations in China 2012-2019
| | 2012 | 2013 | 2014 | 2015 | 2016 | 2017 | 2018 | 2019 |
| --- | --- | --- | --- | --- | --- | --- | --- | --- |
| Number of locations | 700 | 1,017 | 1,367 | 1,811 | 2,382 | 2,936 | 3,521 | 4,123 |
| Growth over previous year | 22.8% | 45.2% | 34.4% | 32.5% | 31.5% | 23.3% | 19.9% | 17.1% |
Source: Starbucks' financial report[1]
China will become the second major Starbucks market in the future and is the second fastest growing Starbucks market behind the U.S. already. Most importantly, Starbucks is well positioned to compete in China.
For years Starbucks has been strengthening its tea offerings, which is the favorite Chinese drink. The company currently owns Teavana tea brand and serves brewed tea, single-serve tea, packed tea and other related tea products.
Therefore, unlike its rivals, Starbucks is better prepared to satisfy Chinese tastes and to attract Chinese customers to its coffeehouses. In addition to the tea demand, coffee demand is growing in China and Starbucks with its huge coffeehouse network in the country is well positioned to take advantage of this.
3. The combination of a premium menu, huge range of coffee and quality customer service provides the best customer experience in the industry
Unlike other coffee chains, Starbucks is well-known for its quality and excellent customer experience. That's why the company can charge premium prices and still become the largest coffeehouse chain in the world. To provide the best customer experience Starbucks has to excel at many things, including:
quality of its coffee and tea;
menu choices;
quality of its customer service;
location and quality of its stores.
Starbucks has always been focused on the quality of its coffee.[5] The company applies strict standards to coffee purchasing, roasting, packaging and distribution. It buys only Arabica beans that are grown at high altitudes. The company tastes each batch of coffee beans at least 3 times before approval. Few of the company's rivals go through such lengthy quality assurance checks for their coffee ingredients.
Starbucks also provides the most extensive coffee menu in the industry. The company offers more than 50 drinks in each coffeehouse and in total has more than 230 drinks in its product range.[6] By comparison, McDonald's McCafé, Dunkin' Donuts and Costa Coffee each offer only more than 20 different drinks.
Starbucks' high level of customer service, the quality of its stores and their locations are also the pieces that help deliver a competitive advantage in terms of customer experience. The Customer Service Board rates Starbucks at 61st place based on positive customer reviews, while McDonald's is at 603rd place only.[7]
In addition, Starbucks' convenient store locations add to the coffee chain's appeal as customers can seemingly find a Starbucks on almost every corner. In 2019, the company operated 15,049 stores in the U.S. and 16,207 stores internationally, making it the largest coffee chain in the world.
Starbucks' main competitors, McDonald's, Dunkin' Donuts and Costa Coffee operated a total of 37,855, 12,871 and 3,821 locations in 2018, respectively. Therefore, except McDonald's, which actually is more of a fast food chain than coffee selling chain, all other major competitors operate considerably smaller store networks.
Figure 5. Number of stores operating in 2019 and growth over the previous year
| 2019* | Starbucks | McDonald's | Dunkin' Donuts | Costa Coffee |
| --- | --- | --- | --- | --- |
| Stores | 31,256 | 37,8557 | 12,871 | 3,821 |
| Growth over previous year | 6.6% | 1.6% | 2.7% | 8.2% |
Source: The respective companies' financial reports[1][2][8][9] *McDonald's, Dunkin' Donuts and Costa Coffee data is for 2018
Starbucks ability to excel at all of the factors mentioned above allows the chain to provide the best customer experience in the industry and to charge premium prices – an advantage that no other rival can match.
Access the full analysis… more Starbucks strengths, weaknesses, opportunities and threats
Published: January 27, 2021
Format: PDF + PowerPoint
Pages: 29
Words: 5,800
Charts/tables: 16
Price: US$19 US$9.99
What you get
Thorough insight into the business
Comparison against rivals
Table of contents
Company Overview
SWOT Analysis
Strengths
Weaknesses
Opportunities
Threats
Summary
Sources
Sources
Why buy from us?
Best source
We're the No.1 source for both free and paid SWOT analyses on the web.
Well researched
All the information is supported with data from the most trusted sources.
Instant Access
You can download your swot instantly after the payment.
Trusted
Many customers often contact us with requests for custom business/market specific SWOTs, because they trust us.
Have any questions?
Contact us by
Email: ovidijus.jurevicius@strategicmanagementinsight.com
Starbucks Corporation (2019). Form 10-K for the Fiscal Year Ended September 29, 2019. Available at: http://d18rn0p25nwr6d.cloudfront.net/CIK-0000829224/9886e661-6686-4373-a0a4-033929d8d8dd.pdf Accessed January 27, 2020
Whitbread PLC (2018). Annual Report and Accounts 2017/18. Available at: https://www.whitbread.co.uk/~/media/Files/W/Whitbread/report-and%20presentations/2018/Whitbread%20Interactive%202018.pdf Accessed January 27, 2020
McDonald's Corporation (2019). McDonald's in China. Available at: https://www.mcdonalds.com.cn/index/McD/mcdonalds-china/MCD-in-China-2 Accessed January 27, 2020
Luckin Coffee Inc. (2019). Luckin Coffee Inc. Announces Unaudited Third Quarter 2019 Financial Results. Available at: http://investor.luckincoffee.com/static-files/e228e5f9-e47f-47e4-b8dd-f1cabe870ebb Accessed January 27, 2020
Starbucks (2020). Quality. Available at: https://www.starbucks.ca/coffee/ethical-sourcing/coffee-quality Accessed January 27, 2020
Starbucks (2020). Explore Our Menu. Available at: https://www.starbucks.com/menu Accessed January 27, 2020
Customer Service Scoreboard (2020). The Leaderboard. Available at: http://www.customerservicescoreboard.com/ Accessed January 27, 2020
McDonald's Corporation (2019). Form 10-K For the fiscal year ended December 31, 2018. Available at http://d18rn0p25nwr6d.cloudfront.net/CIK-0000063908/94ad07bd-66c3-433c-a81e-94f1587b0ed8.pdf Accessed January 27, 2020
Dunkin Brands (2018). Annual Report 2018. Available at: http://investor.dunkinbrands.com/static-files/7a1e2ad8-3f4e-49d1-9126-1e2b7c43b012 Accessed January 27, 2020
Interbrand (2020). Best Global Brands 2019. Rankings. Available at: http://interbrand.com/best-brands/best-global-brands/2019/ranking/ Accessed January 27, 2020
Forbes (2020). The World's Most Valuable Brands. Available at: http://www.forbes.com/powerful-brands/list/ Accessed January 27, 2020
Starbucks (2020). Starbucks Company Recognition. Available at: https://www.starbucks.com/about-us/company-information/starbucks-company-recognition Accessed January 27, 2020
Starbucks (2018). Starbucks Card, Loyalty & Mobile Dashboard. Available at: https://s22.q4cdn.com/869488222/files/doc_financials/quarterly/2019/q4/FY19_Q4_Digital-Dashboard_Final.pdf Accessed January 27, 2020
Fast Food Menu Prices (2020). Starbucks Prices. Available at: http://www.fastfoodmenuprices.com/starbucks-prices/ Accessed January 27, 2020
Fast Food Menu Prices (2020). McDonald's Prices. Available at: http://www.fastfoodmenuprices.com/mcdonalds-prices/ Accessed January 27, 2020
Fast Food Menu Prices (2020). Dunkin' Donuts Prices. Available at: http://www.fastfoodmenuprices.com/dunkin-donuts-prices/ Accessed January 27, 2020
NASDAQ (2020). Coffee. Available at: https://www.nasdaq.com/market-activity/commodities/kt%3Anmx?timeframe=10y Accessed January 27, 2020
Beverage Marketing Corporation (2014). Press Release: The U.S. Liquid Refreshment Beverage Market Remained Flat in 2013. Available at: http://www.beveragemarketing.com/news-detail.asp?id=299 Accessed January 27, 2020
Beverage Marketing Corporation (2015). Press Release: The U.S. Liquid Refreshment Beverage Marketing Enlarged in 2014, Reports Beverage Marketing Corporation. Available at: http://www.beveragemarketing.com/news-detail.asp?id=335 Accessed January 27, 2020
Beverage Marketing Corporation (2016). Press Release: The U.S. Liquid Refreshment Beverage Market Accelerated in 2015, Reports Beverage Marketing Corporation. Available at: http://www.beveragemarketing.com/news-detail.asp?id=382 Accessed January 27, 2020
Beverage Marketing Corporation (2017). Press Release: The U.S. Liquid Refreshment Beverage Market Accelerated Again in 2016. Available at: http://www.beveragemarketing.com/news-detail.asp?id=439 Accessed January 27, 2020
Beverage Marketing Corporation (2018). Press Release: U.S. Liquid Refreshment Beverage Market Retail Dollars and Volume Both Grew in 2017, Reports Beverage Marketing Corporation. Available at: https://www.beveragemarketing.com/news-detail.asp?id=485 Accessed January 27, 2020
Beverage Marketing Corporation (2019). Press Release: U.S. Liquid Refreshment Beverage Market Retail Dollars and Volume Growth Accelerated in 2018. Available at: https://www.beveragemarketing.com/news-detail.asp?id=554 Accessed January 27, 2020
United Stated Department of Agriculture (2018). America's Eating Habits: Food Away From Home. Available at: https://www.ers.usda.gov/webdocs/publications/90228/eib-196_ch3.pdf?v=8116.5 Accessed January 27, 2020
Lock, S. at Statista (2019). Size of the coffee shop market in the United States in 2018 and 2019. Available at: https://www.statista.com/statistics/1032200/coffee-shop-industry-market-size-us/ Accessed January 27, 2020
Brown, N. at Daily Coffee News (2019). 2019 Coffee and Beverage Trends: Inside the NCA's Annual Report. Available at: https://dailycoffeenews.com/2019/03/11/2019-coffee-and-beverage-trends-inside-the-ncas-annual-report/ Accessed January 27, 2020
Grand View Research (2019). Cold Brew Coffee Market Size, Share & Trends Analysis Report. Available at: https://www.grandviewresearch.com/industry-analysis/cold-brew-coffee-market Accessed January 27, 2020
Grand View Research (2019). Cold Brew Coffee Market Worth $1.63 Billion By 2025 Available at: https://www.grandviewresearch.com/press-release/global-cold-brew-coffee-market Accessed January 27, 2020
Calorie King (2020). McDonald's Cheeseburger. Available at: http://www.calorieking.com/foods/calories-in-sandwiches-burgers-burger-cheeseburger_f-ZmlkPTEwMDk0Ng.html Accessed January 27, 2020
Calorie King (2020). Starbucks Pumpkin Spice Latte with Soy Milk, without whipped cream. Available at: https://www.calorieking.com/us/en/foods/f/calories-in-beverages-pumpkin-spice-latte-with-soy-milk-without-whipped-cream/–37HK4kTx6OEqb0LEkZXA Accessed January 27, 2020
Trading Economics (2020). China GDP Growth Rate. Available at: http://www.tradingeconomics.com/china/gdp-growth-annual Accessed January 27, 2020
Luckin Coffee Inc. (2019). Luckin Coffee Inc. Announces Unaudited Third Quarter 2019 Financial Results. Available at: http://investor.luckincoffee.com/static-files/e228e5f9-e47f-47e4-b8dd-f1cabe870ebb Accessed January 27, 2020
Bai, T. at Pan daily (2019). The Coffee Chain that Came Out of Nowhere with the Potential to Beat Starbucks in China. Available at: https://pandaily.com/the-coffee-chain-that-came-out-of-nowhere-with-the-potential-to-beat-starbucks-in-china/ Accessed January 27, 2020