This Coca Cola SWOT analysis reveals how the company controlling one of the most iconic brands of all time used its competitive advantages to become the world's second largest beverage manufacturer.
It identifies all the key strengths, weaknesses, opportunities and threats that affect the company the most. If you want to find out more about the SWOT of Coca Cola, you're in the right place.
For more information on how to do a SWOT analysis please refer to our article.
Keep reading.
Company Background
Key Facts
Name
The Coca-Cola Company
Founded
May 8, 1886
Logo
Industries served
Beverage
Geographic areas served
Worldwide (more than 200 countries)
Headquarters
Atlanta, Georgia, United States
Current CEO
James Quincey
Revenue (US$)
35.410 billion (2017) 15.4% decrease over 41.863 billion (2016)
Profit (US$)
1.182 billion (2017) 81.9% decrease over 6.527 billion (2016)
Employees
61,800 (2018)
Main Competitors
PepsiCo Inc., Dr Pepper Snapple Group, Inc., Unilever Group, Mondēlez International, Inc., Groupe Danone, Kraft Foods Inc., Nestlé S.A. and many other companies in the beverage industry.
The Coca-Cola Company business overview from the company's financial report:
"The Coca-Cola Company is the world's largest beverage company. We own or license and market more than 500 nonalcoholic beverage brands, primarily sparkling beverages but also a variety of still beverages such as waters, enhanced waters, juices and juice drinks, ready-to-drink teas and coffees, and energy and sports drinks.
We own and market four of the world's top five nonalcoholic sparkling beverage brands: Coca-Cola, Diet Coke, Fanta and Sprite. Finished beverage products bearing our trademarks, sold in the United States since 1886, are now sold in more than 200 countries.
We make our branded beverage products available to consumers throughout the world through our network of Company-owned or -controlled bottling and distribution operations as well as independent bottling partners, distributors, wholesalers and retailers — the world's largest beverage distribution system.
Beverages bearing trademarks owned by or licensed to us account for 1.9 billion of the approximately 60 billion beverage servings of all types consumed worldwide every day.
We believe our success depends on our ability to connect with consumers by providing them with a wide variety of choices to meet their desires, needs and lifestyle choices. Our success further depends on the ability of our people to execute effectively, every day.
Our goal is to use our Company's assets — our brands, financial strength, unrivaled distribution system, global reach, and the talent and strong commitment of our management and associates — to become more competitive and to accelerate growth in a manner that creates value for our shareowners."[1]
You can find more information about the business in The Coca Cola Company's official website or Wikipedia's article.
Coca Cola SWOT analysis
Strengths
1. Dominant market share in the beverage industry
The Coca-Cola Company is the largest non-alcoholic beverage company in the world. It serves 1.9 billion or 3.2% of the total 60 billion beverage servings of all types consumed worldwide every day.[1] The company owns, distributes and sells over 500 various non-alcoholic beverage brands in over 200 countries.
Figure 1. Largest beverage companies in the world in 2017
| Rank | Name | 2017 revenue (in US$ billions) | Beverage segment |
| --- | --- | --- | --- |
| 1 | Anheuser-Busch InBev | 56.444 | Alcoholic |
| 2 | The Coca-Cola Company | 35.410 | Non-alcoholic |
| 3 | PepsiCo Inc. | 29.857 | Non-alcoholic |
| 4 | Nestlé S.A. | 29.109 | Non-alcoholic |
| 5 | Suntory Holdings Limited | 22.057 | Alcoholic |
| 6 | Heineken N.V. | 21.888 | Alcoholic |
| 7 | Starbucks Corporation | 17.650 | Non-alcoholic |
| 8 | Diageo plc | 17.078 | Alcoholic |
| 9 | Pernod Ricard S.A. | 11.132 | Alcoholic |
| 10 | Molson Coors Brewing Co. | 11.002 | Alcoholic |
Source: Beverage Industry[2]
Only PepsiCo and Nestlé can compare to The Coca-Cola Company's sheer size and the market share in the non-alcoholic beverage segment. Being large and having dominant market share has a few advantages over competitors:
Economies of scale. Economies of scale allow the company to share its fixed costs over hundreds of brands and billions of servings, making each drink as cheap as possible.
Market power over suppliers and competitors. Due to its size, The Coca-Cola Company can exercise its market power over suppliers by requiring lower prices from them. The company can also use its size to affect the competition by underpricing some of its items, acquiring the smaller competitors or saturating the market with many of its own products.
Power over the buyers. Unlike some of its smaller competitors, the Coca-Cola brand and the company's other signature drinks have an enormous brand recognition all over the world. The company can influence consumers' buying decisions through its brand power and massive marketing campaigns more easily than most of its smaller rivals.
Wide audience reach. The Coca-Cola Company's distribution network allows the chain to reach more customers than most of its rivals could reach. According to the company, the company serves 1.9 billion servings a day, more than any other competitor in the world. Wide audience reach does not only help the company to target more customers and increase brand awareness, but also to introduce new products more easily.
2. Diversified product portfolio with 21 billion-dollar brand
The Coca-Cola Company owns and distributes over 500 different brands, which is the most extensive beverage brand portfolio in the whole industry. The company offers beverages for every taste in 7 beverage categories:
Carbonated Soft Drinks
Bottled Water
Juice & Juice Drinks
Sports Drinks
Tea & Coffee
Energy Drinks & Shots
Alternative Drinks
Figure 2. Largest beverage brand portfolios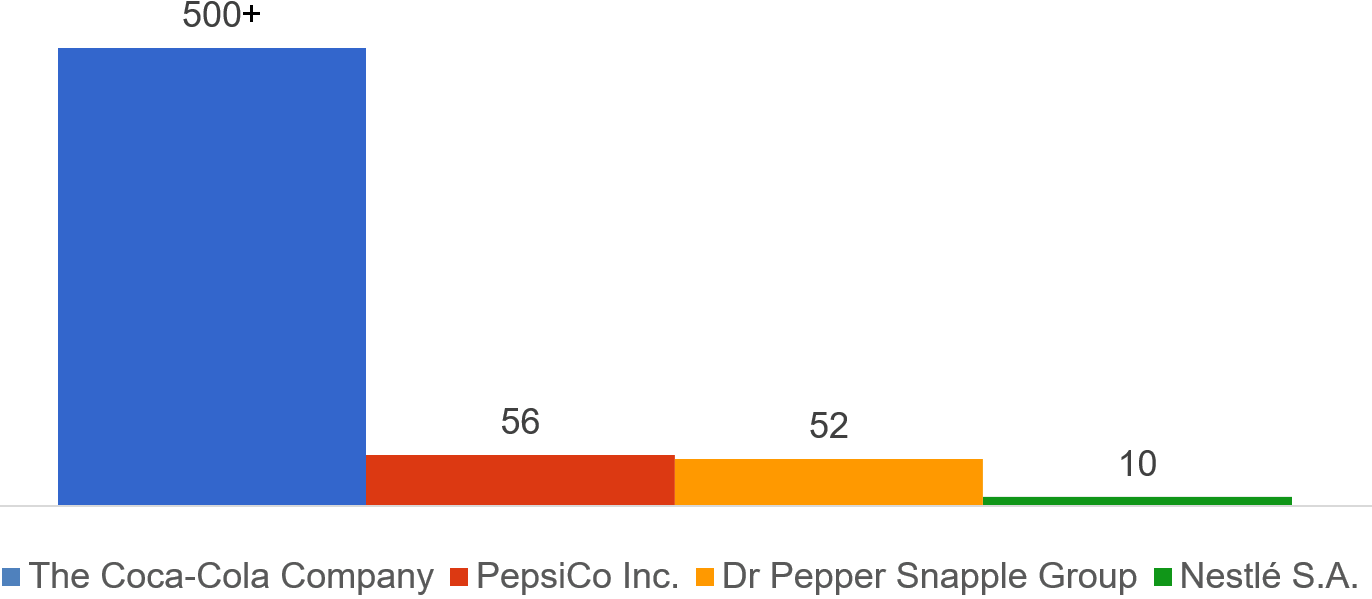 Source: Companies' financial reports and official websites[3][4][5][6]
The most popular company's drink is Coca-Cola. Coca-Cola trademark (includes Diet Coke and Coca-Cola Zero) earned around 40% of the company's total revenue.[1] While Coca-Cola is the most important product, it is only one of the 21 billion-dollar brands that the business owns. The company's billion-dollar brands include:
The company also owns 13 other brands that each annually earn at least US$1 billion:[6]
Coca-Cola
Fanta
Sprite
Diet Coke/Coca-Cola Light
Coca-Cola Zero
Minute Maid
Georgia Coffee
Powerade
Del Valle
Schweppes
Aquarius
Minute Maid Pulpy
Dasani
Simply
Vitaminwater
Gold Peak
Fuze Tea
Ice Dew
smartwater
I LOHAS
Ayataka.
Figure 3. The Coca-Cola Company's billion-dollar brands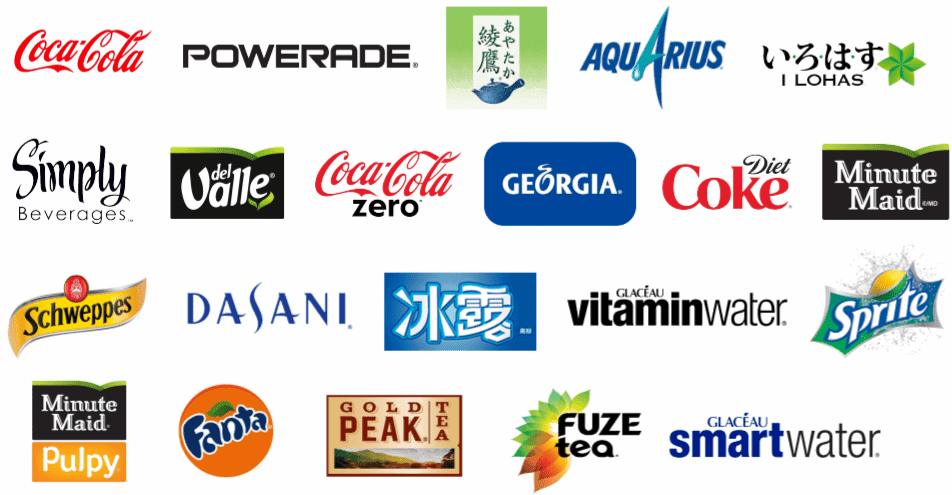 Source: The Coca-Cola Company[7]
No other business in the beverage industry owns as many billion-dollar brands as The Coca-Cola Company.
What does a diversified portfolio provide for the company? First, The Coca Cola Company depends less on one or two of its beverages to generate the majority of its revenue.
Second, with so many beverage drinks in so many flavors, the business can satisfy every consumer's needs and tastes.
Third, if the demand for one of the company's beverages falls sharply (as it is now with Coca-Cola) the business can rely on other beverages to generate higher sales.
Few of The Coca Cola Company's rivals can enjoy such a diversified brand portfolio, which provides strong competitive advantage over the rivals.
Access the full analysis… more Coca Cola strengths, weaknesses, opportunities and threats
Published: January 10, 2021
Format: PDF + PowerPoint
Pages: 29
Words: 5,600
Charts/tables: 10
Price: US$19 US$9.99
What you get
Thorough insight into the business
Comparison against rivals
Table of contents
Company Overview
SWOT Analysis
Strengths
Weaknesses
Opportunities
Threats
Summary
Sources
Why buy from us?
Best source
We're the No.1 source for both free and paid SWOT analyses on the web.
Well researched
All the information is supported with data from the most trusted sources.
Instant Access
You can download your swot instantly after the payment.
Trusted
Many customers often contact us with requests for custom business/market specific SWOTs, because they trust us.
Have any questions?
Contact us by
Email: ovidijus.jurevicius@strategicmanagementinsight.com
Sources
The Coca-Cola Company (2018). Form 10-K for the Fiscal Year Ended December 31, 2017. Available at: http://www.coca-colacompany.com/investors/investors-info-sec-filings/ Accessed January 10, 2019
Beverage Industry (2018). Top 100 Beverage Companies of 2017. Available at: https://www.bevindustry.com/top-100-beverage-companies-2017-chart Accessed June 10, 2018
The Coca-Cola Company (2018). All Brands. Available at: http://www.coca-colacompany.com/brands/the-coca-cola-company Accessed January 10, 2019
PepsiCo (2018). Form 10-K for the Fiscal Year Ended December 30, 2017. Available at: http://www.pepsico.com/Investors/SEC-Filings Accessed January 10, 2019
Dr Pepper Snapple Group (2018). Form 10-K for the Fiscal Year Ended December 31, 2017. Available at: http://investor.drpeppersnapplegroup.com/sec-filings?cat=1 Accessed January 10, 2019
Nestle (2018). Brands A-Z. Available at: http://www.nestle.com/brands/brandssearchlist Accessed January 10, 2019
The Coca-Cola Company (2018). Coca-Cola at A Glance: Infographic. Available at: http://www.coca-colacompany.com/our-company/infographic-coca-cola-at-a-glance Accessed January 10, 2019
Interbrand (2018). Best Global Brands 2017. Available at: http://interbrand.com/best-brands/best-global-brands/2017/ranking/ Accessed January 10, 2019
Forbes (2018). World's Most Powerful Brands. Available at: https://www.forbes.com/powerful-brands/list Accessed January 10, 2019
Interbrand (2001). Best Global Brands 2000. Available at: http://interbrand.com/best-brands/best-global-brands/2000/ranking/ Accessed January 10, 2019
Interbrand (2006). Best Global Brands 2005. Available at: http://interbrand.com/best-brands/best-global-brands/2005/ranking/ Accessed January 10, 2019
Interbrand (2011). Best Global Brands 2010. Available at: http://interbrand.com/best-brands/best-global-brands/2010/ranking/ Accessed January 10, 2019
Interbrand (2016). Best Global Brands 2015. Available at: http://interbrand.com/best-brands/best-global-brands/2015/ranking/ Accessed January 10, 2019
Harvard T.H. Chan (2016). Soft Drinks and Disease. Available at: https://www.hsph.harvard.edu/nutritionsource/healthy-drinks/soft-drinks-and-disease/ Accessed January 10, 2019
Beverage Marketing Corporation (2018). Press Release: U.S. Liquid Refreshment Beverage Market Retail Dollars and Volume Both Grew in 2017, Reports Beverage Marketing Corporation. Available at: https://www.beveragemarketing.com/news-detail.asp?id=485 Accessed January 10, 2019
O'Connor, A (2015). Coca-Cola Funds Scientists Who Shift Blame for Obesity Away From Bad Diets. Available at: https://well.blogs.nytimes.com/2015/08/09/coca-cola-funds-scientists-who-shift-blame-for-obesity-away-from-bad-diets/ Accessed January 10, 2019
Gelles, D. (2014). Coke and McDonald's, Growing Together Since 1955. Available at: http://www.nytimes.com/2014/05/16/business/coke-and-mcdonalds-working-hand-in-hand-since-1955.html Accessed January 10, 2019
Beverage Marketing Corporation (2014). Press Release: The U.S. Liquid Refreshment Beverage Market Remained Flat in 2013. Available at: http://www.beveragemarketing.com/news-detail.asp?id=299 Accessed January 10, 2019
Beverage Marketing Corporation (2015). Press Release: The U.S. Liquid Refreshment Beverage Marketing Enlarged in 2014, Reports Beverage Marketing Corporation. Available at: http://www.beveragemarketing.com/news-detail.asp?id=335 Accessed January 10, 2019
Beverage Marketing Corporation (2016). Press Release: The U.S. Liquid Refreshment Beverage Market Accelerated in 2015, Reports Beverage Marketing Corporation. Available at: http://www.beveragemarketing.com/news-detail.asp?id=382 Accessed January 10, 2019
Beverage Marketing Corporation (2017). Press Release: The U.S. Liquid Refreshment Beverage Market Accelerated Again in 2016. Available at: http://www.beveragemarketing.com/news-detail.asp?id=439 Accessed January 10, 2019
Beverage Marketing Corporation (2018). Press Release: U.S. Liquid Refreshment Beverage Market Retail Dollars and Volume Both Grew in 2017, Reports Beverage Marketing Corporation. Available at: https://www.beveragemarketing.com/news-detail.asp?id=485 Accessed January 10, 2019
Beverage Industry (2018). 2018 State of the Beverage Industry: Premium offerings continue to drive wine, spirits markets. Available at: https://www.bevindustry.com/articles/91282-2018-state-of-the-beverage-industry-premium-offerings-continue-to-drive-wine-spirits-markets Accessed January 10, 2019
Hopkins, A. (2018). 'Banner year' for US spirits sales in 2017. Available at: https://www.thespiritsbusiness.com/2018/02/banner-year-for-us-spirits-sales-in-2017/ Accessed January 10, 2019
Business Wire (2017). Global Tequila Market to Witness Growth Through 2021, Owing to the Introduction of New Flavors: Technavio. Available at: http://www.businesswire.com/news/home/20170309005955/en/Global-Tequila-Market-Witness-Growth-2021-Owing Accessed January 10, 2019
Statista (2018). Leading brands of tequila in the United States in 2016, based on volume sales (in 1,000 9 liter cases). Available at: https://www.statista.com/statistics/463995/us-leading-brands-of-tequila-volume-sales/ Accessed January 10, 2019
Market Research Engine (2018). Coconut Water Market By Product Type (Coconut water, Natural fruit sugar) and by Regional Analysis – Global Forecast by 2017 – 2024. Available at: https://www.marketresearchengine.com/coconut-water-market Accessed January 10, 2019
Arizton (2018). Packaged Coconut Water Market – Global Outlook and Forecast 2018-2023. Available at: https://www.arizton.com/market-reports/packaged-coconut-water-market Accessed January 10, 2019
Beverage Industry (2018). ZICO Coconut Water offers new entry points for consumers. Available at: https://www.bevindustry.com/articles/91196-zico-coconut-water-offers-new-entry-points-for-consumers Accessed January 10, 2019
Strategic Management Insight (2018). PepsiCo SWOT Analysis. Available at: https://strategicmanagementinsight.com/swot-analyses/pepsico-swot-analysis/ Accessed January 10, 2019
Roesler, N. (2017). Global savory snack market ripe for growth. Available at: https://www.foodbusinessnews.net/articles/9167-global-savory-snack-market-ripe-for-growth Accessed January 10, 2019
Lee, B. Y. (2017). In Berkeley, Soda Tax Is Doing What It's Supposed To Do. Available at: https://www.forbes.com/sites/brucelee/2017/04/18/in-berkeley-soda-tax-is-doing-what-its-supposed-to-do/#1f771da2cae7 Accessed January 10, 2019
American Public Health Association (2016). Impact of the Berkeley Excise Tax on Sugar-Sweetened Beverage Consumption. Available at: http://ajph.aphapublications.org/doi/abs/10.2105/AJPH.2016.303362 Accessed January 10, 2019
Bird, B. (2018). What Is the Soda Tax and Which Cities Have One? Available at: https://www.thebalance.com/soda-tax-and-which-cities-have-one-4151209 Accessed January 20, 2018
McDonald's Corporation (2018). Form 10-K for the Fiscal Year Ended December 31, 2017. Available at: http://corporate.mcdonalds.com/content/corpmcd/investors-relations/financial-information/sec-filings.html Accessed January 10, 2019