This PepsiCo SWOT analysis reveals how the second largest food company in the world uses its competitive advantages to dominate snack and beverage industries.
It identifies all the key strengths, weaknesses, opportunities and threats that affect the company the most. If you want to find out more about the SWOT of PepsiCo, you're in the right place.
For more information on how to do a SWOT analysis please refer to our article.
Keep reading.
Company Background
Name
PepsiCo Inc.
Founded
August 28, 1898
Logo
Industries served
Beverage (Pepsi, Mountain Dew, Gatorade, Sierra Mist)
Food (Quaker Oats, WBD, Rold Gold)
Snack (Lay's, Doritos, Cheetos)
Geographic areas served
Worldwide (more than 200 countries)
Headquarters
Purchase, New York, U.S.
Current CEO
Indra Nooyi
Revenue (US$)
63.525 billion (2017) 1.2% increase over 62.799 billion (2016)
Profit (US$)
4.857 billion (2017) 30.3% decrease over 6.329 billion (2016
Employees
263,000 (2017)
Main Competitors
The Coca-Cola Company, DPSG, Mondelēz International, Monster Beverage Corporation, Hansen Natural Corporation, National Beverage Corp., Kraft Foods Group, The Kellogg Company, ConAgra Foods., Nestlé S.A., Snyder's-Lance and other beverage, food and snack companies.
PepsiCo business overview from the company's financial report:
"We are a leading global food and beverage company with a complementary portfolio of enjoyable brands, including Frito-Lay, Gatorade, Pepsi-Cola, Quaker and Tropicana.
Through our operations, authorized bottlers, contract manufacturers and other third parties, we make, market, distribute and sell a wide variety of convenient and enjoyable beverages, foods and snacks, serving customers and consumers in more than 200 countries and territories.
Performance with Purpose is our goal to deliver sustained value by providing a wide range of beverages, foods and snacks, from treats to healthy eats; finding innovative ways to minimize our impact on the environment and lower our costs through energy and water conservation as well as reduce our use of packaging material; providing a safe and inclusive workplace for our employees globally; and respecting, supporting and investing in the local communities in which we operate.
In 2017, sales to Walmart Stores, Inc., including Sam's Club (Sam's), represented approximately 13% of our total net revenue. Our top five retail customers represented approximately 37% of our 2017 net revenue in North America, with Walmart (including Sam's) representing approximately 19%.
In many countries in which our products are sold, including the United States, The Coca-Cola Company is our primary beverage competitor.
Other beverage, food and snack competitors include, but are not limited to, DPSG, Kellogg Company, The Kraft Heinz Company, Mondelez International, Inc., Monster Beverage Corporation, Nestlé S.A., Red Bull GmbH and Snyder's-Lance, Inc.
Many of our food and snack products hold significant leadership positions in the food and snack industry in the United States and worldwide. In 2017, we and The Coca-Cola Company represented approximately 23% and 20%, respectively, of the U.S. liquid refreshment beverage category by estimated retail sales in measured channels."[1]
You can find more information about the business in PepsiCo's official website or Wikipedia's article.
PepsiCo SWOT analysis
Strengths
1. Comprehensive product portfolio with 100 brands serving nearly every niche in the beverage, food and snack industries.
Commencing operations in 1965, PepsiCo has become the second largest food and beverage company in the world today.
The company earned US$63.525 billion in 2017, second only to Nestlé S.A. PepsiCo was able to achieve this via strengthening its product portfolio and offering as many different beverages and foods as possible.
The company sells nearly 100 different brands, of which 22 have each generated more than US$1 billion dollars in 2017.[1] In addition, more than 10 brands have generated between US$500 million and US$1 billion in revenue.
Figure 1. Brand portfolio by world's largest food and beverage companies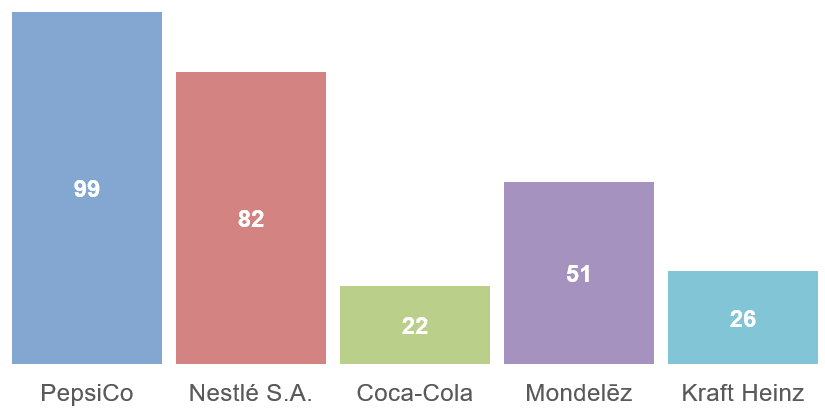 Source: The respective companies' official websites and financial reports [1][2][3][4][5]
Figure 2. PepsiCo's top earning brands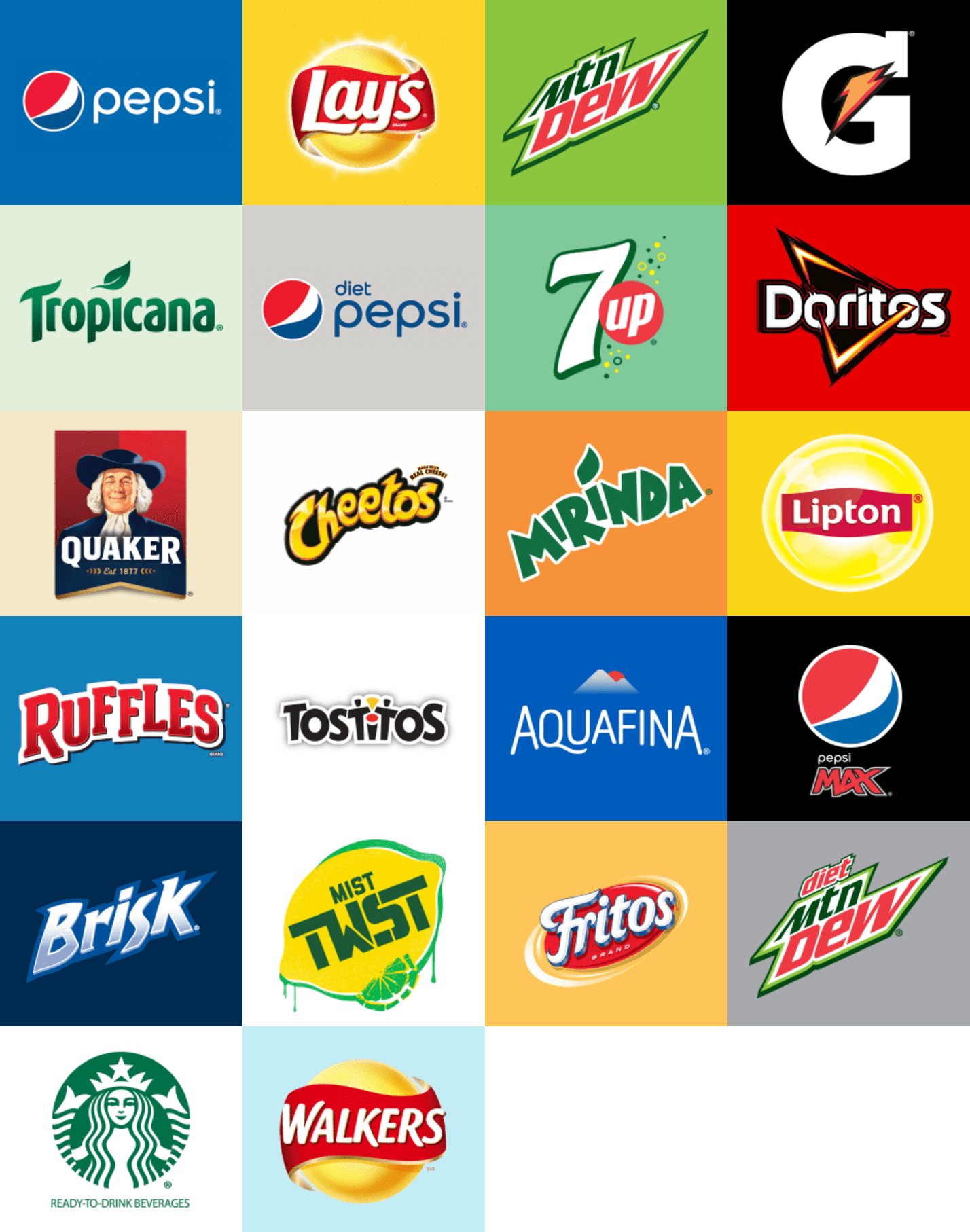 Source: PepsiCo brands[6]
PepsiCo's brand portfolio is highly diversified. No competitor has as many high earning brands as PepsiCo. They each rely on a few main products to earn the majority of their revenue. This makes them very vulnerable to any changes in their core products' markets.
PepsiCo is better equipped to satisfy the needs of its customers with its wide variety of successful products. The company offers nearly every type beverage or snack and its brands can often be substituted for each other.
For example, Lays can be replaced with Doritos, Cheetos, Ruffles, Tostitos or Fritos, so if one product doesn't satisfy a consumer's needs, PepsiCo can offer many more choices. Therefore, changes in customer tastes do not affect the company as severely as they would other companies.
2. Brand recognition and reputation
PepsiCo owns and markets some of the most recognizable global brands, including Pepsi, Tropicana, Gatorade, Mountain Dew, Aquafina, Lay's, Doritos, Cheetos and many other popular brands.
According to Interbrand[7] and Forbes[8], the Pepsi brand is the 22nd and 30th most valuable brand in the world, worth US$20.491 billion and US$18.2 billion, respectively. Forbes also identified Frito-Lay as the 40th most valuable brand in the world, worth US$13.6 billion.
Except for Coca-Cola and Sprite, no other non-alcoholic beverage brand besides Pepsi has been recognized as being one of the top 100 most valuable brands in the world.
According to IRI data, which measured the most popular U.S. snack brands in the first half of 2017, 8 of the 10 most popular snack brands were owned by PepsiCo.[9]
Figure 3. Top 10 best-selling U.S. snack brands
| Ranking | Brand | Owner |
| --- | --- | --- |
| 1. | Lay's | owned by PepsiCo |
| 2. | Doritos | owned by PepsiCo |
| 3. | Cheetos | owned by PepsiCo |
| 4. | Ruffles | owned by PepsiCo |
| 5. | Pringles | – |
| 6. | Tostitos | owned by PepsiCo |
| 7. | Wavy Lays | owned by PepsiCo |
| 8. | Fritos | owned by PepsiCo |
| 9. | Tostitos Scoops | owned by PepsiCo |
| 10. | Snyder's of Hanover | – |
Source: Bakery and Snacks [9]
The company sells its products in more than 200 countries, so consumers are aware of PepsiCo's brands all over the world. Owning and selling popular brands also helps PepsiCo to cross-sell its other brands or introduce new products to the market much more easily.
Access the full analysis… more PepsiCo strengths, weaknesses, opportunities and threats
Published: January 10, 2021
Format: PDF + PowerPoint
Pages: 26
Words: 5,300
Charts/tables: 11
Price: US$19 US$9.99
What you get
Thorough insight into the business
Comparison against rivals
Table of contents
Company Overview
SWOT Analysis
Strengths
Weaknesses
Opportunities
Threats
Summary
Sources
Why buy from us?
Best source
We're the No.1 source for both free and paid SWOT analyses on the web.
Well researched
All the information is supported with data from the most trusted sources.
Instant Access
You can download your swot instantly after the payment.
Trusted
Many customers often contact us with requests for custom business/market specific SWOTs, because they trust us.
Have any questions?
Contact us by
Email: ovidijus.jurevicius@strategicmanagementinsight.com
Sources
PepsiCo Inc. (2018). 2017 Annual Report. Available at: http://www.pepsico.com/docs/album/investor/pepsico-inc-2017-annual-report.pdf Accessed January 10, 2019
Nestlé S.A. (2018). Brands A-Z. Available at: http://www.nestle.com/Brands/BrandsSearchList?char=A Accessed January 10, 2019
The Coca-Cola Company (2018). All Brands. Available at: http://www.coca-colacompany.com/brands/product-description Accessed January 10, 2019
Mondelez International (2018). Brand Family. Available at: http://www.mondelezinternational.com/brand-family Accessed January 10, 2019
The Kraft Heinz Company. (2018). Our Brands. Available at: http://www.kraftheinzcompany.com/brands.html Accessed January 10, 2019
PepsiCo Inc. (2018). Top Global Brands. Available at: http://www.pepsico.com/Brands/BrandExplorer#top-global-brands Accessed January 10, 2019
Interbrand (2018). Best Global Brands 2017. Available at: http://interbrand.com/best-brands/best-global-brands/2017/ranking/ Accessed January 10, 2019
Forbes (2018). The World's Most Valuable Brands. Available at: http://www.forbes.com/powerful-brands/list/ Accessed January 10, 2019
Hyslop, G. (2017). Top 10 US salty snack brands in 2017 so far: Sales soar for Frito-Lay's Ruffles brand. Available at: https://www.bakeryandsnacks.com/Article/2017/07/13/Top-10-US-snack-brands-Sales-soar-for-Frito-Lay-s-Ruffles-brand Accessed January 10, 2019
Nestlé S.A. (2018). Financial Statements 2017. Available at: https://www.nestle.com/asset-library/documents/library/documents/financial_statements/2017-financial-statements-en.pdf Accessed January 10, 2019
Mondelez International, Inc. (2018). Form 10-K for the Fiscal Year Ended December 31, 2017. Available at: https://www.nestle.com/asset-library/documents/library/documents/financial_statements/2017-financial-statements-en.pdf Accessed January 10, 2019
The Coca-Cola Company (2018). Form 10-K for the Fiscal Year Ended December 31, 2017. Available at: https://www.coca-colacompany.com/content/dam/journey/us/en/private/fileassets/pdf/2018/2017-10K.pdf Accessed January 10, 2019
PepsiCo (2018). New Products. Available at: http://www.pepsico.com/live/content/topic/New-Products Accessed January 10, 2019
Dr Pepper Snapple Group, Inc. (2018). Form 10-K for the Fiscal Year Ended December 31, 2017. Available at: http://investor.drpeppersnapplegroup.com/sec-filings?s=127&year=&cat=1 Accessed January 10, 2019
PepsiCo (2018). Awards and Recognition. Available at: http://www.pepsico.com/About/Awards-and-Recognition Accessed January 10, 2019
PepsiCo, Inc. (2018). Brief History of PepsiCo's Beverages. Available at: https://www.pepsicobeveragefacts.com/home/timeline Accessed January 10, 2019
Starbucks (2018). Fact Sheet: Starbucks and PepsiCo Partnership. Available at: https://news.starbucks.com/facts/fact-sheet-starbucks-and-pepsico-partnership Accessed January 10, 2019
Beverage Marketing Corporation (2018). Press Release: U.S. Liquid Refreshment Beverage Market Retail Dollars and Volume Both Grew in 2017, Reports Beverage Marketing Corporation. Available at: https://www.beveragemarketing.com/news-detail.asp?id=485 Accessed January 10, 2019
Beverage Industry (2018). 2018 State of the Beverage Industry: Premium offerings continue to drive wine, spirits markets. Available at: https://www.bevindustry.com/articles/91282-2018-state-of-the-beverage-industry-premium-offerings-continue-to-drive-wine-spirits-markets Accessed January 10, 2019 Accessed January 10, 2019
Hopkins, A. (2018). 'Banner year' for US spirits sales in 2017. Available at: https://www.thespiritsbusiness.com/2018/02/banner-year-for-us-spirits-sales-in-2017/ Accessed January 10, 2019
Business Wire (2017). Global Tequila Market to Witness Growth Through 2021, Owing to the Introduction of New Flavors: Technavio. Available at: http://www.businesswire.com/news/home/20170309005955/en/Global-Tequila-Market-Witness-Growth-2021-Owing Accessed January 10, 2019
Statista (2018). Leading brands of tequila in the United States in 2016, based on volume sales (in 1,000 9 liter cases). Available at: https://www.statista.com/statistics/463995/us-leading-brands-of-tequila-volume-sales/ Accessed January 10, 2019
Beverage Marketing Corporation (2014). Press Release: The U.S. Liquid Refreshment Beverage Market Remained Flat in 2013. Available at: http://www.beveragemarketing.com/news-detail.asp?id=299 Accessed January 10, 2019
Beverage Marketing Corporation (2015). Press Release: The U.S. Liquid Refreshment Beverage Marketing Enlarged in 2014, Reports Beverage Marketing Corporation. Available at: http://www.beveragemarketing.com/news-detail.asp?id=335 Accessed January 10, 2019
Beverage Marketing Corporation (2016). Press Release: The U.S. Liquid Refreshment Beverage Market Accelerated in 2015, Reports Beverage Marketing Corporation. Available at: http://www.beveragemarketing.com/news-detail.asp?id=382 Accessed January 10, 2019
Beverage Marketing Corporation (2018). Press Release: U.S. Liquid Refreshment Beverage Market Retail Dollars and Volume Both Grew in 2017, Reports Beverage Marketing Corporation. Available at: https://www.beveragemarketing.com/news-detail.asp?id=485 Accessed January 10, 2019
Market Research Engine (2018). Coconut Water Market By Product Type (Coconut water, Natural fruit sugar) and by Regional Analysis – Global Forecast by 2017 – 2024. Available at: https://www.marketresearchengine.com/coconut-water-market Accessed January 10, 2019
Arizton (2018). Packaged Coconut Water Market – Global Outlook and Forecast 2018-2023. Available at: https://www.arizton.com/market-reports/packaged-coconut-water-market Accessed January 10, 2019
PepsiCo (2018). About O.N.E. Coconut Water. Available at: https://cu.pepsico.com/one/one-company-info Accessed January 10, 2019
Douglas, Y. (2017). Savory snacks market in China expected to reach US$16.6 billion 2021, Euromonitor. Available at: http://www.bakeryandsnacks.com/Markets/Savory-snacks-in-China-expected-to-reach-16.6bn-by-2021-Euromonitor Accessed January 10, 2019
Bird, B. (2018). What Is the Soda Tax and Which Cities Have One? Available at: https://www.thebalance.com/soda-tax-and-which-cities-have-one-4151209 Accessed January 10, 2019
American Public Health Association (2016). Impact of the Berkeley Excise Tax on Sugar-Sweetened Beverage Consumption. Available at: http://ajph.aphapublications.org/doi/abs/10.2105/AJPH.2016.303362 Accessed January 10, 2019
Lee, B. Y. (2017). In Berkeley, Soda Tax Is Doing What It's Supposed To Do. Available at: https://www.forbes.com/sites/brucelee/2017/04/18/in-berkeley-soda-tax-is-doing-what-its-supposed-to-do/#1f771da2cae7 Accessed January 10, 2019