This article contains a deep dive into Chipotle, a popular Tex-Mex food chain in the U.S. Specifically, we will discuss how the company can capitalize on its strengths and emerging opportunities to ensure its continued success.
We will also look at the internal weaknesses it faces, as well as external threats it must address to avoid potential disruptions in its business.
Company Overview
Name
Chipotle Mexican Grill, Inc.
Logo
Founded
July 13, 1993
Founder
Steve Ells
Industry
Limited-service restaurants
Headquarters
Newport Beach, California
Website
https://www.chipotle.com
Markets Served
United States, Canada, United Kingdom, France,
and Germany
CEO
Brian Niccol
Number of Employees
104,958 as of 2022
Revenue
$8.63 billion (2022)
Net Income
$0.899 billion (2022)
Competitors
Tex-Mex: Taco Bell, Qdoba, Moe's, Del Taco, and El Pollo Loco
Other Fast-Casual Restaurants: McDonald's, Burger King, Wendy's, Domino's Pizza, Pizza Hut, KFC, Chick-Fil-A, Popeye's, and Subway
Chipotle Mexican Grill, Inc. is a fast-casual restaurant chain in the U.S. that primarily offers Mexican food. The company was founded by Steve Ells in 1993, who opened the first restaurant in Denver, Colorado.
Over the years, the company has experienced substantial growth, which eventually led to the company's successful IPO in January 2006. Since then, Chipotle has continued its upward trajectory, aggressively expanding its presence within the U.S. and into selected countries like Canada, the U.K., France, and Germany. As of the end of 2022, Chipotle has already established 3,152 locations worldwide.
The company's mission is to "Cultivate a Better World." This commitment is clearly reflected in its sourcing approach, innovative cooking practices, and robust relationships with customers and suppliers.
Chipotle's core menu offering is based on traditional Mexican cuisine, featuring burritos, tacos, burrito bowls, quesadillas, and salads. The company takes pride in using only the highest quality and ethically grown raw ingredients, in-store preparation and assembly of food, and unique interior design, all contributing to a differentiated dining experience.
In addition to the Chipotle brand, the company also owns and operates Pizzeria Locale, a casual pizza concept with five locations in Denver, Colorado.
Chipotle SWOT Summary
Strengths
Weaknesses
1. Strong brand awareness and loyalty
2. High-quality food
3. Differentiated service model
4. Enhanced customer relationships
5. Robust digital infrastructure
6. Consistent financial growth
7. Comprehensive compensation and benefits package
1. Limited menu
2. High sodium content in food
3. History of food safety issues
4. Weak global presence
Opportunities
Threats
1. Diversifying menu items
2. Intensifying international expansion
3. Expanding sustainability initiatives
4. Leveraging digital kitchens
1. Highly competitive limited-service restaurants industry
2. Food safety risks
3. Rising costs of ingredients and labor
4. Labor shortages
5. Cybersecurity and data privacy attacks
6. Shifting consumer preferences
Strengths
1. Strong brand awareness and loyalty
Chipotle is a popular fast-casual restaurant chain in the U.S., known for the quality of food it delivers and the service it provides to its customers. Its brand strongly resonates with consumers. According to Statista, 84% of the U.S. population recognizes the Chipotle brand, and 32% say they like the restaurant. Almost one-fourth of these respondents report that they order from it. Furthermore, almost one in five mentioned that they would order from Chipotle again.[1]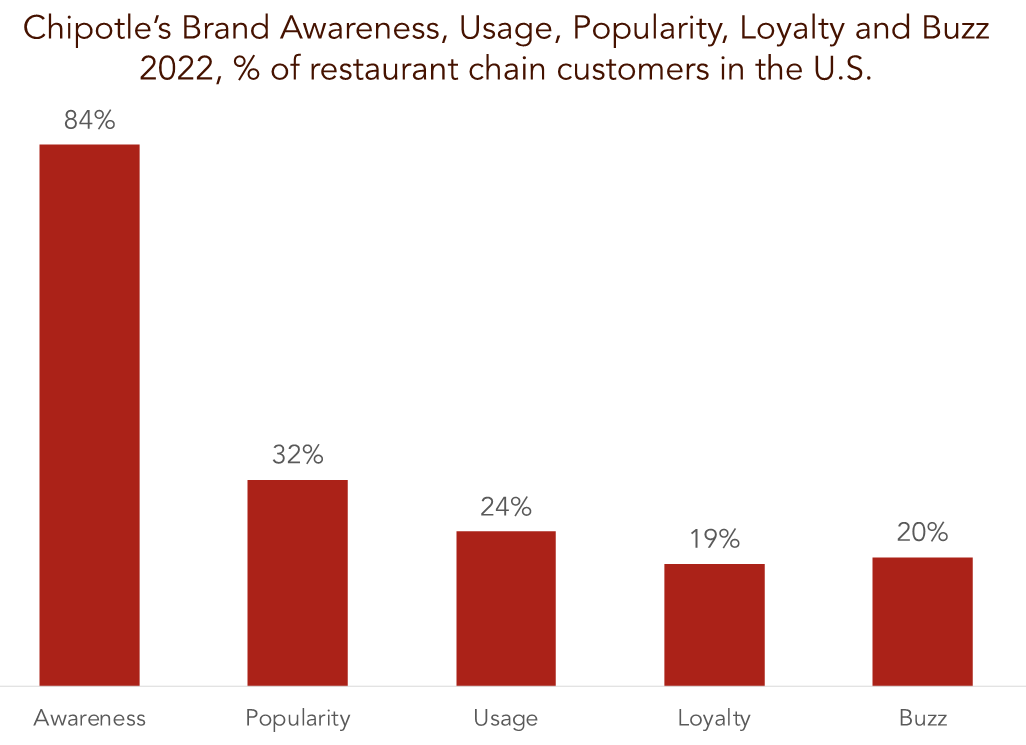 The brand's presence in the media, or its 'brand buzz', has been effective as well, further testifying to the success of Chipotle's marketing campaigns. As of 2022, almost 20% of the U.S. population reported encountering the Chipotle brand in various traditional and online media channels.[2]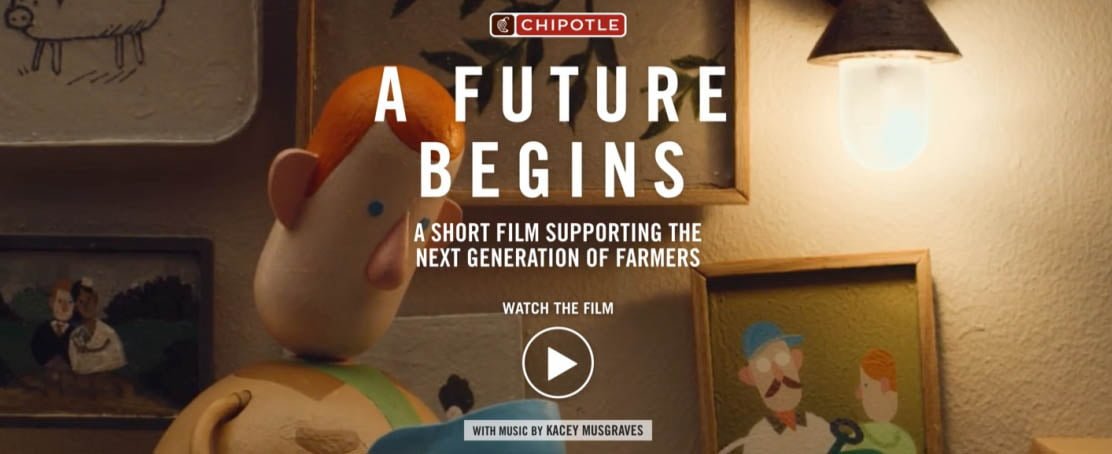 Chipotle's short film: A Future Begins
Chipotle's commitment to its brand extends beyond food and service, as evidenced by its recent accolades. Its short film, "A Future Begins," which encourages support for local farmers, has received widespread recognition.[3] Furthermore, the company's Chief Marketing Officer, Chris Brandt, was honored with the Creativity Awards 2023 Brand CMO of the Year. This award attests to Brandt's role in transforming Chipotle into a purpose-driven, culturally-relevant brand.[4]
2. High-quality food
Chipotle is regarded by many as a success story in the restaurant business, given its rapid growth in a relatively short period of time. This success is commonly attributed to the company's creation of the fast-casual business model, where it still offers limited table service but maintains higher food quality compared to traditional fast-food chains.[5]
A significant part of Chipotle's success lies in its adoption of the slogan "Food with Integrity" in 2001. This catchphrase encapsulates the company's commitment to conscientious sourcing and preparation of its ingredients.
To uphold this commitment, Chipotle leverages 26 independently owned and operated regional distribution centers. These centers diligently source ingredients from various suppliers that have been carefully vetted according to the company's stringent criteria.[6]
Chipotle's "Food With Integrity" mantra extends to its meat sourcing strategy, with the company striving to serve only "Responsibly Raised" meats. This means the animals are raised with sustainable practices, respecting animal welfare. This principle also applies to all other ingredients they use.[7]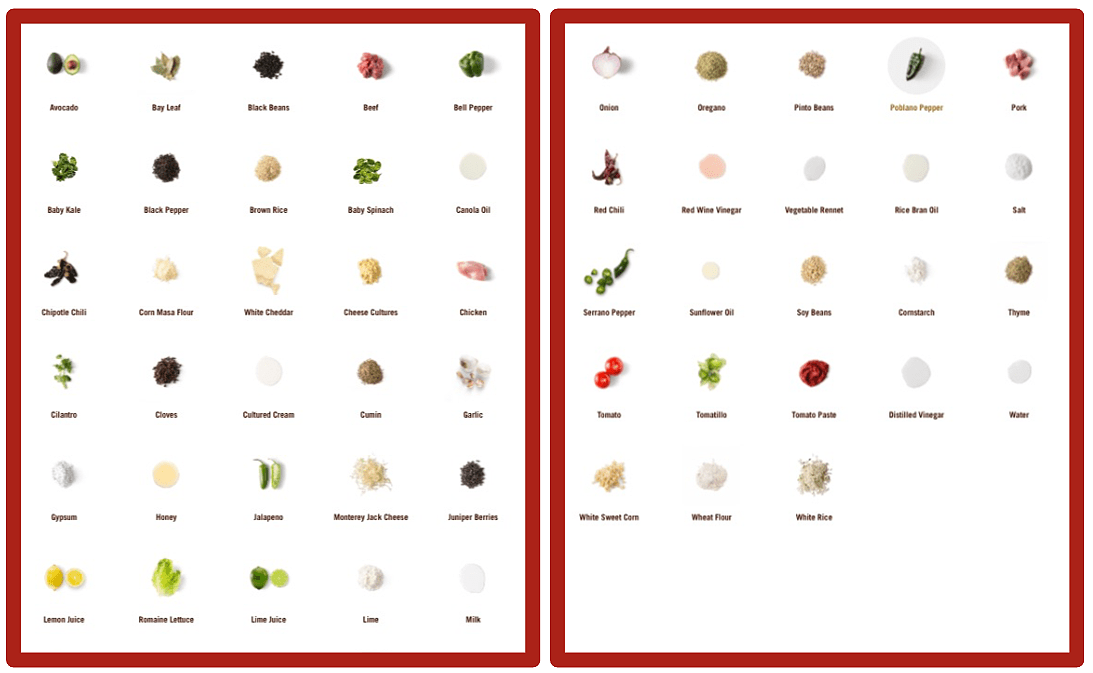 Taking its commitment to high-quality food a step further, the company restricts the use of non-therapeutic antibiotics or growth hormones. This initiative started in 2013 when the company became the first limited-service restaurant to disclose GMO ingredients on its menu. Then, three years later, it enforced a more rigorous stance by banning GMO ingredients altogether.[8]
In stark contrast to many fast-food chains that rely on factory-prepared components, Chipotle sets itself apart by preparing its ingredients fresh in-house. This practice significantly reduces the reliance on frozen food items, a further testament to the company's commitment to quality.
3. Differentiated service model
As part of its Food with Integrity commitment, Chipotle introduced a unique way of preparing food for customers. In contrast with fast food chains where food is mainly prepared in their processing plants, the company makes use of an assembly line where food is made in front of the customers.
Chipotle uses four pillars to execute the assembly line. It includes:
A dedicated expeditor that takes care of packing orders, along with side dishes and drinks.
A linebacker who ensures that line cooks have enough stock of ingredients for its various food options.
Pre-service preparation so that workers can easily make ingredients available during service time.
Ensuring they have their best employees at the right stations, especially during peak periods[9]
This allows Chipotle to offer a differentiated ordering and dining experience to customers. By enabling customers to participate in the assembly of their food, they become empowered in customizing what ingredients go into it. Furthermore, through these four pillars, Chipotle employees are enabled to prepare and serve customers' food at high throughput, even though they are not prepared beforehand.
4. Enhanced customer relationships
To make the brand more accessible and strengthen its relationship with customers, Chipotle launched a loyalty program in the U.S. in 2019 called Chipotle Rewards.[10] It rapidly became one of the fastest-growing loyalty programs in the restaurant industry, with membership in the U.S. alone reaching almost 30 million as of 2022.[11]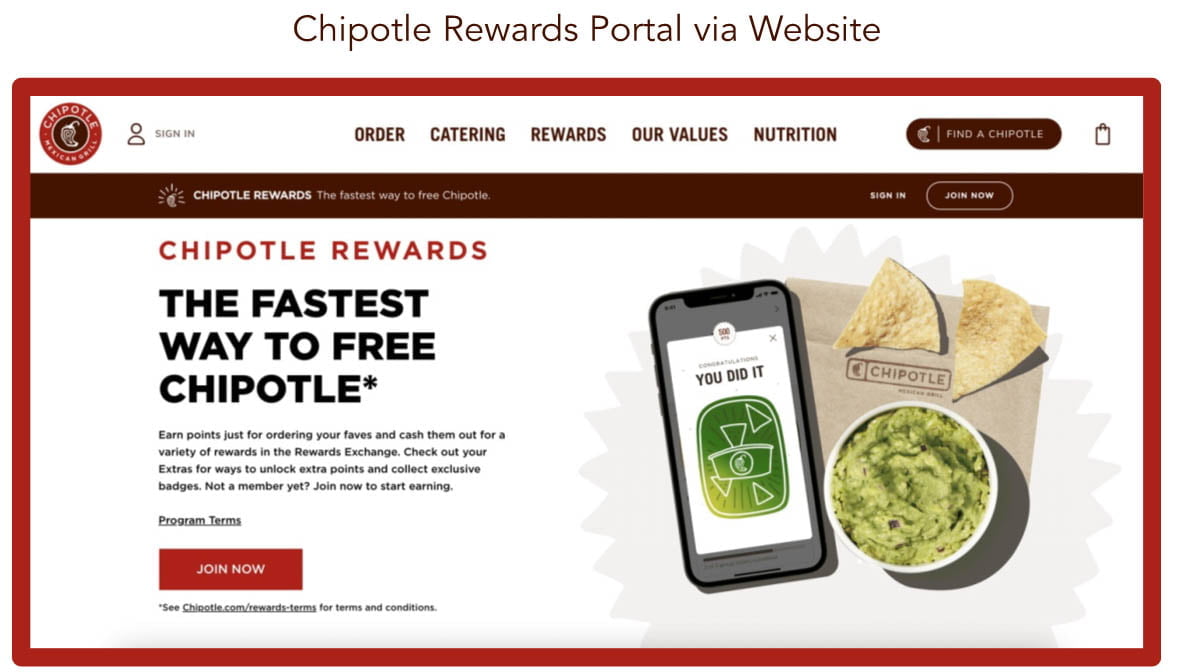 For customer convenience, Chipotle simplified the sign-up process. Customers only need to register through the Chipotle app or its website. Upon registration, they immediately become eligible to receive a reward after their first purchase, along with an annual surprise birthday reward.
Moreover, the program offers a points system, where customers accrue points with every dollar spent at the restaurant. These points can then be redeemed for various rewards offered by the company.
The rewards program functions as a way for Chipotle to express appreciation to its most loyal customers and to maintain strong customer relationships. It also facilitates more personalized engagement, as evidenced by the customized messages Chipotle regularly sends to its customers. These communications serve to keep customers engaged and incentivize repeat patronage.[12]
In addition to Chipotle Rewards, the company continues to enhance customer experiences in other ways. For instance, a dedicated section on its website informs customers about the nutritional content of each ingredient offered in its restaurants.[13] This transparency is a value-added feature that customers, especially the more health-conscious ones, appreciate.
5. Robust digital infrastructure
Chipotle has made significant strides in expanding its digital capabilities, standing out in the limited-service industry. The company has achieved successful integration of its high-tech and high-touch channels. In addition to common digital touchpoints such as the mobile app and website, which allow customers to order online, the company continues to enhance its in-store capabilities to match the efficiency of its digital channels.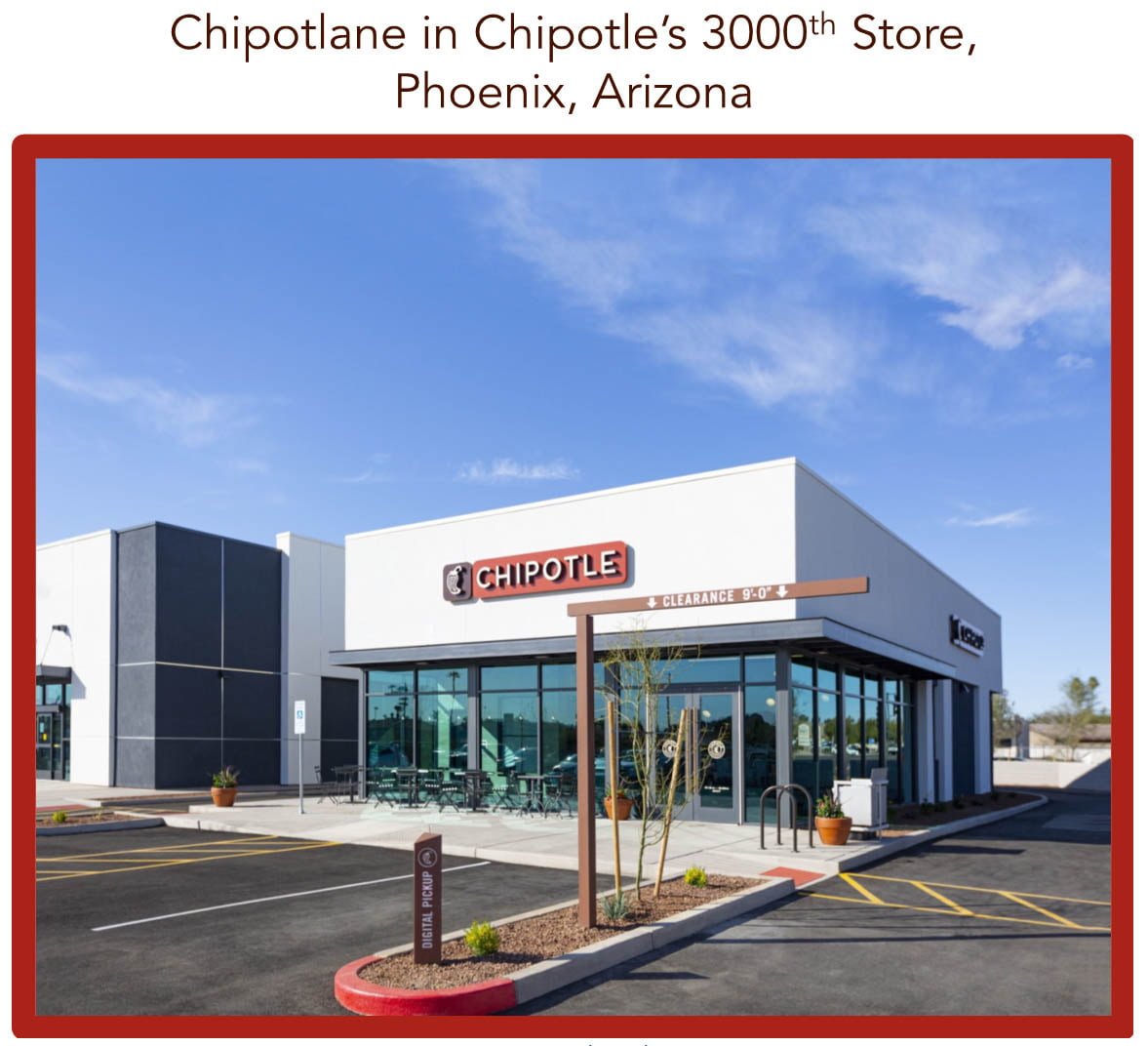 For example, in 2019, Chipotle introduced the Chipotlane concept. This drive-through service enables customers to order personalized items using the company's mobile app or website, and then pick them up in-store. Chipotlanes have increased the speed at which customers receive their orders. This innovative solution helped the company navigate the challenging business climate during the pandemic, enabling it to continue offering personalized service to its customers.
To accommodate the increasing volume of online orders, Chipotle also reconfigured its restaurants by adding dedicated assembly lines for online orders, known as digital makelines. This setup allows the in-store assembly line to serve walk-in customers without disruption.
Additionally, Chipotle has partnered with third-party service providers to enhance efficiency in order deliveries. This strategy allows the company to serve customers more effectively without the need to invest heavily in building its own delivery infrastructure or increasing its headcount even further.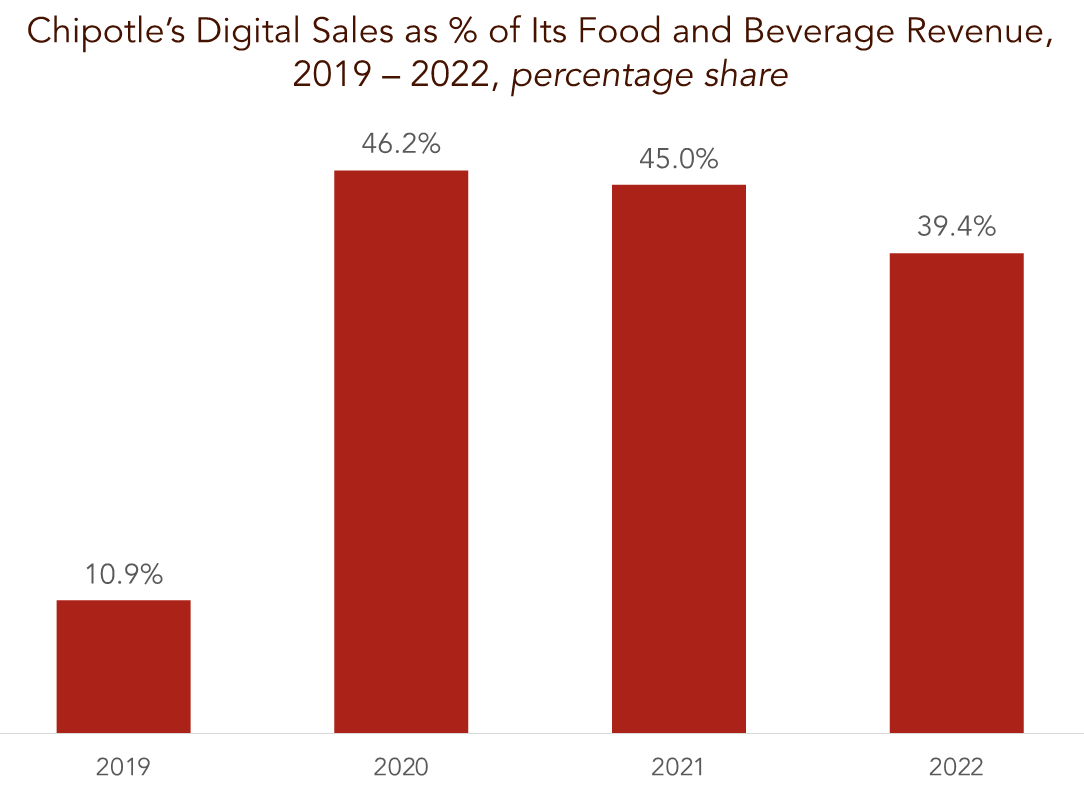 As a result, the company's digital sales have been a large contributor to its unprecedented success. In 2022, it represented almost 40% of the company's food and beverage, with the ratio reaching as high as 46% in 2020.[14]
6. Consistent financial growth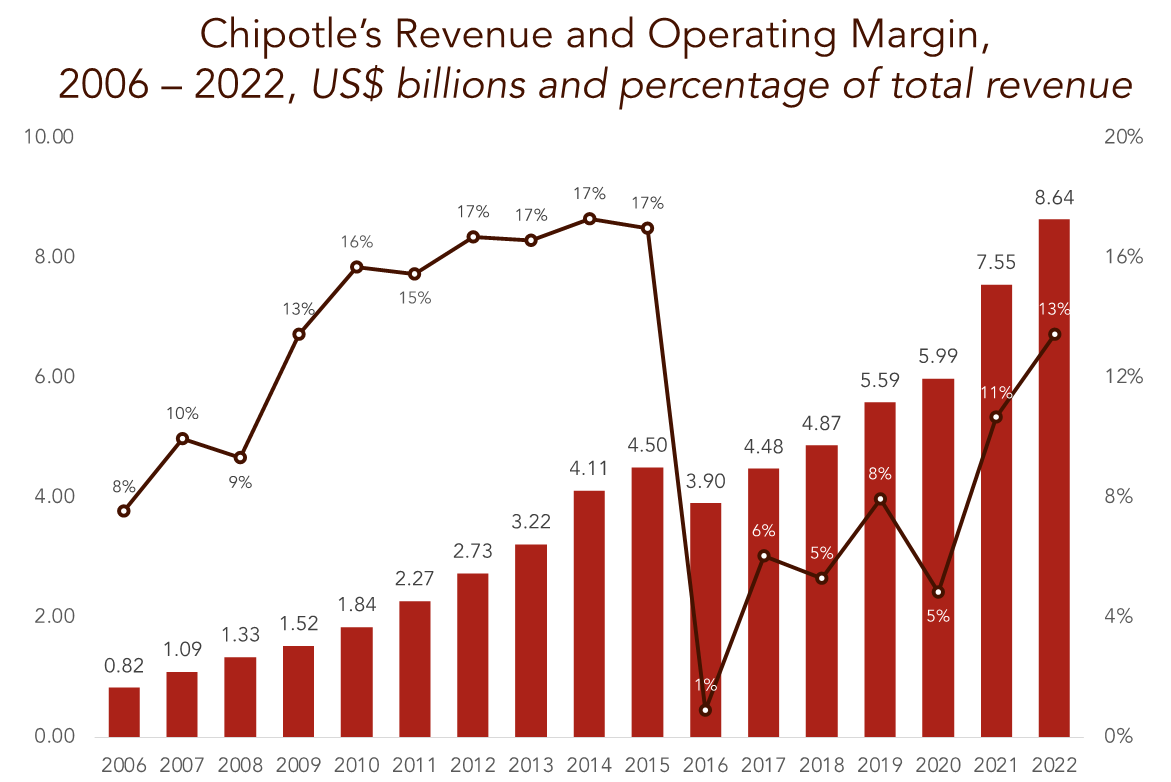 Since its inception in 1993, Chipotle has become one of the fastest-growing limited-service restaurant chains in the U.S. As for revenue, the company has shown consistent growth since it went public in 2006. Specifically, its revenue soared from $822.9 million in 2006 to $8.6 billion in 2022, demonstrating a massive average annual growth rate of 15.82%.[15]
Particularly noteworthy is Chipotle's operating margins, which rank among the highest in the industry. In 2022, the company reported an operating margin of 13%. This figure was even higher between 2011 and 2015, when the five-year average reached 17%.[16] Compared to industry averages as reported by Restaurant 365, these statistics are quite striking. The average gross profit margin for quick service restaurants hovers between 6-9%,[17] with operating margins bound to be even lower.
This exceptional financial performance showcases Chipotle's fiscal strength, a key factor that supports the company's continued rapid growth.
7. Comprehensive compensation and benefits package
High employee turnover is a prevalent challenge in the restaurant industry. According to the National Restaurant Association, 62% of restaurant operators reported being understaffed in 2022.[18] Prior to the COVID-19 pandemic, the association discovered that the overall annual employee turnover rate stood at 66.3%.[19] Like many other prominent restaurant chains, Chipotle also grapples with this issue.
To address this challenge, Chipotle has been proactive in implementing new policies designed to attract and retain employees. For instance, in 2019, the company introduced a novel bonus program allowing employees to earn an extra week's salary each quarter based on their performance. This means that teams meeting sales quotas, throughput goals, and maintaining positive cash flows can earn an additional month's worth of salary as bonuses.[20]
Additionally, Chipotle administers several talent development programs, facilitating internal promotions across restaurant operations as well as corporate and support offices. This strategy cultivates a diverse pipeline of talent within the organization, from which it can select candidates for critical roles.
Complementing monetary incentives and career advancement opportunities, Chipotle also offers comprehensive educational benefits to its employees. These include Tuition Assistance, offering employees access to tuition fee reimbursements; New Career Certificates, providing on-demand skill development programs to aid career advancements; and the Debt-Free program, granting employees access to nearly 100 degree programs across 10 universities, tuition-free.[21]
These initiatives aid Chipotle in engaging its employees and inspiring their dedication to the company. The programs have already proven beneficial, as reflected in the CEO's recent statement that December 2022 saw one of the lowest employee turnover rates in the past two years, with about 90% of its restaurants already fully staffed.[22]
Weaknesses
1. Limited menu
Chipotle takes pride in its menu simplicity and the ability of customers to personalize their meals by choosing what ingredients to include in them. While this approach has brought the company huge success, particularly during the early days, the lack of innovation could hurt the company's potential growth in the long run.
According to the company, its menu serves only a few items, including burritos, burrito bowls, quesadillas, tacos, and salads. This menu has largely been unchanged over time, with just the occasional introduction of new meats and some limited-time offerings. This adoption of limited-time promotions is a trend prevalent among quick-service restaurants that Chipotle has only recently embraced.
The limited range of Chipotle's menu, along with its apparent reluctance to diversify and expand it, could present a barrier to future growth. Some experts contend that the company's past success may have fostered a degree of complacency in terms of menu innovation, which could lead to what they refer to as "menu fatigue" among its customers. They argue that maintaining the same type of menu may not be sufficient to keep customers coming back.[23]
In addition, by keeping its menu largely unchanged over the years, Chipotle might miss out on capturing different market segments. This could potentially limit the company's growth in the future, especially once its primary target markets reach saturation.
2. High sodium content in food
Chipotle stands out for offering relatively healthier food than other fast food chains, largely thanks to its fresh ingredients that contain no preservatives or artificial additives. Customers can easily control their calorie intake by selecting appropriate ingredients. The company also offers items that are directly derived from vegetables, which is not common among other quick-service restaurants.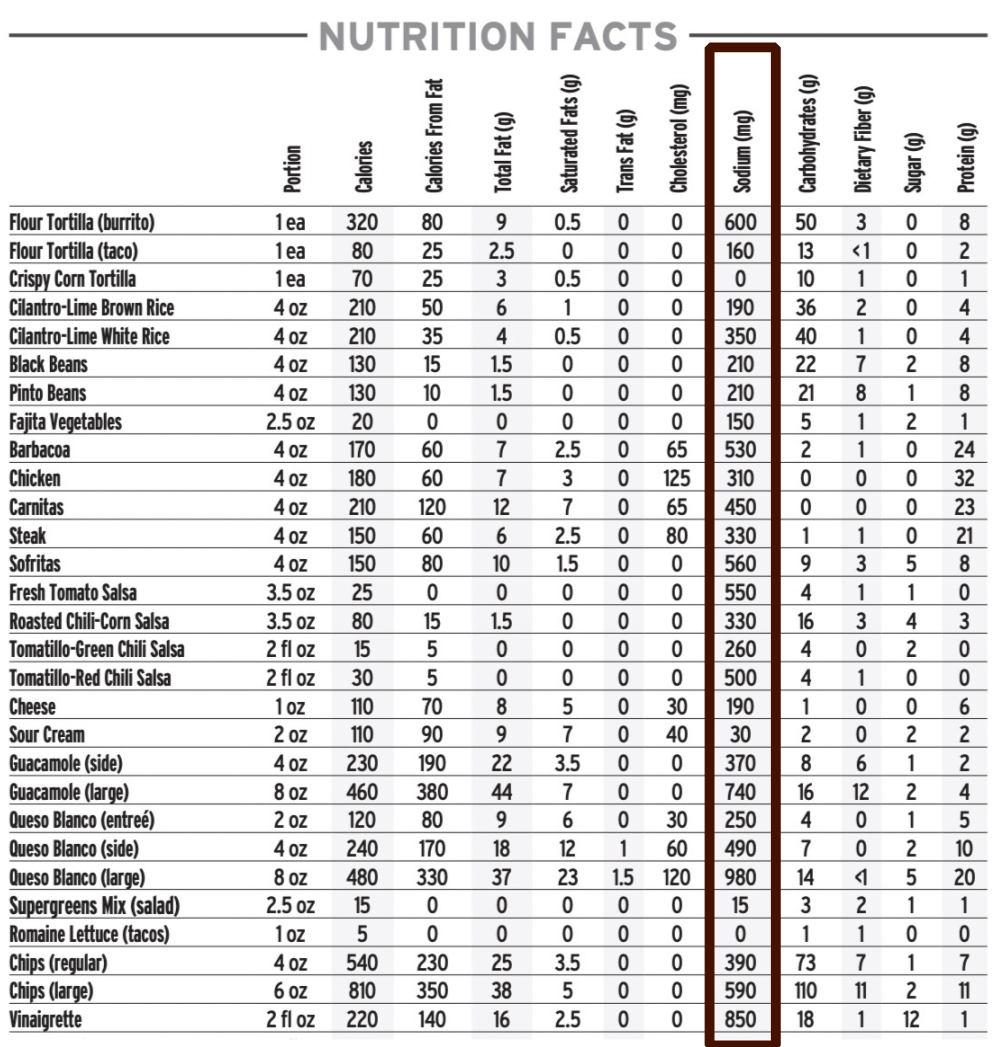 However, the issue emerges with the sodium content present in the ingredients Chipotle uses. For instance, the sodium in its primary carbohydrate sources like rice, tortillas, or tacos can range anywhere from 160 to 600 mg, with the sole exception being the crispy corn tortilla that contains 0 mg of sodium. The sodium in protein choices typically fluctuates from 310 mg to 560 mg, with the highest level surprisingly found in its tofu option, often viewed as the healthiest alternative.[24]
As estimated by the Center for Science in the Public Interest, a customer could consume 3,780 mg of sodium from a single burrito meal coupled with a half order of chips and salsa from Chipotle. This elevated sodium content is not exclusive to burritos, however. Burrito bowls could also contain an estimated 2,410 mg of sodium, while salads could have as much as 2,990 mg.[25]
These easily surpass the recommended daily intake of sodium for American adults as per the Dietary Guidelines for Americans, which stands at 2,300 mg and 1,500 mg for those with existing health conditions.[26]
The high sodium content found in its food could be very risky for both Chipotle and its customers. While the company makes this information readily available and accessible, customers who regularly consume its products could be put at health risks associated with high sodium intake, especially those unsuspecting. This could result in high blood pressure, heart attacks, or even stroke.[27]
Cases like this, especially when tied to the company, could negatively affect its reputation and further result in loss of sales and a decline in overall performance.
3. History of food safety issues
For many years, Chipotle had to grapple with a series of food safety issues. These incidents have largely been attributed to the use of fresh ingredients in their food preparation and inconsistencies in the implementation of food safety protocols by its employees.
Back in April 2008, the restaurant chain confronted its first significant food safety crisis. A Hepatitis A outbreak in San Diego County was traced back to a Chipotle store in La Mesa, California. As per reports, 22 customers contracted the virus, four of whom exhibited severe symptoms requiring hospitalization. The primary source of the virus was suspected to be an employee who tested positive during the outbreak.
Simultaneously, another food safety issue erupted in Ohio. A Norovirus outbreak led to almost 500 people falling ill after dining at a local Chipotle restaurant. The afflicted patrons suffered symptoms such as vomiting, diarrhea, and nausea. While the Ohio state health department was unable to identify the exact source, many speculated it to be a Chipotle employee.
2015 marked a significant year for Chipotle as it faced multiple food safety outbreaks. In July, an E. coli outbreak in Seattle was traced back to a Chipotle branch. Just a month later, a Norovirus outbreak in California impacted over 234 people and was linked to the Simi Valley Town Center Chipotle restaurant. During the same month, over 100 people fell ill from a Salmonella outbreak associated with 17 different Chipotle restaurants in Minnesota, as announced by the state's health department.
As 2015 progressed, two additional E. coli outbreaks in October and December were discovered in Washington and Oregon, implicating Chipotle. Nearly 60 customers were affected, and 22 required hospitalization. Concurrently, in December, a Norovirus outbreak amongst Boston College students was traced back to Chipotle, which led to the Boston Inspection Service closing the branch due to numerous food safety violations.
However, the food safety concerns did not cease there. In July 2017, another Norovirus outbreak linked to Chipotle occurred in Virginia, followed by a Clostridium Perfringens outbreak in Ohio a year later.[28]
These pervasive food safety incidents have had severe ramifications for Chipotle. The company had to temporarily cease operations at multiple stores to address the problems and thoroughly sanitize their facilities. Furthermore, in 2016, Chipotle took the step to close all stores temporarily for a safety meeting to discuss and strategize solutions for these recurring issues, prompting the introduction of new and more rigorous food handling protocols.
Most importantly, it tarnished the company's reputation, which in turn negatively affected its business performance. The company's annual sales declined by 13% in 2016, and its shares fell by nearly 50%. Additionally, Chipotle faced $25 million in fines related to criminal charges for the food safety incidents that affected more than 1,100 people across the country between 2015 and 2018.
4. Weak global presence
Chipotle, in its aggressive pursuit of growth, has continually expanded its footprint across the U.S. year after year. Yet, despite this assertive expansion, its international presence lags behind, remaining quite limited.
As of the end of 2022, the company owns and operates 3,129 Chipotle restaurants in the U.S., along with five Pizzeria Locale restaurants located in Denver, Colorado. Beyond the U.S., Chipotle only has 53 stores, with 34 of them found in Canada, while the remaining are in Europe, distributed across the U.K., France, and Germany.[29]
Looking ahead, the company plans to continue opening more stores. According to its statements, Chipotle intends to open between 255 to 285 new restaurants in 2023. However, details regarding the location of these new establishments have yet to be disclosed.[30]
When compared to Taco Bell, Chipotle's biggest competitor in the Tex-Mex category within the limited-service restaurant space, the disparity in international presence becomes starkly clear. Taco Bell already has close to 800 restaurants in almost 30 countries around the world, with plans to reach 1,000 locations in the near future.[31]
This lack of international presence makes the company highly vulnerable to economic uncertainties in the U.S. and the consequent decline in consumer spending. Furthermore, it hinders Chipotle from pursuing opportunities that could be significantly beneficial to its future growth, particularly once its domestic market becomes heavily saturated.
Opportunities
1. Diversifying menu items
One significant opportunity for Chipotle lies in considering diversification of its menu items. Presently, the company maintains a simple menu with limited options. Although customers can personalize their main courses with various ingredients, the fundamental composition of the dishes remain largely the same.
Recently, Chipotle has begun to innovate its menu by experimenting with additional ingredients available for a limited time. While this strategy expands the customizable options for customers, it does not quite equate to expanding the diversity of dishes that can be enjoyed at its restaurants.
Considering this, Chipotle could explore the inclusion of more popular Mexican dishes, such as sopes, nachos, tamales, enchiladas, or huevos rancheros. There is also a noticeable gap in the menu as the company currently does not offer any dessert items. Chipotle could consider introducing beloved Mexican desserts like churros, buñuelos, and dulce de leche. Moreover, in light of the growing health-conscious and vegan market segments, the introduction of healthier, plant-based food options could also prove beneficial.
It is essential that while maintaining proven menu items, Chipotle should prioritize menu innovation to ensure its long-term sustainability. By avoiding menu fatigue among its customers, Chipotle would have a better chance at retaining customer interest in its restaurants, encouraging repeat visits. A diversified menu would also cater to a broader customer base, enhancing the company's reach and potentially contributing to its existing customer loyalty.
2. Intensifying international expansion
As a strategy for future growth, Chipotle should prioritize a more aggressive international expansion. The global consumer demand for Mexican food is on the rise, a trend that the company would do well to capitalize on.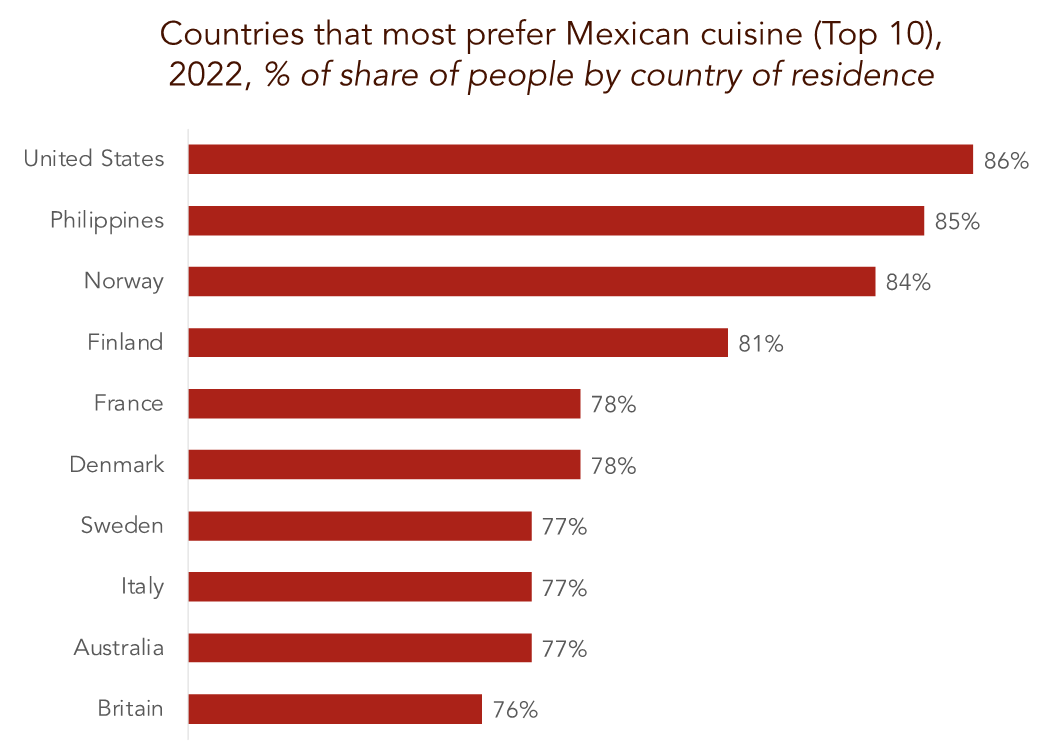 This growing trend was demonstrated clearly in a global survey jointly conducted by Statista and YouGov in 2018. The study, which covered 25,000 respondents from 23 countries, revealed that over half of the respondents in 20 of the surveyed countries like Mexican cuisine.
Affinity was found to be highest among respondents from the U.S., Philippines, Norway, and Finland, wherein more than eight in ten expressed their interest in Mexican food. The survey also showed a strong preference among respondents from other European and Asian countries, including France, Denmark, Sweden, Italy, Britain, and Singapore.[32]
This wide-ranging fondness for Mexican food suggests a vast, untapped international market for Chipotle that is estimated by Technavio to reach $113.8 B in size by 2026.[33] With a robust international expansion strategy, Chipotle could secure its share of this rapidly growing global market and make it a cornerstone for the company's continued success.
3. Expanding sustainability initiatives
Chipotle's dedication to sustainability is embedded in its core values. It begins with the procurement of responsibly raised animals and ethically sourced ingredients, underscoring that the company's environmental commitment extends beyond merely the food it prepares.
As its overarching sustainability goal, the company has committed to a 50% reduction in greenhouse gas emissions in its operations by 2030. To achieve this, Chipotle is implementing various initiatives that minimize its environmental footprint. These include the integration of energy management systems in its stores, increased reliance on renewable energy sources, investments in projects aimed at reducing emissions from beef and dairy production, development of strategies that promote innovative farming practices, expansion of vegan-friendly options on its menu, and prioritization of local produce.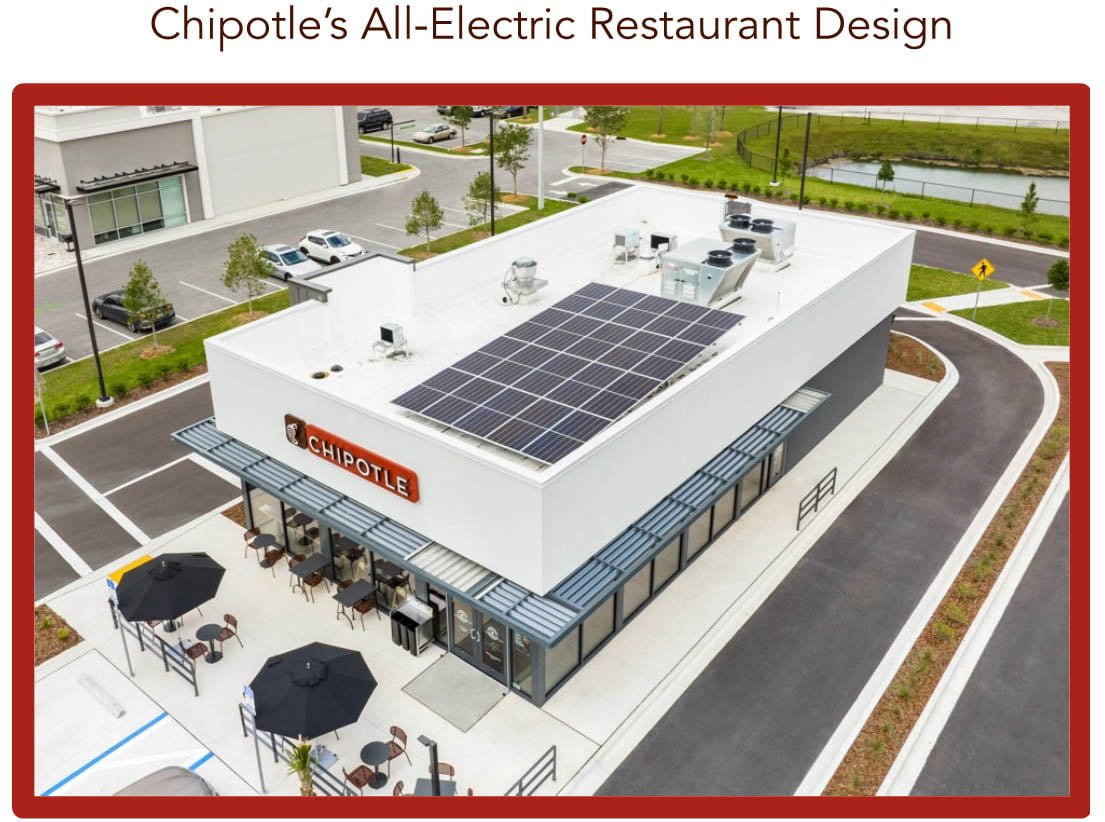 Recently, the company unveiled an all-electric restaurant design powered by 100% renewable energy. It plans to incorporate elements of this design in the construction of selected new stores starting in 2024.[34]
By persistently prioritizing sustainability even in its expansion plans, Chipotle is fortifying its position as a sustainability leader in the limited-service restaurant industry. This significantly bolsters the company's reputation, particularly among the expanding demographic of environmentally-conscious consumers. By enhancing its appeal to these market segments, Chipotle could potentially grow its customer base and secure its future success.
4. Leveraging digital kitchens
Amidst the height of the pandemic in 2020, Chipotle launched its first digital-only restaurant, known as the Chipotle Digital Kitchen, in New York. The company decided to open it to cater to its burgeoning digital sales segments and concurrently address the sudden restrictions on physical dining brought about by the pandemic.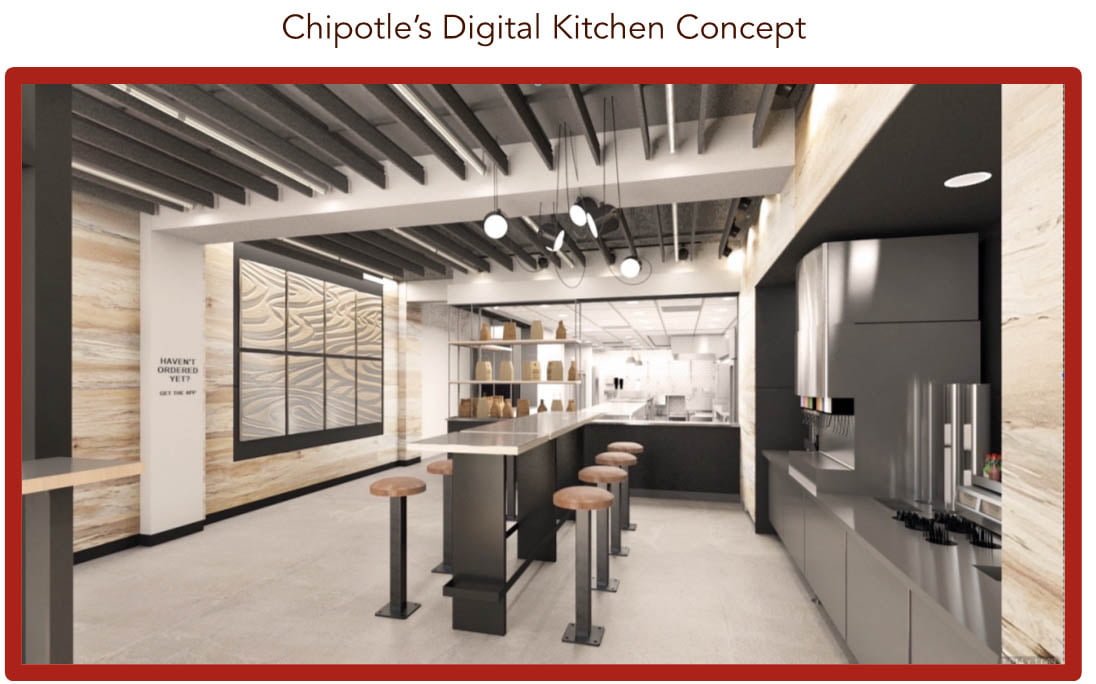 The Digital Kitchen does not feature a dining area or front service line and is exclusively available for pick-up or delivery. This innovative restaurant concept enables Chipotle to establish a presence in urban areas where space is too limited to support a full-sized restaurant.[35]
The company should consider expediting the roll-out of this concept across the U.S. to expand its reach. By doing so, it could cater to a larger customer base and rapidly match its competitors in scope, all while requiring significantly less investment compared to its traditional store layouts that need larger physical infrastructure and more employees, among other things.
Threats
1. Highly competitive limited-service restaurants industry
The limited-service restaurant industry is a highly competitive and fragmented space. It is replete with diverse sub-categories, each offering different cuisines and food types that cater to varied customer preferences. These categories span a broad spectrum, from American, Italian, Chinese, Tex-Mex, beverages, sandwiches, and chicken, to donuts and desserts.[36]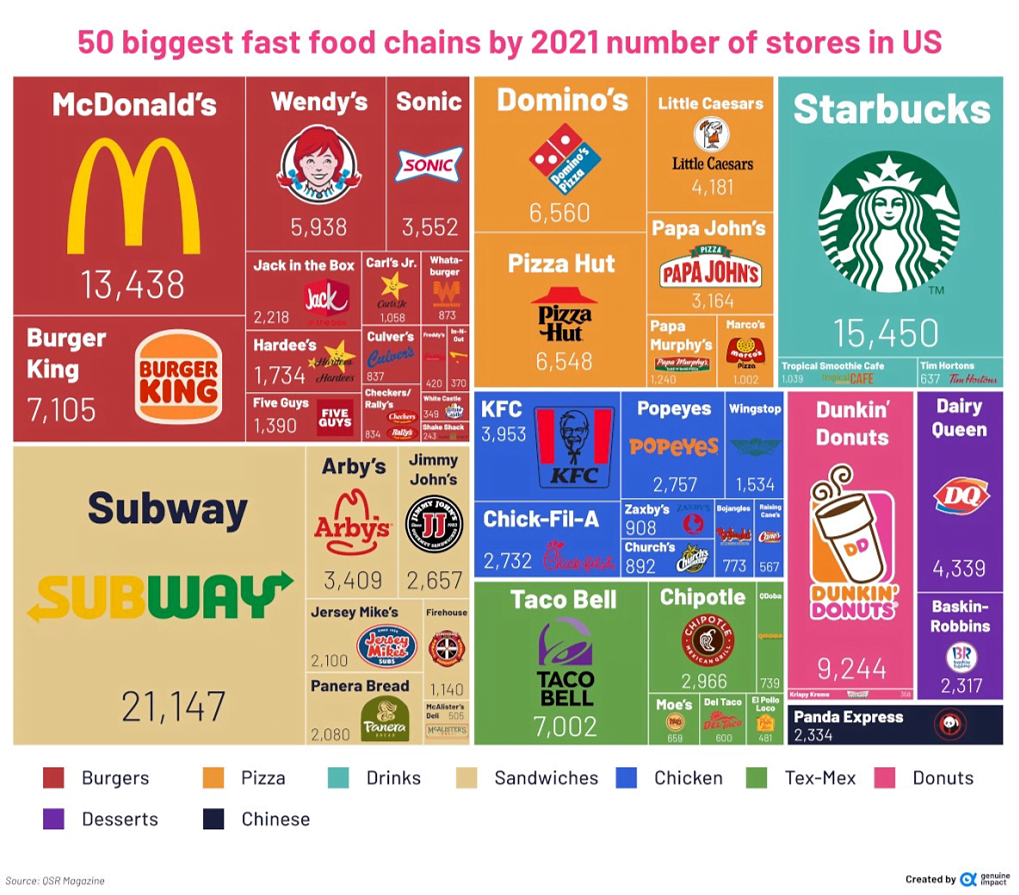 In this highly competitive environment, Chipotle is vying for market share with highly-popular brands, such as McDonald's, Burger King, Domino's Pizza, Pizza Hut, Subway, and KFC. Within its subcategory, there are also established alternatives, including Taco Bell, Moe's, Qdoba, Del Taco and El Pollo Loco. These companies, well-entrenched and globally recognized, present a formidable challenge for the rapidly-growing Tex-Mex restaurant chain.
To stay competitive, Chipotle must remain proactive in monitoring market trends and changes in consumer behavior. It must continually develop unique value propositions that not only capture the attention of potential customers but also keep existing customers engaged. In an industry flooded with alternatives, the ability to stand out and resonate with customers is vital to Chipotle's continued success.
2. Food safety risks
Following the series of food safety incidents that occurred between 2015 and 2016, Chipotle introduced more stringent protocols to prevent their recurrence. The enhanced safety program includes:
Creation of a Food Safety Advisory Council composed of selected food safety experts in the country.
High-resolution DNA testing of ingredients.
Changes to food preparation and handling practices.
Enhanced internal training for employees.
Paid sick leave benefits disincentivize employees from coming to work while ill.[37], [38]
Despite these preventive systems in place, food safety risks cannot be completely eliminated. Incidents of food-borne illnesses continue to negatively affect the restaurant industry, and the source may not be limited to the company's employees, food, and facilities; they can also come from customers and the external environment.
Any further outbreak in which Chipotle is involved could severely damage its reputation, with the implications becoming more serious with each successive case. This could significantly affect the company's ability to serve and fulfill its commitment to its customers, potentially leading to a decline in the company's sales and profitability or in the most extreme scenario, business closure.
3. Rising costs of ingredients and labor
Chipotle is vulnerable to the persistent increase in ingredient costs, a consequence of many uncontrollable factors, including high inflation rates, adverse weather conditions, and industry demand fluctuations.
The company procures its fresh meat and produce from small-to-medium sized suppliers with limited economies of scale. These suppliers might be more susceptible to changes in market conditions and may need to pass on the cost increase to the company due to economic pressures.
Furthermore, if these escalating operational costs force suppliers to halt their activities, it could cause a disruptive ripple effect on Chipotle's supply chain. Such a development could impede the company's capability to serve its customers effectively.
In addition, the company also grapples with rising labor costs, including those associated with minimum wages, rest breaks, overtime pay, insurance, and other benefits essential to attract, train, and retain employees.
In response to these cost increases, Chipotle might find it necessary to raise its menu prices. However, this strategy will only be effective if customers perceive the added cost as justified by the value they receive relative to competitors' offerings.[39] If competitors maintain their current prices or if customers find the increased price disproportionate to the value they perceive, it could result in customers opting for competitors' offerings. This shift could lead to a decline in Chipotle's sales performance and profitability.
4. Labor shortages
For Chipotle, retaining a consistent talent pool of high-quality restaurant-level employees is of utmost importance. These employees are the driving force behind the company's ability to deliver high-quality food and positive experiences to its customers.
However, a string of emerging socioeconomic trends and labor-related regulations has complicated workforce planning within the restaurant industry. These include predictive scheduling laws, "just cause" termination legislation and a broad trend known as the "great resignation." Consequently, Chipotle finds itself in an increasingly competitive market for qualified talent.
Despite its efforts to offer competitive wages, benefits, and workplace conditions, Chipotle is still facing various labor-related challenges. The company has occasionally struggled to maintain full staffing levels in various locations. Being understaffed could lead to longer wait times for customer orders, intermittent closures of the digital make line, and a decline in employee satisfaction. The company had already experienced having to close down a store due to its inability to fulfill its staffing requirements.[40]
Persistent labor shortage can have far-reaching implications for Chipotle. For instance, a lack of qualified candidates or delays in hiring new restaurant employees could impede the company's expansion plans and inhibit sales growth at existing stores. Moreover, if turnover levels exceed expectations, Chipotle might find itself compelled to enhance its compensation and benefits structure more than initially planned, which could impact profitability.
5. Cybersecurity and data privacy attacks
As Chipotle continues to double down on building its digital capabilities, it becomes more vulnerable to various cybersecurity threats. The company may experience intentional attacks from malicious actors to gain control of Chipotle's databases which may contain confidential customer and company information, as well as its IT infrastructure. On the other hand, it could also suffer data leaks that could be a result of data mishandling from any of its employees.
Such events could materially affect the continuity of the company's digital operations and also damage its reputation. Furthermore, becoming a victim of a successful cybersecurity attack could put the company under intense legal and market scrutiny that could result in the company having to pay for fines and damages to affected customers, as well as a decline in customer base, sales and business performance.
To prevent these incidents, Chipotle must establish rigid cybersecurity protection systems and processes. These measures could include periodic training among its employees regarding cybersecurity and proper data handling, regular audits of IT assets, utilization of advanced threat detection tools, and continuous engagement with customers to educate them on appropriate steps they can personally take to protect their own private information.
6. Shifting consumer preferences
Consumers' patronage of Chipotle is generally contingent on discretionary spending, which can be influenced by a myriad of factors. These may include prevailing economic conditions, social trends, shifts in cuisine preferences, variations in consumer income levels, geopolitical tensions, and environment-related events. While the company has little control over these external influences, they can significantly affect Chipotle's sales and profitability.
Take, for instance, the recent COVID-19 pandemic, which spurred a new social trend of home cooking. At the pandemic's peak, 88% of meals consumed by Americans were prepared at home, a noticeable increase from the 83% pre-pandemic figure. Although this percentage declined to 85% post-pandemic, it still represents an estimated 2.9 billion meals and snacks prepared at home each quarter.[41] If this trend persists, it may lead to a decline in demand for restaurant offerings, including Chipotle's.
Similarly, the extensive range of alternatives in the restaurant industry, including chains and local establishments offering cuisine similar to Chipotle's, provide customers with numerous choices. This vast array of options can potentially deter customers from choosing Chipotle.
Given this context, it is imperative for Chipotle to continuously monitor market trends and shifts in consumer preferences. By staying up-to-date with these changes, the company can adapt and innovate accordingly, ensuring its offerings align with customers' current needs and desires.
Summary
Chipotle, recognized as one of the most rapidly expanding restaurant chains in history, has solidified its position as a go-to choice for Mexican food among U.S. consumers.
Despite encountering significant obstacles in the past, notably issues related to food safety, the company swiftly rebounded due to a robust and effective business strategy. Complemented by its innovative approach to delivering high-quality food and a unique customer experience, Chipotle has resumed its positive growth trajectory in recent years.
The company's growth potential moving forward is immense. As of now, it still focuses on expanding its domestic presence, ensuring that it serves the needs of American customers. However, there is an even bigger opportunity waiting for the company in international markets, eagerly awaiting Chipotle's food offerings.
Sources
1. "Chipotle Mexican Grill brand awareness, usage, popularity, loyalty, and buzz among restaurant chain customers in the United States in 2022," Statista, https://www.statista.com/forecasts/1335783/chipotle-mexican-grill-restaurant-chains-brand-profile-in-the-united-states. accessed on May 20, 2023.
2. Ibid
3. "A Future Begins," Chipotle, https://farmers.chipotle.com/. accessed on May 20, 2023.
4. "Chris Brandt led Chipotle with craveable content that put food at the forefront," AdAge, https://adage.com/article/special-report-agency-list-creativity-awards/creativity-awards-2023-best-brand-cmo-chris-brandt-chipotle/2486376. accessed on May 20, 2023.
5. "Chipotle Mexican Grill: Food with Integrity?," Russell Walker and Greg Merkley for Kellogg School of Management, https://www.reachcambridge.com/wp-content/uploads/2017/06/Mexican-Grill-Case-study.pdf. accessed on May 20, 2023.
6. "Chipotle Mexican Gril, Inc. 2022 10-K," Chipotle, https://www.sec.gov/Archives/edgar/data/1058090/000105809023000010/cmg-20221231x10k.htm. accessed on May 20, 2023.
7. Ibid
8. "Chipotle Mexican Grill: Food with Integrity?," Russell Walker and Greg Merkley for Kellogg School of Management, https://www.reachcambridge.com/wp-content/uploads/2017/06/Mexican-Grill-Case-study.pdf. accessed on May 20, 2023.
9. "How Chipotle revolutionized fast food," Tyler for Harvard Technology and Operations Management, https://d3.harvard.edu/platform-rctom/submission/how-chipotle-revolutionized-fast-food/. accessed on May 20, 2023.
10. "Chipotle Rewards launches by giving fans a quarter of a million dollars on Venmo," Chipotle, https://ir.chipotle.com/2019-03-12-Chipotle-Rewards-Launches-By-Giving-Fans-A-Quarter-Of-A-Million-Dollars-On-Venmo. accessed on May 20, 2023.
11. "Chipotle expands digital access with loyalty program launch in Canada," Chipotle, https://newsroom.chipotle.com/2022-06-14-CHIPOTLE-EXPANDS-DIGITAL-ACCESS-WITH-LOYALTY-PROGRAM-LAUNCH-IN-CANADA. accessed on May 20, 2023.
12. "Chipotle takes customers on personalized food journeys with CRM," U.S. Chamber of Commerce, https://www.uschamber.com/co/good-company/launch-pad/chipotle-personalized-crm. accessed on May 20, 2023.
13. "Nutrition," Chipotle, https://www.chipotle.com/nutrition-calculator. accessed on May 20, 2023.
14. "Chipotle Mexican Gril, Inc. 2022 10-K," Chipotle, https://www.sec.gov/Archives/edgar/data/1058090/000105809023000010/cmg-20221231x10k.htm. accessed on May 20, 2023.
15. "SEC Filings," Chipotle, https://ir.chipotle.com/sec-filings. accessed on May 20, 2023.
16. Ibid
17. "Average profit margins for a restaurant," Restaurant365, https://www.restaurant365.com/blog/what-is-the-average-profit-margin-for-a-restaurant/. accessed on May 20, 2023.
18. "State of the Restaurant Industry 2023," National Restaurant Association, https://restaurant.org/nra/media/research/reports/2023/2023-soi-executive-summary.pdf. accessed on May 20, 2023.
19. "The restaurant turnover rate is astronomical. Here's why (and how to fix it)," Notch, https://www.notch.financial/blog/restaurant-turnover-rate. accessed on May 20, 2023.
20. "Chipotle dishes up degree program to prepare workers for '21st century' jobs," Restaurant Dive, https://www.restaurantdive.com/news/chipotle-dishes-up-degree-program-to-prepare-workers-for-21st-century-job/565239/. accessed on May 20, 2023.
21. "Chipotle Mexican Gril, Inc. 2022 10-K," Chipotle, https://www.sec.gov/Archives/edgar/data/1058090/000105809023000010/cmg-20221231x10k.htm. accessed on May 20, 2023.
22. "Chipotle Mexican Grill, Inc. (CMG) Q4 2022 Earnings Call Transcript," Seeking Alpha, https://seekingalpha.com/article/4576154-chipotle-mexican-grill-inc-cmg-q4-2022-earnings-call-transcript. accessed on May 20, 2023.
23. "Chipotle's customers have 'menu fatigue,' and it's a huge crisis for the company." Business Insider, https://www.businessinsider.com/chipotles-simple-menu-is-driving-customers-away-2016-2. accessed on May 21, 2023.
24. "Menu," Chipotle, https://www.chipotle.com/content/dam/poc/order/PaperMenu_STANDARD_NoPricing_120221.pdf. accessed on May 21, 2023.
25. "Salt assault #3: Chipotle," Center for Science in the Public Interest, https://www.cspinet.org/resource/salt-assault-3-chipotle. accessed on May 21, 2023.
26. Ibid
27. "Sodium," Centers for Disease Control and Prevention, https://www.cdc.gov/heartdisease/sodium.htm. accessed on May 21, 2023.
28. "Food poisoning at Chipotle: A history of food safety issues," Food Poisoning News, https://www.foodpoisoningnews.com/food-poisoning-at-chipotle-a-history-of-food-safety-issues/. accessed on May 21, 2023.
29. "Chipotle Mexican Gril, Inc. 2022 10-K," Chipotle, https://www.sec.gov/Archives/edgar/data/1058090/000105809023000010/cmg-20221231x10k.htm. accessed on May 21, 2023.
30. "Chipotle sizzles in Q1; on track to open 255 to 285 new locations in 2023," Chain Store Age, https://chainstoreage.com/chipotle-sizzles-q1-track-open-255-285-new-locations-2023. accessed on May 21, 2023.
31. "12 beautiful Taco Bells you never new existed," Taco Bell, https://www.tacobell.com/blog/Coolesttacobells. accessed on May 21, 2023.
32. "Share of people who liked Mexican food as of 2018, by country of residence," Statista, https://www.statista.com/statistics/1231955/popularity-mexican-cuisine-country/. accessed on May 21, 2023.
33. "Mexican food market size to grow by USD 113.85 bn, growing demand for convenience foods to drive growth," Technavio, https://www.prnewswire.com/news-releases/mexican-food-market-size-to-grow-by-usd-113-85-bn–growing-demand-for-convenience-foods-to-drive-growth–technavio-301565795.html. accessed on May 21, 2023.
34. "Chipotle pilots new responsible restaurant design alongside sustainability campaign," Chipotle, https://www.prnewswire.com/news-releases/chipotle-pilots-new-responsible-restaurant-design-alongside-sustainability-campaign-301794078.html. accessed on May 21, 2023.
35. "Chipotle to open its first digital-only restaurant," Chipotle, https://newsroom.chipotle.com/2020-11-11-Chipotle-To-Open-Its-First-Digital-Only-Restaurant. accessed on May 21, 2023.
36. "Visualizing America's Most Popular Food Chains," Visual Capitalist, https://www.visualcapitalist.com/cp/popular-us-fast-food-chains-2022/. accessed on May 22, 2023.
37. "New Chipotle food safety procedures largely in place; company will share learnings from 2015 outbreaks at all-team meeting," Chipotle, https://ir.chipotle.com/news-releases?item=122453. accessed on May 22, 2023.
38. "Our safety advancements," Chipotle, https://www.chipotle.com/foodsafety. accessed on May 22, 2023.
39. "Chipotle Mexican Gril, Inc. 2022 10-K," Chipotle, https://www.sec.gov/Archives/edgar/data/1058090/000105809023000010/cmg-20221231x10k.htm. accessed on May 22, 2023.
40. Ibid
41. "Home cooking in 2022 and beyond: Meals at home are here to stay," Intrepid, https://intrepidib.com/home-cooking-in-2022-and-beyond/. accessed on May 22, 2023.