This SWOT analysis of Taco Bell examines the external and internal environment the company operates in. The report assesses the strengths, weaknesses, opportunities and threats of Taco Bell and how the company has used its inner strengths and external opportunities to grow in a volatile business environment.
Company Overview
| | |
| --- | --- |
| Company name | Taco Bell |
| Founded | 1962 |
| Logo | |
| Industry | Fast food industry |
| Geographic areas served | 31 countries |
| Headquarters | Irvine, California, U.S. |
| Current CEO | Mark King |
| Revenue | $13.280 billion (2021) |
| Number of locations | 8000+ (2022) |
| Main competitors | McDonald's, Starbucks, Chick-fil-A, Chipotle, Panda Express, Del Taco, Qdoba, Moe's |
| Website | https://www.tacobell.com |
Founded in 1962 by Glen Bell, Taco Bell is a fast-food restaurant chain headquartered in Irvine, California, US, offering Mexican-inspired foods.
Today, Taco Bell has become the fourth biggest fast food chain and the leader in the Mexican food segment, with over 8000 locations worldwide.
Figure 1: Most Popular Fast Food Brands in America (revenue in billion dollars)

As shown in figure 1, Taco Bell is the fourth biggest fast-food restaurant in America after McDonald's, Starbucks and Chick-fil-A. In the global and Mexican foods segments, Taco Bell commands the number one spot, as shown in figure two below.
Figure 2: Most popular brands in the global fast foods segment by revenue (in million $)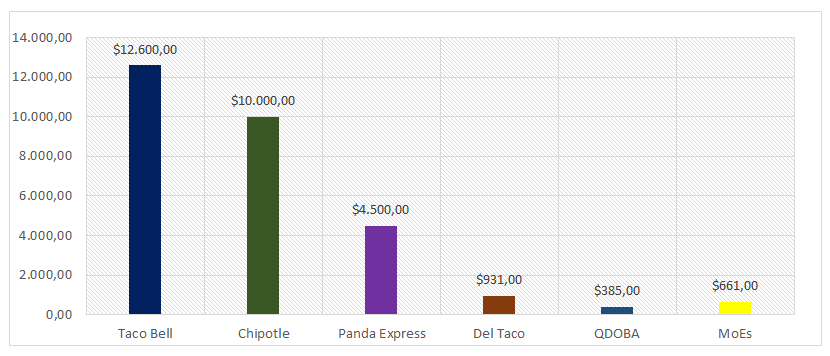 Taco Bell has through the years grown to become a culture-centric, lifestyle brand that provides craveable, affordable Mexican-inspired food with bold flavors. It is the first quick-service restaurant brand to offer American Vegetarian Association (AVA)-certified menu items.
Because of its aggressive marketing, Taco Bell has become an accessible and publicly popular company, most especially in the United States, where it serves over 40 million customers every week. The growing base of loyal fans and customers across the US has earned it the lion's share in the United States Mexican fast-food segment.
Today, Taco Bell has been featured as No. 1 on Entrepreneur Magazine's Franchise 500 List for the third year in a row, a rare accomplishment considering that in over 40 years of the Franchise 500 list, this has only happened two other times – with Hampton by Hilton and Subway.[1] Taco Bell is all about being different and challenging the status quo, something that is reflected in everything from its brand to our menu offering.
Company Mission
'We take pride in making the best Mexican-style fast food, providing fast, friendly, & accurate service.'
Taco Bell SWOT Analysis
Strengths
Weaknesses
1. Intentional geographic proliferation of the brand
2. Taco Bell offers up some of the healthiest options on the fast food scene
3. Taco Bell's digital prowess
4. Strong following of loyal customers
5. Strong marketing
6. Pocket friendly meals have continued to boost profitability
7. Big brand name advantage
1. Over reliance on franchisees
2. Poor customer service
3. Poor food quality
4. Ingredient shortages
Opportunities
Threats
1. Growing demand for cold brews offers opportunities for growth
2. Growing demand for Mexican food presents expansion opportunities
3. Growing demand of fast foods from inflation-conscious consumers
4. Experiential consumer spending
5. Growing demand of fast foods from inflation conscious consumers
6. Investment in technology
7. Hyper personalization
1. Increasing competition
2. Increasing labor costs
3. Rising costs of doing business
Strengths
1. Intentional geographic proliferation of the brand
In 2022, Taco Bell International operates over 1,000 restaurants outside of the US. 160 new restaurants were launched internationally in 2021. This is an expansion momentum that is likely to continue considering that Taco Bell commands top spot in the significantly less crowded Mexican food subcategory.
As it continues to increase its number of restaurants globally, Taco Bell will enjoy the benefits of scale, including supply chain advantages, as well as marketing and brand awareness.
Figure 3: Number of Taco Bell restaurants worldwide from 2015 to 2021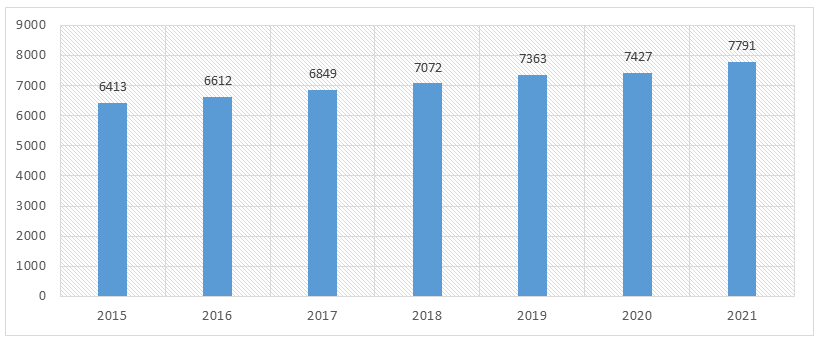 The Mexican-inspired quick service chain operated a total of 7,791 restaurants in 31 different countries worldwide in 2021. As shown in figure 2, this number rose from 7,427 the previous year. The number of Taco Bell restaurants has been increasing each year since 2010.[2] As Taco Bell continues to expand internationally, it will lean on its biggest asset, the brand which will boost its identity and easy recognition by consumers.
2. Taco Bell offers up some of the healthiest options on the fast food scene
Over the past several years, Taco Bell has positioned itself as one of the best fast food chains for healthy food, making strides to offer customizable options across their menu for their health-conscience customers.[3] The fast-food chain has made a series of changes over the years including:
Reducing sodium across the menu by 15 percent since 2008, with a push to have a total 25 percent reduction by 2025.
Removing artificial flavors and colors and replaced them with natural alternatives.
Sourcing 100% cage-free eggs for our breakfast menu. 100% cage-free egg ingredients were introduced to the menu in 2018.
Serving chicken raised without antibiotics important to human medicine in US restaurants
With vegetarian and high protein menu options in addition to the late-night fan favorites, the taco haven has slowly pushed itself to become the healthier option among the fast food giants.
3. Taco Bell's digital prowess is a major strength that is responsible for its growth momentum
Taco Bell generates 20% of its sales through digital channels and this has proved to translate particularly well in developed markets that are a bit further along on this trend.
About 60% of the brand's sales in the United Kingdom come from digital, making the UK market a priority in terms of expansion. As part of its expansion strategy, the chain has been opening digital-only locations and restaurants with pick-up windows dedicated to delivery drivers.
At a time when labor costs are increasing, this strategy will help the company reduce costs while still operating efficiently.
4. Strong following of loyal customers
In its home market, Taco Bell has built a strong following of loyal fans. Some of them even get married at its Las Vegas location. Fans include vegetarians, whose vocal disappointment in menu cuts helped bring back its potato options in 2021.
Even when the company removed the Mexican Pizza off the menu, backlash and a petition from fans forced the company to return it.[4] These young, dynamic and active group of customers have played a major role in growing the brand and boosting word of mouth marketing through social media.
Taco bell has a great sense of humor and is quite edgy, which attracts its customers. Taco bell, unlike its competitors, has a very strong voice and are not afraid to use it. They attract their customers by being like them and by being a friendly figure.
The company loves to have conversations, post memes, use emojis which their audience feels like it can relate to, since youngsters use social media in the same way.
5. Strong marketing
Taco Bell's ability to think outside the box with fun social media posts and crazy marketing stunts has made the fast food franchise one of the most loved brands of all time.
From opening a pop-up hotel in Palm Springs to hosting a drag queen brunch and even running a global campaign where the moon was used as a billboard, Taco Bell combines humor, virality, and social awareness to market its brand and keep it relevant among its target customers.
Partnerships: Millennials and Generation Z, the company's target market love a lot of brands, and Taco Bell has partnered with as many of them as possible. For instance, 60% of millennials have more delivery apps than streaming services, which is why Taco Bell has worked with both DoorDash and Grubhub.
Sponsorships: Taco Bell has boosted its brand recognition through sponsorships such as the one for the Super Bowl and Essex Cricket club, among others. Through sponsoring major sports, the brand is able to drive relevance and attract fans and supporters, driving growth.
6. Big brand name advantage
As a subsidiary of a major brand Yam, Taco Bell has not only enjoyed the advantages of a strong financial base, it has been able to scale very fast and expand its global footprint. Currently, Yum chains, including KFC and Pizza Hut operate in over 54,000 locations which is enough whitespace for Taco Bell to execute its international growth strategy.
7. Pocket-friendly meals have continued to boost profitability even amid shrinking economies
In recent years, Taco Bell's affordable meals have played a major role in increasing footfall and boosting revenue. Taco Bell's $2 burritos and $1.49 breakfast offerings attracted have continued to attract low-income and recession-conscious consumers looking for cheaper options amid decades-high inflation and increasing food prices.[5] As some affluent customers also start to look for cheaper options, Taco Bell's affordable meals will continue to give it a competitive advantage.
Weaknesses
1. Overreliance on franchisees
The biggest percentage of Taco Bell restaurants (at least 98%) is operated by franchisees, and this can be challenging as it limits the company's control over the quality of service and products. If franchisees do something to damage the brand's reputation, this can have a knock-on effect on the main business.
2. Poor customer service
One major weakness of Taco Bell is the poor customer service which has resulted in endless complaints from customers. Poor cancellation policy and rude service make up the biggest percentage of poor customer reviews, an issue that could deter new customers since most customers tend to check online when looking for eateries.
Data shows 22% of diners will not dine at a restaurant after reading just one negative review, a percentage that increases to 59% after reading three negative reviews. In fact, 86% of consumers will hesitate to purchase from a business that has negative reviews, illustrating the importance of customer service.[6]
3. Poor food quality
Regarding poor food quality, Taco Bell has been ranked number 4 after Subway, McDonald's, and Steak' n Shake. With a menu loaded up on sodium, fat, and sugars, the Mexican chain has attracted a lot of criticism from nutritionists and health-conscious customers.
Customers have also critiqued Taco Bell for using fewer ingredients and serving low quantities of food on top of being of low quality.[7] The chain is particularly 'infamous' for creating menu items that have become internet laughingstocks, earning numerous complaints and online criticisms for things like Cinnamon Twists and Power Bowls.
4. Ingredient shortages
The company has, in recent months, had to contend with a shortage of essential ingredients, resulting in upset customers being turned away empty-handed. Through 2021 and 2022, social media platforms were abuzz with stories of Taco Bell locations running out of basic supplies as fans took to Twitter to complain about shortages of beef and chicken.
In 2022, the company had to remove Mexican Pizza from its menu barely two weeks after its return, mainly because they had run out of the special tortilla ingredient and could not find other suppliers with the right recipe. Unless the company addresses the underlying cause of this issue, it will continue to disappoint customers or worse push them to competitors, especially in a highly competitive market like the USA.
Opportunities
1. Growing demand for cold brews offers opportunities for growth
Cold coffee, especially frozen-blended, has become very trendy in major US cities and research shows it's more than just a momentary fad. Its usage has been building for the last few years, reflecting the changing tastes of the younger generation. Servings of cold brew coffee ordered at quick-service restaurants climbed 27 percent in the 12 months ending April 2022, an equivalent of 373 million servings.
Servings of frozen/slushy coffee from quick-serves during the same period jumped 3 percent to 726 million, proving that customers are open to cold coffee in a myriad of formats.[8]
Customers also ordered 2.8 billion servings of iced coffee through the same period, which was 11% higher than the previous year in 2021. Other than being a Gen Z-friendly product, cold brews present a major growth opportunity by offering Taco Bell the option to personalize/ customize drinks according to customers' needs with ease and speed.
2. Growing demand for Mexican food presents growth opportunities
Mexican food is set to enter a period of significant growth, with market research firm Technavio predicting an increase of $113.85 billion in 2021-2026 – a CAGR rise of 6.65 percent. North America is expected to be a key market for the sector, forecasted to account for 58 percent of the market's growth during this period.[9] This increase is attributed to an ever-increasing desire for convenience foods as consumers continue to live busy lives.
3. Growing demand of fast foods from inflation-conscious consumers
Fast food has become a staple of the American diet. In fact, research shows Americans now spend more on fast food than they do on groceries. This is partly due to the recession, as people have had to make changes to their personal finances.[10]
Most consumers have, in most cases, turned to cheap and convenient meals instead of cooking at home, which they consider expensive. Even as consumers continue to cut down their costs, fast foods have proved to be recession-proof, with more Americans continuing to take comfort in their favorite quick-service and fast-food chains.[11]
4. Experiential consumer spending
A growing number of consumers today want to engage with brands in a way that amplifies their social nature. There is a significant desire for more experiences as a way of breaking away from today's increasingly smartphone-driven lives.
Euromonitor International, a market research company, has forecast experiential consumer spending, which includes food service, to generate $8 trillion by 2030 while Technomic estimates that 70% of consumers prefer visiting eatertainment concepts versus a traditional casual dining restaurant for group occasions.[12]
5. Rising demand of green packaging and waste reduction
Today, consumers have become more attentive to the environment and are showing a preference for products with low environmental impact – from production to packaging. In a survey conducted in the US, 55% of participants reported they would be more likely to buy from Quick-Service Restaurants (QSR) that use recyclable packaging and utensils.
The fast food industry has historically leaned heavily on single-use plastics with their takeout containers and cutlery. However, in recent years, major QSR brands are developing initiatives to limit waste from single-use food containers by introducing eco-friendly versions as a way of phasing out polystyrene.
6. Investment in technology
The pandemic caused a major shift to more digitalization, whereby consumers prefer delivery or order and pickup. The pandemic shifted everything online, from how brands communicate promotions to how customers order and engage with menu options.
In the fast food industry, self-ordering technology such as online ordering and kiosks will reduce or even eliminate the need for extra employees, especially at a time when labor is increasingly expensive.[13]
7. Hyper personalization
In order to lure customers, customization will be marketing driven with digital-first strategies. It will become important for brands to experiment with dynamic pricing, deals and personalized menu items, all based on a micro-level understanding of the individual customers.
Consumer demands for personalization and relevance are facing an Amazon-like shift in food service. Guests today expect the same tailored experience and frictionless ordering in their digital food experiences as they do with e-commerce.
Threats
1. Rising cost of doing business
Supply chain shortages coupled with escalating freight costs have dramatically raised prices in the fast food industry in the US, highlighted by increased food costs and shortages of main ingredients, such as chicken and corn. Supply lines are crammed, a challenge that has continued to create pockets of scarcity and added costs that are eventually passed on to consumers.
2. Increasing labor cost
More than half of the nearly 600 restaurant companies polled for Restaurant365's annual State of the Industry Survey said recruiting and retaining staff was their top challenge in 2022. Over 50% stated that recruiting and retaining or labor costs would be 2023's highest hurdle.
In the second quarter of 2022, average weekly wages in New York rose to $631, from $572 in the second quarter of the previous year.[14] In November 2022, the average wage increase across fast food jobs since 2021 was 9.3%.
Impending legislation likely to increase hourly wages: In states such as California, pending legislation may increase the minimum hourly wage of fast food workers in the state to $22 an hour, and similar measures could be introduced in New York and Michigan. Increasing labor costs are a major challenge, especially at a time when food costs are also increasing, as they will further deplete revenue and profitability.
3. Increasing competition
Fast food brands are not just facing competition from their rivals, there is growing competition from convenience stores, coffee chains and smaller footprint stores that have proved to offer faster, easier and more engaging experiences. Moreover, some habitual fast food customers are shifting to healthier food options and clean ingredients for healthier living.
Conclusion
Despite the volatile economic environment and the ever-growing competition, Taco Bell has continued to grow and expand its global footprint. This has been made possible because of strong marketing, digital prowess and a strong following of loyal customers who have continued to boost word-of-mouth marketing through social media.
However, as competition in the fast food industry continues to escalate and operational costs continue to rise, Taco Bell will need to tap into newer opportunities, such as investment in the cold brews segment as well as the rising demand for green packaging and waste reduction in order to meet changing consumer demand.
Furthermore, investing in self-ordering technology such as online ordering and kiosks will enable the fast food chain to condense or even eliminate the need for extra (underperforming) employees, cut some costs as well as help solve the issue of poor customer service. In order to lure more customers, it will be important for Taco Bell to experiment with personalized menu items alongside its dynamic pricing, all based on its understanding of its loyal followers and an ever-changing market environment.
Sources
1 Hopper Nate (2023). Taco Bell Uses This Little-Known Secret to Stay on Top Year After Year. Entrepreneur. Available Online at https://www.entrepreneur.com/franchises/taco-bell-uses-this-little-known-secret-to-stay-on-top-year/442313
[2] Statista (2023). Number of Taco Bell restaurants worldwide from 2010 to 2021. Available Online at https://www.statista.com/statistics/256824/taco-bell-restaurants-worldwide/
[3] Weiss Jacqueline (2022). Taco Bell Is Officially One of the Healthiest Fast Food Chains. Tastevof Home. Available Online at https://www.tasteofhome.com/article/healthiest-fast-food-chain-taco-bell/
[4] Kelso Alicia (2022). Taco Bell Brings Back Its Fan-Favorite Mexican Pizza After A Social Media Outcry And Petition. Forbes. Available Online at https://www.forbes.com/sites/aliciakelso/2022/04/18/taco-bell-brings-back-its-fan-favorite-mexican-pizza-after-a-social-media-outcry-and-petition/?sh=5b00bed2ad79
[5] Sophia, D, M. and Russ, H. (2023). Yum Brands beats estimates as Taco Bell lures value hunters. Reuters. Available Online at https://www.reuters.com/business/retail-consumer/kfc-parent-yum-brands-beats-quarterly-same-store-sales-estimates-2023-02-08/
[6] Reputation X (2022). How negative reviews affect business. Available Online at https://blog.reputationx.com/impact-negative-reviews#:~:text=Negative%20reviews%20can%20seriously%20impact,and%2C%20of%20course%2C%20revenue.
[7] Kirouac Matt (2022). 8 Fast-Food Chains With the Most Food Quality Complaints. Eat This Not That. Available Online at https://www.eatthis.com/news-fast-food-chains-with-most-food-quality-complaints/
[8] Baltazar Amanda (2022). Cold Coffee Gets Hot for Restaurant Sales. QSR Magazine. Available Online at https://www.qsrmagazine.com/beverage/cold-coffee-gets-hot-restaurant-sales#:~:text=Servings%20of%20cold%20brew%20coffee,which%20is%20no%20small%20figure.
[9] New Food Magazine (2022). Mexican food sector in store for $100 billion period of growth. Available Online at https://www.newfoodmagazine.com/news/165736/mexican-food-sector-in-store-for-100-billion-period-of-growth/
[10] Chang David. (2022). Here Are the Most Popular Fast Food Brands in America. The Motley Fool. Available Online at https://www.fool.com/the-ascent/personal-finance/articles/here-are-the-most-popular-fast-food-brands-in-america/
[11] Barkho Gabriela (2023). Fast food restaurants get boost from inflation-conscious diners. Modern Retail. Available Online at https://www.modernretail.co/operations/fast-food-restaurants-get-boost-from-inflation-conscious-diners/
[12] Kelso Alicia (2020). Taco Bell Is Tapping Into The 'Eatertainment' Trend With A New Fast-Social Cantina Concept. Forbes. Available Online at https://www.forbes.com/sites/aliciakelso/2020/03/05/taco-bell-is-tapping-into-the-eatertainment-trend-with-a-new-fast-social-cantina-concept/?sh=7a5722d77cf3
[13] Klein Danny (2022). 22 Fast-Food Trends to Watch in 2023. QSR. Available Online at https://www.qsrmagazine.com/content/22-fast-food-trends-watch-2023
[14] Fagenson Zachary (2023). How To Fight Fast-Rising Restaurant Labor Costs. Restaurant 365. Available Online at https://www.restaurant365.com/blog/how-to-fight-fast-rising-restaurant-labor-costs/