This SWOT analysis examines the strengths, weaknesses, opportunities, and threats of Nike, Inc., a global footwear and apparel company, a champion brand builder whose slogans like "Just do it" have moved beyond advertising into popular expression.
This undisputed field titan has risen through emotional marketing, high-profile celebrity endorsements, sleek design concepts, and successful public relations campaigns to command over a third of the market share in an extremely competitive segment.
This report assesses both internal and external factors that impact Nike's business environment while looking at its current and future potential.
Company Overview
| | |
| --- | --- |
| Name | Nike, Inc. |
| Founded | Founded on 25th Jan 1964, as "Blue Ribbon Sports"[1] Incorporated as "NIKE, Inc." in 1967, Oregon, US[2] |
| Logo | |
| Website | https://www.nike.com |
| Industries served | Footwear, Apparel, Equipment, Accessories, and Services |
| Geographic areas served | Global (> 190 countries) International branch offices and subsidiaries in 49 countries[2] |
| Headquarters | Beaverton, Oregon, US |
| Current CEO | John Donahoe (Jan 2020 – present) |
| Revenue | $ 46.71 billion |
| Net Income | $ 6.05 billion |
| Employees | 79,100 (including retail and part-time) |
| Main Competitors | Adidas, Puma, Anta Sports, ASICS, Li-Ning, Lululemon Athletica, Under Armour, VF Corporation, Revolve |
Nike's origins trace back to Blue Ribbon Sports, a company founded by Phil Knight, a track athlete, and his coach Bill Bowerman who was obsessed with improving the performance of his athletes through shoe design.
Knight, after graduating from the University of Oregon, attended Stanford's MBA program, where he wrote a paper proposing that the manufacturing of running shoes be relocated from Germany to Japan, where labor was cheaper.
With a trip to Japan in 1962, Knight struck an agreement with a group of Japanese business owners to sell the country's popular Tiger shoes in the United States. Bowerman backed Knight's venture, entering into a 50-50 business agreement for possession of their new company, Blue Ribbon Sports, which was founded on 25th of January 1964, in Eugene, Oregon US.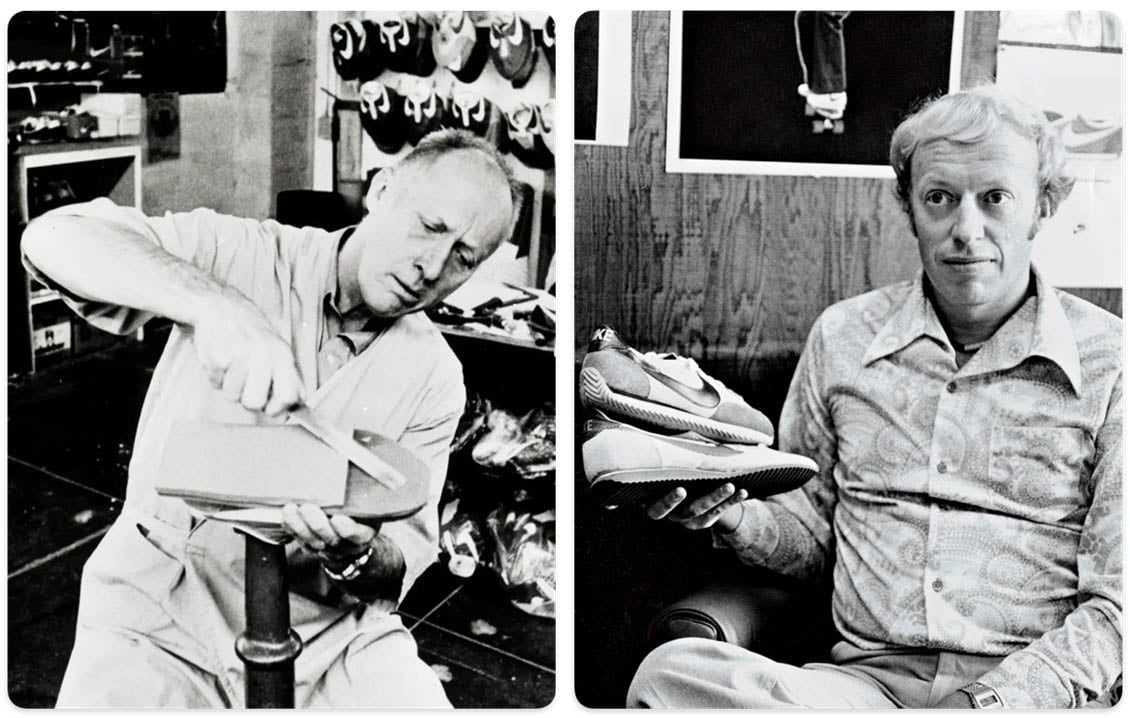 Knight started testing the waters for his imported shoes, initially selling them out of his vehicle when he returned to the United States. It quickly became clear that there was a market for these less expensive but still high-quality alternative options.
This was a time when Adidas and Puma were already established and dominated the market (Puma was established in 1948, and Adidas in 1949).
Bowerman, ever inventive, proposed an improved shoe design to the Tiger shoe company, leading to the development of The Tiger Cortez which was released in 1967. It quickly became a hit due to its comfortable, durable, and stylish design. While a huge success, it was also a source of contention between Blue Ribbon and Tiger shoe company.
Tiger accused Blue Ribbon of selling duplicate Tiger Cortez Shoe with the name Nike which led to both companies going their separate ways. After the split, Blue Ribbon Sports rebranded itself as Nike and launched in the market.
Interestingly Nike's logo, called the swoosh, was designed by Carolyn Davis, a design student, for a fee of $2 per hour, receiving $35 in total for the work. Knight reluctantly chose a swoosh, saying, "Well, I don't love it, but perhaps it will grow on me". Later in 1983, Davis received 500 shares of stock from Knight, estimated to be worth over $1 million today.[5]
Soon Knight released the waffle trainer shoes, a huge success for Nike, the first of many in the company's early days, resulting in its 1980 IPO, which made Phil Knight a millionaire with shareholdings worth $178 million.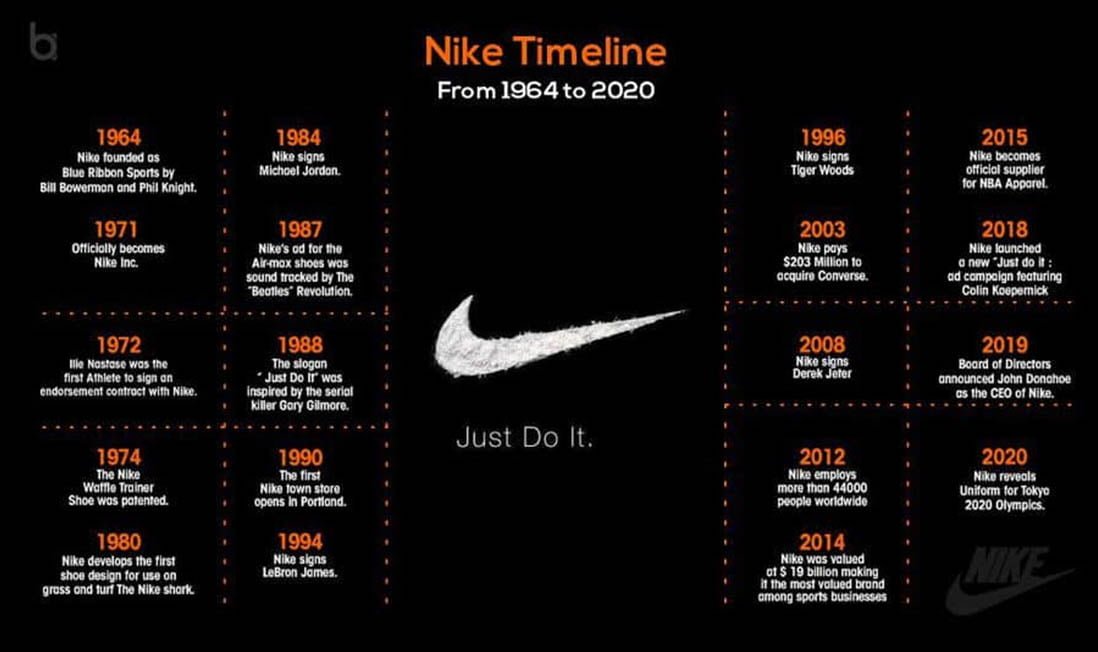 Today, Nike is a dominant global leader in the sports goods industry. It enjoys a robust brand value, extensive customer base, and diverse product portfolio. The company is engaged in the design, development, marketing, and sales of a broad range of athletic footwear, apparel, and equipment.
Nike offers a comprehensive range of performance equipment and accessories, including bags, socks, sports balls, eyewear, timepieces, digital devices, bats, gloves, protective equipment, and other specialized gear for sports activities.[2]
It also owns Converse, its subsidiary brand, headquartered in Boston, Massachusetts, that designs, distributes, and licenses casual sneakers, apparel, and accessories under the Converse, Chuck Taylor, All Star, One Star, Star Chevron, and Jack Purcell trademarks.
Nike SWOT Summary
Strengths
Weaknesses
1. Brand Value
2. Robust and sustainable growth
3. Athlete endorsements and promotional campaigns
4. Growing D2C Business
5. Going digital through strategic acquisitions
6. A Culture of Innovation
1. The stain of forced labor and poor working conditions
2. Inventory management issues
3. Involvement in Controversies
Opportunities
Threats
1. Enhanced brand value and cost leadership through circularity
2. Growing athleisure market
3. Rise of the high-income middle class in emerging markets
4. Growth led by the virtualization of sports
5. Growth in women's sports and sportswear
1. Supply chain risks
2. The rise of counterfeit products
3. Threat of Lawsuits
4. Competition
Strengths
1. Brand Value
In a digital age where intangible assets are the key drivers of value creation, technology patents, customer data, and brand value offer sustainable competitive advantages. Nike is in a pristine position to capitalize on this opportunity.
It is one of the most valuable brands in the world, and it is extremely popular across different geographies and ages, generating and benefiting from the casualization of fashion.
It is the highest-valued apparel brand in the world, with a valuation of $33.2 billion, according to Brand Finance.[7]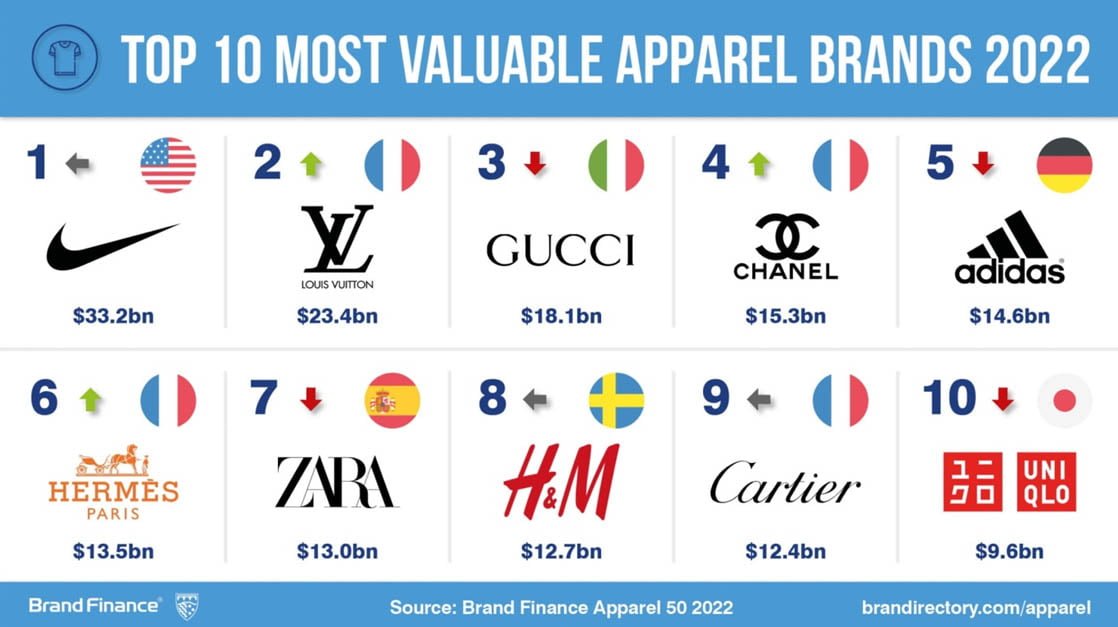 Interbrand[8] has ranked Nike at the 10th position in 2022 with an estimated brand value of $ 50.3 billion, an 18 percent rise in brand value compared to the previous year.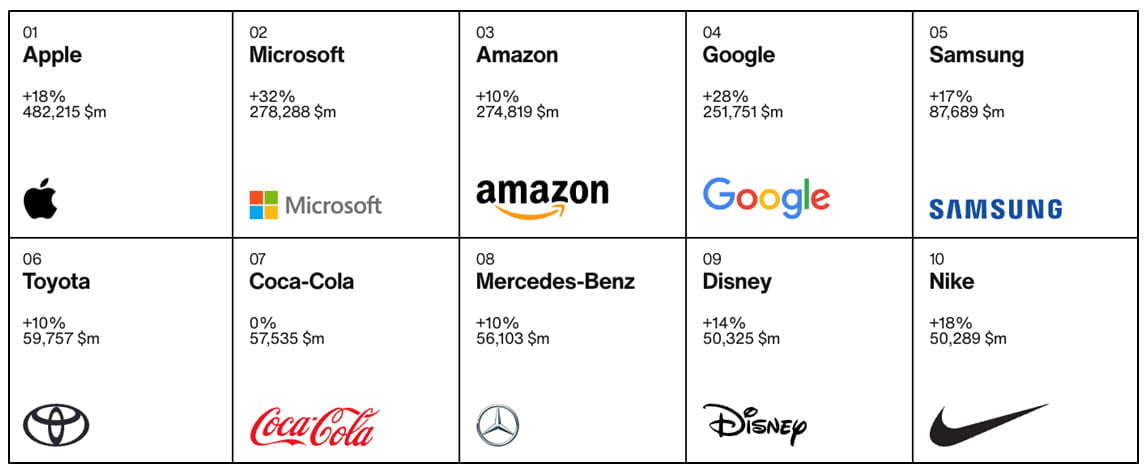 Kantar[9], the world's leading data insights & consulting agency places Nike in the 13th position with a brand value of $109 billion. This dominant position is underlined by the gigantic gap to the closest direct competitor Adidas which ranks 89 ($23 billion).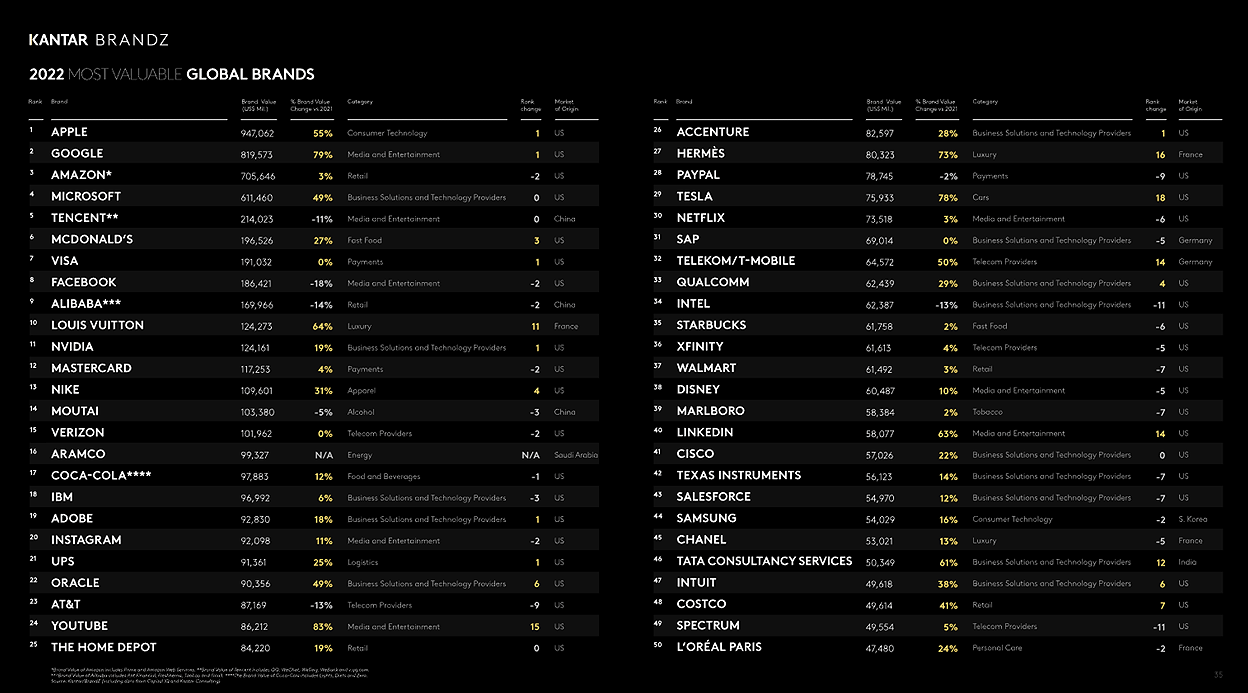 2. Robust and sustainable growth
Nike generates its revenues from a portfolio of highly coveted products, which are organized into three categories: footwear, equipment, and apparel. The company's revenue streams are geographically well-diversified, with close to 60% of sales from international markets reflecting a balanced global presence.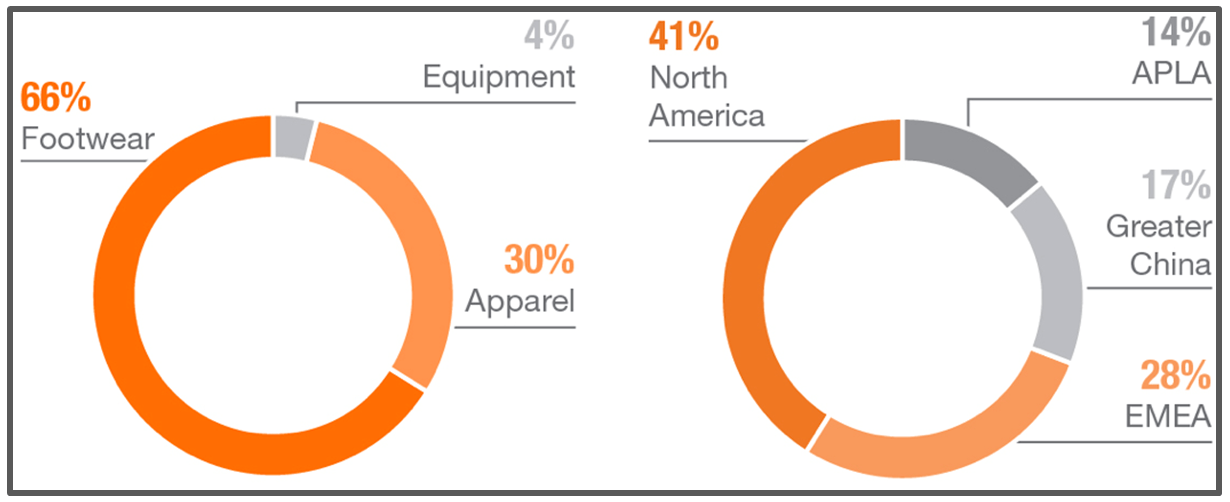 The sustained and consistent revenue growth of the company over the long term is a testament to its strong financial performance. This reflects Nike's agility and resilience, which has proven to be adaptable to changing market conditions and challenges over time.

2018 income was lower due to the impact of the Tax Act, which offset strong revenue growth. 2020 income was affected due to the Pandemic's adverse impact on input prices & supply chain. (Source: Nike financial reports).
During the pandemic, when companies chose to put their eCommerce marketing spend on hold, Nike identified it as a distinct opportunity and prioritized its digital direct-to-customer (D2C) sales. With consumers rapidly shifting towards online shopping, Nike's digital sales soared 82% during the first quarter of fiscal year 2020[10]. Nike's growth in D2C sales since then has been rapid, resulting in better profitability in 2021 and 22.
3. Athlete endorsements and promotional campaigns
Based on research conducted by Nielsen Sports[11], brand sponsorship in sporting events is one of the most effective advertising channels. The only channel that is considered more trustworthy is direct recommendations made by a close associate. Nike leads in this arena with over 650 sponsorships spanning more than 140 different leagues or associations[12].
Nike's brand has become synonymous with powerful athletes across all sports. It has demonstrated just how lucrative strategic sponsorship marketing can be.
Nike-sponsored athletes list includes basketball legend Michael Jordan to the best footballer Cristiano Ronaldo. Nike has spent heavily on athlete endorsements throughout the years, signing million-dollar deals with sports celebrities to advertise its products.
With the athletes spending their lives in front of cameras, these profitable collaborations allow Nike also enhances its appeal through the swoosh on the players' sportswear.
Over the years, the brand has struck savvy endorsement partnerships that have grown a modest firm into a billion-dollar enterprise.
Nike's 10 most notable athlete endorsements:
| # | Athlete | Sports | Estimated value |
| --- | --- | --- | --- |
| 1 | Michael Jordan | Basketball | $ 1.3+ Billion (Lifetime) |
| 2 | Cristiano Ronaldo | Football | $ 1+ Billion (Lifetime) |
| 3 | Lebron James | Basketball | $ 1+ Billion (Lifetime) |
| 4 | Tiger Woods | Golf | $ 50 Mn / year |
| 5 | Rory McIlroy | Golf | $ 25 Mn / year |
| 6 | Kobe Bryant | Basketball | $ 15 Mn / year |
| 7 | Rafael Nadal | Tennis | $ 10 Mn / year |
| 8 | Neymar Jr. | Football | $ 10 Mn / year |
| 9 | Derek Jeter | Baseball | $ 9 to 10 Mn / year |
| 10 | Maria Sharapova | Tennis | $ 8.75 Mn / year |
Sources: TheRichest.com[13], Sportingnews.com[14]
Nike's athlete endorsements have proven to be very effective. For example, in 1984, Nike sold the deal to Jordan at a flat payment of $500,000 USD a year with the promise to allow him to create his own signature shoe. While Nike only projected that Michael's Air Jordan 1 would only bring in $3 million USD over the course of four years, it brought close to $126 million in the first 12 months[15].
Nike invests significant sums into its promotional campaigns each year. In 2022 alone, its advertising and promotion costs amounted to approximately 3.85 billion U.S. dollars.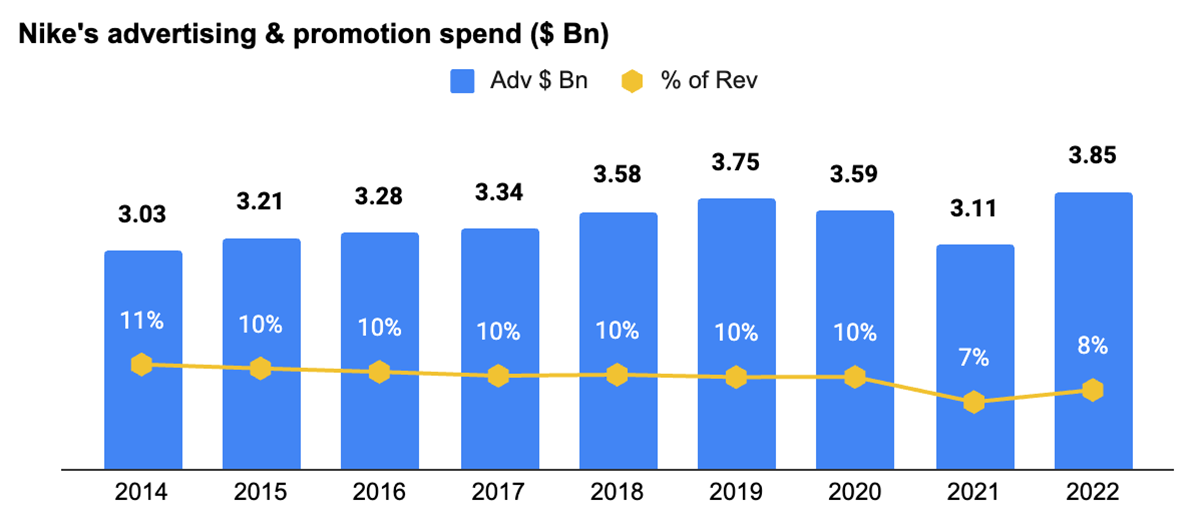 Results of Nike's campaigns and marketing investments show. In a survey conducted in 2022, about 95 percent of online shoppers buying sports and outdoor goods in the US said they knew what Nike was. 60 percent of these respondents said they liked the brand, with a considerable share also stating that they used and will continue to use Nike products.[17]
4. Growing D2C Business
Aiming to deliver a more consistent experience and deeper connections with consumers, Nike has shifted away from wholesale partners toward its own distribution. The D2C sales contribution to Nike's revenue is growing fast, particularly post the pandemic.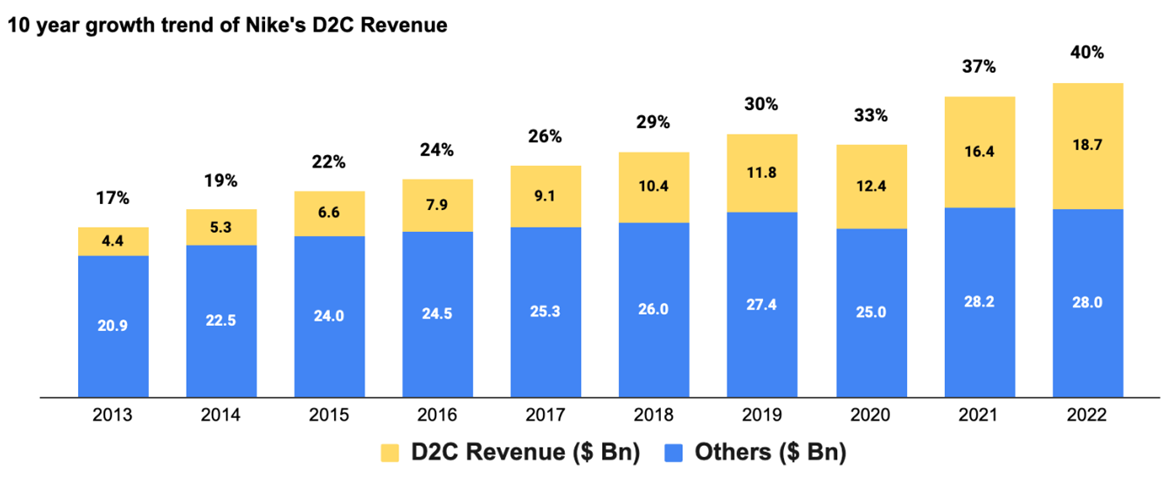 Nike first announced its Consumer Direct Offense (CDO) strategy in 2017 as a five-year plan to focus growth on 40 "strategic" retail partners and its own DTC. The strategy involved consolidating its retail partners and strengthening its eCommerce channels and launching new stores.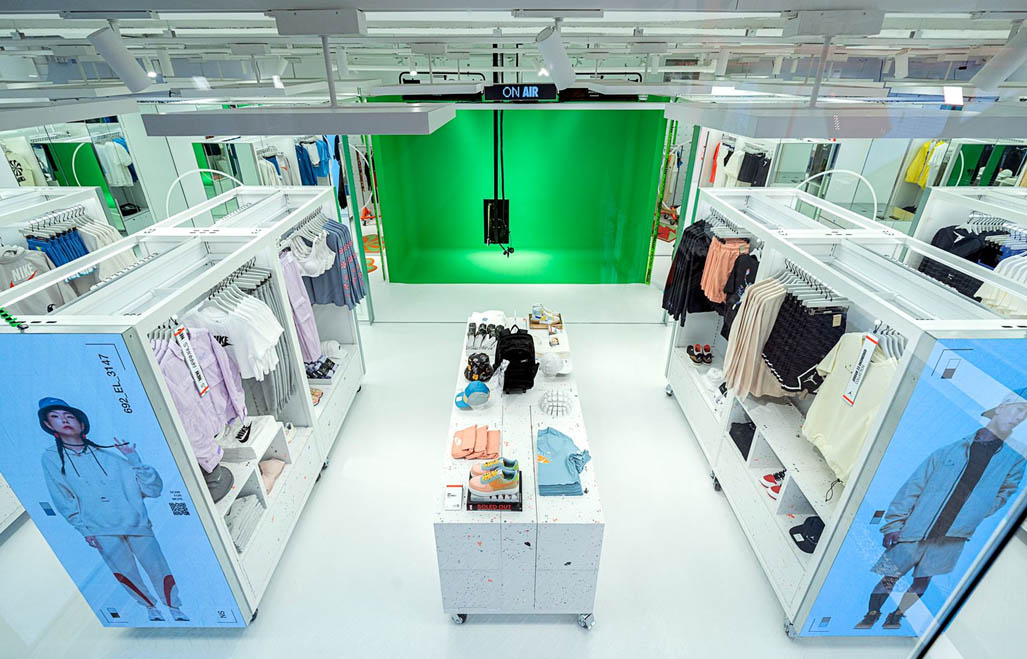 In 2019, Nike ended a two-year pilot program with Amazon.com in a move that, according to Nike, allowed it to instead focus on "strong, distinctive partnerships" with other retailers.[20]
Nike has since been focusing on expanding its D2C operations while reducing its reliance on wholesale accounts. It ended its relationship with nine wholesale accounts in 2020, followed by another six in 2021. The brand has also cut off numerous smaller independents.[21]
Its D2C business brings higher margins and allows it to connect directly with customers.
This has enabled deeper insights into customer data for better customer experience. By going direct, Nike enjoys greater access to customers leading to better analytics allowing it to effectively market, merchandise, promote and launch new products to satisfy customers' demands.
5. Going digital through strategic acquisitions
Nike has constructed a technology ecosystem to support its businesses, especially its transition into a D2C model. It has steadily invested in technology and distribution, acquiring start-ups with expertise in content creation to data analysis.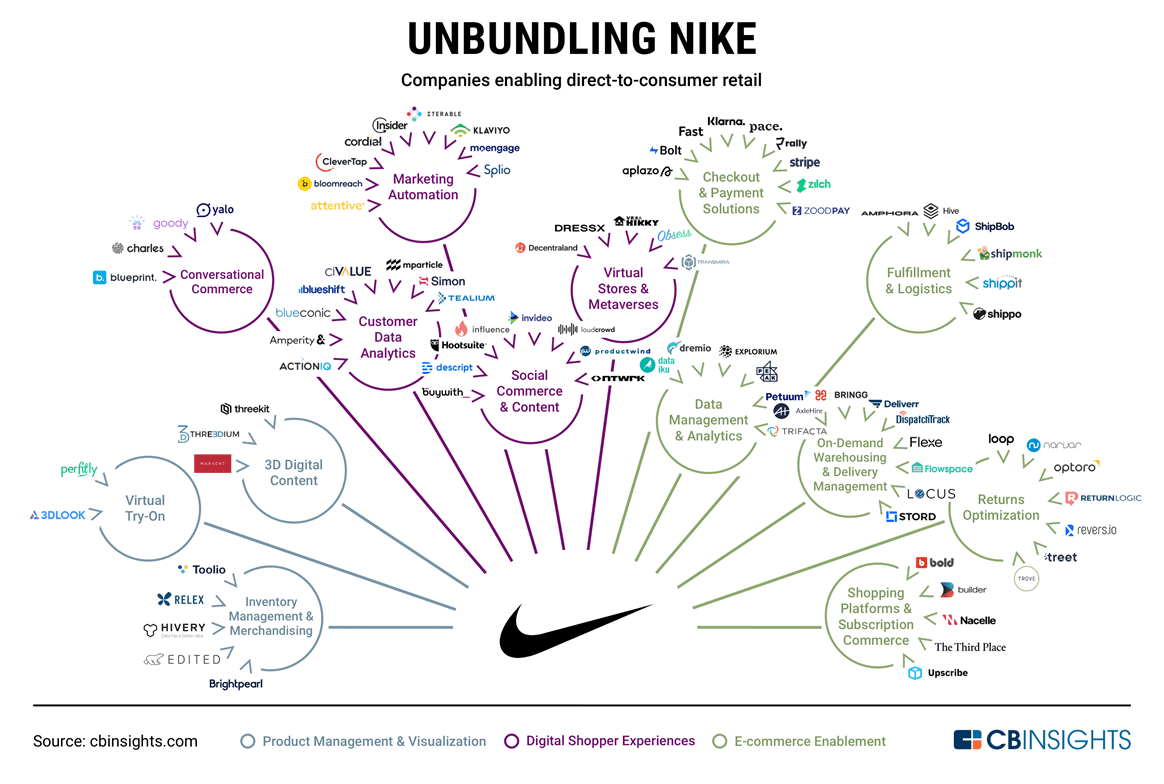 A look at how companies are unbundling Nike, from customer data platforms to fulfillment and logistics.
Source: cbinsights.com[22]. Note: The graphic is not exhaustive of space. Categories are not mutually exclusive.
In 2020, Nike announced the next phase of its former strategic plan (CDO). Named Consumer Direct Acceleration, this involved several initiatives:
Creating a connected digital marketplace of the future, which focuses on developing a premium and seamless brand experience wherever customers shop.
Operating under a more straightforward consumer construct of men's, women's, and kid's categories.
Aggressively invest in digital capabilities in their end-to-end technology foundation to accelerate digital transformation. This has included demand sensing, insight gathering, inventory management, and more.
Under this initiative, Nike has made several key acquisitions of technology startups to help boost its digital capabilities. A few of them are:
Zodiac[23], a predictive customer analytics platform that it acquired in 2018.
Celect[24], a demand-sensing firm based in Boston, that it acquired in 2019.
Invertex[25], a leading computer vision firm based in Tel Aviv, was acquired in 2018. According to its co-founder, "Invertex's combination of powerful deep learning and augmented reality, combined with its 3-D body scanning technology and domain expertise, have created the world's most accurate body-based match engine for footwear."
Datalogue[26], a company that has built cutting-edge and proprietary machine-learning technology to automate data preparation and integration, was acquired in February 2021. This helped Nike integrate data from all sources, including the company's app ecosystem, supply chain, and enterprise data, in a fast, seamless, easily accessible, and standardized platform.
Nike is also rapidly transitioning into headless e-commerce. Headless e-commerce is the decoupling of the front end (the "head") or user interface (UI) and the back end of an e-commerce solution. This introduces flexibility and the ability to test and iterate quickly, allowing for more independence and customization potential.
With this, Nike has been able to provide a more personalized and mobile-first experience to its customers with interactive user experiences and optimized visuals for smaller screens.
6. A Culture of Innovation
Nike's culture of innovation involves endless prototyping without constraints and testing without limits. The LeBron James Innovation Center at Nike World Headquarters celebrates and advances the company's foundation of innovation. It unites over 700 staff from innovation teams previously spread across the Nike campus and is designed to foster the cross-pollination of ideas.
Inside the 700,000-square-foot building is a dedicated sports research facility named the Nike Sport Research Lab (NSRL) which positions Nike for future decades of game-changing products and experiences for all athletes.
The community working in the space allows for an intersecting mix of talent from biomechanics researchers and robotics experts to computational designers, to generate breakthroughs across the spectrum of play and movement.
Nike's Sport Research Lab by Numbers:
84,000 square feet dedicated to sport research
400 motion-capture cameras
97 force plates in the Fieldhouse
825 pieces of testing equipment
4 environmental chambers
80+ new prototyping machines
Source: Nike[27]
It is here that Nike listens to the voice of the athletes, observing them in action while it prototypes, tests, and builds future products. The facility's goal is to understand unique needs and opportunities, contextualize challenges and generate breakthroughs across the spectrum of play and movement in a variety of environments.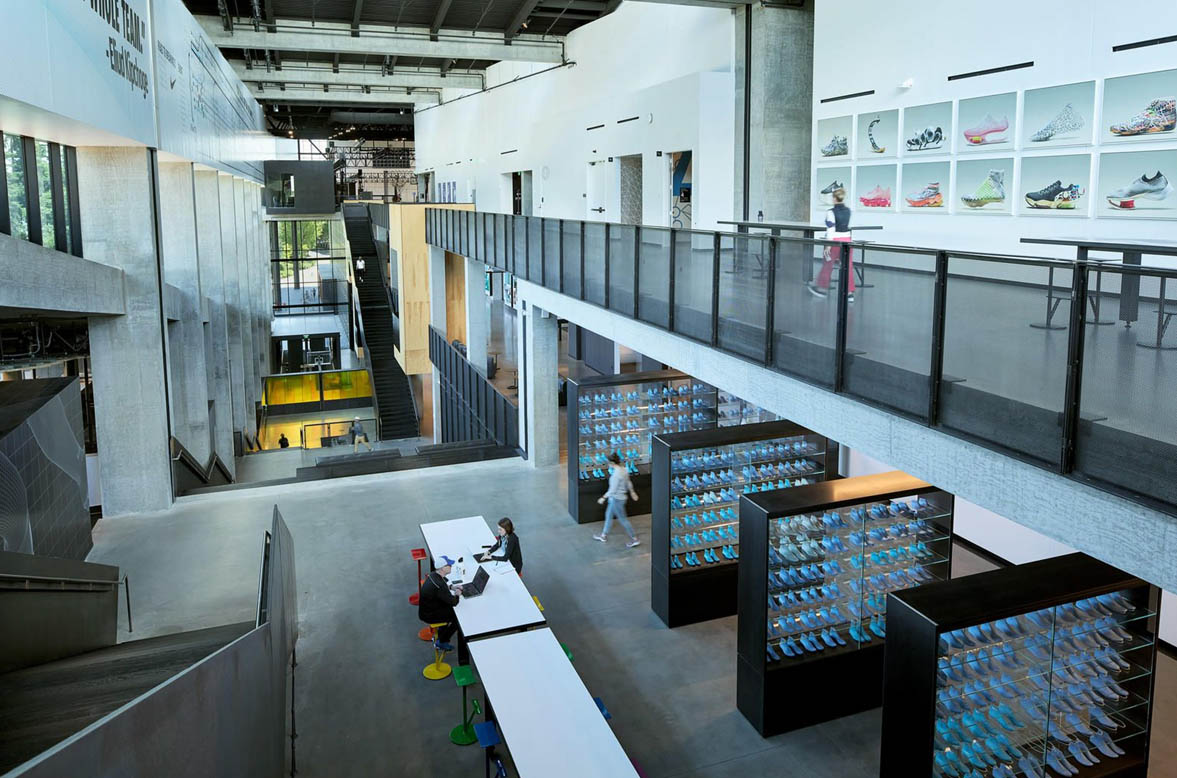 Nike is also among the most innovative companies in the world, ranking 12th on the BCG's 50 most innovative companies of 2022.
Weakness
1. The stain of forced labor and poor working conditions
Nike, Inc. has been accused of using sweatshops and worker abuse to produce footwear and apparel in East Asia. It has been shamed in public for its labor practices to the point where it badly tarnished the company's image and hurt sales.
This is an old issue that has been negatively impacting Nike's reputation. Even in the 1990s, Nike was plagued with damning reports that its global supply chain was being supported by child labor in places like Cambodia and Pakistan, with minors stitching soccer balls and other products as many as seven days a week for up to 16 hours a day.[29]
In March 2020, a damning report[30] from the Australian Strategic Policy Institute revealed that the Chinese government was forcing hundreds of young Uyghur women to produce Nike shoes in the Taekwang factory in Laixi City.
In a more recent case, Nike has also been accused of breaching OECD Guidelines regarding the treatment of workers in its global supply chain following the Covid pandemic[31]. The case alleged that since the onset of the Covid pandemic in March 2020, garment workers in Nike's supply chain have experienced layoffs and terminations, arbitrary pay cuts, unpaid wages for hours worked, and gender discrimination at an unprecedented scale.
The fact that Nike's audits have failed to detect its supplier's participation in forced labor programs undermines the public trust in its processes to uncover the truth.[32]
2. Inventory management issues
At the end of 2022, Nike staged a global fire sale to clear a huge inventory glut that it blamed on earlier ordering by retailers and faster-than-usual deliveries.
In 2023, the company has admitted that, despite strong demand, it will follow a policy of "aggressive markdowns" to clear inventories, likely impacting margins for the fiscal year.
Nike is exposed to the typical challenges faced by retailers running an omnichannel model in a world of chaos, where the customer, rather than the product, is the primary focus. Failure to accurately forecast consumer demand carries the risk of excess inventories or inventory shortages, resulting in decreased operating margins and reduced cash flows that could negatively impact Nike's business.
Investors see Nike's inventory problems are somewhat indicative of poor management. While the excess inventory is slowly dwindling, Nike has proven that supply chain disruptions can and will disturb its margins & inventory management[33].
3. Involvement in Controversies
In November 2017, the Paradise Papers, a set of confidential electronic documents relating to offshore investment, revealed that Nike is among the corporations that used offshore companies to avoid taxes[1].
In September 2018, Nike announced it had signed former American football quarterback Colin Kaepernick, noted for his controversial decision to kneel during the playing of the US national anthem, to a long-term advertising campaign[1].
In October 2019, U.S. Vice President Mike Pence criticized Nike for its reaction to China's treatment of protests in Hong Kong. He accused the company of "siding with the Chinese Communist Party and silencing free speech". He stated that the brand "promotes itself as a so-called social-justice champion, but when it comes to Hong Kong, it prefers checking its social conscience at the door."[1], [34].
In January 2020, the World Athletics[35] issued new guidelines concerning shoes to be used in the Tokyo 2020 Olympics. These updates came in response to criticisms concerning technology in the Nike Vaporfly running shoes which stated that the shoes provided athletes with an unfair advantage and were a form of "Technology doping"[1].
Controversies like these have the potential to undermine Nike's brand value and negatively impact its business.
Opportunities
1. Enhanced brand value and cost leadership through circularity
According to World Economic Forum (WEF), the circular transformation of industries can unlock new value in a resource-constrained world. The transition towards a circular economy is estimated to represent a $4.5 trillion global growth opportunity by 2030 while helping to restore natural systems.[36]
The circular economy is a model of production and consumption, which involves sharing, leasing, reusing, repairing, refurbishing, and recycling existing materials and products to the extent possible, thus extending the product lifecycle.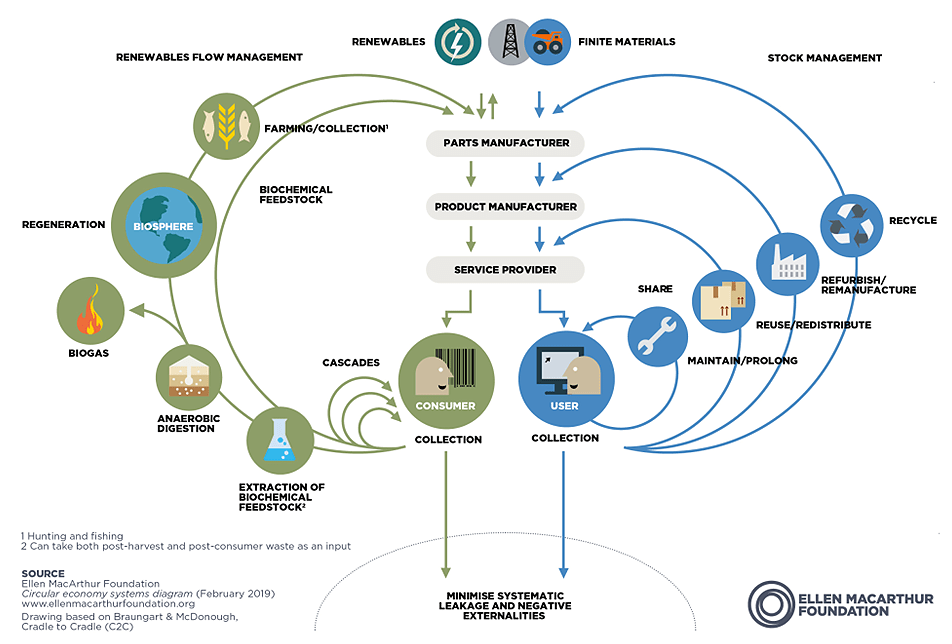 Nike's circular vision is rooted in bold, science-based targets built on more than 30 years of exploring ways to reduce environmental impact. It aims to develop an industrial value chain with no beginning or end, closing the loop from product design all the way through the raw materials stage to manufacturing, shipping, retail, and product take-back.
Nike has been an early adaptor of Circular design principles.
For example, the company has created Flyleather[38], a material made of recycled leather scrap once destined for the landfill, which is abrasion-resistant and 40% more lightweight than full-grain leather. It has developed a workbook that serves as its product design guideline based on ten key circularity principles[39].
With these actions, Nike stands to benefit from a circular economy in several ways, such as:
Reducing its environmental impact by using fewer resources, energy, and water, and emitting fewer greenhouse gases and toxic chemicals.
Saving costs by reusing materials and components from waste streams and recycled products.
Enhancing its brand reputation and customer loyalty by demonstrating its commitment to sustainability and social responsibility.
Driving innovation and creativity by exploring new design possibilities and solutions that are inspired by nature and biomimicry.
Creating new business opportunities and revenue streams by offering products and services that are designed for circularity, such as repair, rental, resale, or remanufacturing.
2. Growing athleisure market
According to a report by ResearchAndMarkets[40], the athleisure[41] market is expected to grow from $411 billion in 2021 to $793 billion by 2028, at a CAGR of 9.9% from 2021 to 2028.
Recent polling data from CivicScience found that Gen-Z, which represents most athleisure consumers, turned to Nike as its brand of choice.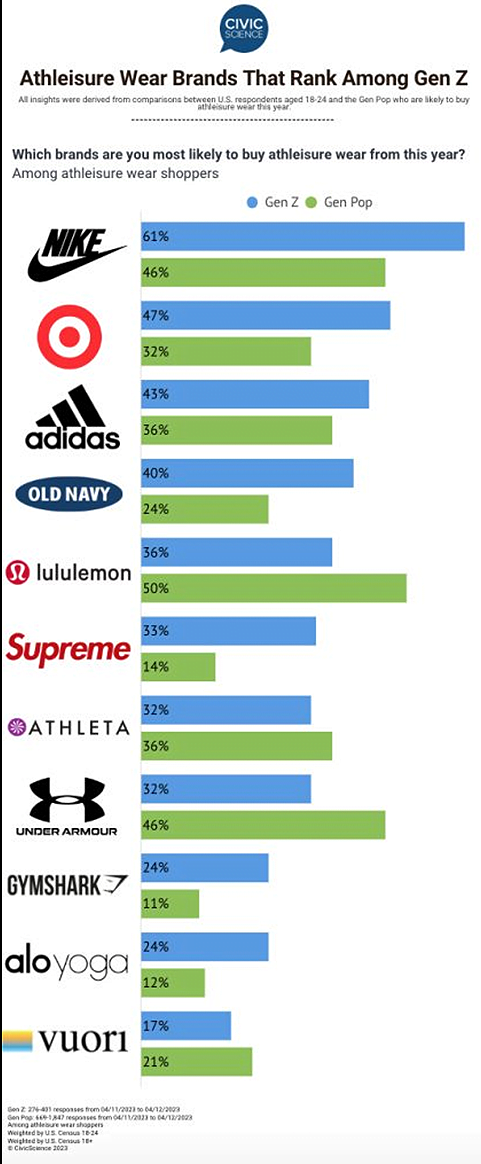 Post-pandemic, athleisure has quickly become popular because it appeals to several broad trends, such as the global shift toward consumers wearing more casual attire, the desire for comfortable clothing, and the increase in athletic activity among health-conscious consumers who need performance clothing for these activities.
This trend echoes even in emerging markets. For example, Global Consultancy Research and Markets pegged an estimated market size of $27.89 billion in 2022 for India's sports equipment, footwear, and apparel market. It projects the market to grow at a compound annual growth rate of 7.82 percent reaching $40.64 billion by 2027[43].
Nike, with its global presence and dominant position in Athleisure, is well-positioned to leverage this growth.
3. Rise of the high-income middle class in emerging markets
Nike's presence in China, as well as in the wider regions of Asia, Africa, and Latin America, indicates promising opportunities for expansion within emerging markets. With ongoing advancements and the steady rise of the middle class in underdeveloped areas, Nike is poised to expand its reach and attract a larger customer base.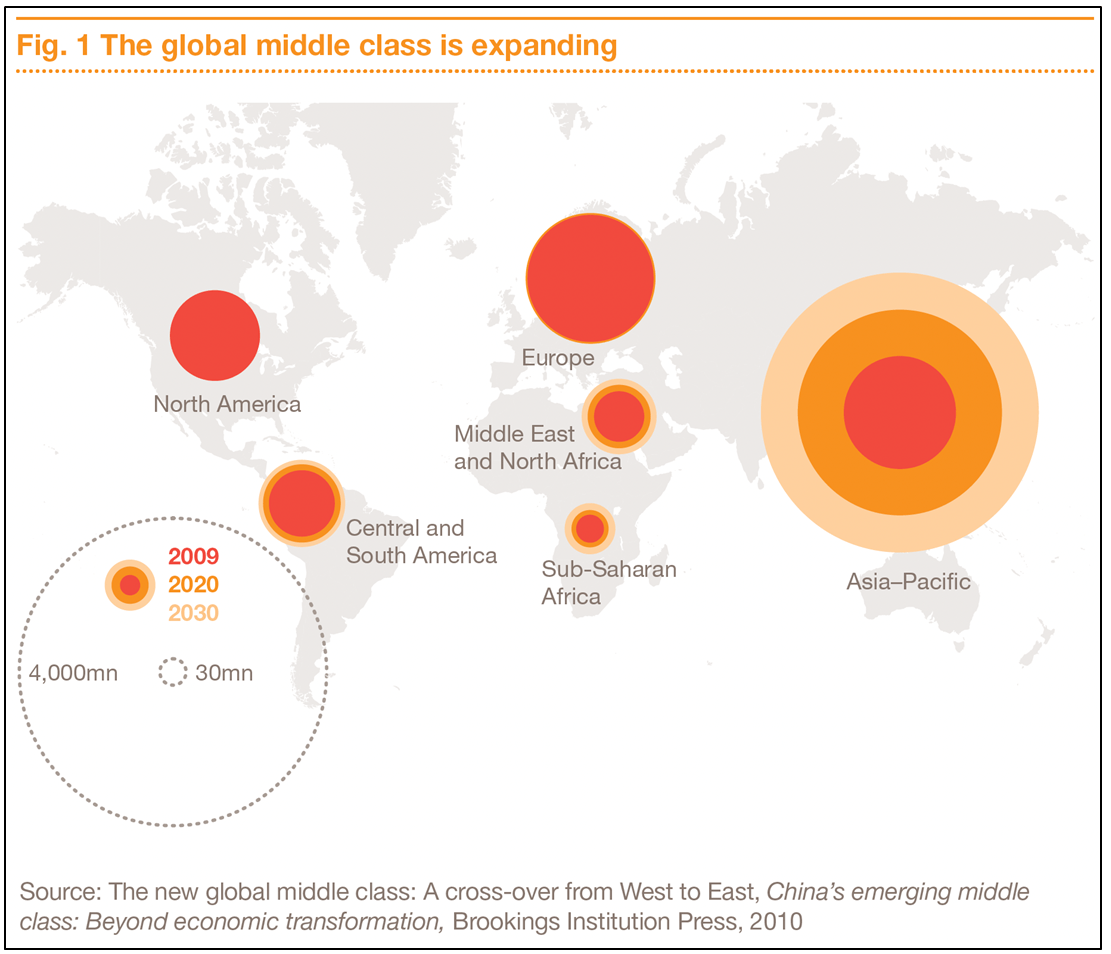 Nike's sales will grow at an enticing rate, argues this report by seeking-alpha[33] while
projecting that more than 70% of Nike's growth over the next five years may come from outside North America.
Unlike the growth by further saturating developed markets, this growth will be a more sustainable one.
4. Growth led by the virtualization of sports
According to a report by Deloitte[45], the use of digital assets like non-fungible tokens (NFT), fan tokens, and blockchain-enabled tickets are evolving for sports.
Simple digital collectibles, originally seen as curiosities, are becoming advanced digital assets that can be used to improve fan engagement and loyalty and create new business models and even more new revenue streams.
In 2022, Nike launched its Web3 platform called .Swoosh (dot Swoosh) to offer Polygon-based NFT products[46]. Earlier in 2021, it acquired Web3 studio RTFKT[47] and released digital Nike sneakers as Ethereum NFTs.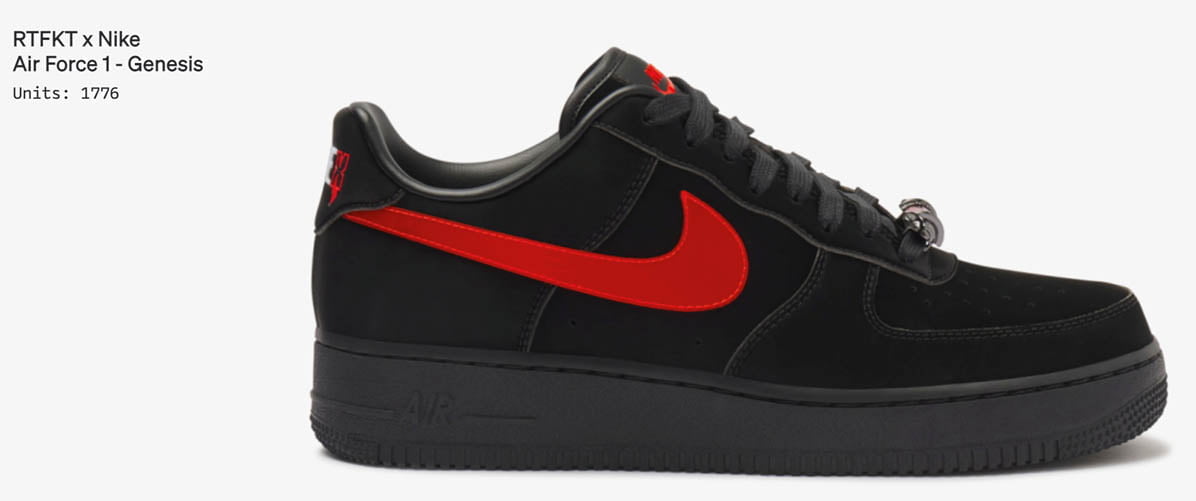 Nike Air Force 1 Genesis collection, featuring a sleek design inspired by the SZN 1 Forging Event (Source: RTFKT[47])
In 2023, the company unveiled its first .Swoosh NFT Digital Sneaker Drop named the "Our Force 1″ collection, potentially consisting of hundreds of thousands of virtual pairs of the brand's iconic Air Force 1 sneaker[48].
This blending of physical and digital experiences will move from proving concepts to creating new functionality and better experiences while opening doors to promising new opportunities for companies like Nike.
5. Growth in women's sports and sportswear
Women's professional sports had a record-breaking year in 2022, with levels of interest, attendance, viewership, media coverage, and investment reaching their peak. The segment is positioned to advance even further with a positive outlook in the coming years[45].
This surge in awareness is expected to create increased opportunities in the women's sports apparel and merchandise industry.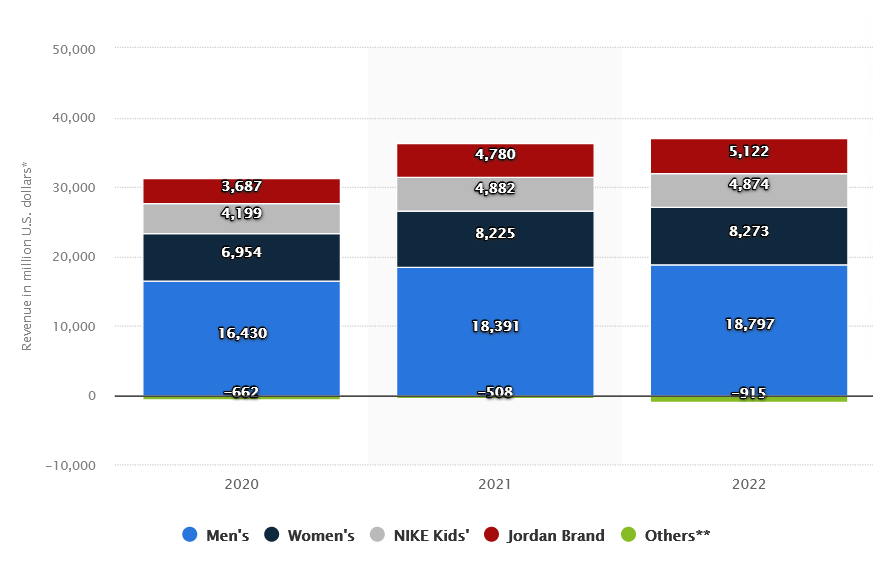 For years, the brand has made clear that selling more sports gear to women is a top priority.
With the pandemic accelerating Nike's digital momentum, women's apparel growth has been provided a boost.
Nike's apps like Training Club and SNKRS, have led to the acquisition of millions of new members, particularly a significant number of women.
The company's new strategic initiative appeals to a broader segment of the female market and takes advantage of the differences between women and men in how they conceive of sport and how they shop for clothing and shoes. Nike is changing the way it sells to, designs for, and communicates with women in order to double its sales to women by 2025.
Threats
1. Supply chain risks
Nike manages a global and vast supply chain that includes suppliers from around the world. Managing this supply chain is complex and challenging with potential risks and challenges that are sometimes beyond Nike's control.
For example, Nike works with thousands of suppliers, many of whom are spread across the globe. Ensuring that its suppliers adhere to its standards is a challenge. This can get particularly difficult when dealing with suppliers in countries with different legal systems and cultural norms.
According to the company's 2022 annual filings[2], Nike relies on a concentrated source base of contract manufacturers to supply a significant portion of footwear products. It is supplied by 120 finished goods footwear contract factories located in 11 countries, out of which four footwear manufacturers accounted for over 10% of footwear production, each aggregating to ~58% of NIKE Brand footwear production.
If any of these primary footwear manufacturers failed to make timely shipments or did not meet quality standards or failed to deliver in accordance with Nike's plans, it could have a materially adverse effect on the company's operations.
Another challenge is the logistics and transportation. Nike's products are sold in markets all over the world which requires the goods to be transported across many different borders. This can come with potential risks like an escalation in freight costs, shipping delays, natural disasters, and unfavorable transportation conditions.
Nike is also exposed to global risks like rapid currency exchange rate changes and international conflicts that could negatively impact its global business.
It must also adhere to customs regulations and border procedures in different countries while ensuring a seamless delivery.
2. The rise of counterfeit products
Nike is among the most counterfeited brand globally, according to the Organization for Economic Co-operation and Development[50].
The volume of international trade in counterfeit products was estimated to be $464 billion in 2019 – 2.5% of total international trade, according to the OECD iLibrary [51].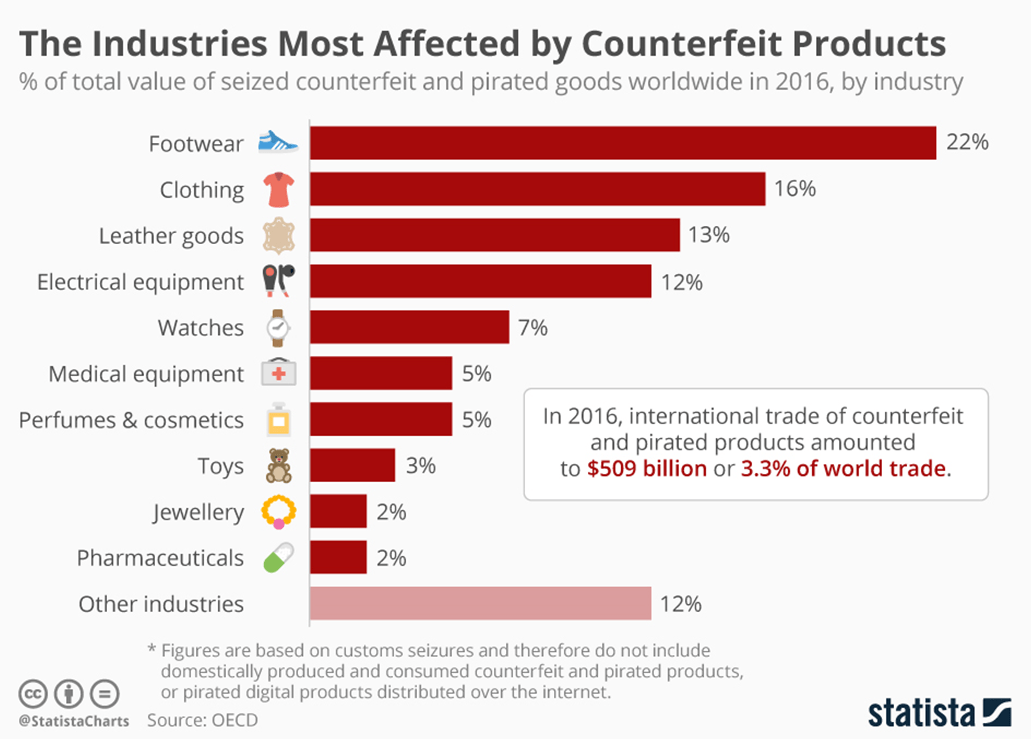 Footwear and clothing are among the most counterfeited goods which are also primary product categories for Nike.
Counterfeited products can have a negative impact on the company through diluted brand equity and lost revenues. Moreover, it is difficult for a consumer to differentiate between a fake and an original product judging by an image or the first impression. Eventually, these products easily wear out due to inferior materials and poor design with the potential to cause injury.
3. Threat of Lawsuits
According to the company's 2022 Annual filings[2], Nike is subject to a complex array of laws and regulations and litigation, and other legal and regulatory proceedings, which could have an adverse effect on its business, financial condition, and results of operations.
If the company's employees, agents, suppliers, and other partners fail to comply with any of the laws or regulations, it could lead to fines, sanctions, or other penalties that could negatively affect our reputation, business, financial condition, and results of operations. Furthermore, laws, regulations, and policies and the interpretation of such can conflict among jurisdictions, and compliance in one jurisdiction may result in legal or reputational risks in another jurisdiction.
Nike is involved in various types of claims, lawsuits, regulatory proceedings, and government investigations relating to its business, products, and the actions of its employees and representatives, including contractual and employment relationships, product liability, antitrust, trademark rights, and a variety of other matters.
This also includes compliance risks, such as anti-bribery, anti-corruption, fraud, trade, environmental, competition, privacy, and other regulatory matters, which will continue to exist, and additional legal proceedings and other contingencies have and will continue to arise from time to time, which could adversely affect the company.
Additionally, regulation of certain transactions like non-fungible tokens ("NFTs") and cryptocurrencies, which the company engages in, remains in an early stage and is subject to significant uncertainty.
According to the Violations tracker, Nike has paid a cumulative penalty of $17.7 million since the year 2000.

The company has also been involved in numerous lawsuits. In 2023, a long-running sexual harassment and gender discrimination lawsuit against Nike produced more than 5,000 pages of records, including surveys of female employees that allege sexist attitudes and behavior at the sportswear giant alongside corporate bullying and fears of retaliation[54].
Besides litigation, Nike has over 20,000 active patents and is constantly engaged in patent wars with competition.
For example, in 2023, Nike filed a lawsuit against Lululemon alleging that their new shoe line infringes on Nike's patent for Flyknit technology. In 2022, Adidas claimed that Nike's Run Club, Training Club, and SNKRS mobile apps violated its patented technology and pressed for damages and an injunction against Nike.
4. Competition
While Nike has a broad economic moat due to its strong brand image and endorsements with the most valuable sports teams and athletes in the world, competition is evolving.
Players like Adidas, Puma, Anta Sports, ASICS, Li-Ning, Lululemon Athletica, Under Armour, VF Corporation, and Revolve, to name a few, have been constantly investing in product innovation, marketing, customer service, and brand endorsement to challenge Nike's market share and profitability.
Some of these competitors are showing real promise, especially under challenging circumstances.
Lululemon, for example, has forged strong connections with its upscale, fitness-minded clientele, who are willing to pay what the products are worth. The company has managed to maintain higher gross margins compared to Nike, suggesting better operational efficiency.
In the third quarter of 2022, Revolve added more than 84,000 new active customers (a 34% increase year over year) while witnessing an increase in average order value by 16%. These signs point to an engaged and satisfied customer base that could continue to increase over time.
According to an article by The Motley Fool[55], Lululemon and Revolve could emerge as significant competitors to Nike by 2032, presenting a notable threat to its market position.
Conclusion
With a strong brand value, a loyal customer base, and a diverse product portfolio, Nike is a global leader in the sports goods industry. The company's history is deeply rooted in innovation, providing it with an economic moat over competition. It is agile in adapting to changing market conditions and customer preferences.
By leveraging its digital capabilities, direct-to-consumer strategy, and circular economy vision, Nike has unlocked new value and opportunities for its business.
To maintain its competitive edge and growth potential, Nike needs to continue its innovative journey and expand aggressively into emerging markets, especially targeting the high-income middle class, opportunities in the virtualization of sports and the growth in women's sports and sportswear.
Just like athletics, in Nike's line of business, excellence is perpetual, where "There is no finish line."
Sources
1. "Nike, Inc.." Wikipedia, https://en.wikipedia.org/wiki/Nike,_Inc.. Accessed 2 May 2023.
2. "2022 Annual Report – FORM 10-K." Nike, https://investors.nike.com/investors/news-events-and-reports/. Accessed 2 May 2023.
3. "Never Done Listening – Department of Nike Archives." Nike, https://www.nike.com/in/a/never-done-listening. Accessed 2 May 2023.
4. "Life Advice from Phil Knight." Mensjournal.com, https://www.mensjournal.com/entertainment/life-advice-from-phil-knight-w431388. Accessed 2 May 2023.
5. "Why is Nike so Successful? Nike History | Nike Marketing Strategy." ThinkWithNiche, https://www.thinkwithniche.com/blogs/details/why-is-nike-so-successful. Accessed 2 May 2023.
6. "History Of Nike: Blending Athletics With Timeless Fashion." businessapac.com, https://www.businessapac.com/history-of-nike-athletics-fashion/. Accessed 7 May 2023.
7. "Nike retains title as world's most valuable apparel brand while luxury brands boom after COVID-19." BrandFinance, https://brandfinance.com/press-releases/nike-retains-title-as-worlds-most-valuable-apparel-brand-while-luxury-brands-boom-after-covid-19. Accessed 2 May 2023.
8. "Best Global Brands." Interbrand, https://interbrand.com/best-global-brands/. Accessed 2 May 2023.
9. "Kantar BrandZ Most Valuable Global Brands 2022." Kantar, https://www.kantar.com/campaigns/brandz-downloads/kantar-brandz-most-valuable-global-brands-2022. Accessed 2 May 2023.
10. "Nike's online business is booming — 'digital is here to stay,' CEO says." CNBC, https://www.cnbc.com/2020/09/23/nikes-ceo-says-digital-is-here-to-stay-e-com-business-fuels-sales.html. Accessed 3 May 2023.
11. "Nielsen Releases 2022 Global Sports Marketing Report." Nielsen, https://sponsorship.org/nielsen-releases-2022-global-sports-marketing-report/. Accessed 4 May 2023.
12. "Nike Increases Revenue & Continues to Spend on Sponsorships." SPONSOR INSIGHTS, https://sponsorunited.com/nike-increases-revenue-continues-to-spend-on-sponsorships/. Accessed 4 May 2023.
13. "The Billion-Dollar Swoosh: Nike's 10 Most Expensive Endorsements With Athletes." TheRichest, https://www.therichest.com/rich-powerful/the-billion-dollar-swoosh-nikes-10-most-expensive-endorsements-with-athletes/. Accessed 3 May 2023.
14. "How much money has Michael Jordan made from Nike? Contract details, revenue, net worth." Sportingnews.com, https://www.sportingnews.com/us/nba/news/michael-jordan-made-nike-contract-revenue-net-worth/tahhp5y8wneeljjrdhqgpkg9. Accessed 3 May 2023.
15. "Air Jordan." Wikipedia, https://en.wikipedia.org/wiki/Air_Jordan. Accessed 5 May 2023.
16. "Air Jordan: Most Valuable Sneaker." Felix Richter, Statista, https://www.statista.com/chart/29726/most-expensive-sneakers-sold-at-auctions/. Accessed 5 May 2023.
17. "Nike's advertising and promotion costs from the financial years of 2014 to 2022." Statista, https://www.statista.com/statistics/685734/nike-ad-spend/. Accessed 4 May 2023.
18. "Nike brand's direct-to-consumer revenue worldwide from the fiscal years of 2009 to 2022." Statista, https://www.statista.com/statistics/294512/nike-s-dtc-revenue-worldwide/. Accessed 4 May 2023.
19. "Nike debuts new store concept with Nike Style." Retaildive.com, https://www.retaildive.com/news/nike-opens-new-store-concept-nike-style/627400/. Accessed 4 May 2023.
20. "Nike's breakup with Amazon may lead other brands to call it quits: analysts." S&P Global, https://www.spglobal.com/marketintelligence/en/news-insights/latest-news-headlines/nike-s-breakup-with-amazon-may-lead-other-brands-to-call-it-quits-analysts-56193375. Accessed 4 May 2023.
21. "Nike says goodbye to more longtime wholesale partners." RetailWire, https://retailwire.com/discussion/nike-says-goodbye-to-more-longtime-wholesale-partners/. Accessed 4 May 2023.
22. "Unbundling Nike: How Direct-To-Consumer Retail Is Being Disrupted." Cbinsights.com, https://www.cbinsights.com/research/companies-unbundling-nike-dtc/. Accessed 4 May 2023.
23. "Nike's purchase of analytics firm Zodiac highlights focus on customer lifetime value." Zdnet.com, https://www.zdnet.com/article/nikes-purchase-of-analytics-firm-zodiac-highlights-focus-on-customer-lifetime-value/. Accessed 4 May 2023.
24. "Nike acquires A.I. platform Celect, hoping to better predict shopping behavior." CNBC, https://www.cnbc.com/2019/08/06/nike-acquires-ai-platform-celect-hoping-to-predict-shopping-behavior.html. Accessed 4 May 2023.
25. "Nike Acquires a Company in Israel That Specializes in 3-D Body Scanning." Footwearnews.com, https://footwearnews.com/2018/focus/athletic-outdoor/nike-3d-scanning-acquisition-invertex-1202547874/. Accessed 4 May 2023.
26. "What Nike's Datalogue deal says about the brand's evolving approach to data-driven marketing." Marketingdive.com, https://www.marketingdive.com/news/what-nikes-datalogue-deal-says-about-the-brands-evolving-approach-to-data/597104/. Accessed 4 May 2023.
27. "Meet the LeBron James Innovation Center." Nike, https://about.nike.com/en/newsroom/releases/inside-the-nike-sports-research-lab-lebron-james-innovation-center. Accessed 6 May 2023.
28. "Most Innovative Companies 2022." BCG, https://www.bcg.com/publications/2022/innovation-in-climate-and-sustainability-will-lead-to-green-growth. Accessed 6 May 2023.
29. "Sweatshops Almost Killed Nike in the 1990s, Now There are Modern Slavery Laws." Thefashionlaw.com, https://www.thefashionlaw.com/visibility-is-central-to-a-successful-supply-chain-heres-what-brands-need-to-know/. Accessed 5 May 2023.
30. "Uyghurs for sale." Australian Strategic Policy InstituteDownload 9.11 MB , https://www.aspi.org.au/report/uyghurs-sale. Accessed 5 May 2023.
31. "OECD Specific Instance: Twenty garment sector unions, Asia Floor Wage Alliance (AFWA) and Global Labor Justice – International Labor Rights Forum (GLJ-ILRF) vs. Nike." globallaborjustice.org, https://globallaborjustice.org/wp-content/uploads/2023/02/OECD-Fact-Sheet-Nike.pdf. Accessed 5 May 2023.
32. "The China Challenge: The Stain of Forced Labor on Nike Shoes." Discourse Magazine, https://www.discoursemagazine.com/economics/2022/01/05/the-china-challenge-the-stain-of-forced-labor-on-nike-shoes/. Accessed 5 May 2023.
33. "Nike: Turning Cautiously Positive In The Long Term." Seekingalpha, https://seekingalpha.com/article/4571788-nike-stock-turning-cautiously-positive-long-term-buy. Accessed 7 May 2023.
34. "Pence blasts Nike for pushing its 'social-justice champion' reputation while 'checking its social conscience at the door' by ignoring China's actions in Hong Kong." business insider, https://www.businessinsider.in/sports/news/pence-blasts-nike-for-pushing-its-social-justice-champion-reputation-while-checking-its-social-conscience-at-the-door-by-ignoring-chinas-actions-in-hong-kong/articleshow/71746443.cms. Accessed 6 May 2023.
35. "World Athletics." Wikipedia, https://en.wikipedia.org/wiki/World_Athletics. Accessed 6 May 2023.
36. "It's time for the circular economy to go global – and you can help." World Economic Forum, https://www.weforum.org/agenda/2019/01/its-time-for-the-circular-economy-to-go-global-and-you-can-help/. Accessed 6 May 2023.
37. "The butterfly diagram: visualising the circular economy." ellenmacarthurfoundation.org, https://ellenmacarthurfoundation.org/circular-economy-diagram. Accessed 6 May 2023.
38. "Nike Flyleather." Nike, https://www.nike.com/in/flyleather. Accessed 6 May 2023.
39. "Circularity." Nike, https://www.nikecirculardesign.com/. Accessed 6 May 2023.
40. "Global Athleisure Market Forecast Report 2021-2028 – Rising Trend of Sustainable Athleisure, Increased Demand from Millennials, Growing Penetration of e-Commerce – ResearchAndMarkets.com." ResearchAndMarkets.com, https://apnews.com/article/covid-business-health-lifestyle-millennials-2ee76a101b8741e8866ab8fb50bf1bae. Accessed 6 May 2023.
41. "Athleisure." Wikipedia, https://en.wikipedia.org/wiki/Athleisure. Accessed 6 May 2023.
42. "Athleisure Wear Brands That Rank Among Gen Z – Nike Is No. 1." civicscience.com, https://civicscience.com/. Accessed 6 May 2023.
43. "INDIA'S ATHLEISURE AND SPORTSWEAR MARKET TO REACH $40.64 BILLION BY 2027: STUDY." fashionatingworld.com, https://www.fashionatingworld.com/new1-2/india-s-athleisure-and-sportswear-market-to-reach-40-64-billion-by-2027-study. Accessed 6 May 2023.
44. "Global trend, local opportunity: the rise of the emerging middle classes." PwC, https://www.pwc.com/gx/en/global-entertainment-media-outlook/assets/global-trend-local-opportunity.pdf. Accessed 7 May 2023.
45. "2023 sports industry outlook." Deloitte, https://www2.deloitte.com/us/en/pages/technology-media-and-telecommunications/articles/sports-business-trends-disruption.html. Accessed 7 May 2023.
46. "Nike Launches .Swoosh Web3 Platform, With Polygon NFTs Due in 2023." decrypt.co, https://decrypt.co/114494/nike-swoosh-web3-platform-polygon-nfts. Accessed 7 May 2023.
47. "Home Page." RTFKT, https://rtfkt.com/. Accessed 7 May 2023.
48. "Nike Unveils First .Swoosh NFT Digital Sneaker Drop." decrypt.co, https://decrypt.co/137011/nike-unveils-first-swoosh-nft-collection-for-members. Accessed 7 May 2023.
49. "Nike's wholesale equivalent revenues worldwide from the fiscal years of 2020 to 2022, by segment." Statista, https://www.statista.com/statistics/888763/nikes-revenue-by-customer-segment-worldwide/. Accessed 7 May 2023.
50. "Counterfeit consumer goods." Wikipedia, https://en.wikipedia.org/wiki/Counterfeit_consumer_goods#Types. Accessed 5 May 2023.
51. "Global Trade in Fakes : A Worrying Threat." Oecd-ilibrary.org, https://www.oecd-ilibrary.org/sites/74c81154-en/index.html?itemId=/content/publication/74c81154-en. Accessed 5 May 2023.
52. "The Industries Most Affected by Counterfeit Products." Felix Richter, Statista, https://www.statista.com/chart/17410/counterfeit-and-pirated-products-by-category/. Accessed 5 May 2023.
53. "Violation Tracker Current Parent Company Summary (Nike)." Violation Tracker, https://violationtracker.goodjobsfirst.org/parent/nike. Accessed 6 May 2023.
54. "Nike lawsuit records allege culture of sexism, bullying and fear of retaliation." The Guardian, https://www.theguardian.com/business/2022/dec/20/nike-lawsuit-records-sexual-abuse-toxic-workplace-claim. Accessed 6 May 2023.
55. "2 Stocks That Could Be Worth More Than Nike by 2032." The Motley Fool, https://www.fool.com/investing/2022/12/02/2-stocks-could-be-worth-more-than-nike-by-2032/. Accessed 7 May 2023.