This article offers an in-depth analysis of FedEx, one of the leading global players in the delivery and logistics industry. We will examine the core strengths and capabilities the company has developed over the years, along with the opportunities available for future growth. Furthermore, we will discuss the challenges FedEx needs to overcome and the external threats it must successfully navigate.
Company Overview
Name
FedEx Corporation
Logo
Founded
May 5, 1971
Founder
Frederick W. Smith
Industry
Transportation and Logistics
Headquarters
Memphis, Tennessee
Website
https://www.fedex.com
Markets Served
FedEx Express: 220 countries and territories
FedEx Ground: U.S. and Canada
FedEx Freight: U.S. plus Puerto Rico and British Virgin Islands
President and CEO
Rajesh Subramaniam
Number of Employees
547,000 (2022)
Revenue
$93.51 billion (2022)
Net Income
$3.972 billion (2022)
Competitors
United Parcel Service, Inc. (UPS), DHL, United States Postal Service (USPS), Dynamic Parcel Distribution (DPD)
FedEx Corporation, originally known as Federal Express and later FDX Corporation, was founded by Frederick W. Smith in 1971 in Little Rock, Arkansas. The company began its operations in 1973 after relocating to Memphis, Tennessee, with a vision of revolutionizing the delivery industry by offering overnight shipping services. On its first night of operations, 14 aircraft and 389 team members successfully delivered 186 packages across 25 cities in the U.S.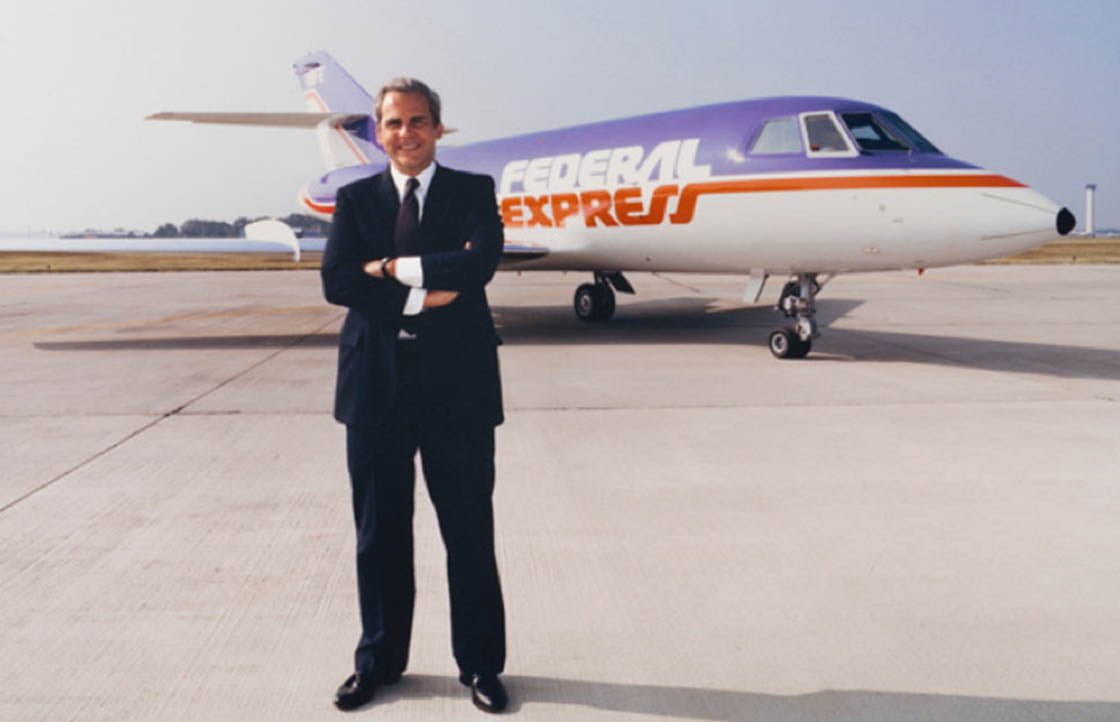 FedEx quickly established a reputation for its innovative approach and unwavering commitment to reliability, which fueled its rapid growth and expansion. In 1984, the company ventured into Europe and Asia through the acquisition of Gelco Express International. Over the years, FedEx has strategically acquired numerous companies to broaden its international reach and diversify its range of services, including ground shipping, freight transportation, logistics, and e-commerce solutions.
Today, FedEx operates as a holding company encompassing several business units, such as FedEx Express, FedEx Ground, FedEx Freight, and FedEx Services. It provides an extensive array of delivery, logistics, and business services to customers across more than 220 countries and territories, handling billions of packages annually.
FexEx SWOT Summary
Strengths
Weaknesses
1. Strong brand reputation and regognition
2. Extensive logistics fleet
3. Unique corporate strategy
4. Diverse service offerings
5. A long history of technological innovation
6. Strategic acquisitions portfolio
7. Focus on e-commerce
1. High dependence on the U.S. market
2. High operational costs
3. Unstable employment structure
Opportunities
Threats
1. Expanding e-commerce efforts
2. Strengthening international presence
3. Continuing supply chain digitalization
4. Focusing on sustainable logistics
1. Stiff competition
2. Complex regulatory environment
3. Geopolitical tensions
4. Global recession
5. Fluctuating fuel prices
Strengths
1. Strong brand reputation and recognition

FedEx possesses a strong brand reputation that is honored and respected worldwide. According to Interbrand, its current brand value is at $8.17B in 2022 and is currently ranked 79th in the brand consultancy's Best Global Brands of 2022. Although it fell four places from 2021, its brand value still grew 8% from the previous year.[1]
The company also received numerous recognitions from other reputation companies over the years. More recently, they have been recognized by Ethisphere as one of the 2023 World's Most Ethical Companies. The list is comprised of 135 organizations with unwavering commitment to business integrity, with FedEx being a first-time honoree and the only entity from the transportation industry.[2]

FedEx is also a perennial mainstay in Fortune's World's Most Admired Companies. It is currently ranked 18th, beating global competitors UPS and DHL and has been among the top 20 for 23 consecutive years.[3] It has also been recognized by the global media organization as one of the 100 Best Companies to Work for in 2022.[4]
Other organizations that have recognized FedEx over the years include Brand Finance (Global 500), Time (Time100 Most Influential Companies in), Newsweek (America's Most Responsible Companies), Kantar (BrandZ Top 100 Most Valuable Global Brands), European Brand Institute (Global Top 100 Brands), and Forbes (The World's Most Valuable Brands).[5],[6]
This high brand value and strong brand reputation enable the company to continue to attract and create loyalty among customers. It also helps FedEx attract, retain, and engage talent globally, as well as maintain its strong financial position.
2. Extensive logistics fleet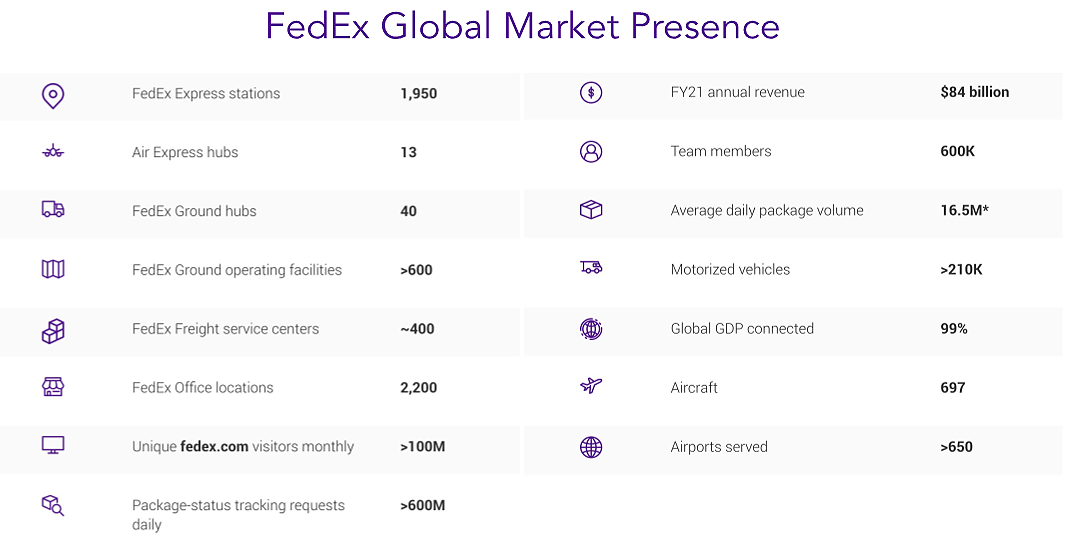 FedEx is one of the companies with the strongest international presence in the delivery and logistics space. As of the end of 2022, the company operates the world's largest air cargo fleet, with 697 aircraft serving more than 220 countries and 650 airports worldwide.[7] This fleet size significantly outnumbers competitors such as UPS, with 290 aircraft,[8] and DHL, with over 280.[9]
In addition to its air fleet, FedEx maintains an extensive ground network in the U.S. and Canada through its subsidiary, FedEx Ground. Based on 2022 metrics, the company has over 600 operating facilities, 40 ground hubs, more than 2,100 office locations, and over 18,000 onsite locations across these two countries.[10]
This broad coverage ensures that FedEx's services are accessible and relevant to its customers around the world. With a robust air and ground network that is further augmented by partnerships with third-party service providers in various markets, FedEx consistently fulfills its promise of fast and reliable delivery to its global customer base.
3. Unique corporate strategy
FedEx adopts a decentralization strategy in which its business is operated through distinct yet interrelated companies: FedEx Express, FedEx Ground, FedEx Freight, and FedEx Services. These companies function under unified operational principles to "compete collectively, operate collaboratively, and innovate digitally."[11]
This business strategy empowers FedEx to become more agile and adaptable in the face of ever-changing market conditions. By managing individual operations in alignment with macroeconomic conditions and customer demand, the company can respond more effectively to fluctuations in the global delivery and transportation market. This flexibility is crucial for navigating the volatility, uncertainty, and continuous evolution that have become the norm in this highly competitive industry.
Additionally, the decentralized structure promotes innovation and tailored solutions across different business units, enabling each company to focus on its core strengths while still benefiting from the synergies created through collaboration. As a result, FedEx can provide a more comprehensive and customized range of services to its customers, further strengthening its position in the market.
4. Diverse service offerings
FedEx offers a wide array of delivery services tailored to meet the diverse needs of its customers in terms of speed, cost, distance, and size. These services include:
FedEx Express – Provides time-sensitive, express delivery for documents, packages, and freight, both domestically and internationally, with options such as overnight, 2-day, and 3-day services.
FedEx Ground – Offers cost-effective delivery solutions via the company's ground network, available within the U.S. and Canada, with transit times typically ranging between one and five days.
FedEx Freight – Caters to larger and heavier shipments worldwide, accommodating various delivery requests.
FedEx Custom Critical – Processes time-critical, high-value, or temperature-sensitive deliveries with a range of specialized transportation options.
In addition to these delivery services, FedEx provides a variety of auxiliary offerings designed to enhance its value proposition for customers:
FedEx Supply Chain – Helps businesses to optimize their supply chains and operations through a suite of services covering logistics management, warehousing, transportation, and order fulfillment.
FedEx Trade Networks – Assists businesses in navigating the complexities of international trade, including customs brokerage, freight forwarding, and trade management.
FedEx Offices – Offers convenient one-stop shops, primarily located in key retail areas, for customers to access professional printing, copying, packing, and shipping services.
This comprehensive suite of services enables FedEx to provide a seamless experience for its customers and address their end-to-end delivery and shipping needs.
5. A long history of technological innovation
FedEx has consistently been at the forefront of technological innovation and industry disruption since its establishment. The company has leveraged available technology throughout different periods, adhering to its founder's words: "The information about the package is just as important as the package itself."[12] This principle has become the core of every innovation FedEx has brought to the market, whether for optimizing processes or improving customer experiences.
FedEx's long history of technological innovation began in 1979, less than ten years after the company was founded. It launched the Customer, Operations, and Services Master Online System (COSMOS) as an internal tool to track and manage people, packages, vehicles, and weather scenarios in real time. Soon after, FedEx adapted COSMOS for customer engagement through its Automated Call Center, enabling customers to monitor the status and location of their packages during the shipping journey.[13] It was also in the same year that FedEx equipped couriers with handheld devices.
The following year, FedEx introduced the Digitally Assisted Dispatch System (DADS) to coordinate on-call pickups from customer locations. This innovation made the company the first air express carrier with vans equipped with computers.[14]
In 2002, FedEx partnered with Motorola to release PowerPad, a handheld PC device that automated dispatch, pickup, and delivery of packages. PowerPad also eliminated the paperwork previously processed manually by couriers. The company estimated that this invention could save $20 million in expenses annually.[15]
In 2009, FedEx introduced a breakthrough device called SenseAware to address the growing demand for sensor-based information enabling real-time tracking and monitoring of sensitive and critical deliveries. SenseAware devices are multi-sensor tools equipped with GPS and location-based service capabilities, typically placed inside packages, pallets, trailers, and warehouses.[16]
In more recent years, FedEx has been exploring new digital technologies to further increase supply chain transparency and efficiency. This exploration includes collaborating with Deka to develop a delivery robot called Roxo for fulfilling last-mile deliveries. However, the company recently announced that it is terminating the program to prioritize other initiatives.[17]
Similarly, FedEx has been experimenting with blockchain technology to facilitate shipment information exchange with suppliers and retailers. The company has been an active industry collaborator in this space, joining alliances such as the Hyperledger Blockchain Hub and the Blockchain in Trucking Alliance (BiTA).[18]
These pursuits of emerging technologies allow the company to stay true to its core values, making its entire chain transparent to customers, improving efficiencies, and ultimately retaining a competitive edge in the delivery and logistics market.
6. Strategic acquisitions portfolio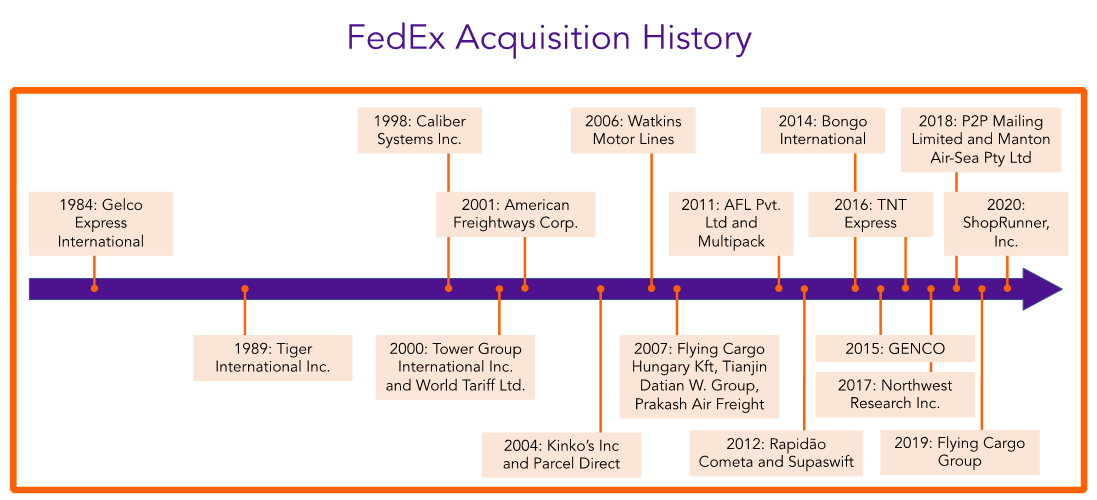 The rapid growth FedEx has experienced over the last fifty years has been made possible by complementing internal capability expansion with a slew of strategic acquisitions. These acquisitions have driven the company's growth across different business segments and geographies.
In 1989, the integration of Flying Tiger Line transformed FedEx into the world's largest full-service, all-cargo airline. The acquisition of Caliber System Inc. in 1998 broadened FedEx's portfolio with the ground small-package carrier RPS, now known as FedEx Ground, and additional services.
Over the years, FedEx continued making strategic acquisitions. In 2016, it acquired TNT Express, expanding its global express delivery capabilities substantially. In 2015, FedEx acquired GENCO, one of the largest third-party logistics providers in North America and a pioneer in reverse logistics, test and repair, remarketing, and product liquidation solutions.
Other acquisitions, such as ShopRunner in 2020, P2P Mailing Limited in 2018, and Bongo International in 2014, have enabled FedEx to enhance its offerings in the rapidly growing global e-commerce marketplace.
FedEx has also made acquisitions to expand its presence in specific countries and regions. For instance, in 2012, it acquired Rapidão Cometa, one of Brazil's largest transportation and logistics companies, and TATEX, a leading French business-to-business express transportation company. In 2011, it acquired Servicios Nacionales Mupa in Mexico and AFL Pvt. Ltd./Unifreight India Pvt. Ltd. in India to enhance its domestic transportation capabilities in these countries.
By strategically supporting internal growth with acquisitions, FedEx has become a global powerhouse in the delivery and logistics market. This approach allows the company to rapidly respond to changing market dynamics while continuing its expansion into new markets.
7. Focus on e-commerce
FedEx has strategically positioned itself at the forefront of the rapidly growing e-commerce market by leveraging targeted acquisitions, investing in infrastructure and capacity enhancements, expanding its global reach, and offering customized solutions for e-tailers.
Throughout the years, FedEx has executed several strategic acquisitions to bolster its e-commerce capabilities. These include ShopRunner, an e-commerce platform connecting brands and merchants; P2P Mailing Limited, a provider of global e-commerce transportation solutions; GENCO, a third-party logistics provider; and Bongo International, a cross-border enablement technology provider. These acquisitions have significantly expanded FedEx's ability to address the needs of online retailers and their customers worldwide.[19]
To support the burgeoning e-commerce market in the U.S., FedEx has heavily invested in improving its FedEx Ground network capacity and infrastructure. In 2020, the company introduced a seven-day service, added more sortation facilities, and deployed more automation capabilities. Furthermore, FedEx expanded its retail convenience network, making pick-up and drop-off services more accessible to customers.[20] These initiatives enabled the company to manage the increasing volume of e-commerce packages and ensure efficient delivery.
In addition to local efforts, FedEx has proactively catalyzed the growth of e-commerce in international markets. The company has integrated its services with leading e-commerce marketplaces and expanded its delivery customization solutions to meet the unique demands of global retailers and customers.[21] Additionally, FedEx has launched cost-effective international shipping solutions in key e-commerce growth regions, making it easier for retailers to access more customers worldwide.[22]
The company also provides tailored e-commerce solutions, such as discounted shipping services, technology-enabled tools for supply chain management, and complimentary online resources to help entrepreneurs start or expand their online businesses.[23] These offerings exemplify FedEx's commitment to supporting the e-commerce ecosystem and solidifying its position as an industry leader.
Weaknesses
1. High dependence on the U.S. market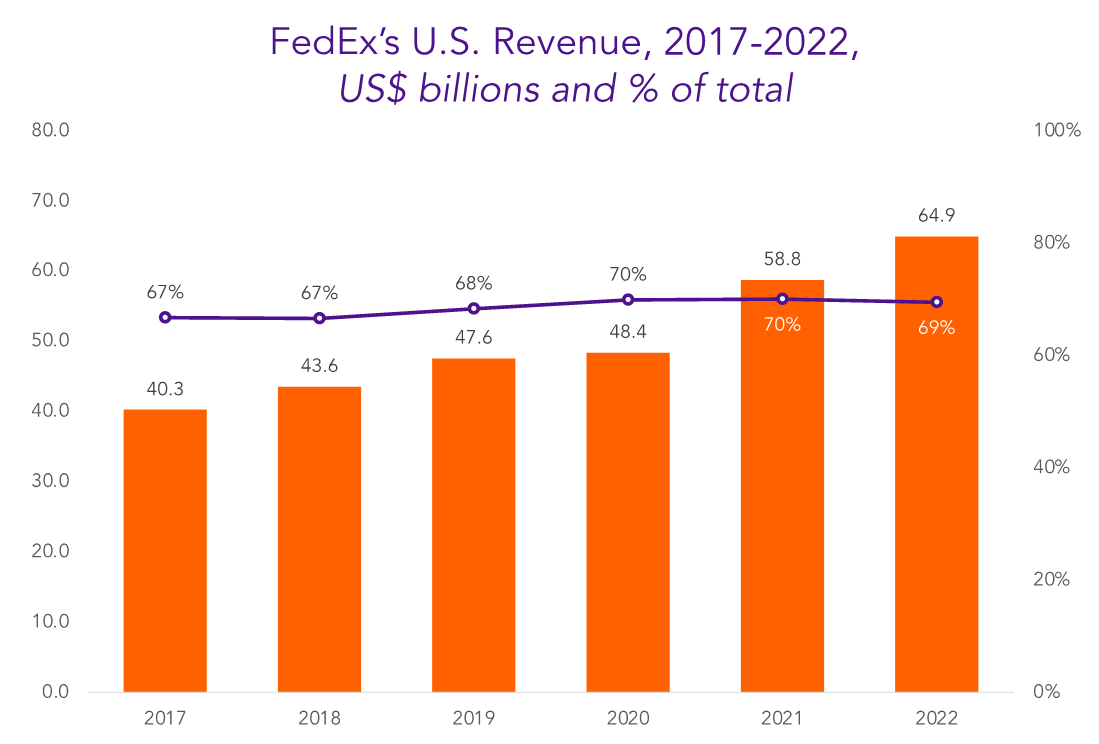 While FedEx has a significant presence in over 220 countries worldwide, a substantial portion of its annual revenues comes from the U.S. market. Despite various international investments through acquisitions and partnerships, the U.S. market still accounted for 70% of total revenue in 2022, maintaining a consistent level with previous years.[24]
This overdependence on the U.S. market makes the company vulnerable to potential risks associated with economic downturns in the country. As FedEx's financial performance is closely tied to the U.S. economy, factors such as consumer spending, e-commerce growth, and overall economic performance will directly impact the demand for FedEx's services.
2. High operational costs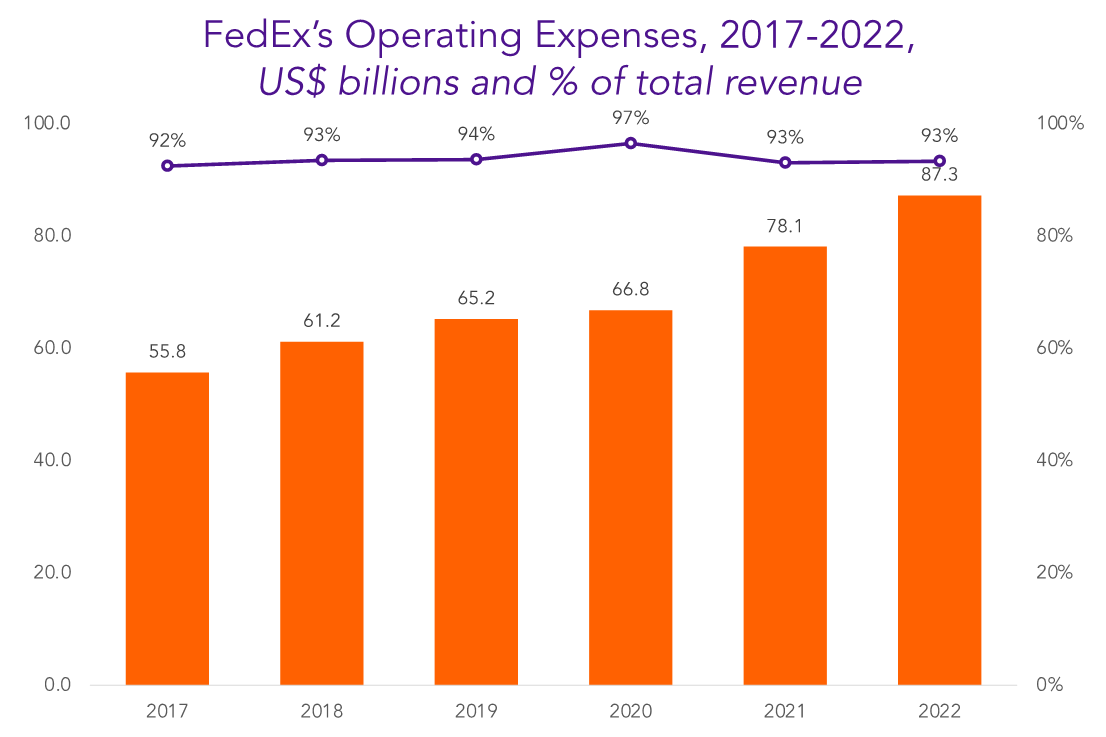 Despite continuous revenue growth, FedEx's profit margins remain small, primarily due to the substantial operating costs incurred every year. In 2022, more than 90% of total revenue was allocated to operating expenses, which remained at about the same level as in 2021.[25]
A significant portion of these expenses was attributed to the salaries and benefits of its large employee base worldwide, as well as transportation costs, including the utilization of third-party providers. Together, these expenses made up 60% of the total operating expenses in 2022.[26]
High operational costs put pressure on FedEx's profit margins. Any further increase could compel the company to pass on the costs to consumers. This may result in a competitive disadvantage, especially in a tightly contested market that is sensitive to both price and service.
Moreover, the erosion of profit margins as a result of high operational costs could also limit the company's flexibility. It could hinder FedEx from responding to changing market conditions or pursuing new opportunities effectively.
3. Unstable employment structure
FedEx relies heavily on seasonal or part-time employees to address surges in shipping demand during peak seasons or special holidays. By employing a flexible workforce, the company aims to adapt to fluctuating demands for its services. To further supplement its worker base, FedEx also taps third-party contractors, providing the company with additional flexibility.
However, in recent years, as e-commerce continues to grow, FedEx has faced increasing challenges in attracting, hiring, and retaining talent to ensure that its commitment to customers is upheld. The competitive labor market has made it more difficult for the company to maintain a sufficient workforce, especially during peak seasons, to handle the growing demands placed on its delivery services.
This staffing shortage has forced FedEx to raise salaries for its internal workforce and pay higher rates to third-party contractors. Instead of helping manage its operational expenses and improving its bottom line, this employment structure has resulted in increased costs for the company. This was evident in its 2020 Q3 financial results when the additional expenses amounted to $470 million.[27]
Opportunities
1. Expanding e-commerce efforts
FedEx, with its comprehensive e-commerce solutions designed to support both established and nascent companies, is well-positioned to capitalize on the continued growth of the global e-commerce market.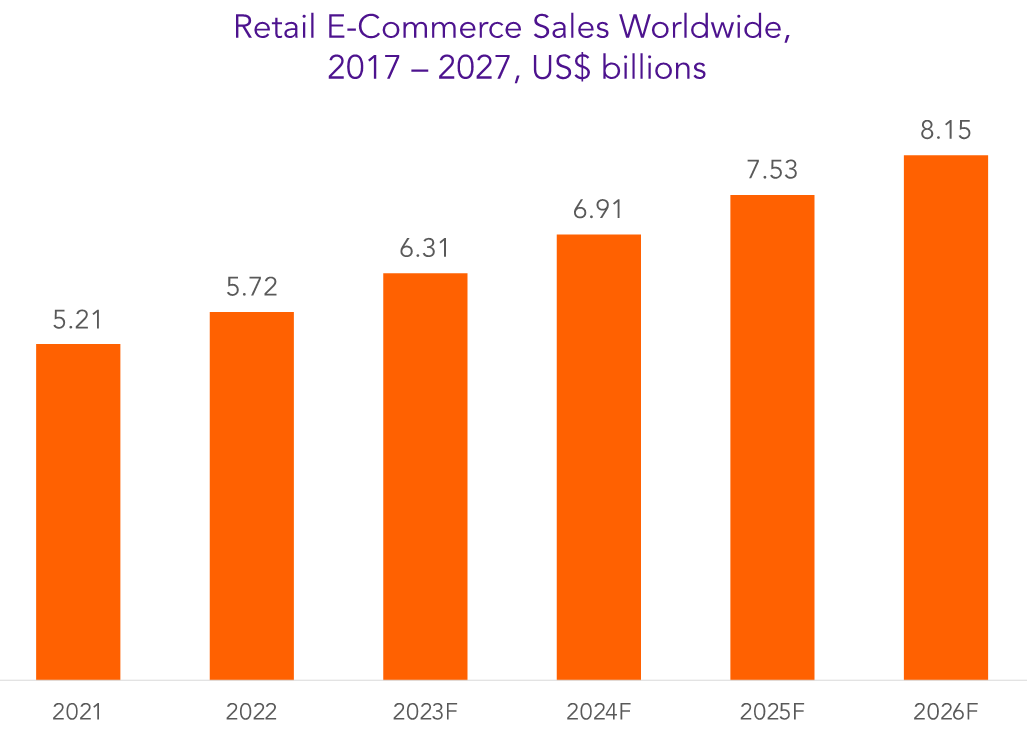 According to eMarketer, retail e-commerce sales worldwide are projected to reach $8.15 trillion by 2026.[28] FedEx can secure a significant share of this market by becoming the preferred logistics partner for online retailers and e-commerce platforms. As more consumers opt for online shopping, reliable and efficient delivery services become increasingly important.
A separate survey conducted by Metapack highlights the crucial role delivery plays in consumers' decisions to switch to online shopping. In this study, consumers emphasized the importance of cost, speed, and convenience of delivery options as the main factors influencing their choice of online channels for purchasing retail products.[29]
This trend presents a significant opportunity for FedEx to establish more partnerships with e-commerce platforms globally and increase its brand awareness. By offering customized services and pricing options, the company can cater to the diverse needs of online retailers and their customers. To ensure continued success, FedEx must focus on consistently meeting its commitment to fast and reliable delivery, which is a critical factor in attracting and retaining customers in the competitive e-commerce landscape.
2. Strengthening international presence
FedEx has the potential to significantly expand its international presence by continuing to focus on strategic partnerships and selected acquisitions of key players in various regions. These collaborative initiatives can help the company penetrate new markets, tailor its offerings according to local needs, and improve its in-country delivery networks beyond the U.S.
One potential area that FedEx can consider is establishing partnerships with fast-growing e-commerce platforms in Asia, Europe, and Latin America. By partnering with e-commerce giants like Alibaba in China, Flipkart in India, and Mercado Libre in Latin America, FedEx can enable retailers to cater to international customers. This would result in revenue growth for the company, as well as an enhanced market reputation for fostering internationalization among local sellers.
Another area FedEx could look into is the expansion of partnerships with local delivery and logistics companies in the markets they operate, similar to their collaboration with Delhivery to unlock India's international trade potential.[30] Through these partnerships, the company can gain wider local scope and fulfill deliveries more efficiently than building its own delivery network organically.
3. Continuing supply chain digitalization
FedEx should persist in concentrating on the implementation of its strategy and motto, "Deliver Today. Innovate for Tomorrow." The company should continue to investigate how it can leverage cutting-edge digital technologies to enhance supply chain efficiencies and create more compelling customer value propositions.
By broadening the adoption of robotics and automation technologies in its operating facilities and exploring the potential of automated deliveries using robots and drones, FedEx can address challenges related to staffing shortages. Furthermore, widespread automation across its business segments would also improve process efficiencies and contribute to further reductions in operating costs.
FedEx DataWorks should also keep seeking ways to fully harness the vast amounts of data generated from every transaction in every segment of its supply chain. Utilizing this data effectively can transform both the digital and physical experiences of its employees and customers, leading to more streamlined operations and better customer satisfaction.
Moreover, FedEx should consider investing in innovative technologies such as artificial intelligence, machine learning, and the Internet of Things (IoT) to further optimize its delivery processes, predictive analytics, and tracking capabilities. Through these technological advancements, FedEx can maintain its competitive edge in the global delivery and logistics market.
4. Focusing on sustainable logistics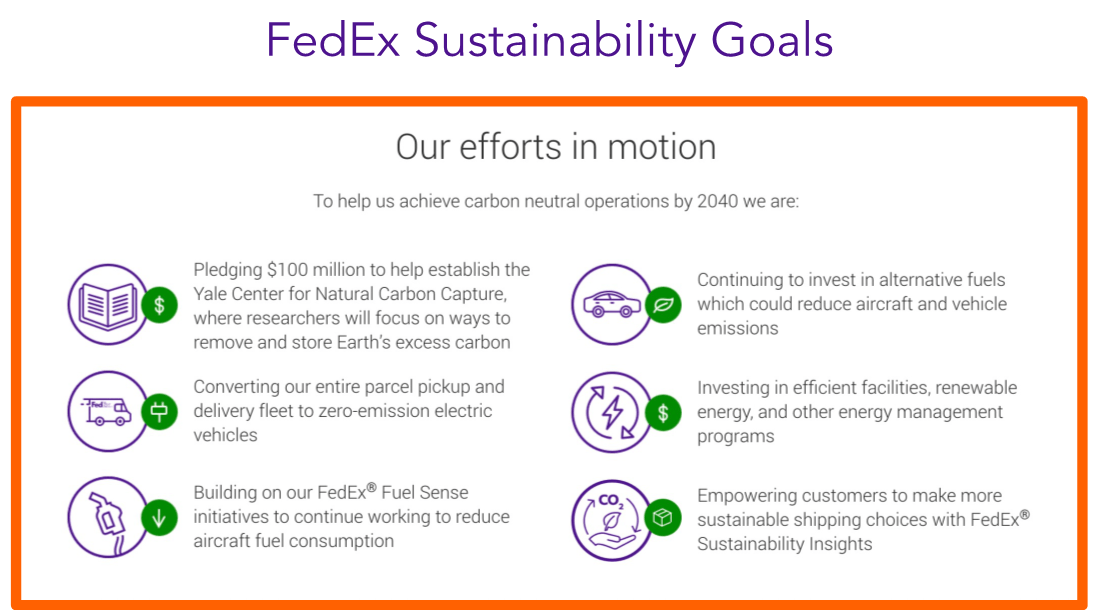 As the world becomes increasingly conscious of climate change and the sustainability practices of companies they engage with, FedEx should consider intensifying its efforts to implement eco-friendly practices throughout its entire logistics and delivery operations.
In 2021, FedEx announced its ambitious plan to achieve carbon-neutral operations by 2040. This objective encompasses 100% vehicle electrification by 2040, offering carbon-neutral shipping services and sustainable packaging solutions, increased investment in and utilization of alternative fuels, fuel conservation and aircraft modernization, adoption of green buildings, and investment in natural carbon sequestration initiatives.[31]
To help achieve this goal, the company has committed an initial $2 billion investment, with more expected through 2040. FedEx can also make incremental gains in its environmental efforts through its DataWorks business segment, where the company can continue to harness AI, IoT, and data analytics to optimize routes, minimize fuel consumption, and reduce emissions.
By focusing on incorporating sustainable solutions and technologies into its processes and services, FedEx can cater to the growing environmentally conscious market segment and reinforce its brand image as a leader in sustainable logistics.
Threats
1. Stiff competition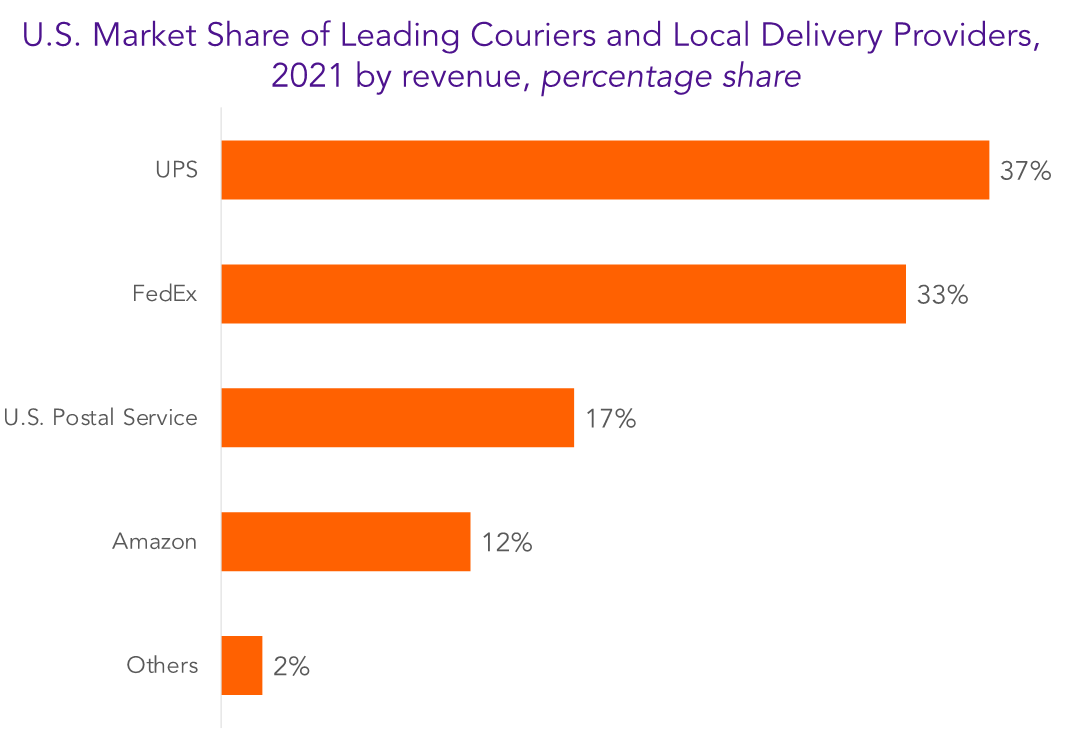 FedEx continues to be a major player in the highly competitive logistics and delivery market in the U.S. As of 2021, it holds the second-largest market share at 33%, following closely behind UPS' 37%, according to Statista.[32] In international markets, DHL poses a significant challenge, boasting a 39% market share as of 2018.[33]
To maintain its competitive edge, FedEx must remain vigilant of these major players in both local and international markets while constantly seeking innovative solutions and strategies.
However, FedEx also faces challenges from rapidly emerging competitors in the industry. For instance, Amazon, once one of FedEx's largest customers, has developed its own in-house logistics solutions to cater to its e-commerce platform. This move has resulted in significant losses for FedEx, and the situation is likely to worsen as the e-commerce giant expands its third-party shipping services to customers directly competing with FedEx.
Additionally, Uber, initially known as a ridesharing service provider, has ventured into the shipping industry with its Uber Connect[34] and Uber Freight[35] solutions.
FedEx must adapt to the continuous evolution of the market landscape and address the threats posed by these existing and emerging players to remain a leader in the logistics and delivery industry.
2. Complex regulatory environment
FedEx operates in a complex regulatory environment, facing numerous local and international regulations that can significantly impact the company's operations, financial performance, and the services it offers.
FedEx must continuously align its operational efforts with policies and international agreements aimed at safeguarding the environment, such as the Paris Agreement and local regulations which require the reduction of greenhouse gas emissions, waste minimization, and pollution prevention.
As governments and societies grow more concerned about climate change, companies with large carbon footprints, like FedEx, may face increased pressure to invest in sustainable practices. These investments could strain the company's financial position, while non-compliance could result in fines and damage to its market reputation.
Trade regulations also demand consistent monitoring, as FedEx must navigate tariffs, customs regulations, and protectionist policies in some countries. Such policies could increase costs for cross-border shipments, disrupt supply chains, and reduce demand for its international services.
With the rapid growth of digital transactions, FedEx must also ensure compliance with stringent cybersecurity regulations, such as the General Data Protection Regulation (GDPR) and the California Consumer Privacy Act (CCPA). Non-compliance could lead to substantial fines, reputational damage, and loss of customer trust.
Labor regulations significantly impact FedEx's operations as well since these regulations vary from country to country and continuously evolve. The company must consistently comply with minimum wage increases and worker classification, which can affect operating costs and human resource management. Non-compliance with domestic policies could result in penalties or even suspension of operations. FedEx has already faced a lawsuit in the U.S. for allegedly misclassifying drivers as independent contractors, which cost the company $240 million in settlement.[36]
Thus, it is crucial for FedEx to closely monitor the multitude of regulations governing its operations and adapt accordingly. The company should invest in continuous training, technology, and robust internal processes to ensure compliance across all aspects of its business. Failing to comply with these rules could result in financial penalties, reputational damage, and loss of customer trust, ultimately affecting the company's growth and success.
3. Geopolitical tensions
FedEx must remain vigilant about geopolitical tensions that can adversely affect trade and international relations. For example, during the conflict between Russia and Ukraine, the company was forced to suspend its operations in these countries as well as in Belarus.
Another notable instance is the recent US-China trade war, which significantly disrupted global supply chains and reduced demand for shipping services. The trade conflict between these two major economies resulted in the imposition of tariffs and trade barriers, which in turn affected the movement of goods and services across borders. Consequently, FedEx faced decreased shipment volumes and increased operational complexities.
International conflicts like these can have far-reaching consequences for FedEx's business. They may disrupt trade routes and create uncertainty in global supply chains, making it difficult for FedEx to maintain efficient operations and provide timely services. Airspace bans or route alterations could force the company to reroute its shipments, leading to increased costs and delays in deliveries. These disruptions can ultimately erode customer confidence in FedEx's ability to deliver reliable services.
Furthermore, such conflicts can result in retaliatory actions by affected countries against foreign businesses, such as imposing increased tariffs, embargoes, or restrictions on operations. These measures can significantly impact FedEx's ability to conduct business in the affected regions, further straining its operational and financial performance.
Given these potential challenges, it is crucial for FedEx to closely monitor geopolitical tensions and their possible impact on trade and international relations. The company should be prepared to adapt its operations and strategies to navigate the difficulties posed by these conflicts, ensuring the continuity of its services while mitigating potential risks to its business.
4. Global recession
A global recession can significantly impact FedEx's business across both its B2B (business-to-business) and B2C (business-to-consumer) market segments. During a recession, businesses and consumers typically reduce spending due to financial uncertainty and a weakened economy.
In the B2B segment, businesses may delay or cancel orders and production, causing a ripple effect through global supply chains. As a result, the demand for FedEx's shipping and logistics services would decline since fewer goods need to be transported between businesses.
In the B2C segment, consumers usually cut back on discretionary spending, prioritizing essential goods over non-essential ones. This shift in consumer behavior can lead to reduced demand for e-commerce and retail deliveries, which are significant contributors to FedEx's business.
To weather the challenges of a global recession, FedEx must closely monitor economic indicators and adjust its operations and strategies accordingly.
5. Fluctuating fuel prices
Fuel price fluctuations present a significant challenge for FedEx, as the company heavily relies on fuel to operate its aircraft and vehicles. These prices and availability, however, remain beyond FedEx's control and can be highly volatile.
To counter the impact of rising fuel costs, FedEx employs indexed fuel surcharges, which pass the costs onto customers. Nevertheless, this approach carries risks, as high fuel surcharges may prompt customers to opt for lower-yielding alternatives like ground or deferred services, or even switch to FedEx's competitors.
Moreover, the prices charged by third-party partners for their services are also dependent on fuel prices. Consequently, if fuel prices increase, FedEx's purchased transport expenses are likely to rise as well.
Summary
FedEx has swiftly become one of the largest international players in the global delivery and logistics market. Over its 50-year history, the company has built a robust portfolio of resources and capabilities, enabling it to adapt to the ever-changing demands of the market.
To maintain its success, FedEx should consistently prioritize innovation to optimize efficiency and offer improved value propositions to its customers.
Additionally, the company must continue to explore strategies for navigating external disruptions that are beyond its control. As its business is closely tied to trade and the state of the U.S. and global economy, these disruptions can significantly impact its performance.
Sources
1. "Best Global Brands 2022 – FedEx," Interbrand, https://interbrand.com/best-global-brands/fedex/. accessed on April 30, 2023.
2. "The 2023 World's Most Ethical Companies Honoree List," Ethisphere, https://worldsmostethicalcompanies.com/honorees/. accessed on April 30, 2023.
3. "World's Most Admired Companies," Fortune, https://fortune.com/ranking/worlds-most-admired-companies/2023/. accessed on April 30, 2023.
4. "FedEx recognized as one of Fortune Magazine's 100 Best Companies to work for in 2022," 3BL Media, https://www.3blmedia.com/news/fedex-recognized-one-fortune-magazines-100-best-companies-work-2022. accessed on April 30, 2023.
5. "FedEx Awards & Recognition," 3BL Media, https://www.3blmedia.com/news/campaign/fedex-awards-recognition. accessed on April 30, 2023.
6. "Ranking per Brand – FedEx," Ranking the Brands, https://www.rankingthebrands.com/Brand-detail.aspx?brandID=94. accessed on April 30, 2023.
7. "Company structure and facts," FedEx, https://www.fedex.com/en-us/about/company-structure.html. accessed on April 30, 2023.
8. "UPS Airlines," Wikipedia, https://en.wikipedia.org/wiki/UPS_Airlines. accessed on April 30, 2023.
9. "Aerospace," DHL, https://dhlguide.co.uk/b2b-with-dhl/aerospace/. accessed on April 30, 2023.
10. "Company structure and facts," FedEx, https://www.fedex.com/en-us/about/company-structure.html. accessed on April 30, 2023.
11. "2022 Annual Report," FedEx, https://s21.q4cdn.com/665674268/files/doc_financials/2022/ar/Annual-Report.pdf. accessed on April 30, 2023.
12. "FedEx marks 40th anniversary with community service, eye to the future," FedEx, https://newsroom.fedex.com/newsroom/global-english/fedex-marks-40th-anniversary-with-community-service-eye-to-the-future. accessed on April 30, 2023.
13. "COSMOS," PMI, https://www.pmi.org/learning/library/top-50-projects-cosmos-11727. accessed on May 1, 2023.
14. "Technological innovation at FedEx," FedEx, http://www.fedex.com/ma/about/overview/innovation.html. accessed archived page on May 1, 2023.
15. "FedEx: New courier system will save $20M annually," ComputerWorld, https://www.computerworld.com/article/2578209/fedex–new-courier-system-will-save–20m-annually.html. accessed on May 1, 2023.
16. "FedEx SenseAware," FedEx, https://senseaware.com/. accessed on May 1, 2023.
17. "FedEx is shutting down its robot delivery program," The Verge, https://www.theverge.com/2022/10/18/23410419/fedex-shuts-down-last-mile-delivery-robot-roxo-deka. accessed on May 1, 2023.
18. "Shipping giants employ blockchain technology to manage supply chain logistics," IEEE, https://innovationatwork.ieee.org/shipping-giants-employ-blockchain-technology-to-manage-supply-chain-logistics/. accessed on May 1, 2023.
19. "Acquisition history," FedEx, https://investors.fedex.com/company-overview/acquisition-history/default.aspx. accessed on May 1, 2023.
20. "FedEx enhancements position company ahead of a record-setting peak season," FedEx, https://newsroom.fedex.com/newsroom/global/fedex-enhancements-position-company-ahead-of-a-record-setting-peak-season. accessed on May 1, 2023.
21. "New FedEx research shows e-commerce opportunities set to grow for SMEs under 'new normal'," FedEx, https://newsroom.fedex.com/newsroom/asia-english/new-fedex-research-shows-e-commerce-opportunities-set-to-grow-for-smes-under-new-normal. accessed on May 1, 2023.
22. "E-commerce transportation solutions," FedEx, https://www.fedex.com/en-us/cross-border/transportation.html. accessed on May 1, 2023.
23. "FedEx e-commerce services," FedEx, https://www.fedex.com/en-us/small-business/ecommerce.html. accessed on May 1, 2023.
24. "2022 Annual Report," FedEx, https://s21.q4cdn.com/665674268/files/doc_financials/2022/ar/Annual-Report.pdf. accessed on May 1, 2023.
25. Ibid
26. Ibid
27. "Labor shortage just cost FedEx $470 million. But it thinks things will get better soon," CNN, https://edition.cnn.com/2021/12/17/economy/fedex-labor-shortage-costs-earnings/index.html. accessed on May 1, 2023.
28. "Worldwide ecommerce growth drops to single digits, while overall retail muddles through," eMarketer, https://www.insiderintelligence.com/content/worldwide-ecommerce-growth-drops-single-digits-while-overall-retail-muddles-through. accessed on May 1, 2023.
29. "Ecommerce delivery benchmark report 2022," Metapack, https://info.metapack.com/rs/700-ZMT-762/images/Ecommerce%20Delivery%20Benchmark%20Report%202022%20%282%29.pdf. accessed on May 1, 2023.
30. "FedEx Express and Delhivery come together to unlock cross-border potential in India," FedEx, https://newsroom.fedex.com/newsroom/united-states/fedex-express-and-delhivery-come-together-to-unlock-cross-border-potential-in-india. accessed on May 1, 2023.
31. "Priority Earth: Our initiative to deliver a more sustainable future," FedEx, https://www.fedex.com/en-us/sustainability.html. accessed on May 1, 2023.
32. "Market share of the leading couriers and local delivery providers in the United States in 2021, based on revenue," Statista, https://www.statista.com/statistics/940072/market-share-of-couriers-local-delivery-providers-united-states/. accessed on May 3, 2023.
33. "Market share of the leading courier service providers worldwide from 2010 to 2018," Statista, https://www.statista.com/statistics/817533/parcel-delivery-providers-market-share-worldwide/. accessed on May 3, 2023.
34. "Uber Connect makes same-day delivery easier than ever," Uber, https://www.uber.com/tw/en/item-delivery/. accessed on May 3, 2023.
35. "Uber Freight," Uber, https://www.uberfreight.com/. accessed on May 3, 2023.
36. "FedEx to settle driver lawsuits in 20 states for $240 million," Reuters, https://www.reuters.com/article/us-fedex-settlement-idUSKCN0Z229Q. accessed on May 3, 2023.