This SWOT analysis examines the strengths, weaknesses, opportunities, and threats of Tesla, a company that is accelerating the world's transition to sustainable energy with electric cars, solar panels, and integrated renewable energy solutions.
It belongs to an exclusive group of six US-listed companies that have surpassed a market capitalization of over $1 trillion. It reached this milestone in a span of slightly over 18 years since its incorporation, surpassing all but Meta (formerly Facebook), which attained the same feat in 17.5 years.[1]
This report assesses the internal and external factors that impact the company's business environment while looking at its current and future potential.
Company Overview
| | |
| --- | --- |
| Name | Tesla Inc |
| Founded | July 2003, San Carlos, California, U.S. |
| Logo | |
| Website | https://www.tesla.com/ |
| Industry | Electric vehicles (electric cars and trucks), Energy generation & storage (battery storage systems, solar panels & roof tiles) |
| Geographic areas served | 37 countries as of 2023.[2] (Major sales from the US, China, and Europe) |
| Headquarters | Austin, Texas, U.S. |
| Current CEO | Elon Musk (Oct 2008 – present) |
| Revenue | $ 81.46 billion (2022) |
| Net Income | $12.58 billion (2022) |
| Employees | 127,855 (2022) |
| Main Competitors | BYD Auto, Volkswagen Group, SAIC-GM-Wuling, Stellantis N.V., Hyundai Motor, BMW Group, Geely Auto Group, Mercedes Benz, GAC, SAIC.[3] |
Tesla Inc. was founded in 2003 by engineers Martin Eberhard and Marc Tarpenning in San Carlos, California. It was originally called Tesla Motors, a name, that the company changed in 2017.
Named after the 19th-century inventor Nikola Tesla, the company manufactures electric automobiles, solar panels, and batteries for cars and home power storage.
Elon Musk was one of the early investors who contributed more than $30 million to the venture and served as the chairman and product architect of the company before assuming the position of CEO in 2008.[4], [5]
In 2008, the company launched its first car, the Tesla Roadster, a battery electric vehicle (BEV) sports car based on the Lotus Elise chassis. Roadster was the first highway-legal serial production all-electric car to use lithium-ion battery cells and the first production all-electric car to travel more than 200 miles (320 km) on a single charge.
Though not a successful vehicle program by most conventional standards, the launch of the Roadster was an important milestone for Tesla as it changed people's perception of what electric cars can be. With this pivotal moment, the company has grown to become a leading manufacturer of electric vehicles.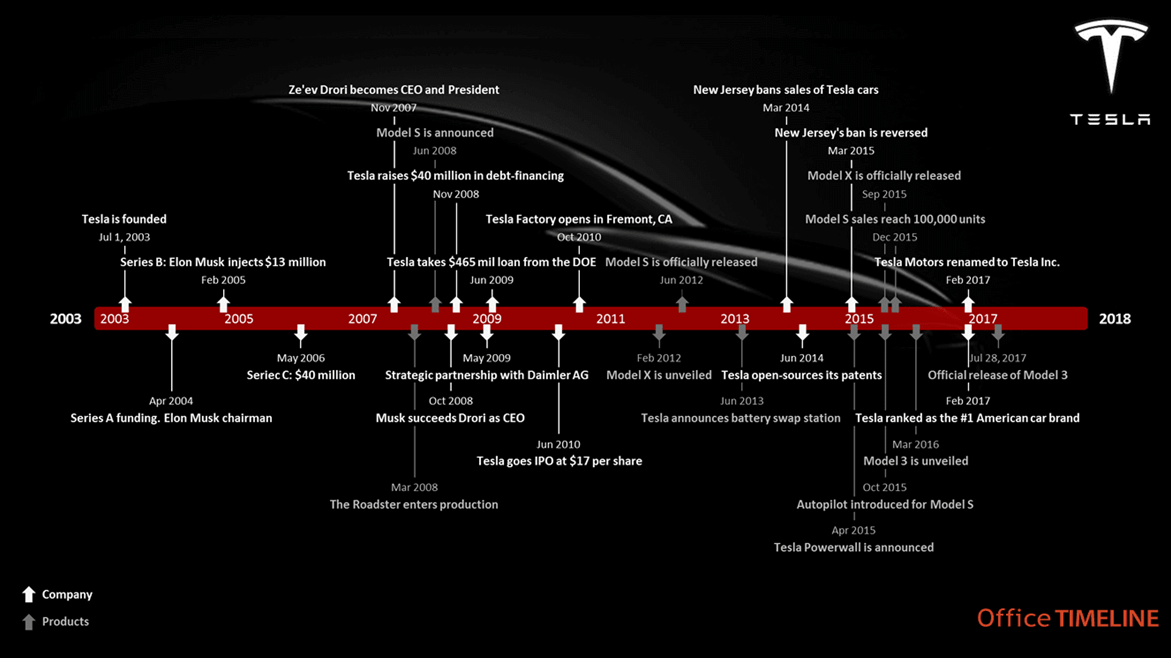 In a very short span, Tesla has managed to become one of the most valued companies trading on the US stock exchange. It has also been one of the most speculated and volatile stocks on the US stock exchange.
On 25th October 2021, Tesla's market cap crossed the trillion-dollar mark. The 18-year-old Tesla, at the time, went on to be worth as much as the next 10 most valuable global automakers combined.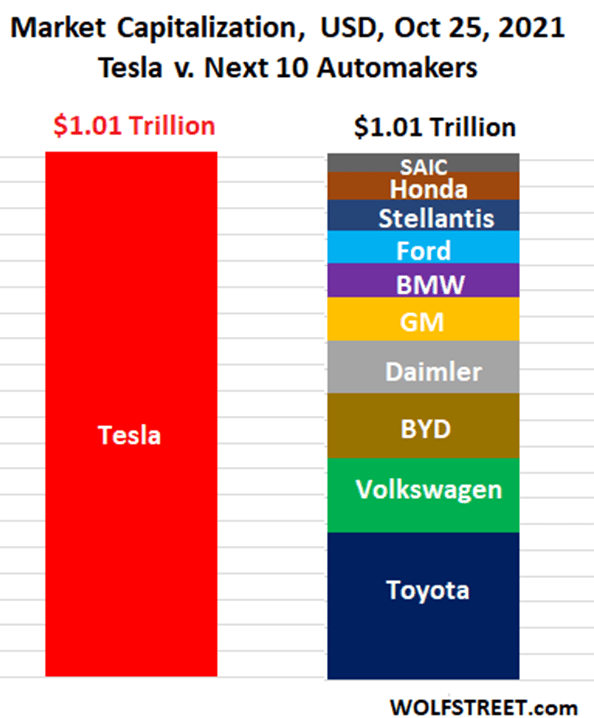 Similarly, in December 2022, Tesla's drop in market capitalization, roughly $800 billion from its peak, was also bigger than the combined valuation of several automakers.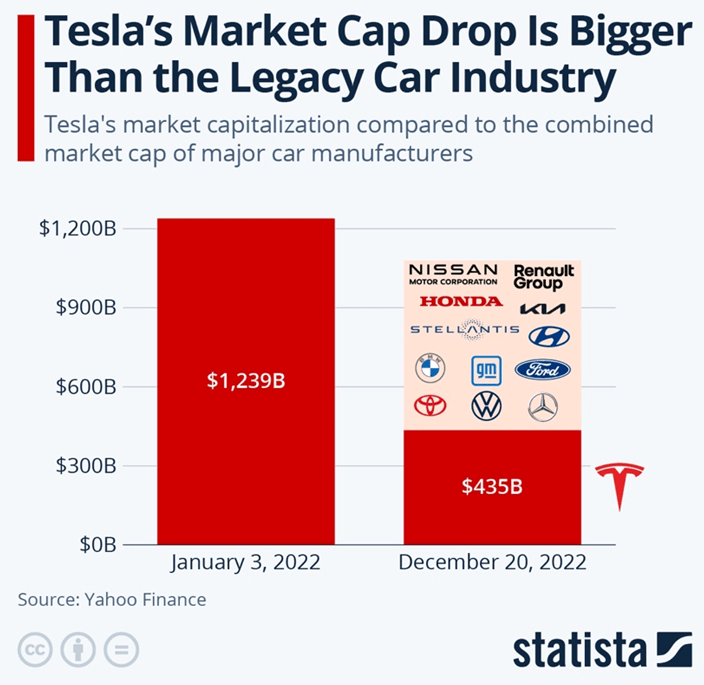 Many financial analysts and investors see Tesla as a technology company rather than a car company. Having embraced the disruption credo of the tech sector, Tesla is intent on changing existing business models.
It is among the pioneers to introduce cutting-edge technologies that power the end-to-end electric vehicle experience, from cars to supercharger networks to artificial intelligence-based autonomous systems that drive them.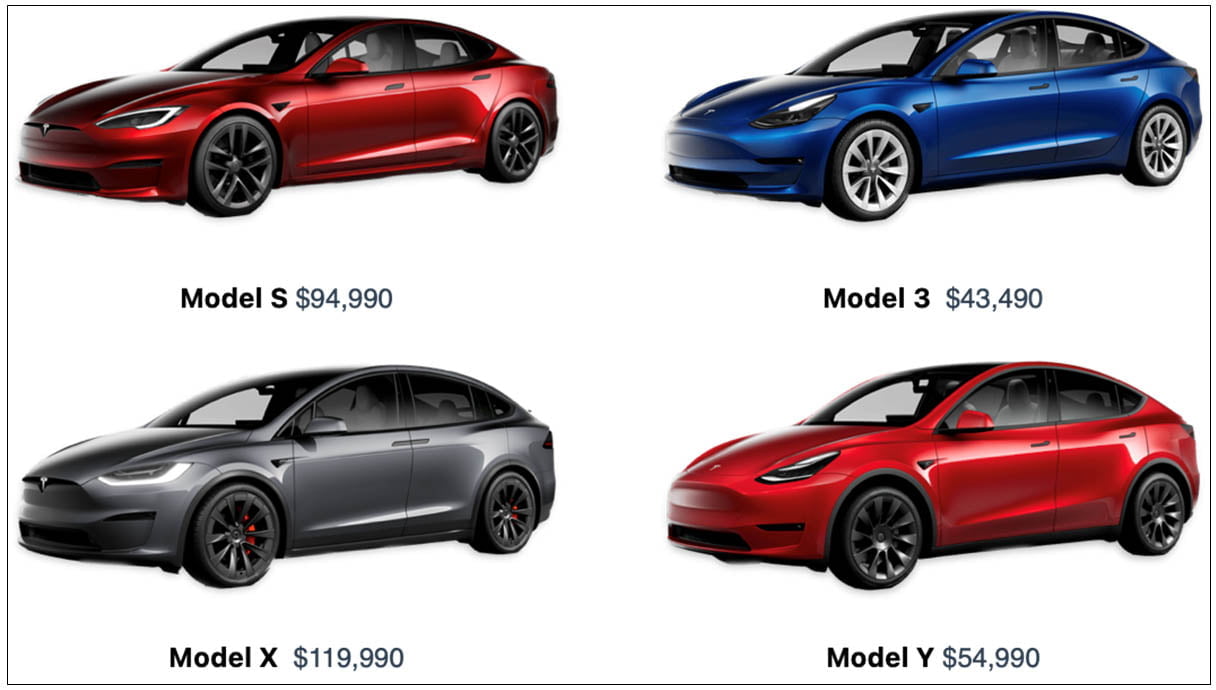 Besides electric vehicles, Tesla owns and operates the largest fast-charging network in the world. It also makes and installs solar roofs that power homes with a fully integrated solar and energy storage system. As of April 2023, Tesla has installed nearly 4.0 GW of solar across approximately 480,000 roofs, cumulatively generating over 25.0 TWhs of clean energy.[11]
Tesla SWOT Summary
Strengths
Weaknesses
1. Musk factor boosts brand capital
2. Innovation
3. Using profits as a weapon to fight the EV price war
4. Ability to attract top engineering talent
5. Supercharger Network
6. Carbon credits from EV, solar, and energy operations
7. Agile supply chain and direct-to-customer selling
1. Over-dependence on Mr. Musk
2. Product reliability issues
3. Poor after-sales service
Opportunities
Threats
1. Expansion into untapped markets
2. Growth in volume driven by cost optimization
3. Micromobility
4. Electric 2-wheelers in developing countries
5. Electrification of Fleet Vehicles
1. The Chinese Competition
2. Emerging bottlenecks in key battery materials
3. Inevitable withdrawal of EV subsidies in the long run
4. Hydrogen combustion engines
Strengths
1. Musk factor boosts brand capital
Tesla manages to attract simultaneously scorn and adoration like no other. When Tesla launches a product, the reception tends to be divisive. Critics see it as further evidence that Elon Musk, the CEO, is out of touch and doomed to fail, while supporters buy in.
Take the Cybertruck, for example – the launch was followed by 200,000 pre-orders within a month in a market where Ford 150, the world's best-selling pickup managed to sell just over a million that same year.
According to a Harvard Business Review (HBR)[12] article, Tesla's messaging strategy is made of two primary pillars. The first consists of headline-grabbing moves, falling on the borderline of reality and science fiction. The second is making big bets on its core vehicle portfolio. While aiming to achieve different things – winning the resources to commercialize versus commercializing the idea, they come together to achieve a central goal – to bring innovation to the market.
Tesla is an unconventional marketing machine, for one, it spends $0 on marketing. It instead focuses on media coverage and word of mouth.

Its marketing success consists of several elements, the most important of which are[14]:
Musk's fan-following: Twelve years of tweets, four tweets per day, helped Elon Musk reach his marketing strategy goals. While most CEOs occasionally use social networks to publish achievements and success stories and avoid opinions, Musk puts on a show as if he was a nobody. It allows him to say (almost) whatever he feels and respond to whomever he wants, often not obeying the PC rules.
He is also very reachable – responding to threads towards him or any of his businesses, replies, customer complaints, and idea suggestions. All that makes him more human and authentic, making people want to follow and interact with him.
His companies thus benefit in the form of reach and influence.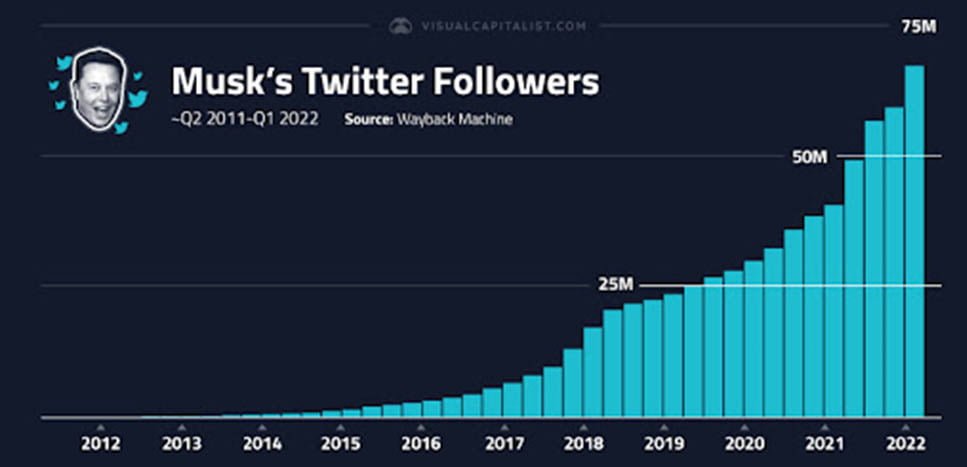 The hype machine: Tesla has a history of creating substantial hype and anticipation for its product releases, often resulting in successful launches. Cybertruck is a classic example.
By charging a refundable $100 for pre-ordering, everyone could order a Cybertruck, post a screenshot on social media, and then eventually get their $100 back.

With more than 1.25 Mn preorders[16], this was an enormous marketing success without spending a penny. Tesla's Cybertruck went on to become so popular that it was almost impossible not to hear about it or witness someone who had purchased one.
Investor relations marketing: According to this HBR article[17], regular efforts to communicate with investors pay handsome dividends, for investors get a fuller picture of the company they hold, and the company gains insights into the investor's most pressing concerns.
In 2018, Musk launched "short shorts" to mock investors who bet against Tesla. The limited-edition red satin shorts had "S3XY" on the back, representing all Tesla models (S, 3, X, & Y). It was both a lighthearted jab at those who had doubted the company's potential and a celebratory gesture in response to Tesla's stock price experiencing a surge of 10%.
In summary, Tesla's marketing success is heavily reliant on Musk's unique management style, personal brand, and reputation, which are difficult for other companies to replicate.
This gives Tesla a natural advantage that cannot be easily matched.
2. Innovation
A former Mercedes engineer who worked with Tesla in its early days quotes – "Elon Musk has been walking on the edge of a razorblade in terms of the aggression with which he pushes some technologies"[18].
Unquestionably, Tesla has produced some of the most innovative products, including a range of electric cars that have constantly defied consumer expectations. It has pioneered new approaches in manufacturing, software designs, and electronic architecture, enabling it to introduce innovations faster than rivals.
Analysts often draw comparisons of Tesla with technology companies like Apple.
This relentless commitment to innovation is the key to its success. Tesla ranks 5th on the 2022 Boston Consulting Group's (BCG) list of most innovative companies.
This BCG report[19] notes that Tesla has not only built a highly integrated electric vehicle manufacturing company but sparked a revolution in transportation and mobility that encompasses system-level changes in everything from power sources (batteries) to roadside refueling (charging) to driverless cars.
3. Using profits as a weapon to fight the EV price war
Tesla managed to break even for the first time in 2020, registering a net profit of $ 721 Mn. Interestingly, rather than car sales, the $ 1.6 Bn climate credits it received were a primary driver of this turnaround.
In 2021, it registered an 87 percent increase in vehicles delivered, reduced cost per car manufactured, and went on to register a gross profit margin of just over 25 percent. The positive trend continued in 2022 despite higher raw material prices.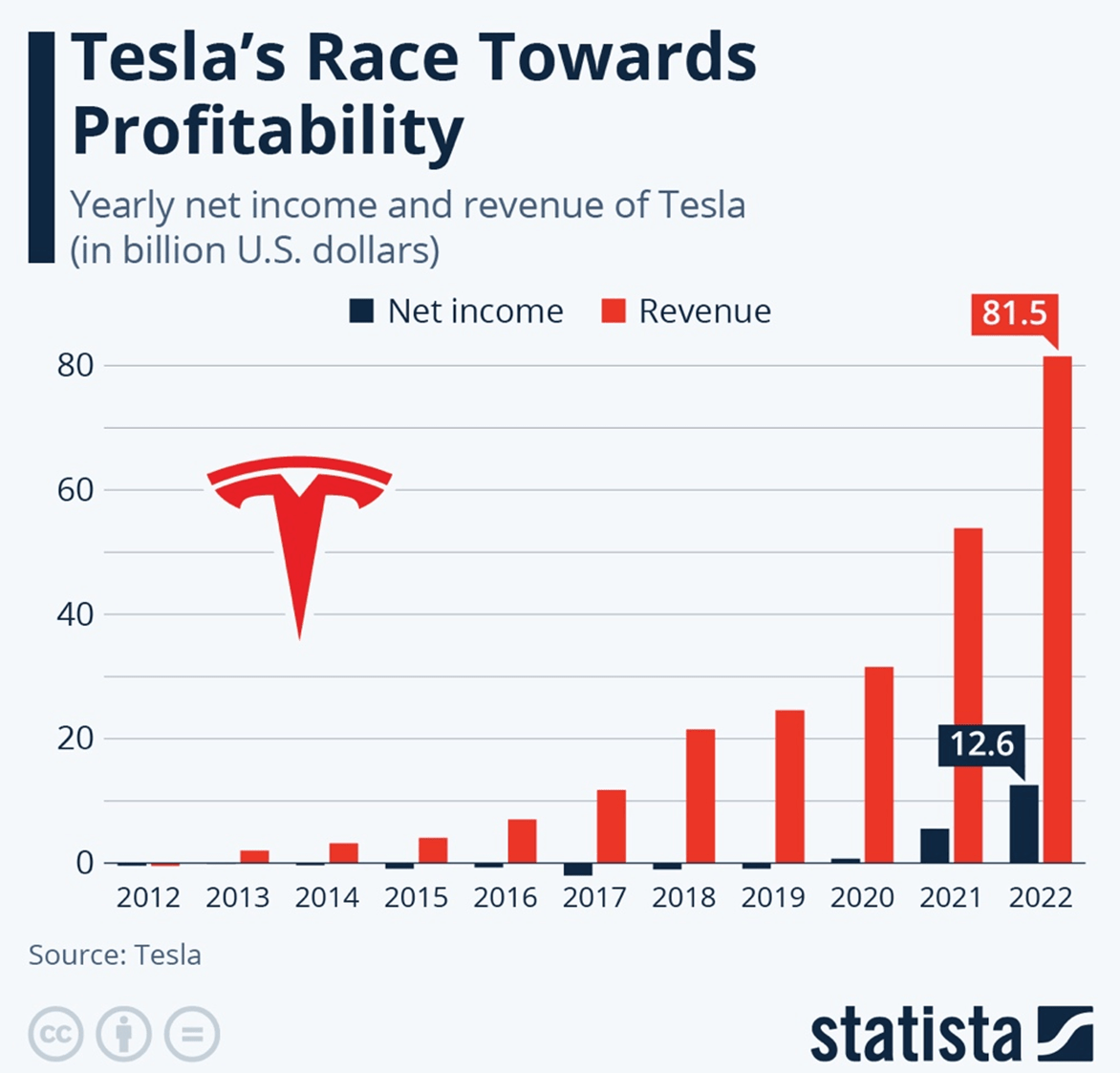 In 2022, Tesla's gross profit per vehicle was over $15,000 – more than twice as much as Volkswagen, four times the comparable figure at Toyota Motor Corp, and five times more than Ford Motor Co, according to a Reuters analysis[21].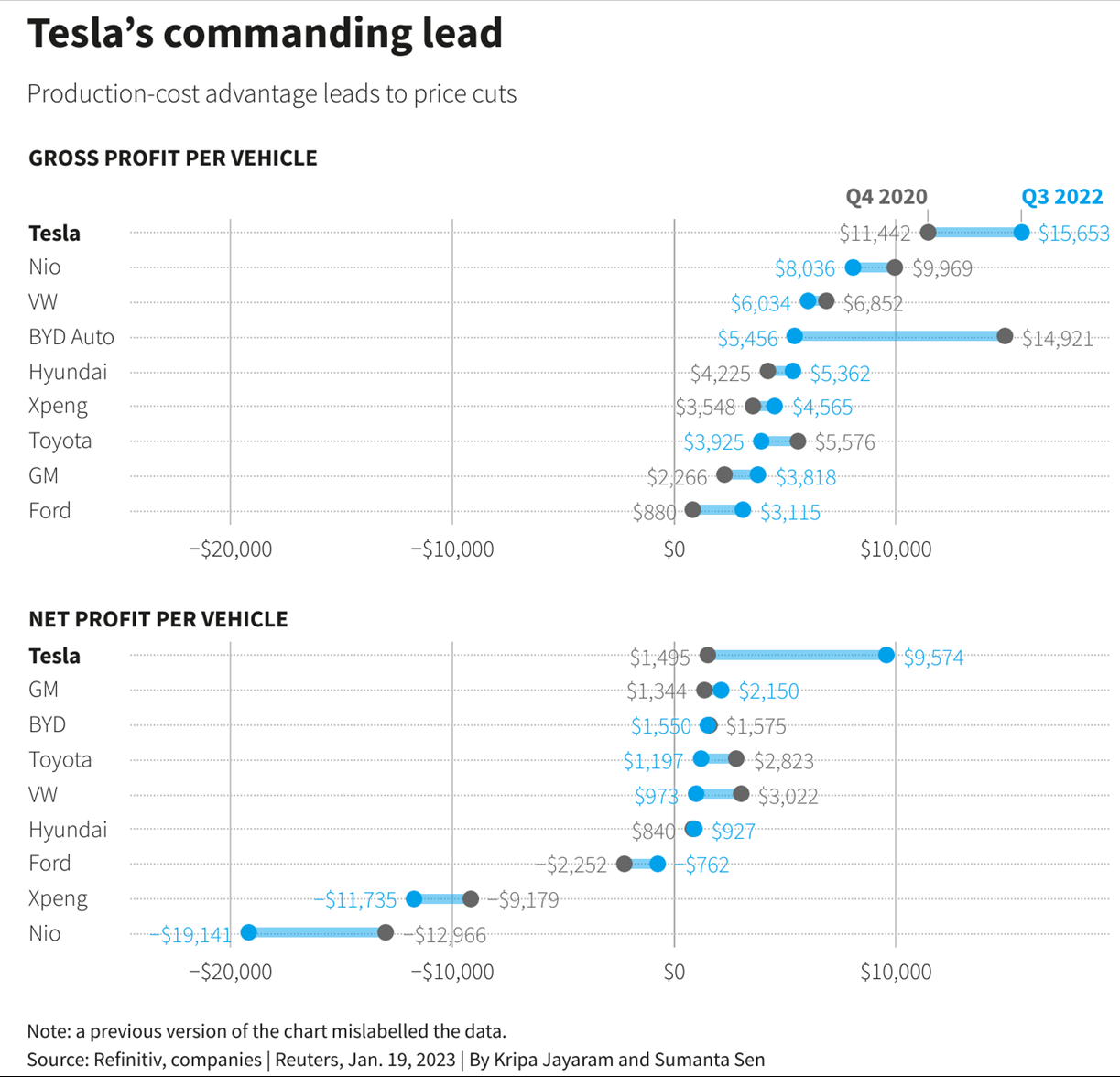 Tesla intends to use its profits as a weapon to fight the EV price war. By using its production-cost advantage to cut prices, it is challenging the profit-over-volume strategies of established automakers. It is re-investing profits into new manufacturing technologies like – using large castings to replace small metal parts, manufacturing batteries and parts of its supply chain in-house, and standardizing vehicle designs to improve economies of scale.
According to Bill Russo of Automobility[22], an industry consultancy in Shanghai, "Tesla has taken the nuclear option to bully the weaker, thin margin players off the table"
The goal – "Big pie, fewer slices, more to eat for those that remain."
Tesla can afford this strategy given its size, operational efficiency, brand value, and innovation. It remains to be seen how this strength shapes the electric vehicle industry.
4. Ability to attract top engineering talent
Tesla is a top choice for US students pursuing engineering careers, according to employer branding specialist Universum[23]. It has consistently ranked in the top two spots for the past three years (2020-2022), second only to SpaceX, which is also founded by Elon Musk.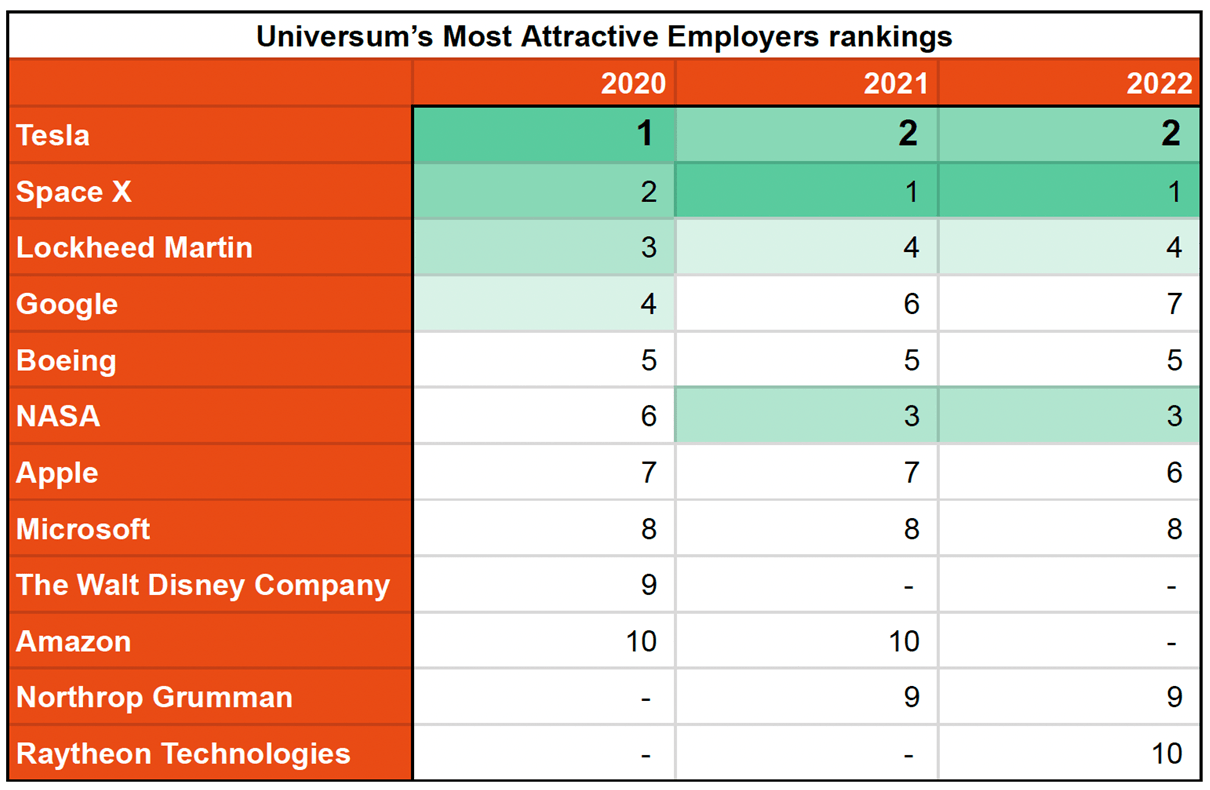 Tesla's achievement as an automaker is particularly noteworthy as it pertains to a highly competitive field dominated by companies focused on cutting-edge technologies such as space, defense, aviation, and robotics. It is worth noting that no other automaker has managed to secure a position within the top ten in this list. In contrast, BMW is ranked 19th, Ford 13th, Toyota 12th, and GM 11th.
5. Supercharger Network
One of the primary factors that put off EV adopters is range anxiety – the fear that an electric vehicle will not have enough battery charge to reach its destination, leaving its occupants stranded.
To address this, Tesla owns and operates the largest global, fast-charging network in the world. These Superchargers, over 45,000 of them, offer a network of fast-charging solutions that allow Tesla owners to travel without worry.[24]
Owners don't even need to plan the stops. Tesla's Trip Planner does it for them. When a destination is entered on the vehicle's touchscreen, the Trip Planner automatically calculates the route with Supercharger stops along the way. The stops are optimized based on driving style, elevation, outside temperature, traffic, stall availability, and more, offering a convenient door-to-door experience.[24]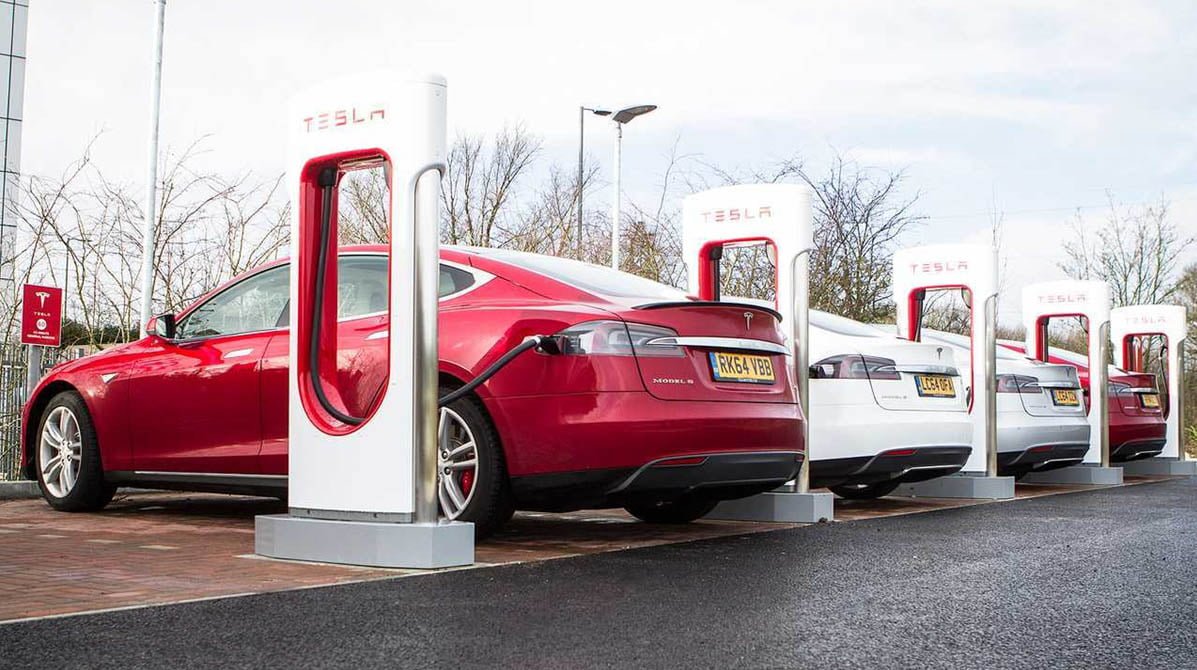 These Superchargers can add up to 275 kilometers of range in just 15 minutes. As charging above 80 percent is rarely necessary, stops are typically short and convenient. With a broad network of high-speed charging, automatic battery preconditioning, and the exceptional range of every Tesla car, owners get to spend even more time on the road.[24]
Competitors are catching up. For example, at the 2023 CES event in Las Vegas, Mercedes announced its plans to launch its own version of the supercharger network. GM, meanwhile, is establishing a charging network in North America with plans to scale to 40,000 Level 2 chargers via a partnership with its dealers.[26]
Even in the face of evolving competition, Tesla's supercharger network has a level of coverage, technological sophistication, and accessibility that cannot be easily matched.
6. Carbon credits from EV, solar, and energy operations
In a push to reduce carbon emissions, governments around the world have introduced incentives for automakers to develop electric vehicles in return for credits. As Tesla only sells electric cars, it receives these credits for free and sells them at a huge profit to other automakers/companies who can't meet regulatory requirements.
Additionally, its solar and energy storage systems business too generates carbon offset credits through the reduction of greenhouse gas emissions (GHG's).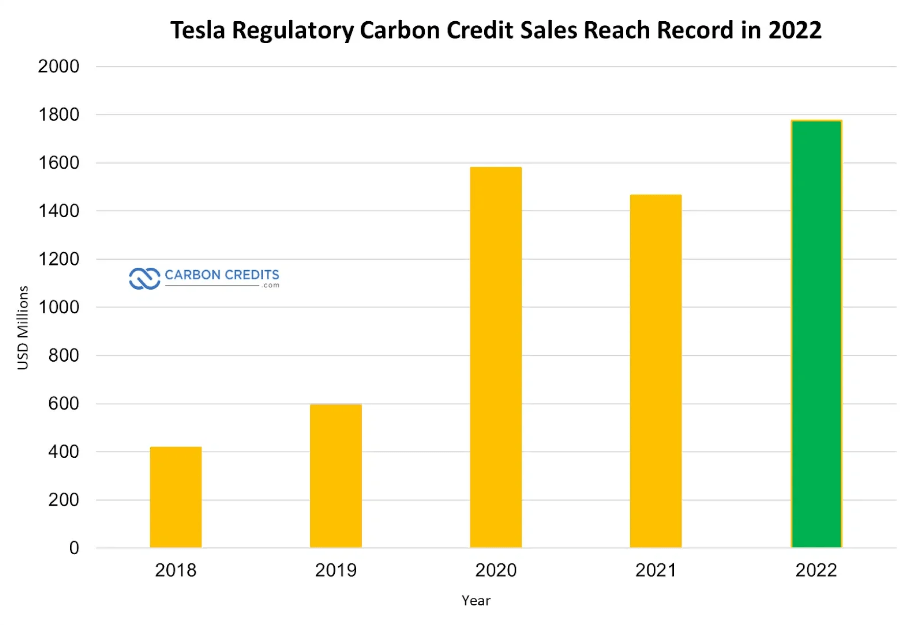 The sale of carbon credits has been a significant source of revenue for Tesla and highlights the value of the company's clean energy operations. As the world continues to focus on reducing carbon emissions and fighting climate change, the market for carbon credits is likely to grow.[27]
7. Agile supply chain and direct-to-customer selling
Post the pandemic, when the automotive industry was battling against supply shortages which made meeting production and delivery goals next to impossible, Tesla had been breaking records quarter-on-quarter.
This was possible largely due to Tesla's ability to design parts and components in-house, giving it an edge over legacy OEMs. The automaker was able to adapt parts and even switch to newly available parts, which most other automakers either weren't choosing to do or din't have the immediate ability to do.
Tesla went so far as to offer the delivery of vehicles with missing parts, which it installed later when the parts become available, or replacements were secured. The company also simply removed certain features completely, or at least temporarily, to keep the ball rolling.[28]
Tesla also increased prices during this time. Since the brand doesn't rely on the antiquated dealership model, it could control its prices. When the demand for the electric carmaker's vehicles was high and wait times longer, it could raise prices to cover rising costs while not impacting the demand and maintain its delivery volumes.
Weakness
1. Over-dependence on Mr. Musk
Tesla is inextricably linked to Musk in the market's consciousness. Musk is widely acknowledged as Tesla's key leader, and his importance has only grown in recent years as virtually every other significant personality within the company has retired or left to pursue other opportunities.[29]
From an investor's perspective, the market behaves as if Tesla is "more than a car company" because investors believe Elon Musk when he tells them it is. It is only because investors believe in Musk's bold vision and vivid promises of monumental future growth and profitability that Tesla boasts a market capitalization of over $ 500 billion.
If the market were to lose faith in Musk's future, Tesla's present valuation could not survive for long.
Also, Tesla is not the only company Mr. Musk manages. He is the founder, CEO, and chief engineer of SpaceX; owner and CEO of Twitter; founder of the Boring Company; co-founder of Neuralink and OpenAI; and president of the philanthropic Musk Foundation.[4]
In 2023, for example, Musk's sale of almost $4 billion worth of Tesla stocks following his Twitter purchase led to a selling frenzy, pulling the automotive company down.
Since taking over Twitter, he has spent too much of his time at the company, even ending up sleeping there. These moves do not bode well for his other companies, especially Tesla, because investors are worried that Musk is too held up by his newest acquisition.
2. Product reliability issues
When it comes to reliability, Tesla cars have a lot to catch up on, which is why it has been called into question plenty of times. The J.D Power and Consumer Reports have Tesla at the bottom of their lists when it comes to reliability, reporting an average of 171 mechanical issues per 100 vehicles, 51 more than the average for other car manufacturers.
Tesla cars have reported issues, including cases of fires, autopilot malfunction, faulty sensors, heat pump, and air conditioning faults, as well as body panels not lining up. Even its latest offerings, like the Model S, have reported issues like broken suspension arms, door handle issues, false alarms, random door opening / not locking, and trunk not closing.[30]
What is alarming is that this also includes serious life-threatening malfunctions like faulty brakes and sudden unintended accelerations resulting in accidents. In 2022, U.S. safety regulators received over 750 complaints of Tesla cars braking for no reason[31].
In 2023, The National Highway Traffic Safety Administration (NHTSA) received two complaints from owners of the 2023 Model Y about the steering wheel coming off while the vehicles were being driven. NHTSA reported that both vehicles were delivered with a missing retaining bolt, which attaches the steering wheel to the steering column. Federal safety regulators are looking into the issue.[32]
3. Poor after-sales service
Tesla customers have claimed that they've been forced to deal with long wait times and high prices at the electric-car maker's service centers.
Through a public records request, Recode (now part of Vox) obtained details about more than 1,000 complaints about Tesla, including more than 120 customer reports. These complaints point to all sorts of problems with the experience of owning a Tesla vehicle, including an inadequate number of service centers, limited stock of replacement parts, bad communication, poor manufacturing quality, and long wait times for repair appointments.[33]
In March 2023, a Model S owner filed a proposed class-action lawsuit, claiming she's suffered from Tesla's "monopolization" of the repair market for its vehicles.
Customers complain that once they have purchased a Tesla EV, they are locked into repair and maintenance services specific to their Tesla vehicles. There is no way to accurately forecast how much repair & maintenance services (and associated costs) will be required prior to purchasing an EV.
The carmaker is accused of purposely designing its vehicles to limit outside competition when it comes to repairs and maintenance. In contrast, traditional vehicle owners can pick from a wide variety of repair options and products.
Opportunities
1. Expansion into untapped markets
While Tesla has conquered an impressive market share in North America and Australia, its presence in Europe and Asia remains minimal.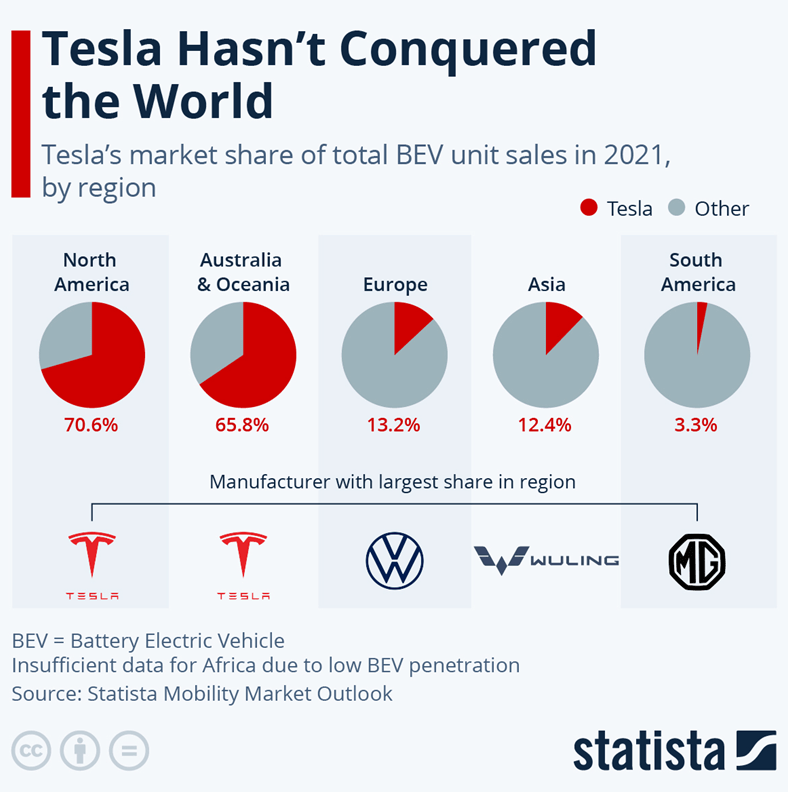 Many Asian economies will be the fastest growing in the coming years, presenting huge growth potential.
According to McKinsey & Company[35], the addressable market size for green businesses in Asia is expected to reach between $4 trillion and $5 trillion by 2030. Asia is likely to become the largest market for EVs, with an addressable market worth $700 billion to $750 billion, led by China. From 2020 to 2030, global battery demand is expected to increase 15 times to 4,500 GWh.
This presents multiple opportunities for Tesla – for example:
As an original equipment manufacturer (OEM), Tesla could consider production in countries that offer attractive incentive schemes, such as India.
Rising demand could make the EV battery sector more attractive. With the right scaling and supply chain strategies, Tesla has already made progress toward ramping up production of its new 4680 battery cell at Gigafactory Texas. It can leverage Asia's market and natural resources to become a global leader in battery production.
There will be immense opportunities in EV charging and battery swapping networks. Tesla's already-established Supercharger technology gives it an edge to serve as a charge point operator.
As shared mobility platforms look to electrify their fleets, opportunities in EV fleet-as-a-service business model will emerge—offering vehicle leasing, maintenance, and charging resources to customers like logistics and e-commerce companies.
2. Growth in volume driven by cost optimization
Consumers' EV preferences are shifting. The share of global consumers that would consider purchasing an EV is on the rise. However, the high upfront cost is preventing many from making the switch.
This is set to change. According to BloombergNEF[36], by 2027, electric vehicles will be cheaper to produce than conventional, fossil fuel-powered vehicles, and tighter emissions regulations could put them in pole position to dominate all new car sales by the middle of the next decade.
Tesla is making moves in this direction. In Jan 2023, it massively cut prices across new models in the US and Europe, registering price drops of up to $13,000 on some models.[37] In China, the company has slashed prices by 50 percent, forcing competitors to take similar steps.[38]
This is a beginning of a strategic price war in which Tesla has a natural advantage over the competition. For example – its margins are higher, It simplifies the buying process eliminating dealers and its Gigafactories allow for faster production and eliminate extra costs of shipping parts to different locations for assembly.
As EVs become more affordable, they will open enormous growth opportunities as more consumers make the switch.
Only a resilient few will survive the inevitable price war. Those who survive will eat a larger pie. Tesla seems to be well-positioned to take advantage of this situation.
3. Micromobility
Micromobility refers to small, lightweight vehicles such as e-bikes, e-scooters, and e-mopeds that can be used for short-distance trips, typically trips of less than 8 kilometers (5 miles).
It is gaining favor with consumers worldwide and may soon become a mainstay of urban transportation says a report by McKinsey & Company[39].
Respondents in the Mobility Ownership Consumer Survey, conducted by the McKinsey Center for Future Mobility, were enthusiastic about these options, with almost 70 percent willing to use micromobility vehicles for commute.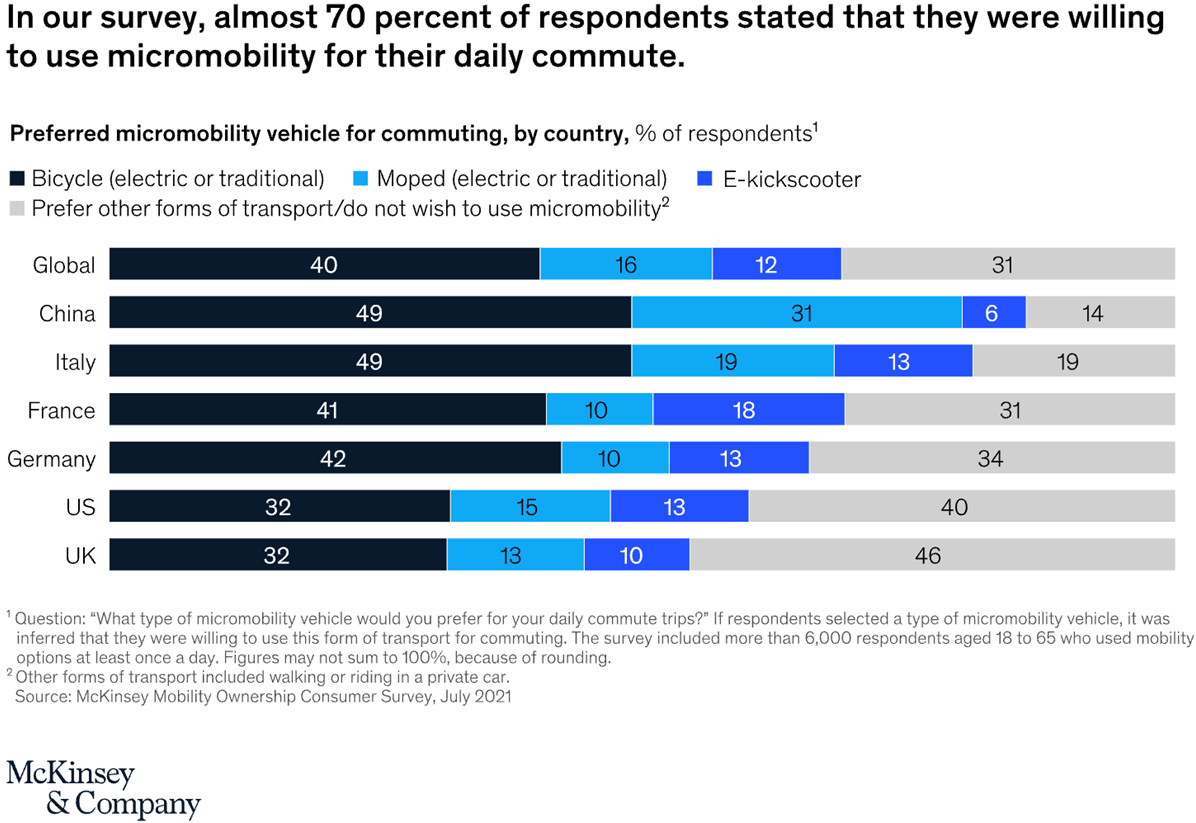 Key factors to drive this trend are:
The urbanization trend creates more demand for efficient and convenient transportation options in dense areas.
Environmental and social awareness motivates people to reduce their carbon footprint and congestion by using greener and shared modes of transport.
Technological and business innovation that enables new forms of micromobility services such as app-based platforms, subscription models, and integrated mobility solutions.
By 2030, the Micromobility market potential could be between $200 billion to $300 billion in the United States, $100 billion to $150 billion in Europe, and $30 billion to $50 billion in China.[41]
Tesla has the potential to transform the micromobility sector by applying its integrated structural battery pack technology to e-scooter batteries. This innovative approach can enhance the performance and efficiency of e-scooters in several ways: it can lower the mass of the vehicle by integrating the battery pack with the chassis, resulting in a lighter and more nimble ride; it can extend the range of the vehicle by increasing the volumetric efficiency and energy density of the battery pack, enabling it to hold more power in less space; and it can reduce the number of parts of the vehicle by streamlining the design and manufacturing process, cutting down the complexity and cost of production and maintenance.[42]
4. Electric 2-wheelers in developing countries
Outside rich countries, especially in India & Africa, the two-wheeler is the primary transportation of the middle classes.
More than 70% of all vehicles on Indian roads are two-wheelers. Three-wheeled autos make up another 10%. These two categories accounted for 92% of EVs registered in the year 2022[37]. India's aspiring EV giant, Ola, has spun off its 2-wheeler EV manufacturing business into a $3 billion company, highlighting the EV potential for lower-income countries.
Africa's EV revolution will roll in on two wheels, not four, says a report from Quartz[38], and governments have big plans for expansion.
Kenya wants 5% of car imports to be EVs by 2025 and is cutting EV import duties in half. Ghana, Rwanda, Seychelles, and Mauritius have also rolled back import fees. Egypt plans to manufacture 20,000 EVs domestically per year starting in 2023. Namibia wants 10,000 EVs on the roads by 2030; South Africa is shooting for 2.9 million by 2050.
There are challenges: data from the continent's existing motorcycle market suggests that buyers are extremely price-sensitive; Africa has the world's most expensive and least reliable electricity; most power utilities are already buried in debt and not well-positioned to build thousands of charging stations or handle a big new source of demand.
For Tesla, this also opens opportunities for off-grid solar charging stations where it already has the technology and know-how.
Rose Musito, a research director at Energy for Growth Hub, a think tank focused on Africa's energy transition says, "It's not easy but it's easier than it was before. There's a shared view that this is the time to double down, that innovators need to scale up EVs and enable transitions away from ICE engines."[39]
If Tesla intends to make a difference in line with its mission to accelerate the world's transition to sustainable energy, this may be an opportunity to make an impact beyond just profits.
5. Electrification of Fleet Vehicles
Growth in the fleet market could benefit Tesla in several ways. It is expected that there will be 77 million passenger vehicles in the global electric vehicle fleet by 2025, up from an estimated 20 million units as of mid-year 2022.[43]
For fleet owners, Tesla offers several benefits, like low cost of ownership, zero emissions, convenient charging, over-the-air software updates, and industry-leading residual value for its fleet vehicles[44].
Some of the notable fleet orders won by Tesla include:
# 100,000 Tesla Model 3 to Hertz in a $4.2 Billion deal in 2021,
# 399 Model 3 by the California Department of Transportation in 2022
# 269 Tesla Model 3 by Arabia Taxi, Dubai in 2023.
In 2022, Autonomy, America's largest electric vehicle subscription company placed a $1.2 Billion order for the supply of 23,000 EVS which Tesla shared with 17 other carmakers.
While Tesla has an advantage over other automakers in terms of cost of operation, safety features, and environmental impact for its electric vehicles, it also faces competition from other brands such as Stellantis Group and VW Group.
Threats
1. The Chinese Competition
Though Tesla is the world's largest EV manufacturer, the Chinese newcomer BYD may overtake Tesla as the biggest global seller of pure EVs (not including hybrids, which it also makes) argues this Economist report[45].
BYD is Toyota's EV partner in China and a serious competitor to Tesla. It seems better placed than most because it started in 1995 by producing batteries, the most valuable component in EVs. China controls more than 70% of the world's battery supply, giving its auto industry a crucial edge over Western competitors.[46]
In 2010, BYD debuted China's first pure-electric cars, and it quickly became a thriving business. In 2022, the company sold more than 911,000 pure-electric cars plus another 946,000 hybrids. Almost all those sales were in China. But the company's new overseas business is growing rapidly.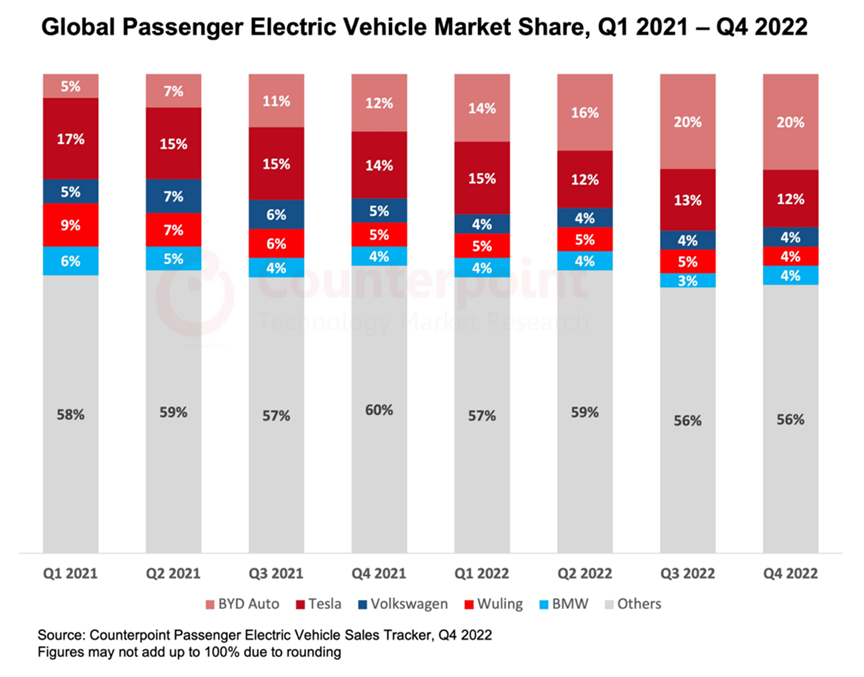 With passenger electric cars, BYD may convert even more buyers as EVs go mass-market. "Chinese quality has risen beyond anyone's expectations," industry analyst Schmidt says.
In Europe, BYD's all three-floor models remain priced below the equivalent Teslas. BYD's Atto 3 crossover, for example, costs ~$49,380 versus ~$57,925 for a comparable Tesla Model 3.
Mr. Musk, who produces more Teslas in Shanghai than anywhere else, told investors in January 2023 that Chinese automakers were his fiercest rivals. "They work the hardest, and they work the smartest,".
2. Emerging bottlenecks in key battery materials
According to this McKinsey & Company report[48] emerging supply bottlenecks for key battery materials could be an unexpected barrier in Electric-vehicle growth.
Since July 2022, spot prices for battery-grade lithium have grown by over 400 percent year over year, while nickel prices more than doubled in the same period, owing to recent market disruptions following the Russian invasion of Ukraine and years of underinvestment in the mining sector.
Four key materials have the potential to stall EV penetration: lithium, nickel, cobalt, and copper. These "active materials" are critical to an EV's operation and account for about 50 percent of a battery's total cost.
While accelerating EV growth is focused heavily on reducing other battery-making costs, success will also need these key materials to be available in much higher volumes than they are at present and at a lower cost, which is currently unlikely.[48]
EV projections show demand for these materials ranging from two to 12 times the current levels by 2030, with the largest growth rate for lithium. Minerals supply from open mines and those with a high probability of opening may be able to partly meet this growth. However, the supply falls short of reaching all demand, and harder measures such as curtailing demand or opening less-economical mines may be required.[48]
Most of these metals are concentrated in a few countries.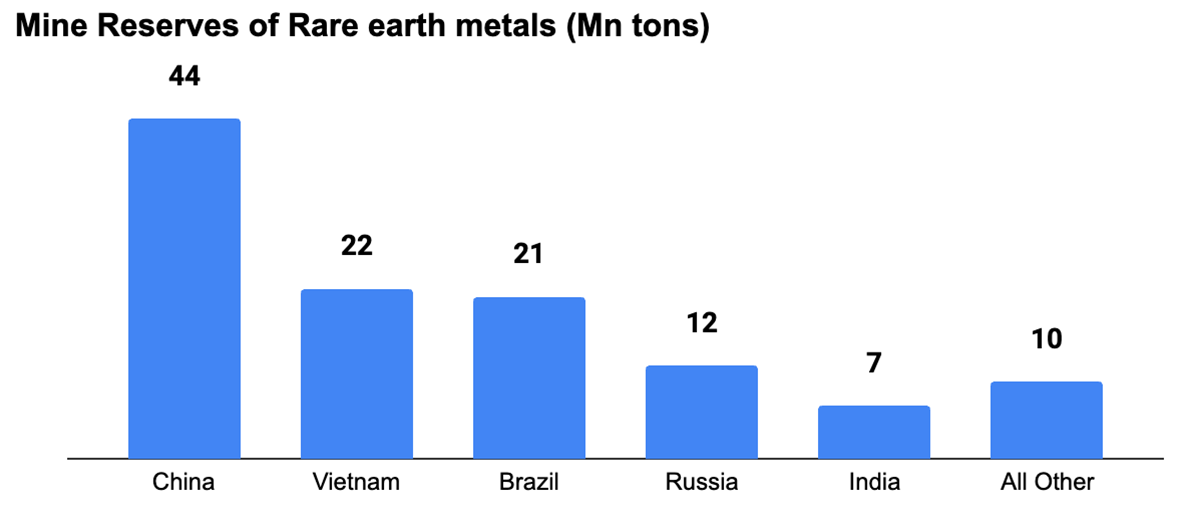 China tops the list for mine production and reserves of rare earth elements, with 44 million tons in reserves and 140,000 tons of annual mine production. China's dominance has been no accident. Years of research and industrial policy helped the nation develop a superior position in the market, and now the country can control production and the global availability of these valuable metals.[49]
3. Inevitable withdrawal of EV subsidies in the long run
One of the key factors powering the upward trajectory of EV sales has been the tax credits and government subsidies as countries identify vehicle electrification as a core tactic for meeting net-zero emissions goals.
However, governments can't afford to keep the subsidies in place forever. EV manufacturers will have to adapt to this reality. There is an alternate view gaining support that foregoing gasoline in favor of subsidized electric vehicles may increase, not lower, overall emissions in some cases.[50]
This is because many EVs are purchased by wealthier households as secondary cars which are typically driven fewer miles and kept for fewer years. And because the manufacture of any car electric and gas-powered alike, produces a set amount of emissions, electric vehicles must, when used as second cars, remain in service longer to deliver an overall environmental benefit.[50]
EV subsidies in many European countries and mainland China were sliced at the start of 2023, and a return of any significance is highly unlikely in the immediate future. This forced automakers, including Tesla, to deepen discounts to maintain sales.
The sands are shifting for the global EV market. Consumer appetite for electric cars remains strong, but it's clear that tax credits and subsidies still play a significant role in convincing consumers to make the switch. Carmakers may have no option but to respond with reduced prices.
4. Hydrogen combustion engines
Big automakers such as Toyota, Hyundai, Honda, and BMW continue to invest heavily in developing hydrogen-powered cars. While hydrogen fuel-cell-based technologies have been around for a long time (Toyota Prius, 1997), they have failed to gather momentum and have seen limited adoption.
That could change with hydrogen combustion engines (HCE). Toyota recently developed the Corolla Cross H2 – an HCE concept vehicle illustrating a possible alternative path to zero emissions.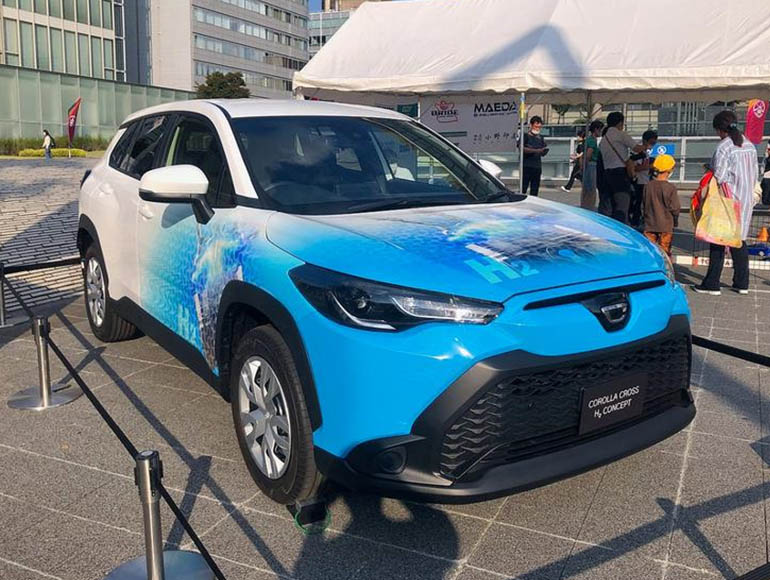 The H2 has a 1.6l 3-cylinder turbo engine from the GR Corolla with high-pressure hydrogen direct injection engine technology. For hydrogen tank packaging, it leverages Toyota's know-how from the Mirai (a mid-size hydrogen fuel cell vehicle). The crossover can transport 5 passengers and their luggage. Real-world evaluation is in progress with planned winter testing in northern Japan.[52]
In 2022, Toyota has also partnered with Yamaha Motor to develop a HCE V-8 engine.
Cummins, another US engine manufacturer showcased well-known for developing diesel engines, has invested considerably in developing HCE powertrains. In 2022, it inked a deal with Tata Motors to develop HCE technology for commercial vehicles to be used in the Indian market.[53]
Key merits of HCEs include the ability to leverage existing internal combustion engine technologies, quick refueling times, and the clear reduction in the use and necessity for limited supply elements like lithium and nickel.
HCEs have a stronger use case in large commercial vehicles like trucks, especially in markets like US and Australia, where trucks cover long distances. While Tesla is entirely betting on BEV, including its proposed Tesla Semi[54], HCEs have the potential to become a viable alternative.
Conclusion
Tesla has emerged as a prominent player in the EV industry outpacing established automakers, some with over 100 years of presence in the auto industry. Guided by its vision of accelerating the world's transition to sustainable energy, the company has achieved remarkable success in a short time.
The company's innovative approach to product design, ability to attract top talent, strong brand recognition, cost leadership, and agility in operations have been its key success drivers.
The future brings numerous challenges and risks, such as regulatory ambiguity, intensifying competition, and maintaining reliability while scaling up. To remain investor-friendly in the long run, it must also address excessive reliance on its founder, Elon Musk.
While Tesla has the potential to revolutionize the future of transportation and energy, it must be open to expansion into new geographics, and capitalize on trends like the rise of micromobility and two-wheeler EV growth while adapting to shifting consumer preferences and stakeholder demands.
In the evolving EV market, only a few will survive the inevitable price war. The pie is large for those who remain, and Tesla's odds look promising.
Sources
1. "List of public corporations by market capitalization." Wikipedia, https://en.wikipedia.org/wiki/List_of_public_corporations_by_market_capitalization. Accessed 25 Apr 2023.
2. "Find Us." Tesla, https://www.tesla.com/findus/list. Accessed 24 Apr 2023.
3. "Global EV Sales for 2022." Ev-volumes.com, https://www.ev-volumes.com/. Accessed 24 Apr 2023.
4. "Elon Musk." Wikipedia, https://en.wikipedia.org/wiki/Elon_Musk. Accessed 24 Apr 2023.
5. "Tesla, Inc.." Britannica, https://www.britannica.com/topic/Tesla-Motors. Accessed 24 Apr 2023.
6. "Tesla Inc. Timeline." T. Stumbles, https://www.officetimeline.com/blog/tesla-inc-timeline. Accessed 24 Apr 2022
7. "Tesla's Market Cap (Gigantic) v. Next 10 Automakers v. Tesla's Global Market Share (Minuscule)." W. Richter, https://wolfstreet.com/2021/10/26/teslas-market-cap-gigantic-v-next-10-automakers-v-teslas-global-market-share-minuscule/. Accessed 24 Apr 2023.
8. "Tesla's Market Cap Drop Is Bigger Than the Legacy Car Industry." F. Richter, https://www.statista.com/chart/29002/tesla-market-capitalization/. Accessed 25 Apr 2023.
9. "Homepage." Tesla, https://www.tesla.com/. Accessed 25 Apr 2023.
10. "Prices for All 2023 Tesla Models." Solarreviews.com, https://www.solarreviews.com/blog/how-much-do-teslas-electric-vehicles-cost#model-3-price. Accessed 25 Apr 2023.
11. "Solar Roof." Tesla, https://www.tesla.com/solarroof. Accessed 25 Apr 2023.
12. "Lessons from Tesla's Approach to Innovation." J. D. Nathan Furr, https://hbr.org/2020/02/lessons-from-teslas-approach-to-innovation. Accessed 25 Apr 2023.
13. "Advertising spending of selected automobile manufacturers in the United States." Statista, https://www.statista.com/statistics/261767/advertising-spending-of-selected-automobile-manufacturers-in-the-us/. Accessed 26 Apr 2023.
14. "Elon Musk's Marketing Strategy Secrets." Y. Elchanan, https://www.adcore.com/blog/elon-musks-marketing-strategy-secrets/. Accessed 26 Apr 2023.
15. "ORDER CYBERTRUCK." Tesla, https://www.tesla.com/cybertruck/design#payment. Accessed 26 Apr 2023.
16. "Tesla Now Has More Than 1.25 Million Pre-Orders For The Cybertruck." D. Mihalascu, https://insideevs.com/news/524156/tesla-cybertruck-preorders-exceed-1250000/. Accessed 26 Apr 2023.
17. "Engaging with Your Investors." R. C. D. C. Bill McNabb, https://hbr.org/2021/07/engaging-with-your-investors. Accessed 26 Apr 2023.
18. "How Tesla defined a new era for the global auto industry." N. S. J. W. Edward Taylor, https://www.reuters.com/article/us-autos-tesla-newera-insight-idUSKCN24N0GB. Accessed 26 Apr 2023.
19. "Most Innovative Companies 2022." Boston Consulting Group, https://www.bcg.com/publications/2022/innovation-in-climate-and-sustainability-will-lead-to-green-growth. Accessed 26 Apr 2023.
20. "Tesla's Race Towards Profitability." F. Zandt, https://www.statista.com/chart/26705/yearly-net-income-and-revenue-of-tesla/. Accessed 27 Apr 2023.
21. "Analysis: Tesla uses its profits as a weapon in an EV price war." Reuters, https://www.reuters.com/business/autos-transportation/tesla-uses-its-profits-weapon-an-ev-price-war-2023-01-19/. Accessed 27 Apr 2023.
22. "Automobility Team." automobility, http://automobility.io/#team. Accessed 27 Apr 2023.
23. "Rankings – US (engineering)." Universum, https://universumglobal.com/rankings/united-states-of-america/2022/. Accessed 27 Apr 2023.
24. "Supercharger." Tesla, https://www.tesla.com/en_eu/supercharger. Accessed 28 Apr 2023.
25. "Tesla Supercharger Stations: How To Get The Best Deal." insideevs.com, https://insideevs.com/features/454482/getting-best-deal-tesla-superchargers/. Accessed 28 Apr 2023.
26. "Tesla is losing its Supercharger advantage as rivals like GM and Mercedes build their own networks." Business Insider, https://www.businessinsider.in/thelife/news/tesla-is-losing-its-supercharger-advantage-as-rivals-like-gm-and-mercedes-build-their-own-networks/articleshow/96773920.cms. Accessed 28 Apr 2023.
27. "Tesla Carbon Credit Sales Reach Record $1.78 Billion in 2022." CarbonCredits.com, https://carboncredits.com/tesla-carbon-credit-sales-reach-record-1-78-billion-in-2022/. Accessed 28 Apr 2023.
28. "How Did Tesla Overcome 'Chip Shortage' While Rivals Struggled." Insideevs.com, https://insideevs.com/news/558871/tesla-overcomes-supply-issues-prevails/. Accessed 30 Apr 2023.
29. "Can Tesla Survive Without The Myth Of Elon Musk?." Seekingalpha, https://seekingalpha.com/article/4562466-can-tesla-survive-without-the-myth-of-elon-musk. Accessed 29 Apr 2023.
30. "Here's What They Don't Tell You About Tesla's Reliability." hotcars.com, https://www.hotcars.com/real-truth-about-tesla-reliability/. Accessed 29 Apr 2023.
31. "U.S. safety regulators receive over 750 complaints of Teslas braking for no reason." CBS news, https://www.cbsnews.com/news/tesla-phantom-braking-nhtsa-750-complaints/. Accessed 29 Apr 2023.
32. "Tesla under investigation after steering wheels fall off two Model Y vehicles." techcrunch.com, https://techcrunch.com/2023/03/08/tesla-under-investigation-after-steering-wheels-fall-off-two-model-y-vehicles/. Accessed 29 Apr 2023.
33. "Missing parts, long waits, and a dead mouse: The perils of getting a Tesla fixed." Vox, https://www.vox.com/recode/23318725/tesla-repair-mechanic-delay-electric-vehicles-ev. Accessed 30 Apr 2023.
34. "Tesla Hasn't Conquered the World." Statista, https://www.statista.com/chart/28347/tesla-share-of-bev-unit-sales-by-region-mmo/. Accessed 28 Apr 2023.
35. "Green Growth: Capturing Asia's $5 trillion green business opportunity." McKinsey & Company, https://www.mckinsey.com/featured-insights/future-of-asia/green-growth-capturing-asias-5-trillion-green-business-opportunity. Accessed 28 Apr 2023.
36. "Electric cars 'will be cheaper to produce than fossil fuel vehicles by 2027'." The guardian, https://www.theguardian.com/business/2021/may/09/electric-cars-will-be-cheaper-to-produce-than-fossil-fuel-vehicles-by-2027. Accessed 28 Apr 2023.
37. "Amid demand concerns, Tesla cuts prices by up to $13K in US." Electrek, https://electrek.co/2023/01/12/amid-demand-concerns-tesla-cuts-prices-by-up-to-13k-in-us/. Accessed 28 Apr 2023.
38. "Tesla's 50 per cent price slash creates 'havoc' in Chinese electric car market: Report." Wion, https://www.wionews.com/trending/tesla-50-per-cent-price-cut-creates-havoc-in-chinese-market-report-575008. Accessed 28 Apr 2023.
39. "Scooter skeptic? Think again. Micromobility is gaining favor with consumers worldwide—and may fast become a mainstay of urban transportation.." McKinsey & Company, https://www.mckinsey.com/industries/automotive-and-assembly/our-insights/the-two-wheeled-commute-micromobility-and-your-future. Accessed 29 Apr 2023.
40. "Why micromobility is here to stay." McKinsey & Company, https://www.mckinsey.com/industries/automotive-and-assembly/our-insights/why-micromobility-is-here-to-stay. Accessed 29 Apr 2023.
41. "Micromobility's 15,000-mile checkup." McKinsey & Company, https://www.mckinsey.com/industries/automotive-and-assembly/our-insights/micromobilitys-15000-mile-checkup. Accessed 29 Apr 2023.
42. "How Elon Musk and Tesla are Revolutionizing E-Scooter Batteries." Bird Cities Blog , https://www.bird.co/blog/elon-musk-tesla-revolutionizing-e-scooter-batteries/. Accessed 29 Apr 2023.
43. "Projected size of the global electric vehicle fleet between 2022 and 2025." Statista, https://www.statista.com/statistics/970958/worldwide-number-of-electric-vehicles/. Accessed 30 Apr 2023.
44. "Fleet and Business." Tesla, https://www.tesla.com/fleet. Accessed 30 Apr 2023.
45. "China's BYD is overtaking Tesla as the carmaker extraordinaire." The Economist, https://www.economist.com/business/2023/02/02/chinas-byd-is-overtaking-tesla-as-the-carmaker-extraordinaire. Accessed 28 Apr 2023.
46. "Look out, Tesla: China's biggest electric-car maker wants to take on the world." fortune.com, https://fortune.com/2023/04/10/byd-china-tesla-competitor-electric-vehicle-market/. Accessed 28 Apr 2023.
47. "Global Passenger Electric Vehicle Market Share, Q1 2021 – Q4 2022." counterpointresearch, https://www.counterpointresearch.com/global-electric-vehicle-market-share/. Accessed 28 Apr 2023.
48. "Could supply-chain issues derail the energy transition?." McKinsey & Company, https://www.mckinsey.com/industries/oil-and-gas/our-insights/could-supply-chain-issues-derail-the-energy-transition. Accessed 28 Apr 2023.
49. "ENERGY SHIFTRare Earth Elements: Where in the World Are They?." visualcapitalist.com, https://elements.visualcapitalist.com/rare-earth-elements-where-in-the-world-are-they/. Accessed 28 Apr 2023.
50. "Current electric vehicles subsidies fail to reduce overall emissions, says Harvard Law study." Harvard Law Today, https://hls.harvard.edu/today/current-electric-vehicles-subsidies-fail-to-reduce-overall-emissions-says-harvard-law-study/. Accessed 29 Apr 2023.
51. "What makes Toyota's hydrogen combustion engine special?." J. CAMPBELL, https://www.hydrogenfuelnews.com/hydrogen-combustion-engine-toyota-2/8556753/. Accessed 30 Apr 2023.
52. "Prototype Corolla Cross Hydrogen Concept Highlights Toyota's Multi-Path Approach To Zero." Toyota Europe Newsroom, https://newsroom.toyota.eu/prototype-corolla-cross-hydrogen-concept-highlights-toyotas-multi-path-approach-to-zero/. Accessed 30 Apr 2023.
53. "US engine manufacturer Cummins showcases hydrogen powertrains at Auto Expo 2023." timesnownews, https://www.timesnownews.com/auto/us-engine-manufacturer-cummins-showcases-hydrogen-powertrains-at-auto-expo-2023-article-96945359. Accessed 30 Apr 2023.
54. "Semi – The Future of Trucking." Tesla, https://www.tesla.com/semi. Accessed 30 Apr 2023.
55. "Africa's EV revolution will roll in on two wheels, not four." Quartz, https://qz.com/africa/2114651/two-and-three-wheeled-electric-vehicles-are-on-the-rise-in-africa. Accessed 29 Apr 2023.
56. "Forget Teslas, India's EV revolution is happening on two wheels." Economist, https://www.economist.com/asia/2023/04/20/forget-teslas-indias-ev-revolution-is-happening-on-two-wheels. Accessed 29 Apr 2023.
57. "Tesla is making large fleet deliveries at the end of the quarter." electrek.co, https://electrek.co/2022/09/27/tesla-large-fleet-deliveries-end-of-the-quarter/. Accessed 30 Apr 2023.