This Walmart SWOT analysis reveals how the largest company in the world uses its competitive advantages to dominate and successfully grow in the retail industry.
It identifies all the key strengths, weaknesses, opportunities and threats that affect the company the most. If you want to find out more about the SWOT of Walmart, you're in the right place.
For more information on how to do a SWOT analysis please refer to our article.
Keep reading.
Company Background
Key Facts
Name
Walmart Inc.
Founded
July 2, 1962
Logo
Industries served
Retail
Geographic areas served
Worldwide (11,443 stores in 26 countries)
Headquarters
Bentonville, Arkansas, U.S.
Current CEO
C. Douglas McMillon
Revenue (US$)
559.151 billion (2021) 6.7% increase over 523.964 billion (2020)
Profit (US$)
13.706 billion (2021) 9.8% decrease over 15.201 billion (2020)
Employees
2.3 million (2017)
Main Competitors
Alibaba Group Holding Limited, Amazon.com, Inc., Best Buy Co., Inc, Costco Wholesale Corporation, Kmart Corporation, Schwarz Group, The Kroger Company, Target Corporation, Walgreens Boots Alliance, Inc. and many other retailers/wholesale companies.
Walmart business description taken from the company's financial report:
"Walmart Inc. ("Walmart," the "Company" or "we") helps people around the world save money and live better – anytime and anywhere – by providing the opportunity to shop in retail stores and through e-commerce.
Through innovation, we strive to continuously improve a customer-centric experience that seamlessly integrates our e-commerce and retail stores in an omni-channel offering that saves time for our customers.
Each week, we serve over 240 million customers who visit approximately 11,400 stores and numerous e-commerce websites under 54 banners in 26 countries.
Our strategy is to make every day easier for busy families, operate with discipline, sharpen our culture and become digital, and make trust a competitive advantage. Making life easier for busy families includes our commitment to price leadership, which has been and will remain a cornerstone of our business, as well as increasing convenience to save our customers' time. By leading on price, we earn the trust of our customers every day by providing a broad assortment of quality merchandise and services at everyday low prices ("EDLP").
EDLP is our pricing philosophy under which we price items at a low price every day so our customers trust that our prices will not change under frequent promotional activity. Everyday low cost ("EDLC") is our commitment to control expenses so our cost savings can be passed along to our customers.
In fiscal 2021, we launched Walmart+ in the U.S., a new membership offering with omni channel shopping benefits that currently include unlimited free shipping on eligible items with no order minimum, unlimited delivery from store, fuel discounts, and mobile scan & go for a streamlined in-store shopping experience.
We are enhancing our ecosystem with our omni-channel capabilities, stores, services, e-commerce sites and supply chain combined with our more than 2.3 million associates as of January 31, 2021 to better serve our customers. Together, we believe these elements produce a flywheel effect which creates customer relationships where customers view Walmart as their primary destination.
We are engaged in global operations of retail, wholesale and other units, as well as e-commerce, located throughout the U.S., Africa, Canada, Central America, Chile, China, India and Mexico. Our operations are conducted in three reportable segments: Walmart U.S., Walmart International and Sam's Club."[1]
You can find more information about the business in Walmart's official website or Wikipedia's article.
Walmart SWOT analysis
Strengths
1. Being the largest retailer in the world, with unmatched scale of operations and strong market power over suppliers and competitors
Walmart is the world's largest company by revenue and the largest retailer in the world.[2] It is also the world's largest private employer, with more than 2.3 million employees. The company is a retail market leader in the U.S. and is a major competitor in all geographic markets in which it operates.
Figure 1. Comparison of the top 5 retailers in the world in 2021
| | Walmart | Amazon.com | Costco | Kroger | Carrefour |
| --- | --- | --- | --- | --- | --- |
| Revenue (in US$ billions) | 559.151 | 294.034 | 163.220 | 132.498 | 87.55 |
| Locations | 11,443 | 576 | 795 | 2,742 | 7,193 |
| Countries served | 26 | 17 | 12 | 1 | 32 |
| Employees | 2.3 million | 1,298,000 | 273,000 | 465,000 | 322,164 |
Source: The respective companies' financial reports[1][3][4][5][6] (Walmart reports its revenue for 2021, but most of its financial year is in 2020, so we compare the company's 2021 data with other businesses' 2020 data. Amazon.com's revenue is for sales made from online stores, physical stores and from third-party seller services only.)
Walmart's revenue reached US$559.151 billion in 2021, more than Amazon.com and Costco, the two next rivals, revenues combined. The company employed twice as many people than Amazon and owned about 3 times more retail locations than its top 3 rivals.
Forbes listed Walmart as the 19th most valuable brand in the world in 2020[7], worth US$29.5 billion. No other direct competitor, except Amazon, has made it to the Forbes list of the top 50 most valuable brands.
What does 'being the largest retailer in the world' mean to Walmart?
Economies of scale. The company can share its fixed costs over many products, which makes Walmart one of the cheapest places to shop.
Efficient and effective use of resources. Walmart can use its resources, such as distribution facilities, information systems, knowledge and other capabilities and skills, more efficiently and effectively over a large number of locations.
Huge gains from implementing best practices. The company can identify better ways of performing tasks, managing stores and hiring new employees and can achieve huge gains by implementing these best practices in its vast network of stores.
Experimenting with less risk. The company can engage in many experiments within its stores or in new store formats without the risk of losing a substantial amount of profits or revenue.
Market power over suppliers and competitors. Due to its size, Walmart can exercise its market power over suppliers by requiring lower prices from them. The company can also affect the competition by selling selected items at a loss, thus driving competition out of the market.
Walmart's size and scale allows grants the company a competitive advantage that no other company's rival can match.
2. International presence
Walmart went international in 1992 through a joint venture with Cifra, a Mexican retail company, opening a Sam's Club in Mexico City.[10] Since then, the company has expanded globally to become the largest international retailer (by revenue), operating 6,101 retail units in 25 countries outside the U.S.
The company operates under different brand names, such as ASDA in the U.K., Walmex in Mexico and Seiyu in Japan. Walmart's non-U.S. revenues reached US$121.360 billion or 21.7% of its total sales in 2021, a significant source of revenue.[1]
Figure 2. Walmart's revenue breakdown by segment 2021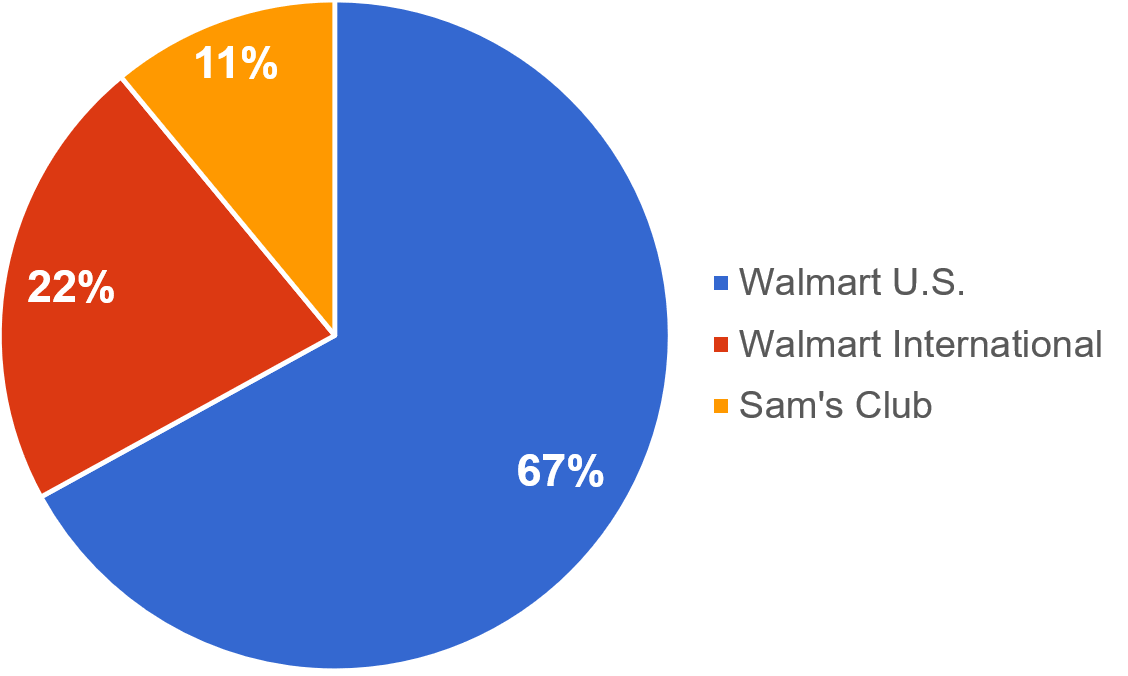 Source: Walmart's financial report[1]
Walmart's international expansion strategy not only helps the company to grow, but also strengthens the company's retail leadership position. By growing internationally, the company diversifies its income sources, gains valuable new experience and further benefits from economies of scale.
Access the full analysis… more Walmart strengths, weaknesses, opportunities and threats
Published: May 15, 2021
Format: PDF + PowerPoint
Pages: 31
Words: 6,300
Charts/tables: 13
Price: US$19
What you get
Thorough insight into the business
Comparison against rivals
Table of contents
Company Overview
SWOT Analysis
Strengths
Weaknesses
Opportunities
Threats
Summary
Sources
Why buy from us?
Best source
We're the No.1 source for both free and paid SWOT analyses on the web.
Well researched
All the information is supported with data from the most trusted sources.
Instant Access
You can download your swot instantly after the payment.
Trusted
Many customers often contact us with requests for custom business/market specific SWOTs, because they trust us.
Have any questions?
Contact us by
Email: ovidijus.jurevicius@strategicmanagementinsight.com
Sources
Walmart Inc. (2021). Form 10-K for the fiscal year ended January 31, 2021. Available at: https://d18rn0p25nwr6d.cloudfront.net/CIK-0000104169/598c8825-536a-4371-ab8a-98b9ee761c43.pdf Accessed May 13, 2021
Fortune (2021). Global 500. Available at: http://fortune.com/global500/ Accessed May 13, 2021
Carrefour (2021). Consolidated Financial Statements as of December 31, 2020. Available at: https://www.carrefour.com/en/actuality/2021/2020-full-year-results-presentation Accessed May 13, 2021
Costco Wholesale Corporation (2021). Form 10-K for the fiscal year ended January 30, 2021. Available at: https://investor.costco.com/static-files/0db73805-069a-42e4-96f9-6ea26ade0a73 Accessed May 13, 2021
THE KROGER CO. (2021). Form 10-K for the fiscal year ended January 30, 2021. Available at: https://d18rn0p25nwr6d.cloudfront.net/CIK-0000056873/30ee8aa9-7149-428d-b3a2-fb0c15ab36d8.pdf Accessed May 13, 2021
Amazon.com, Inc. (2021). Form 10-K for the Fiscal Year Ended December 31, 2020. Available at: https://d18rn0p25nwr6d.cloudfront.net/CIK-0001018724/336d8745-ea82-40a5-9acc-1a89df23d0f3.pdf Accessed May 13, 2021
Forbes (2021). The World's Most Valuable Brands. Available at: http://www.forbes.com/powerful-brands/list/ Accessed May 13, 2021
McCarty, T. at LendEDU (2019). Amazon vs. Walmart vs. Target Price Comparison. Available at: https://lendedu.com/blog/amazon-walmart-target-price-comparison/ Accessed May 13, 2021
Fulfilled by Amazon (2021). Locations of Amazon Fulfillment Centers. Available at: https://fba.help/list-of-amazon-fulfillment-centers Accessed May 13, 2021
Walmart (2021). History Timeline. Available at: http://corporate.walmart.com/our-story/history/history-timeline Accessed May 13, 2021
Walmart Inc. (2019). Form 10-K for the fiscal year ended January 31, 2019. Available at: https://d18rn0p25nwr6d.cloudfront.net/CIK-0000104169/b23b2787-eb44-4e0b-82bd-fca01f140a3e.pdf Accessed May 13, 2021
Walmart Inc. (2020). Form 10-K for the fiscal year ended January 31, 2020. Available at: https://s2.q4cdn.com/056532643/files/doc_financials/2020/ar/Walmart_2020_Annual_Report.pdf Accessed May 13, 2021
Trading Economics (2021). U.S. Retail Sales. Available at: https://tradingeconomics.com/united-states/retail-sales Accessed May 13, 2021
Osterndorf, C. (2015). 10 reasons Walmart is the worst company in America. Available at: http://www.dailydot.com/opinion/walmart-labor-unions-bad-company/ Accessed May 13, 2021
Sainato, M. at the Guardian (2020). Target and Walmart aren't protecting staff amid pandemic, workers say. Available at: https://www.theguardian.com/business/2020/mar/22/target-walmart-coronavirus-workers-not-protected Accessed May 13, 2021
Corkery, M. at The New York Times (2019). Walmart's Strategy When Wading Into Culture Wars: Offend Few. Available at: https://www.nytimes.com/2019/11/04/business/walmart-doug-mcmillon.html Accessed May 13, 2021
American Customer Satisfaction Index (2021). Available at: http://www.theacsi.org/index.php?option=com_content&view=article&id=147&catid=&Itemid=212&i=Department+and+Discount+Stores Accessed May 13, 2021
Digital Commerce 360 (2021). Charts: How the coronavirus is changing ecommerce. Available at: https://www.digitalcommerce360.com/2021/02/15/ecommerce-during-coronavirus-pandemic-in-charts/ Accessed May 13, 2021
Lebow, S. at eMarketer (2021). The top 10 US companies ranked by ecommerce sales. Available at: https://www.emarketer.com/content/top-10-us-companies-ranked-by-ecommerce-sales Accessed May 13, 2021
Ward, T. at Walmart (2021). From Ground-Breaking to Breaking Ground: Walmart Begins to Scale Market Fulfillment Centers. Available at: https://corporate.walmart.com/newsroom/2021/01/27/from-ground-breaking-to-breaking-ground-walmart-begins-to-scale-market-fulfillment-centers Accessed May 13, 2021
Walker, E. at Walmart (2020). Hi, Tech: Walmart Announces New High-Tech Grocery Distribution Center. Available at: https://corporate.walmart.com/newsroom/2018/10/18/hi-tech-walmart-announces-new-high-tech-grocery-distribution-center Accessed May 13, 2021
Goodchild, A. at ASCM (2019). Parcel Lockers Ease Urban Gridlock. Available at: https://www.ascm.org/ascm-insights/parcel-lockers-ease-urban-gridlock/ Accessed May 13, 2021
Jabil (2021). How Autonomous Robots Can Reform Retail Operations. Available at: https://www.jabil.com/blog/autonomous-robots-retails-new-secret-weapon.html Accessed May 13, 2021
Retail Business Services (2019). Nearly 500 Robots, Powered by Retail Business Services and Badger Technologies, Hit the Floor at Ahold Delhaize USA's GIANT/MARTIN'S and Stop & Shop Brands. Available at: https://www.retailbusinessservices.com/news-releases/news-release-details/nearly-500-robots-powered-retail-business-services-and-badger Accessed May 13, 2021
Smith, M. at Walmart (2020). New Checkout Experience Seeks to Eliminate the Wait and Add Options at the Register. Available at: https://corporate.walmart.com/newsroom/2020/06/30/new-checkout-experience-seeks-to-eliminate-the-wait-and-add-options-at-the-register Accessed May 13, 2021
ThreeKit (2021). 20 Augmented Reality Statistics You Should Know in 2021. Available at: https://www.threekit.com/20-augmented-reality-statistics-you-should-know-in-2020 Accessed May 13, 2021
Williams, R. at Marketing Dive (2019). 52% of retailers feel ill-prepared to support emerging mobile tech, study says. Available at: https://www.marketingdive.com/news/52-of-retailers-feel-ill-prepared-to-support-emerging-mobile-tech-study-s/560947/ Accessed May 13, 2021
Tode, C. at Retail Dive (2021). Walmart embraces augmented reality to enhance in-store shopping. Available at: https://www.retaildive.com/ex/mobilecommercedaily/walmart-embraces-augmented-reality-to-enhance-in-store-shopping Accessed May 13, 2021
Tode, C. at Retail Dive (2021). Walmart taps augmented reality to reward customers. Available at: https://www.retaildive.com/ex/mobilecommercedaily/walmart-rewards-customers-with-augmented-reality-scavenger-hunt Accessed May 13, 2021
Crecelius, J. at Walmart (2020). In This New Era of Retail, We're Testing New Ways to Operate, and It's the Customer Who Wins. Available at: https://corporate.walmart.com/newsroom/2020/10/29/in-this-new-era-of-retail-were-testing-new-ways-to-operate-and-its-the-customer-who-wins Accessed May 13, 2021
eMarketer (2021). Worldwide ecommerce will approach $5 trillion this year. Available at: https://www.emarketer.com/content/worldwide-ecommerce-will-approach-5-trillion-this-year Accessed May 13, 2021
Oberlo (2021). Ecommerce Sales by Country In 2021. Available at: https://www.oberlo.com/statistics/ecommerce-sales-by-country Accessed May 13, 2021
eMarketer (2020). Top 10 Countries, Ranked by Retail Ecommerce Sales, 2020 & 2021. Available at: https://www.emarketer.com/chart/242909/top-10-countries-ranked-by-retail-ecommerce-sales-2020-2021-billions-change Accessed May 13, 2021
Identity Theft Resource Center (2020). 2020 in Review. Data Brach Report. Available at: https://notified.idtheftcenter.org/s/ Accessed May 13, 2021