This Walmart SWOT analysis reveals how the largest company in the world uses its competitive advantages to dominate and successfully grow in the retail industry.
It identifies all the key strengths, weaknesses, opportunities and threats that affect the company the most. If you want to find out more about the SWOT of Walmart, you're in the right place.
Learn how to do a SWOT analysis.
Company Overview
| | |
| --- | --- |
| Name | Walmart Inc. |
| Founded | July 2, 1962 |
| Logo | |
| Industries served | Retail |
| Geographic areas served | Worldwide (10,585 stores in 26 countries) |
| Headquarters | Bentonville, Arkansas, U.S. |
| Current CEO | Doug McMillon |
| Revenue | $611.289 billion (2022) |
| Net Income | $11.68 billion (2022) |
| Employees | 2.3 million (2022) |
| Main Competitors | Alibaba Group Holding Limited, Amazon.com, Inc., Best Buy Co., Inc, Costco Wholesale Corporation, Kmart Corporation, Schwarz Group, The Kroger Company, Target Corporation, Walgreens Boots Alliance, Inc. and many other retailers/wholesale companies. |
Business description
Walmart business description taken from the company's financial report:
"Walmart Inc. ("Walmart," the "Company" or "we") helps people around the world save money and live better – anytime and anywhere – by providing the opportunity to shop in retail stores and through e-commerce.

Through innovation, we strive to continuously improve a customer-centric experience that seamlessly integrates our e-commerce and retail stores in an omni-channel offering that saves time for our customers.

Each week, we serve over 240 million customers who visit approximately 11,400 stores and numerous e-commerce websites under 54 banners in 26 countries.

Our strategy is to make every day easier for busy families, operate with discipline, sharpen our culture and become digital, and make trust a competitive advantage. Making life easier for busy families includes our commitment to price leadership, which has been and will remain a cornerstone of our business, as well as increasing convenience to save our customers' time. By leading on price, we earn the trust of our customers every day by providing a broad assortment of quality merchandise and services at everyday low prices ("EDLP").

EDLP is our pricing philosophy under which we price items at a low price every day so our customers trust that our prices will not change under frequent promotional activity. Everyday low cost ("EDLC") is our commitment to control expenses so our cost savings can be passed along to our customers.

In fiscal 2021, we launched Walmart+ in the U.S., a new membership offering with omni channel shopping benefits that currently include unlimited free shipping on eligible items with no order minimum, unlimited delivery from store, fuel discounts, and mobile scan & go for a streamlined in-store shopping experience.

We are enhancing our ecosystem with our omni-channel capabilities, stores, services, e-commerce sites and supply chain combined with our more than 2.3 million associates as of January 31, 2021 to better serve our customers. Together, we believe these elements produce a flywheel effect which creates customer relationships where customers view Walmart as their primary destination.

We are engaged in global operations of retail, wholesale and other units, as well as e-commerce, located throughout the U.S., Africa, Canada, Central America, Chile, China, India and Mexico. Our operations are conducted in three reportable segments: Walmart U.S., Walmart International and Sam's Club."[1]
You can find more information about the business in Walmart's official website or Wikipedia's article.
Walmart SWOT analysis
Strengths
Weaknesses
1. Being the largest retailer in the world, with unmatched scale of operations and strong market power over suppliers and competitors
2. Cost leadership strategy
3. The combination of a developed distribution system and a well-managed information system
4. International presence
5. Large merchandise selection in its many physical stores helps it to develop e-commerce channel sales faster and with lower costs
1. Overdependence on sales from the U.S. market
2. Highly criticized employment policies, which result in high employee turnover and poor customer service
3. Negative publicity and poor brand reputation
Opportunities
Threats
1. Strengthen and expand Walmart Marketplace and Walmart Fulfillment Services (WFS) to accommodate the growing number of smaller retailers
2. Growing variety of sophisticated robots and automation tools opens up many opportunities for automated distribution centers and staff-free stores
3. Increased adaptation of augmented reality (AR) and virtual reality (VR) tools for better shopping experiences
4. The e-commerce market is forecast to reach US$6.3 trillion by 2024
1. New laws and regulations concerning food, safety, wage, work benefits and pharmaceutical business
2. New lawsuits, which would further damage brand reputation
3. Growing risk of data breaches
Strengths
1. Being the largest retailer in the world, with unmatched scale of operations and strong market power over suppliers and competitors
Walmart is the world's largest company by revenue.[2] It is also the world's largest private employer, with more than 2.3 million employees. The company is a retail market leader in the U.S. and is a major competitor in all geographic markets in which it operates.
Figure 1. Comparison of the top 5 retailers in the world in 2021
| | Walmart | Amazon.com | Costco | Kroger | Carrefour |
| --- | --- | --- | --- | --- | --- |
| Revenue (US$ billions) | 559.151 | 294.034 | 163.220 | 132.498 | 87.55 |
| Locations | 11,443 | 576 | 795 | 2,742 | 7,193 |
| Countries served | 26 | 17 | 12 | 1 | 32 |
| Employees | 2.3 million | 1,298,000 | 273,000 | 465,000 | 322,164 |
Source: The respective companies' financial reports[1][3][4][5][6] (Walmart reports its revenue for 2021, but most of its financial year is in 2020, so we compare the company's 2021 data with other businesses' 2020 data. Amazon.com's revenue is for sales made from online stores, physical stores and from third-party seller services only.)
Walmart's revenue reached US$559.151 billion in 2021, more than Amazon.com and Costco, the two next rivals, revenues combined. The company employed twice as many people than Amazon and owned about 3 times more retail locations than its top 3 rivals.
Forbes listed Walmart as the 19th most valuable brand in the world in 2020[7], worth US$29.5 billion. No other direct competitor, except Amazon, has made it to the Forbes list of the top 50 most valuable brands.
What does 'being the largest retailer in the world' mean to Walmart?
Economies of scale. The company can share its fixed costs over many products, which makes Walmart one of the cheapest places to shop.
Efficient and effective use of resources. Walmart can use its resources, such as distribution facilities, information systems, knowledge and other capabilities and skills, more efficiently and effectively over a large number of locations.
Huge gains from implementing best practices. The company can identify better ways of performing tasks, managing stores and hiring new employees and can achieve huge gains by implementing these best practices in its vast network of stores.
Experimenting with less risk. The company can engage in many experiments within its stores or in new store formats without the risk of losing a substantial amount of profits or revenue.
Market power over suppliers and competitors. Due to its size, Walmart can exercise its market power over suppliers by requiring lower prices from them. The company can also affect the competition by selling selected items at a loss, thus driving competition out of the market.
Walmart's size and scale allows grants the company a competitive advantage that no other company's rival can match.
2. Cost leadership strategy
Since its incorporation, Walmart has used a cost leadership strategy. A cost leadership strategy is based on manufacturing and selling products or services at the lowest possible cost. The advantage of this strategy is that a company can benefit from economies of scale by growing to be very large in size.
Cost leadership strategy have enabled Walmart to successfully grow to become the largest retailer in the world. The same strategy that has helped the company to grow in the past continues to drive its growth in the current e-commerce era.
Figure 2. Walmart's total revenue 2017-2021 (in US$ billions)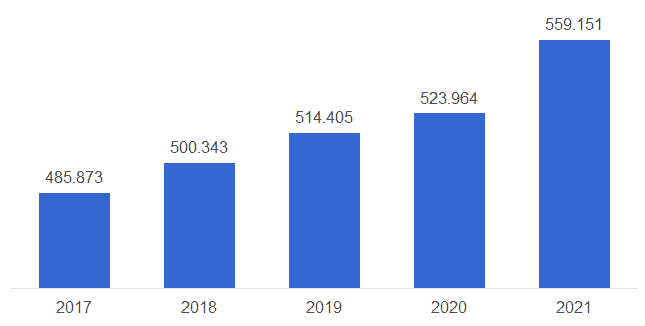 Source: Walmart's financial report[1]
According to a study done by LendEDU[8], prices at Walmart.com are on average 1.73% lower than the prices on Amazon.com. The following table compares Walmart.com and Amazon.com general prices in selected categories.
Figure 3. Walmart price difference vs. Amazon price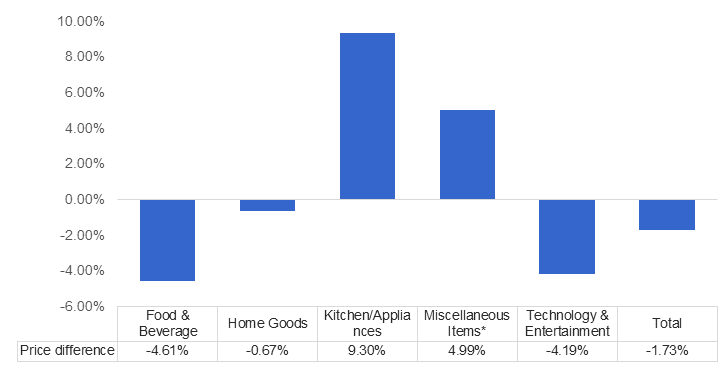 Source: LendEDU[8]
The two sites offer the same prices on many of their products. Amazon.com prices are lower on Kitchen/Appliances and Miscellaneous Items categories, while Walmart is able to offer lower prices on Food & Beverage, Home Goods and Technology & Entertainment categories.
E-commerce market, where most of the retail growth is happening now, is favoring companies that can offer low prices, huge product selection and fast shipping. This is where Walmart's cost leadership strategy is paying off. The company has stepped up its e-commerce efforts and is now the second largest e-commerce company in the U.S. behind Amazon.com.
Therefore, Walmart's cost leadership strategy is the right choice for the company. It allows for extraordinary economies of scale, some market power over competitors and suppliers, easier expansion into foreign markets and successful competition in the e-commerce sector with lower costs.
3. The combination of a developed distribution system and a well-managed information system
In order to maintain its huge scale of retail operations, Walmart has to operate an equally large and efficient distribution system. In 2021, the company owned 404 distribution facilities, of which 183 were located in the U.S. and 221 in international markets. To fully stock every store, each distribution facility serves nearly 28 stores and helps to generate over US$1.2 billion per distribution facility, which is a very efficient distribution network.
Walmart also operates 32 dedicated e-commerce fulfillment centers in the U.S. and 83 fulfillment centers internationally with an additional 11 e-commerce fulfillment centers run by Sam's club. The total of 126 Walmart's fulfillment centers brought in US$64.9 billion in total e-commerce revenue in 2021 or US$0.51 billion per dedicated e-commerce fulfillment center.[1]
In comparison, Amazon.com owned 295[9] fulfillment centers globally and generated around US$294.034 billion[6] from its e-commerce retail operations in 2020 or around US$0.94 billion per fulfillment center. While Amazon.com's fulfillment centers are almost twice as efficient in helping to generate online sales, Walmart is not far behind. The company's fulfillment centers allowed the company to become the 2nd largest online retailer in the U.S., just behind Amazon.com[1]
Every large retailer can build a large network of distribution centers, but to manage them efficiently requires extra effort, and this is where a well-managed information system is the key. Walmart achieves this for two major reasons. First, the company runs a centralized information system based in Arkansas, which allows developers to manage the system and collaborate with each other more easily than if they had a decentralized system. Second, the company uses common platforms and systems across all of its U.S. and international stores. By using their single system in every store, the company lowers its costs significantly. In addition, the best practices from one store or distribution center can be easily replicated in another without additional costs.
Their well-managed information system allows the company to efficiently manage its stores and distribution facilities, which results in huge cost savings and a competitive advantage that no other retailer can match.
4. International presence
Walmart went international in 1992 through a joint venture with Cifra, a Mexican retail company, opening a Sam's Club in Mexico City.[10] Since then, the company has expanded globally to become the largest international retailer (by revenue), operating 6,101 retail units in 25 countries outside the U.S. The company operates under different brand names, such as ASDA in the U.K., Walmex in Mexico and Seiyu in Japan. Walmart's non-U.S. revenues reached US$121.360 billion or 21.7% of its total sales in 2021, a significant source of revenue.[1]
Figure 4 Walmart's revenue breakdown by segment 2021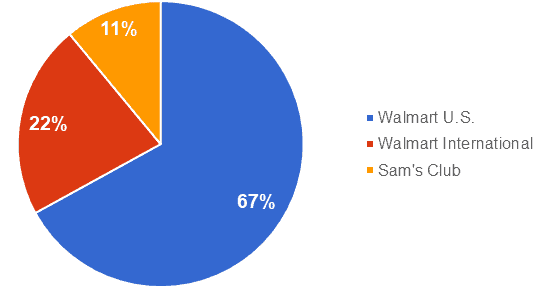 Source: Walmart's financial report[1]
Walmart's international expansion strategy not only helps the company to grow, but also strengthens the company's retail leadership position. By growing internationally, the company diversifies its income sources, gains valuable new experience and further benefits from economies of scale.
5. Large merchandise selection in its many physical stores helps it to develop e-commerce channel sales faster and with lower costs
Retail sales in physical stores compared to e-commerce channels are slowing. Many retail companies, including Walmart, are focusing on establishing themselves as electronic commerce retailers. Walmart's total (includes domestic and international sales) e-commerce sales grew by US$25.2 billion in a single year from US$39.7 billion in 2020 to over US$64.9 billion in 2021. Online sales comprised only 8.6% of the total company's revenue in 2021, but while Walmart's physical store revenue grew by 2.1% in 2021 its e-commerce sales grew by 63.5% in the same year.
Figure 4. Walmart's e-commerce revenue by segment 2019-2021 (in US$ billions)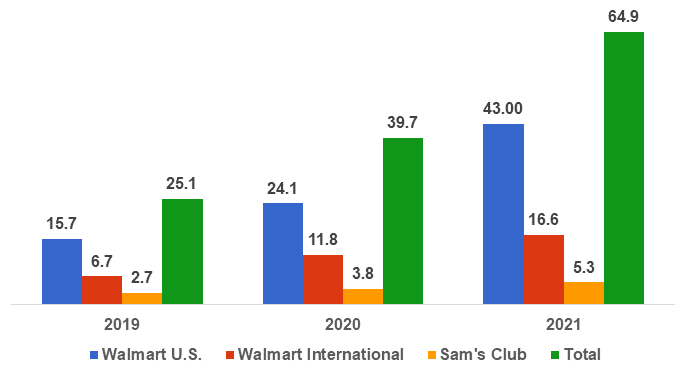 Source: Walmart's financial reports [1][11]
Walmart as an electronic commerce retailer cannot compare to Amazon.com yet, but the company is significantly expanding its e-commerce operations. Walmart has 6,750+ pickup and 5,300+ delivery locations across the world and can offer next day delivery to over 75% of U.S. population.[1][12] The company constantly invests in new fulfillment centers and has developed new mobile apps for its e-commerce sites across the world.
The driving force behind Walmart's strong e-commerce growth is its low prices, achieved by huge economies of scale and the use of their existing assets for selling items and fulfilling orders.
In addition to its low prices, Walmart's existing assets such as its physical stores and wide merchandise selection help the company to expand its Internet sales with little additional cost. There was no need for Walmart to build many costly fulfillment centers, the company converted many of its superstores to fulfillment centers instead. If the company's e-commerce operations continue to grow, Walmart can easily convert more of its stores to fulfillment centers. By shipping from the store, the company also reduces product delivery time to the customer. Lastly, if some of the items are out of stock in Walmart's online store, their single information system can easily check if the same items are available at any of its physical stores and if so, ship the product straight from the shelf.
Walmart is still less experienced in e-commerce than Amazon, but it already has some of the strengths that even Amazon.com cannot match.
Weaknesses
1. Overdependence on sales from the domestic U.S. market
Walmart operates retail stores in all 50 states, Washington D.C. and Puerto Rico, with supercenters in 49 states, Washington D.C. and Puerto Rico. Walmart's sales from its domestic operations (includes Walmart U.S., Sam's Club and other revenues) were US$436.649 billion, US$402.532 billion and US$392.265 billion respectively for fiscal 2021, 2020 and 2019. In 2021, 78.1% of all company revenue and more than 85% of its operating income came from the U.S.[1]
Figure 6. Walmart's net sales growth in 2019-2021 (in US$ billions)
| | | Walmart U.S. | Walmart International | Sam's Club |
| --- | --- | --- | --- | --- |
| 2021 | Net sales | 369.963 | 121.360 | 63.910 |
| 2021 | Share of the total net sales | 66.6% | 21.9% | 11.5% |
| 2021 | Net sales growth | 8.5% | 1% | 8.7% |
| 2020 | Net sales | 341.004 | 120.130 | 58.792 |
| 2020 | Share of the total net sales | 65.6% | 23.1% | 11.3% |
| 2020 | Net sales growth | 2.8% | (0.1)% | 1.6% |
| 2019 | Net sales | 331.666 | 120.824 | 57.839 |
| 2019 | Share of the total net sales | 65% | 23.7% | 11.3% |
| 2019 | Net sales growth | – | – | – |
Source: Walmart's financial report [1] (Walmart's net sales and revenue figures differ, because Walmart does not add revenue from the memberships to any of the segments directly. Walmart's revenue for 2021 was US$559.151 billion, while the net sales were US$555.233 billion)
Walmart's reliance on sales from one market weakens the company, as decreasing demand in the U.S. may seriously affect the company's growth. This trend of low or even negative U.S. retail market growth is likely to continue; therefore, the company has to find other growth markets outside the U.S.[13]
2. Highly criticized employment policies, which result in high employee turnover and poor customer service
The most noticeable Walmart weakness is the company's policies regarding employee hiring and management. There are numerous complaints from Walmart's employees and managers about poor working conditions, including no break times, very low wages, no overtime pay, no guarantee of sufficient work hours or a regular schedule, no benefits, wrongful termination etc.[14][15][16] All of these complaints lead to high employee turnover, understaffed stores and poor customer service.
Low-paid employees who work in understaffed stores aren't capable of providing quality service, and this subsequently drives customers out of Walmart stores. According to the American Customer Satisfaction Index (ACSI),[17] Walmart is one of the most disliked department and discount stores in the U.S. market.
Figure 6. Customer satisfaction score of discount and department stores in the U.S.
| Store name | 2020 score (out of 100) |
| --- | --- |
| Costco | 81 |
| Nordstrom | 80 |
| Sam's Club (Walmart) | 79 |
| Dillard's | 79 |
| TJX (Marshalls, TJ Maxx) | 78 |
| Kohl's | 78 |
| BJ's Wholesale Club | 77 |
| Macy's | 77 |
| Target | 76 |
| JCPenney | 76 |
| Category average | 75 |
| Walmart | 71 |
Source: ACSI[17]
Figure 7. Walmart's customer satisfaction score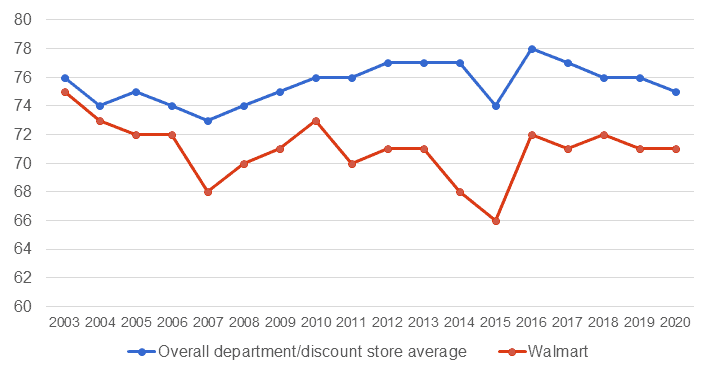 Source: ACSI[17]
Walmart's customer service while currently improving, is still below the industry's average, and people are less inclined to visit its stores. This weakness requires a better, stronger response or Walmart will find it hard to grow in the U.S. market in the future.
3. Negative publicity and poor brand reputation
Due to its size, Walmart is one of the most criticized companies in the U.S. The company receives criticism for many of its policies and business practices, but the most significant are:
foreign product sourcing
monopolistic practices
supplier treatment
low wages
working conditions
wrongful termination
bribery
taxes
Negative publicity damages brand's reputation and decreases company's sales. In 2016, negative publicity already affected the company when Walmart's revenue decreased for the first time in ten years, even when the overall retail market was growing. The company's brand also suffers from many lawsuits, in which the company is engaged mainly because of its poor business policies and practices.
Opportunities
1. Strengthen and expand Walmart Marketplace and Walmart Fulfillment Services (WFS) to accommodate the growing number of smaller retailers
2020 was one of the most disrupting years for the retail industry in the past century. Retailers suffered worldwide due to the many restrictions placed on them, lockdowns and the constant supply shortages. The pandemic also changed how consumers were shopping. To avoid contact with the others, many more people opted to shop online. To avoid heavy losses due to the decreased traffic to their stores, retailers had to start selling their merchandise through their own e-commerce platforms or through the huge marketplaces like Amazon Marketplace, Walmart Marketplace or eBay. An increased number of smaller retailers moving online opened up many new opportunities for such a huge e-commerce retailer as Walmart.
Figure 8. U.S. retail landscape in 2020

Source: Digital Commerce 360[18]
The changing customer habits have led to the increased traffic to walmart.com as well. The stellar growth of Walmart's e-commerce operations in the U.S. in 2020 (fiscal year of 2021) has led to walmart.com becoming the second highest earning e-commerce website in the country.[18]
Figure 9. Top 10 U.S. companies ranked by retail e-commerce sales in 2021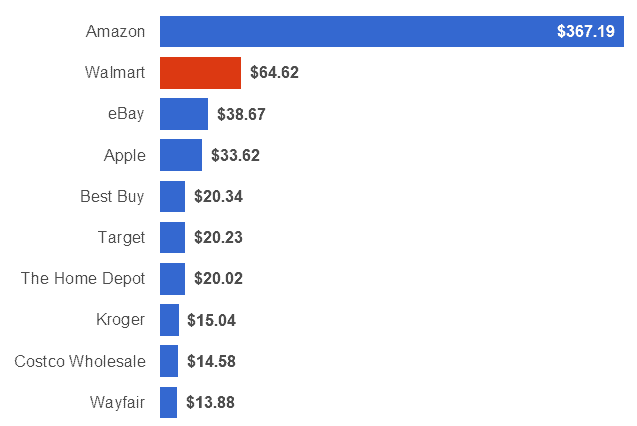 Source: eMarketer[19]
Increased traffic to the walmart.com makes the platform more attractive to the sellers who have not yet decided to offer their merchandise through Walmart Marketplace. Therefore, Walmart should focus its efforts in attracting more sellers to Walmart Marketplace by offering more and better benefits for the new and existing members. The more members will join the marketplace the more products will be offered for the walmart.com customers and this will increase the traffic to the e-commerce platform even more.
In addition to the opportunity of attracting new sellers to Walmart's Marketplace, the company has an equally good opportunity to attract new sellers to Walmart Fulfillment Services (WFS). Introduced in 2021, WFS, similarly to Amazon.com's Fulfilled by Amazon service, offers a world-class supply chain capabilities – from storing, picking, packing and shipping items to handling of returns and customer service.
In order for small retailers to be able to compete with the large store chains, they have to offer similar or even better fulfillment of their orders than top retailers can offer. While small retailers can offer faster delivery in local areas, they lack in delivery options and the ability to ship fast to other regions. This is where WFS can offer huge benefits to smaller retailers. According to Digital Commerce 360 report,[18] in 2020, over 50% of top 500 retailers were offering curbside pickup. WFS with its huge network of stores and fulfillment services could enable smaller retailers to offer the same services to their customers.
Figure 10. Curbside pickup growth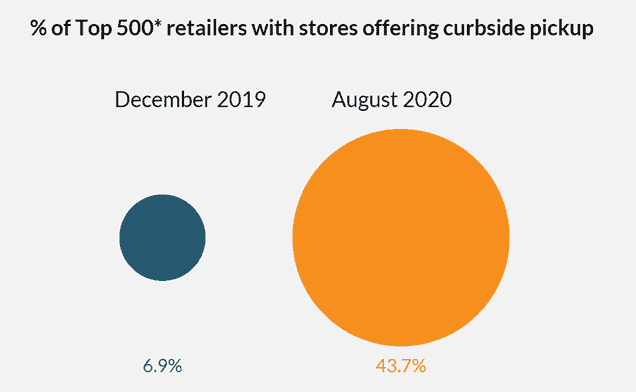 Source: Digital Commerce 360[18]
If Walmart will be able to offer better benefits for the new sellers to join its Marketplace and an appealing WFS services, it will benefit greatly from the new smaller retailers coming to e-commerce. Amazon, which earned around 5-6 times more than Walmart from it's e-commerce operations, generated US$80.461 billion from third-party sellers services.[6] In comparison, Walmart, could potentially earn US$10 billion to US$20 billion from third-party sellers in the near future.
2. Growing variety of sophisticated robots and automation tools opens up many opportunities for automated distribution centers and staff-free stores
Retail chains are looking for how to improve their operations constantly and technological side is one of the most important operational areas for improvement right now. Profit margins in retail are low and any technological advancement that could improve those margins is welcomed and quickly implemented. In recent years, Walmart has been investing large sums of money into expanding its e-commerce operations as well as automating stores and distribution centers, improving order fulfillment, delivery times and reducing operational costs. All these areas were significantly improved by introducing new technologies into them. Nonetheless, there are still many areas where Walmart could improve its operations even further. The most promising of these are:
Automated distribution centers. An increasing number of people are ordering online and all of those orders have to be fulfilled and delivered to the customer or made ready for pickup at designated locations. Small automated distribution facilities are a key this. Distribution facilities are designed in a smart way with many facilities using robots and artificial intelligence for moving the parcels around and doing the heavy lifting.[20][21] In addition, orders can be fulfilled autonomously by sending them to the parcel lockers, which, according to some researchers, reduces total delivery time by 78%.[22] Another option is to use autonomous vehicles to deliver the orders to customer's location. Walmart is already testing all of these options and the company should scale them to get the full benefits of autonomous distribution facilities.
Staff-free and cashier-less stores. Robots are also making their way into the stores. New types of robots are able to understand what is out of stock, check if the prices are right and whether the products are in the right places and if there are enough of them. They can also identify hazardous conditions and report back to the store employees where and what has to be fixed. Some of the companies have already deployed such robots.[23][24] Self-checkout is another option for stores to improve checkout times and become staff-free and with fewer cashiers. In 2020, Walmart introduced a new checkout experience with open type self-checkouts in an attempt to eliminate the wait and add options at the register.[25] However, these checkouts were only available in a very few stores and the company could expand it across all the possible company's locations.
The growth of many new types of sophisticated robots and automation tools creates and opportunity for Walmart to reduce costs, improve customers' experience and satisfaction.
3. Increased adaptation of augmented reality (AR) and virtual reality (VR) tools for better shopping experiences
AR and VR have been a part of retail for many years. Nonetheless, even as AR market is expected to be worth over US$50 billion by 2024 and at least 5% of AR use will be in retail industry, few of the retailers offer AR/VR experiences in their online/offline shops.[26][27] At the end of 2019, only 1% of the retailers were using AR or VR in the customer buying experience.[26][27] In contrast, 71% of consumers say they would shop more often if the stores would offer AR experience and 61% say they prefer retailers with AR experiences.
Figure 11. AR/VR in retail sector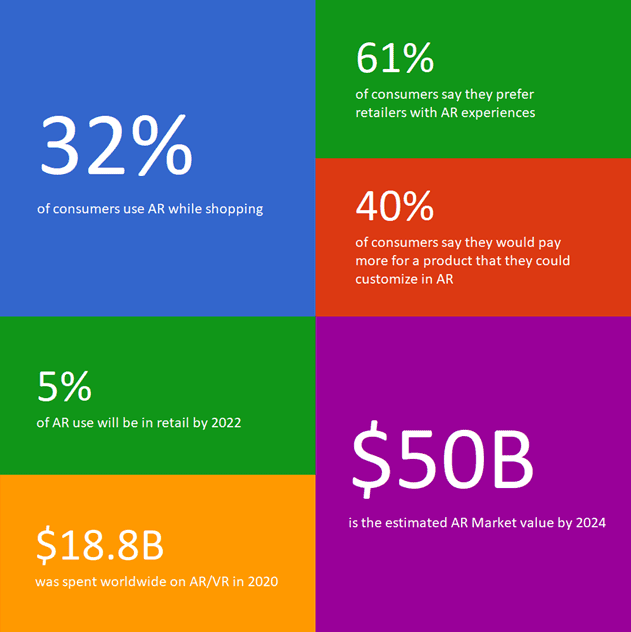 Source: Threekit[26] and Marketing Dive[27]
The benefits of introducing AR/VR to the customers' buying experience are huge, including higher engagement and conversion, more money spent per purchase and increased satisfaction with the whole buying process. Walmart has identified these benefits and has been slowly rolling out AR/VR for their shoppers over the last few years. However, these mostly focused on enhancing in-store shopping experience through interactive signage or augmented reality super hero apps.[28][29] These AR rollouts were limited and engage only a small number of customers who visit Walmart stores. Instead of using augmented reality for customer shopping experience, Walmart uses it mainly to increase inventory picking speed, picking out items from the store for online orders or making sure all the products that are available in-store are also available online and vice versa.[30]
The potential of AR and VR in retail is huge and Walmart should find new ways to better engage customers and improve their shopping experience using AR or VR.
4. The e-commerce market is forecast to reach US$6.3 trillion by 2024
According to eMarketer[31], the global e-commerce market is expected to expand significantly faster than the traditional retail sector, from US$4.280 trillion in 2020 to US$6.388 trillion by 2024, a growth rate of 49.3%. Based on these forecasts, e-commerce will account for 21.8% of total retail sales by 2024.
Figure 12. Total e-commerce sales worldwide (actual and forecast), 2019-2024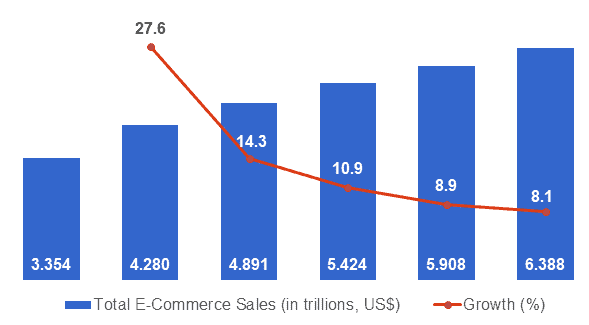 Source: eMarketer[31]
The main e-commerce growth markets will be China, the U.S, South Korea and India markets.[32][33] China is also forecast to account for 52.1% of global e-commerce market with sales of US$2.779 trillion. The U.S. and the U.K. will trail in 2nd and 3rd place with sales of US$843.15 billion and US$169.02 billion, respectively. Currently, these 3 markets are Walmart's largest in terms of sales, and the company has a strong e-commerce presence in all of them. The company currently operates in 6 of the 10 largest e-commerce markets in the world, including China, the U.S., the U.K., Japan, India and Canada.
Figure 13. Top 10 countries ranked by total e-commerce sales worldwide in 2020-2021 (in US$ billions)
| Country | 2020 | 2021 | Growth |
| --- | --- | --- | --- |
| 1. China | 2,296.95 | 2,779.31 | 21% |
| 2. US | 794.5 | 843.15 | 6.1% |
| 3. UK | 180.39 | 169.02 | -6.3% |
| 4. Japan | 141.26 | 144.08 | 2% |
| 5. South Korea | 110.60 | 120.56 | 9% |
| 6. Germany | 96.86 | 101.51 | 4.8% |
| 7. France | 73.8 | 80.0 | 8.4% |
| 8. India | 55.35 | 67.53 | 22% |
| 9. Canada | 39.22 | 44.12 | 12.5% |
| 10. Spain | 36.4 | 37.12 | 2% |
Source: eMarketer[33]
Walmart sells online both through its own branded websites and those of its subsidiaries. Most of its e-commerce businesses are experiencing strong growth in e-commerce, especially in China and the U.S. Therefore, the company should focus on improving its e-commerce capabilities to take advantage of these growing markets.
Threats
1. New laws and regulations concerning food, safety, wage, work benefits and pharmaceutical business
Walmart is the world's largest company in terms of revenue and the world's largest employer operating in 28 countries. Walmart operates both physical and online stores that sell groceries, apparel and other various merchandise. The company owns pharmacies and, in some countries, even sells fuel. Due to Walmart's size, geographic expansion and business complexity it is subject to numerous laws and regulations in domestic and foreign markets.
The company highlights these risks in its report:
"The regulations to which we are subject include, but are not limited to: federal and state registration and regulation of pharmacies; applicable governmental payer regulations including Medicare and Medicaid; data privacy and security laws; laws and regulations relating to the protection of the environment and health and safety matters; regulations regarding food and drug safety trade regulations, and consumer protection and safety regulations, as well as state regulatory authorities, governing the availability, sale, advertisement and promotion of products we sell and the financial services we offer.
Changes in laws, regulations and policies and the related interpretations and enforcement practices may alter the landscape in which we do business and may significantly affect our cost of doing business."[1]
Walmart also emphasizes that its international businesses face many risks:
"Walmart International's operations in various countries also sources goods and services from other countries. Our future operating results in these countries could be negatively affected by a variety of factors, most of which are beyond our control. These factors include political conditions, including political instability, local and global economic conditions, legal and regulatory constraints, local product safety and environmental laws, tax regulations, local labor laws, anti-money laundering laws and regulations, trade policies, currency regulations, and other matters in any of the countries or regions in which we operate, now or in the future."[1]
Walmart has to constantly manage these threats in order to grow and do that successfully.
2. New lawsuits, which would further damage brand reputation
Walmart is well-known for its poor brand reputation, as well as involvement in litigation related to its employment practices, impact on local communities, bribery, and monopolistic practices. The company states that involvement in more lawsuits is one of its key threats, and addresses this issue in its financial statement:
"We operate in a highly regulated and litigious environment. We are involved in legal proceedings, including litigation, arbitration and other claims, and investigations, inspections, audits, claims, inquiries and similar actions by pharmacy, healthcare, tax, environmental and other governmental authorities. We may also have indemnification obligations for legal commitments of certain businesses we have divested. Legal proceedings, in general, and securities, derivative action and class action and multi-district litigation, in particular, can be expensive and disruptive. Some of these suits may purport or may be determined to be class actions and/or involve parties seeking large and/or indeterminate amounts, including punitive or exemplary damages, and may remain unresolved for several years.
For example, we are currently a defendant in a number of cases containing class or collective-action allegations, or both, in which the plaintiffs have brought claims under federal and state wage and hour laws, as well as a number of cases containing class-action allegations in which the plaintiffs have brought claims under federal and state consumer laws."[1]
Walmart will likely be subject to this threat in 2021 as well, which will further damage the company's brand.
3. Growing risk of data breaches
Walmart is the world's largest retailer, serving tens of millions of customers each day in 26 countries. For almost every transaction, the company collects customers' credit or debit card information, either through in-store payments or online. It stores that credit/debit card data and protects it from theft. Nonetheless, data breaches can occur and customer data does get stolen and exposed from time to time.
According to the Identity Theft Resource Center, in 2020, there were 1,108 identity thefts reported.[34] Since 2015, billions of records of personal information have been stolen, with significant associated damages incurred by both affected businesses and their customers.
Some of the biggest credit/debit card information thefts have affected e-commerce giants such as eBay, Amazon, Target, and even Walmart. All of these companies have lost customers and sales because of it. With the growing number of data breaches, there is always a potential risk of Walmart being breached again. The company identifies this threat as one of the key risk factors to their business:
"Like most retailers, we receive and store in our information systems personal information about our customers and members, and we receive and store personal information concerning our associates and vendors. Some of that information is stored digitally in connection with our digital platforms.
In addition, our eCommerce operations depend upon the secure transmission of confidential information over public networks, including information permitting cashless payments. Cyber threats are rapidly evolving and those threats and the means for obtaining access to information in digital and other storage media are becoming increasingly sophisticated.
We and the businesses with which we interact have experienced and continue to experience threats to data and systems, including by perpetrators of random or targeted malicious cyberattacks, computer viruses, worms, bot attacks, ransomware or other destructive or disruptive software and attempts to misappropriate customer information, including credit card and payment information, and cause system failures and disruptions."[1]
Summary
Walmart has become the world's largest company by revenue for a few reasons. First, it used cost leadership strategy and executed it brilliantly. Second, it operated in the world's richest economy, which enabled Walmart to grow fast and successfully.
At the moment, most of Walmart's strengths come from the huge company's size. These strengths, such as market power over suppliers and competitors, well developed distribution system and large merchandise selection, will help the company to stay the largest retailer, at least the largest brick-and-mortar retailer, for quite some time. Nonetheless, the company has to find other strengths if it wants to grow faster and be able to compete with Amazon.com in e-commerce.
As for the weaknesses, Walmart should improve its brand image, employment and business practices. That would most likely result in more productive employees, happier customers and eventually in higher sales.
Opportunities are very clear: strengthen e-commerce capabilities and implement technological advancements faster for better user shopping experience and cost savings. Both opportunities should help the company become more competitive online retailer and, if pursued successfully, would increase company's revenue significantly in the near future.
The main threat for Walmart is its competition against Amazon. The store chain tries to become a real omnichannel retailer and its bet on e-commerce and online grocery delivery must continue successfully or the company will be outmatched by Amazon.com. In addition, the company's reputation could really suffer further if any data breaches would occur or the company would be involved in any infamous lawsuits.
Walmart will continue to dwarf the U.S. retail industry and will grow internationally, at least for the next 5-10 years.
Sources