Unilever Plc (Unilever) manufactures and supplies fast-moving consumer goods. The organization's product portfolio comprises food products, beauty and personal care products, beverages, home care, vitamins, minerals, and supplements.
More than two billion people globally use Unilever products on a particular day. The company has more than 148,000 employees globally, with over 400 brands sold in more than 190 countries.
Company Overview
| | |
| --- | --- |
| Name | Unilever |
| Founded | 1921 |
| Logo | |
| Industries served | Consumer goods FMCG (Fast Moving Consumer Goods) |
| Geographic areas served | Worldwide |
| Headquarters | London, England |
| Current CEO | Alan Jope (1 Jan 2019 – 1 Jul 2023), Hein Schumacher (Jul 1, 2023–>) |
| Revenue | €60.1 billion (2022) |
| Profit | $8.052 billion (2022) |
| Employees | 148,149 (2022) |
| Main competitors | Procter & Gamble, Nestle, The Coca-Cola Company, Colgate-Palmolive, Johnson & Johnson |
| Website | https://www.unilever.com |
Unilever is a British multinational company focusing primarily on consumer goods, including food, home care, and personal care products. The company has a presence in over 190 countries with a diverse portfolio of well-known brands such as Dove, Knorr, Lipton, Hellmann's, Axe, and Ben & Jerry's, Sure, Magnum, Lynx, PG Tips, among others. Unilever takes care of the entire supply chain of its products, from development and sourcing to production, marketing, and distribution.
Unilever's vision and mission are founded on the underlying purpose, which is "to make sustainable living commonplace." Unilever emphasizes the importance of sustainability in the daily consumers' lives globally by using the company's consumer goods.
The corporate statement reflects the organization's strategic approaches to achieving and keeping its position as one of the largest global manufacturers of consumer goods.
Unilever's mission statement reads, "to meet everyday needs for nutrition, hygiene and personal care with brands that help people look good, feel good and get more out of life." Unilever aims to achieve this mission by focusing on innovation, sustainability, and social responsibility.
The vision is to grow its business while reducing its environmental footprint and increasing its positive social impact. The company aims to achieve this vision by pursuing sustainable growth, reducing waste and emissions, promoting sustainable sourcing, and supporting social initiatives such as fair trade and community development.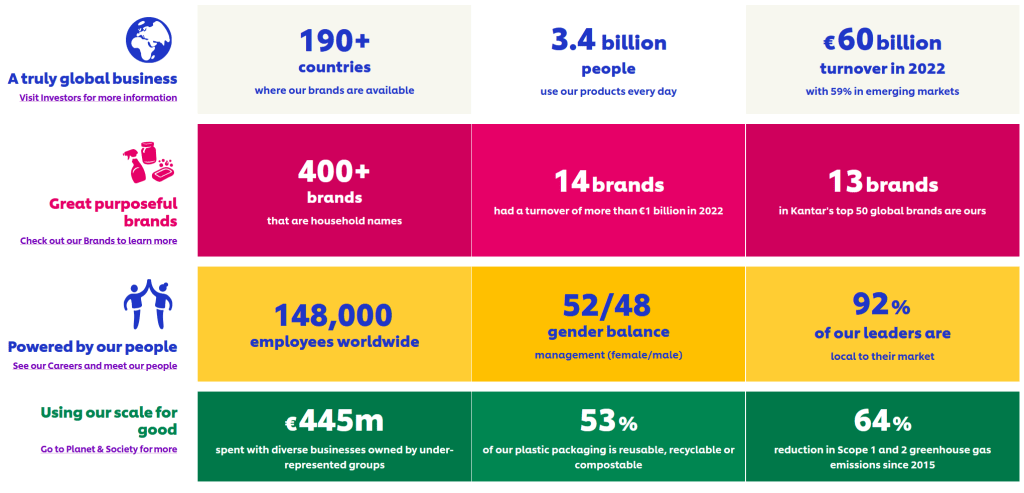 Unilever SWOT Analysis
Strengths
Weaknesses
1. Global presence
2. Economies of sales
3. Strong brand portfolio
4. Innovation
5. Sustainability
6. Diversified product portfolio
7. Strong business model
1. High threat of substitution
2. Change in consumer preference
3. Over-dependence on retailer
4. Lack of diversification
5. Complex organizational structure
6. Pricing pressure
7. Negative impact on the environment
Opportunities
Threats
1. Emerging markets
2. Sustainable and health-friendly products
3. Invest in technologies
4. Maximize e-commerce
5. Mergers and acquisitions
6. Sustainability
7. Product innovation
8. Brand recognition
1. Increased competition
2. Economic uncertainty
3. Regulatory changes
4. Exposure to changes in currency exchange rates
5. Supply Chain disruptions
6. Changes in consumers' preferences
7. Technological disruptions
Strengths
1. Global presence: The company has a strong global presence with operations in over 190 countries. As a result, Unilever benefits from economies of scale, leveraging the global supply chain and accessibility to a diverse pool of customers.
The brand's global presence further allows the organization to adapt to varying cultural and regulatory environments, which is critical in the highly controlled consumer goods sector.
2. Economies of scale. This promotes product efficiency critical for competitive advantage. Unilever has grown its market presence through years of international expansion, a strength that supports the brand's appeal.
3. Strong brand portfolio: Unilever owns a portfolio of strong brands well-known and trusted by customers globally, including Dove, Lipton, and Knorr, among others.
Similarly, the brand portfolio is diverse, including products across different categories like food, home care, personal care, and beauty. Diversification helps the organization avoid risks associated with overdependence on a single category or product line.
The top 13 brands account for over €1 billion in revenues. Over half of Unilever's growth is attributable to Dove, Knorr and Lifebuoy, Brooke Bond, Close Up, and Lipton.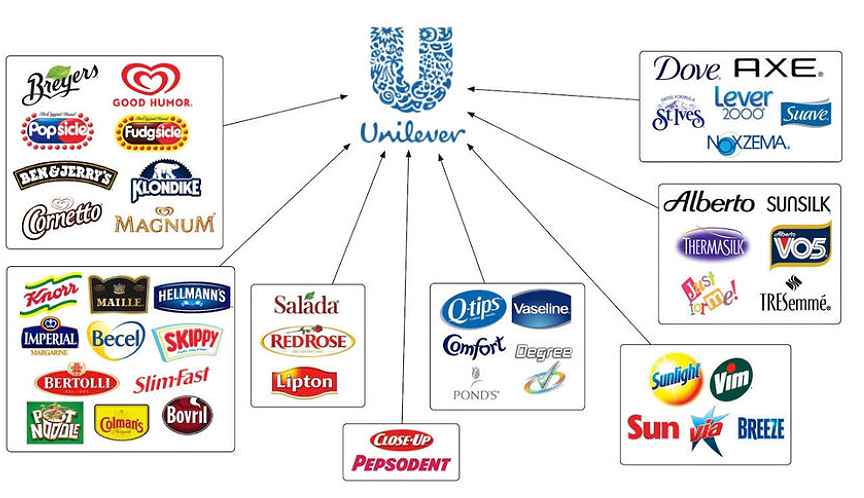 4. Innovation: Unilever heavily invests in research and development to develop innovative goods that meet the customers' changing needs. The organization comprises a research and development center allowing the development of new products while improving the existing ones.
The company's commitment to innovation has positively contributed to the organization's leadership in product development and a strong brand reputation.
Some of the groundbreaking Unilever products include Cif Eco refill. Made with 75 percent less plastic, the innovation provides an opportunity for one to refill and use Cif spray bottles over and over. Furthermore, it is 100 percent recyclable, with ten times concentration formula, which means 97 percent less water transportation.
Additionally, the organization is partnering with others to create environmentally friendly products. For instance, the discovery of rhamnolipids, a renewable and biodegradable ingredient that creates foam and acts on surface when cleaning.
Using this discovery, Unilever has created a new type of dishwashing liquid that is effective, renewable and ultra-sensitive on skin. The first global launch of the innovative new ingredients was in Quix dishwashing liquid in Chile.
Other innovative products include Hellmann's vegan mayonnaise, and sulfate-free hair care, among others.
5. Sustainability: The company is strongly committed to sustainability while reducing environmental impact. Unilever's sustainable living plan includes goals like reducing greenhouse gas emissions, improving water efficiency and sourcing sustainable raw materials.
Its focus on sustainability has played a critical role in attracting environmentally aware customers, helping the organization reduce waste and energy use costs.
6. Diversified product portfolio: Unilever provides a range of products across different categories, which include food, home care, personal care and beauty. The diversification aids Unilever in benefiting from cross-selling opportunities while leveraging the market efforts across several categories.
The company's diversified product portfolio has contributed to its strong financial performance helping Unilever weather economic downturns in some regions or categories.
7. Strong business model. The strong and highly sustainable business model has enabled the company to withstand tough economic recessions. Its adaptive business model allows it to maintain lower operating costs while overcoming disasters like the pandemic. As a result, the company has maintained its market leadership while retaining its growth momentum.
Weaknesses
1. High threat of substitution. While the company has a wide range of consumers from all socio-economic groups through its large and diverse product portfolio, the market is full of substitutes with low switching costs. This makes it challenging and expensive to maintain consumer loyalty, which requires heavy investment in marketing and promotion. Particularly, this is difficult in regions with cheap labor and raw materials like Asia and Africa.
2. Change in consumer preference with a significant shift towards natural products. Many consumers are replacing Unilever's products with natural and/or traditional options. This is attributable to health and wellness awareness attributable to increased lifestyle diseases and climate change.
3. Over-dependence on the retailer. The brand's performance and reputation heavily depend on the retailer's performance. Unilever has a network of over 25 million retailers to sell its products globally.
However, there is a lack of forward integration abilities, and as a result, the retailers enjoy significant control over sales. Some big brand retailers have established private label brands competing with Unilever products.
4. Lack of diversification. The company can be categorized into beauty and personal care, foods and refreshments and home care. The product portfolio is full of similar or matching products with low differentiation, resulting in higher competitive pressure.
5. Complex organizational structure. Unilever has a complex organizational structure with multiple business units and brands, making implementing changes fast or responding to market changes challenging.
The complexity can result in duplication of efforts and increased costs. Unilever should simplify the organizational structure by improving agility, streamlining decision-making processes and reducing costs.
6. Pricing pressure. The consumer goods industry is highly competitive, and Unilever faces pricing pressure from global and local players. The pressure can impact the company's margins and profitability, particularly in markets with intense competition. Unilever should focus on optimization and developing strategies to improve pricing power by investing in marketing, innovation, and brand building.
7. Negative impact on the environment. Despite Unilever's commitment to sustainability, some of its products and operations still negatively impact the environment. The effects can result in reputational damage, regulatory scrutiny, and increased costs associated with environmental compliance.
Unilever must continue reducing its environmental footprint by investing in sustainable practices, reducing waste, and promoting environmentally friendly products.
Opportunities
1. Emerging markets. Unilever can benefit more from new markets, including China, India, and Brazil. They have a high population, which the company can tap into. Furthermore, Unilever can benefit from cost advantages in these markets, including lower labor costs and accessibility to raw materials.
2. Sustainable and health-friendly products. Unilever can capitalize on its customers' increased trend toward health and wellness. They include natural, organic, and free from artificial ingredients, in addition to exploring opportunities in the functional food and beverage market that is growing fast.
3. Invest in technologies. With advanced technology, Unilever has an opportunity to capture more market share. The company partnered with Microbac Laboratories to create a mouthwash technology. This is an opportunity to expand the operations.
4. Maximize on the E-commerce. The world is shifting towards online shopping. The company has an opportunity to leverage the technology to reach more consumers while remaining relevant in the market. Furthermore, Unilever can also explore opportunities in direct-to-consumer sales, which can provide greater control over pricing and distribution.
5. Mergers and acquisitions. Unilever can expand its product portfolio and geographic reach through strategic partnerships, including mergers and acquisitions. The company can use its strong financial position and market leadership to acquire complementary businesses that add value to the existing operations.
6. Sustainability. Unilever can differentiate more from its rivals through continued investment in sustainable practices as well as promotion of eco-friendly. This helps in attracting environmentally aware consumers in addition to building brand loyalty. Unilever can benefit from cost savings associated with sustainable practices like reduced waste and energy use.
7. Product Innovation. Unilever has an opportunity to continue investing in innovation to develop new products. Unilever can also explore opportunities in emerging technologies, like artificial intelligence and blockchain, which can help improve supply chain efficiency while enhancing the consumer experience.
8. Brand recognition. The company can further develop its brand portfolio through increased marketing and advertisement. This helps the company maintain brand awareness and loyalty by introducing new products. Furthermore, through advanced marketing and advertisements, Unilever can leverage its brand portfolio in cross-selling products while benefiting from economies of scale.
Threats
1. Increased competition. The fast-moving consumer goods industry is characterized by intense competition. High competition pressures contribute to higher operating costs for Unilever.
Major competitors include Proctor & Gamble, Mondelez International, and Colgate Palmolive, which significantly affect the pricing strategies, market share, and profitability. To remain competitive, Unilever should continue investing in product development, marketing, and branding.
2. Economic uncertainty. Unilever operates in a global economy that is subject to economic volatility and uncertainty. For instance, Unilever is yet to recover fully following the Covid-19 pandemic outbreak. This had a significant impact on consumer demand, supply chain operations as well as pricing. Unilever has to develop strategies to manage such risks, which include diversification of the revenue streams, cost management, and investment in supply chain resilience.
3. Regulatory changes. The consumer goods industry is highly regulated, and any changes significantly impact the company. Regulations cover product safety, environmental labeling standards, and labor laws. The company should always be aware of regulatory changes in target markets while complying with the necessary laws and standards.
4 Exposure to changes in currency exchange rates. The company operates in different geographical regions subject to changes in currency rates. Any currency fluctuations significantly impact revenue, costs, and profitability, attributable to global economic conditions and political events, among other variables. The company should develop strategies to manage currency risks, such as hedging, pricing optimization, and cost management.
5. Supply chain disruptions. The company is heavily dependent on the global supply chain, which is subject to risks like natural disasters, geopolitical events, and labor disruptions. The disruptions might affect the company's ability to meet the consumer's demand leading to increased costs. The organization should invest in supply chain resilience and contingency planning to prevent these risks.
6. Change in consumer preferences. Consumer preferences and tastes are changing rapidly, and Unilever needs to remain ahead of the changes to stay relevant. For instance, changes in lifestyle trends, health and wellness preferences, and sustainability concerns. The company should invest in market research and product development to remain relevant to these changes while continuing to meet consumer needs.
7. Technological disruptions. The fast-moving consumer goods industry is highly susceptible to technological disruptions, which affect Unilever's operations and revenue. They range from shifts in the manufacturing process and materials to increased adoption of e-commerce and direct-to-consumer sales. Unilever must invest in technology and innovation to remain ahead of the disruption while improving its operations and products.