This is General Motors Company SWOT analysis. For more information on how to do a SWOT analysis please refer to our article.
Company Background
| | |
| --- | --- |
| Name | General Motors Company |
| Founded | September 16, 1908 |
| Logo | |
| Industries served | Automotive, Finance |
| Geographic areas served | Worldwide (more than 140 countries) |
| Headquarters | Detroit, Michigan, United States |
| Current CEO | Mary T. Barra |
| Revenue (USD) | $152.356 billion (2015) 2.3% increase over $155.929 billion (2014) |
| Profit (USD) | $9.687 billion (2015) 245% increase over $3.949 billion (2014) |
| Employees | 215,000 (2016) |
| Main Competitors | Bayerische Motoren Werke AG, Chrysler Group LLC, Daimler AG, Ford Motor Co., Honda Motor Company, Nissan Motor, Tata Motors, Ltd., Toyota Motor Corporation, Volkswagen AG and many other automotive companies. |
General Motors Company (further GM) is a multinational automotive company based in Detroit, U.S. The company designs, manufactures and sells various vehicles, including cars, trucks, commercial vehicles, crossovers and automobile parts. It is the second largest automobile manufacturer in the world.[1] In 2015, GM produced 9.958 million vehicles and captured 11.2% of the global automotive market share.
GM controls a strong brand portfolio and sells its vehicles under 10 different brands, such as: Chevrolet, Buck, GMC, Cadillac, Opel, Vauxhall, Holden, Baojun, Wuling and Jiefang. GM's primary markets are China and the U.S.
You can find more information about the business in General Motors official website or Wikipedia's article.
SWOT
General Motors SWOT analysis
Strengths
Weaknesses

Joint ventures with local Chinese automotive companies
Strong position in the U.S. automotive market
Sustainability and environmental policies
Safe and eco-friendly vehicles
Strong brand portfolio
OnStar all-in-one assistant
Rare product recalls

Weaknesses

Dependence on U.S. to generate most of the revenue
Brand awareness
Reliance on pickup trucks and SUVs for sales growth

Opportunities
Threats

Low fuel prices are increasing the demand for pickup trucks and SUVs
Timing and frequency of the new model releases
Demand for autonomous vehicles

Threats

Increased competition
The rising U.S. dollar exchange rate
Increasing government regulations may raise the costs
U.S. automotive market is poised to slow down or even decline
Strengths
1. Joint ventures with local Chinese automotive companies
General Motors' largest market in terms of number of vehicles sold is China.[2] In 2015, the company and its joint ventures sold over 3.612 million vehicles in China alone (5.2% more than in previous year) and captured 14.9% market share.
The main reason behind such GM's success is its joint ventures in China. The company has in total 11 partnerships in China, which employ over 58,000 employees. SAIC General Motors Corp., Ltd. (SMG) is the largest of GM China's ventures jointly created with a key partner Shanghai Automotive Industry Corporation (SAIC). Both companies and their joint venture SMG control the majority of the other General Motors' joint ventures in China. SMG is also the largest vehicle producer in China.
A joint venture with local Chinese automotive companies has allowed GM to overcome most of the foreign market entry barriers and accelerated the company's growth in China. The company gained an access to the local brands and opened the market for its own brands. Few of General Motors' rivals have succeeded in China so well.
2. Strong position in the U.S. automotive market
General Motors is one of the traditional "big three" automotive brands in the U.S., which also include Ford and Chrysler. Despite the company's bankruptcy and reorganization in 2009, the company remained the largest automotive manufacturer in the U.S., where it holds over 17.3% market share.[1]
Table 1. U.S. vehicle market share in 2015 (vehicle units in thousands)
| Company | Vehicles | Market Share % |
| --- | --- | --- |
| General Motors | 3,082 | 17.3 |
| Ford | 2,677 | 14.7 |
| Toyota* | 2,715 | 15.3 |
| Chrysler | 2,244 | 12.6 |
Source: Ford SWOT analysis [3] (*data for Toyota is for the whole North America segment, which includes U.S., Canada and Mexico)
U.S. is the second largest automotive market in the world and is the largest GM's market in terms of revenue. The company has earned over 60% of its revenue from the U.S. alone.
Therefore, company's strong position in the U.S. provides GM an additional competitive edge against its competitors.
3. Sustainability and environmental policies
Since GM has enrolled into U.S. Environmental Protection Agency (EPA) ENERGY STAR energy-reduction challenge in 2010, the company has already avoided over $237 million in energy costs and reduced 1.8 million metric tons of carbon emissions in 73 of its U.S. facilities.[4] The company was able to cut its energy spending per vehicle produced by 5.6% in 2015 alone.
GM's environmental and sustainability policies didn't stop there. The company has converted its global headquarters and an additional 122 facilities landfill-free and has committed to 100% renewable energy by 2050. It is also the only automaker in the world, which has signed 'Climate Declaration' to help solve climate change.[5]
No other automoanufacturer has received so many EPA ENERGY STAR awards or converted, so many of its facilities landfill-free as General Motors.
General Motors commitment to sustainable and clean environment results in lower costs, happier communities around it, attracts lots of positive publicity and strengthens brands image.
4. Safe and eco-friendly vehicles
Safety is GM's main priority when designing and building new vehicles. The company focuses on producing the safest cars in the industry. It is the only automaker to receive five-star safety ratings for 19 of its 2016 vehicle models.[5]
Moreover, the company's is producing some of the eco-friendliest vehicles. General Motors has been granted the most clean-energy patents between all automakers for more than a decade and is using them on building its new electric vehicles.
Chevrolet Volt has been awarded the 'Green Car of the Year' award for the last two years.
5. Strong brand portfolio
Currently, General Motors sell its vehicles under 10 different brands: Chevrolet, Buick, GMC, Cadillac, Opel, Vauxhall, Holden, Baojun, Wuling, Jiefang.
Figure 1. General Motors Brands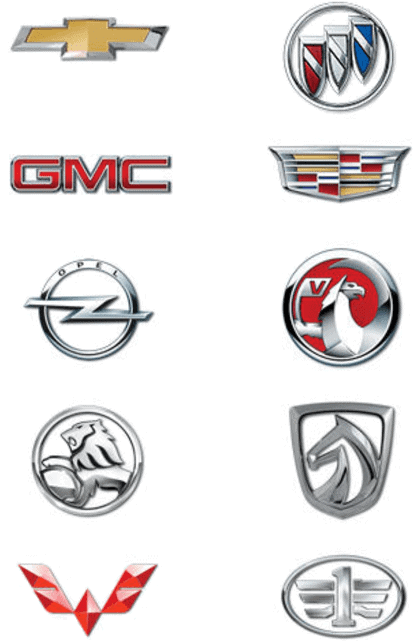 Source: About GM [5]
Except Volkswagen, no other company can compare its brand portfolio with General Motors. [3]
Huge portfolio of different brands helps GM to satisfy various consumers' needs and attracts more customers than fewer brands would. Even though it adds to brand dilution, the benefits of owning many brands are superior.
6. OnStar all-in-one assistant
The most unique feature that General Motors vehicles have is a subscription based OnStar all-in-one assistant. OnStar was introduced to GM vehicles in 1997 and has now over 7 million subscribers. The assistant includes the following services:
Emergency. Provides immediate help in an emergency situation.
Security. Prevents theft or locates the vehicle when stolen.
Navigation. Comprehensive turn-based navigation.
Connections. Provides 4G LTE and WiFi hotspots.
Vehicle Manager. Sends automatic report and tips to improve driving.
OnStar is a unique selling proposition that adds distinctiveness to GMs vehicles and helps to sell them.
7. Rare product recalls
Recalls are inevitable for any automaker due to a complex manufacturing process, thousands of parts and sophisticated software used. General Motors is no exception, the company had a large recall in 2016 due to a software defect. Nonetheless, the company has one of the lowest recall rates in the U.S. – only 958 recalls per 1000 vehicles sold.[8] In comparison, Ford's recall rate 1139/1000, while Volkswagen's recall rate is 1805/1000.
Frequent product recalls damage the company's brand and decrease sales, all of which General Motors easily avoids.
Weaknesses
1. Dependence on U.S. to generate most of the revenue
General Motors is the U.S. based automaker, which like most of its competitors, rely on its home market to generate most of the revenue.
Table 2. General Motors' revenue breakdown by country
| Country | Revenue Share |
| --- | --- |
| United States | 62.3 |
| Canada | 7.2 |
| China | 7.1 |
| United Kingdom | 3.4 |
| Brasil | 3.2 |
| Other | 17.8 |
Source: General Motors financial report[1]
However, when compared to its key rivals, GM's revenue share from the home market was the highest. Ford receives only 55.5% from the U.S., while Toyota receives only 41.9% from Japan.
By relying on the U.S. market for the majority of its revenue GM becomes vulnerable to the changing economic conditions, demand or brand reputation.
2. Brand awareness
As mentioned earlier, huge brand portfolio increases the company's core brand dilution. It also adds to the fact that General Motors doesn't sell any product using its own company name.
That's why General Motors, being the 2nd largest auto manufacturer in the world, is outranked in brand recognition by such rivals as Toyota, Mercedes-Benz, BMW, Honda, Ford, Hyundai, Volkswagen, Nissan, Porsche, Kia, Land Rover, Mini and Tesla.[7]
Lower brand awareness requires lots of advertising and more efforts in introducing new products to the market.
3. Reliance on pickup trucks and SUVs for profit
While General Motors offers a balanced portfolio of small, mid-sized and large cars, crossovers, SUVs, and trucks, it mainly relies on large vehicles such as SUVs and pickup trucks to generate most of the profits.[1]
SUVs and pickup trucks have higher profit margins than the rest of the cars and are very popular in the U.S. They've been one of the fastest growing segments in the whole automotive market over the past few years, due to the low petrol prices. This helped GM to generate huge profits.
GM's success now mainly depends on the fuel prices and consumer preference, which change very often.
Opportunities
1. Low fuel prices are increasing the demand for pickup trucks and SUVs
Currently, fuel prices are the lowest in a decade. Such situation has encouraged consumers to buy big fuel-inefficient vehicles such as SUVs and pickup trucks.
The trend of low fuel prices is likely to stay and General Motors should strengthen its pickup truck and SUV offerings to take an advantage of the growing market for these vehicles and to increase company's profitability.
2. Timing and frequency of the new model releases
The market share of the automotive companies is significantly impacted by the timing and frequency of new model releases. Historically, the new models have tended to have major upgrades every 4 or 5 years with only minor modifications in between. However, due to the rising consumer expectations in relation to in-car technology and the competitive nature of the industry, there is an argument to release the upgraded models more frequently. General Motors is well-positioned to be able to do this.
3. Demand for autonomous vehicles
Currently, nearly 33 companies are working on autonomous vehicles.[10] Few of them, including Google, Ford and Tesla, are testing their autonomous vehicles on the roads and none of them are selling these cars to the general public. It is hard to estimate the exact demand or the market value (it is expected to be worth US$45 billion by 2025) for the autonomous vehicles, but according to the efforts of all the major automakers, it seems that autonomous vehicles is the next 'big thing' for the industry.
GM is also working on introducing its autonomous vehicles and expects to launch them by 2020. The company has been purchasing self-driving technology startups in order to acquire the technology and patents.
General Motors with its new acquisitions and the expertise gained through OnStar assistant is capable to introduce some of the best driverless cars and benefit from the demand for such cars.
Threats
1. Increased competition
General Motors is faced with an ever increased competition from the traditional automotive companies, the new players and saturation of its main markets.
In China, one of the key company's markets, new home based Chinese manufacturers are competing by offering lower prices, but similar quality build vehicles.
New companies, such as Tesla with its electric cars is competing directly against GM's Chevrolet Volt. In addition, Google, which tries to build self-driving cars is also threatening the traditional automotive industry. The competition is further fueled by the fact that the global automotive production capacity far exceeds the demand. In 2015, there was an estimated global excess production capacity of 31 million units.[3]
2. The rising U.S. dollar exchange rate
Over 37% of General Motors revenue come from the international markets, which means that the company has to convert foreign currencies to U.S. dollar in order to calculate its revenues and send profits back to the U.S. Currency rates are volatile and the company's profits and revenue highly depend on the fluctuating exchange rates. The company cannot control currency exchange rates, therefore it is at risk, if the U.S. dollar exchange rates would start to rise. In this case, the company's profits would decrease significantly.
3. Increasing government regulations may raise the costs
Many governments around the world are committed to reducing the greenhouse gas emissions and are encouraging fuel efficiency initiatives. There is always a risk that such environmental initiatives may increase production costs for the car manufacturers and that these costs won't be able to be recouped in such a highly competitive and price-sensitive market.
4. U.S. automotive market is poised to slow down or even decline
In the U.S., 2015 and 2016 were the best years for automotive industry since 2007. New vehicle sales have increased on average by nearly 6% each year.[1] Every automaker competing in the U.S. was able to grow their sales even when losing market share. General Motors also benefited from that.
Nonetheless, automotive market growth in the U.S. is slowing down. According to Ford and General Motors, new vehicle sales will slow down or even decline over the next few years due to the oversaturated market.[9]
Sources
General Motors (2016). Annual Report 2015. Available at: https://www.gm.com/content/dam/gm/en_us/english/Group4/InvestorsPDFDocuments/2015AnnualReport.pdf Accessed December 8th, 2016
General Motors (2016). All About GM: GM China. Available at: http://www.gmchina.com/gm/en/aboutGM/GMChina Accessed December 8th, 2016
Jurevicius, O. (2016). Ford SWOT analysis 2016. Available at: https://strategicmanagementinsight.com/swot-analyses/ford-swot-analysis/ Accessed December 8th, 2016
General Motors (2016). Five Star Rating: GM Earns Fifth ENERGY STAR® Award. Available at: http://www.gm.com/mol/m-2016-mar-0328-energy-star.html Accessed December 8th, 2016
General Motors (2016). About GM. Available at: http://www.gm.com/company/about-gm.html Accessed December 8th, 2016
OnStar (2016). Home. Available at: https://www.onstar.com/us/en/home.html Accessed December 8th, 2016
Interbrand (2016). Best Global Brands. Available at: http://interbrand.com/best-brands/best-global-brands/2016/ranking/ Accessed December 8th, 2016
Auto Remarketing (2016). Where automakers rank when it comes to recalls. Available at: http://www.autoremarketing.com/trends/where-automakers-rank-when-it-comes-recalls Accessed December 8th, 2016
Pugliano, B. (2016). August US auto sales down; carmakers say industry has peaked. Available at: http://www.cnbc.com/2016/09/01/august-us-auto-sales-drop-for-gm-ford-as-expected.html Accessed December 8th, 2016
CB Insights (2016). 33 Corporations Working On Autonomous Vehicles. Available at: https://www.cbinsights.com/blog/autonomous-driverless-vehicles-corporations-list/ Accessed December 8th, 2016