This article contains a deep dive into Delta Air Lines, one of the largest airlines in the world. Specifically, we will discuss how the company capitalizes on its strengths to ensure consistent strong performance, as well as the emerging opportunities it could pursue to realize its growth goals.
We will also look at the internal weaknesses it needs to address, as well as the external threats that can severely affect its business.
Company Overview
| | |
| --- | --- |
| Name | Delta Air Lines, Inc. |
| Logo | |
| Founded | December 3, 1928 |
| Founder | Collett E. Woolman |
| Industry | Air Transportation |
| Headquarters | Atlanta, Georgia |
| Website | https://www.delta.com/ |
| Markets Served | Over 130 countries and territories, primarily U.S. |
| President and CEO | Edward H. Bastian |
| Number of Employees | 95,000 (2022) |
| Revenue | $50.6 billion (2022) |
| Net Income | $1.318 billion (2022) |
| Main Competitors | United Airlines, American Airlines, Southwest Airlines, Alaska Airlines, JetBlue Airways, Spirit Airlines, Frontier Airlines, Allegiant Air, Breeze Airways and Avelo Airlines |
Delta Air Lines, one of the world's major airlines, traces its origins to 1925 when it was Huff Daland Dusters, an agricultural flying company offering crop-dusting services. The company then extended its operations, establishing an international mail and passenger route in the western part of South America.
The year 1928 marked a significant turning point when Collett Woolman acquired the company and rebranded it as Delta Air Service. After securing the Air Mail Route 24 from the U.S. Post Office in 1934, the company adopted the name Delta Air Lines.
In 1941, the company relocated its headquarters from Monroe, Louisiana, to Atlanta, Georgia. Four years later, it underwent another name change, becoming Delta Air Lines, Inc. The company started operating international routes in 1953, following the merger with Chicago and Southern Air Lines. Two years later, it introduced the hub and spoke system.
The merger with Northeast Airlines in 1972 made Delta a significant carrier operating the New York and Boston routes. It then began its own guaranteed cargo service, named Delta Air Express, in 1975. Following the deregulation of airlines in 1978, Delta launched its transatlantic service and began transpacific service after merging with Western Airlines in 1987.
In 2000, Delta launched SkyMiles, a global alliance with Aeromexico, Air France, and Korean Air. It successfully thwarted a hostile takeover bid by United Airways in 2007. The following year, Delta expanded significantly by acquiring Northwest Airlines.[1]
Today, Delta Air Lines operates flights to over 275 destinations worldwide. Its services range from budget-conscious offerings to premium experiences, reflecting the needs and preferences of a diverse customer base.
Delta Airlines SWOT Summary
Strengths
Weaknesses
1. Strong brand reputation
2. Expansive fleet
3. Wide-reaching network
4. Robust strategic partnerships and alliances
5. Optimized operational efficiencies
6. Outstanding customer service and experience
1. High dependence on the U.S. market
2. Unionized part of the workforce
3. Precarious financial position
Opportunities
Threats
1. Revitalized global travel
2. Strengthening complementary business segments
3. Leveraging digital technologies
4. Exploring innovative marketing strategies
5. Increasing focus on sustainability
1. Unpredictable crises
2. Stiff competition
3. Economic downturns
4. Fluctuating fuel costs
5. Flight incidents
6. Cybersecurity threats
Strengths
1. Strong brand reputation
Delta Air Lines is one of the most reputable airlines, known not only in the U.S. but also in the world. Its reputation has been cemented by various awards from numerous organizations over the years.
One of the most recent accolades it has received is from Fortune. The media company ranked Delta 12th in its 2023 list of Most Admired Companies, which is determined by a survey of the 645 highest-revenue companies across 27 industries. The company has been among the top 50 for 10 consecutive years, since 2014.[2]
Within the airline industry, it is the top-ranked company, beating its major competitors in the U.S., Southwest Airlines (23rd) and United Airlines Holdings (298th).
In 2023, the company has also been recognized by BrandFinance as the world's most valuable airline brand, with a value of $8.9 billion.[3] Delta has also previously been recognized by other reputable institutions such as Tenet Partners (Top 100 Most Powerful Brands), Kantar (BrandZ Top 100 Most Valuable U.S. Brands) and JUST Capital (The JUST 100: Companies Doing Right by America).[4]
This consistently positive market reputation empowers Delta to attract and cultivate relationships with a broad range of stakeholders, including customers, industry partners, investors, and employees, contributing to the company's success.
2. Expansive fleet
Delta operates the second-largest fleet in the world. It boasts an impressive total of 902 Airbus and Boeing aircraft as of 2022. The company also has three regional carriers operating 352 Bombardier and Embraer aircraft on the company's behalf, including Endeavor Air, Inc., a wholly-owned subsidiary of Delta, SkyWest Airlines, Inc., and Republic Airways, Inc.[5],[6]
Delta also continues to expand its fleet, with contractual purchase commitments for 328 additional aircraft in the coming years, with 43 of them expected to be delivered by 2023.
This expansive fleet enables the company to continue expanding its network and serving a growing customer base, ensuring that the market demand for the company's products and services is met. As Delta advances in its fleet expansion and modernization, it can improve the customer experience and increase its fuel efficiency, leading to more sustainable operations, diversified premium products, and increased profitability.
3. Wide-reaching network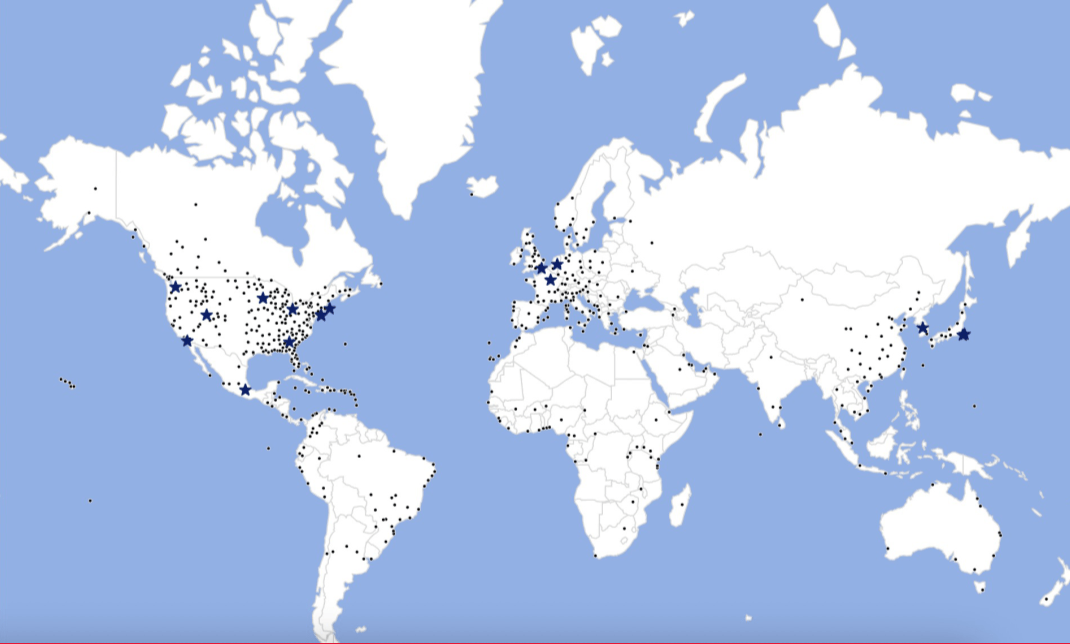 Delta boasts an extensive international network, serving over 275 destinations across six continents via approximately 4,000 daily flights as of the end of 2022. Through strategic partnerships with other airlines, Delta's reach extends even further, enabling the company to provide service to over 800 destinations across 130 countries and territories.
In the U.S., Delta focuses its operations around domestic core hubs located in Atlanta, Minneapolis-St. Paul, Detroit, and Salt Lake City. These core hubs are the strongholds of the company, where it holds significant market share, caters to its most loyal customers, and realizes higher profit margins.
Complementing these core hubs, the company also operates coastal hubs situated in Boston, Los Angeles, New York-La Guardia, New York-JFK, and Seattle. These coastal hubs enable Delta to penetrate larger revenue markets characterized by higher passenger traffic and an abundance of premium product customers.
Beyond U.S. borders, Delta maintains hubs and a significant market presence in Amsterdam, London Heathrow, Mexico City, Paris-Charles de Gaulle, and Seoul-Incheon.[7]
This broad internal network, amplified by the expansive reach of its international partners, equips Delta with the capability to serve a vast customer base and provide a more seamless passenger experience. For Delta, this translates into an enhanced competitive position and robust business performance.
4. Robust strategic partnerships and alliances
For Delta to better serve its customers and boost its international presence, it establishes and maintains strategic partnerships with other major airlines in key markets globally.
These partnerships primarily manifest as joint ventures or commercial agreements. They encompass joint marketing initiatives, coordinated pricing, shared airport facilities, participation in loyalty programs, and in many instances, revenue sharing. To secure alignment of interests, Delta has made equity investments in many, if not all, of its partners.[8]

Delta's current partners include:
Aeroméxico – Expands route network to enhance travel between the U.S. and Mexico, with Delta owning a 20% equity stake in the airline's parent company, Grupo Aeroméxico, S.A.B. de C.V.
LATAM – Offers comprehensive combined carrier network access across more than 300 destinations throughout the Americas, with Delta owning 10% equity stake in LATAM.
Korean Air – Operates a transpacific joint venture offering access to more than 290 destinations in America and 80 in Asia, with Delta owning just under 15% equity stake in Hanjin-KAL, Korean Air's parent company.
Air France, KLM and Virgin Atlantic – Leverages a commercial joint venture agreement to enable transatlantic travel experience, with Delta having a 49% non-controlling equity stake in Virgin Atlantic, and a 3% equity stake in Air France-KLM.
China Eastern – Serves customers between U.S. and China through a commercial cooperation agreement, with Delta owning 2% share of China Eastern.
WestJet – Provides seamless transborder travel experience between the U.S. and Canada.[9]
Strategic partnerships are crucial to Delta's success in international markets. These partnerships allow Delta to reach a larger customer base, enhance customer experiences, and guarantee a more robust revenue stream.
5. Optimized operational efficiencies
Delta is well-known for its operational reliability. It is consistently among the industry's best performers in terms of completion factor as well as on-time arrival and departure rates. As a testament to this, the company continuously receives numerous awards and recognition from various reputable organizations for its operational performance.
Most recently, Delta was named the Top U.S. Airline by the Wall Street Journal for the second straight year in 2022. The media company tracks the performance of nine U.S. airlines across seven operational and customer metrics in its annual airline scorecard rankings. WSJ reported that Delta ranked number 1 overall and in three metrics, including completion factor, on-time arrivals, and involuntary bumping.[10],[11]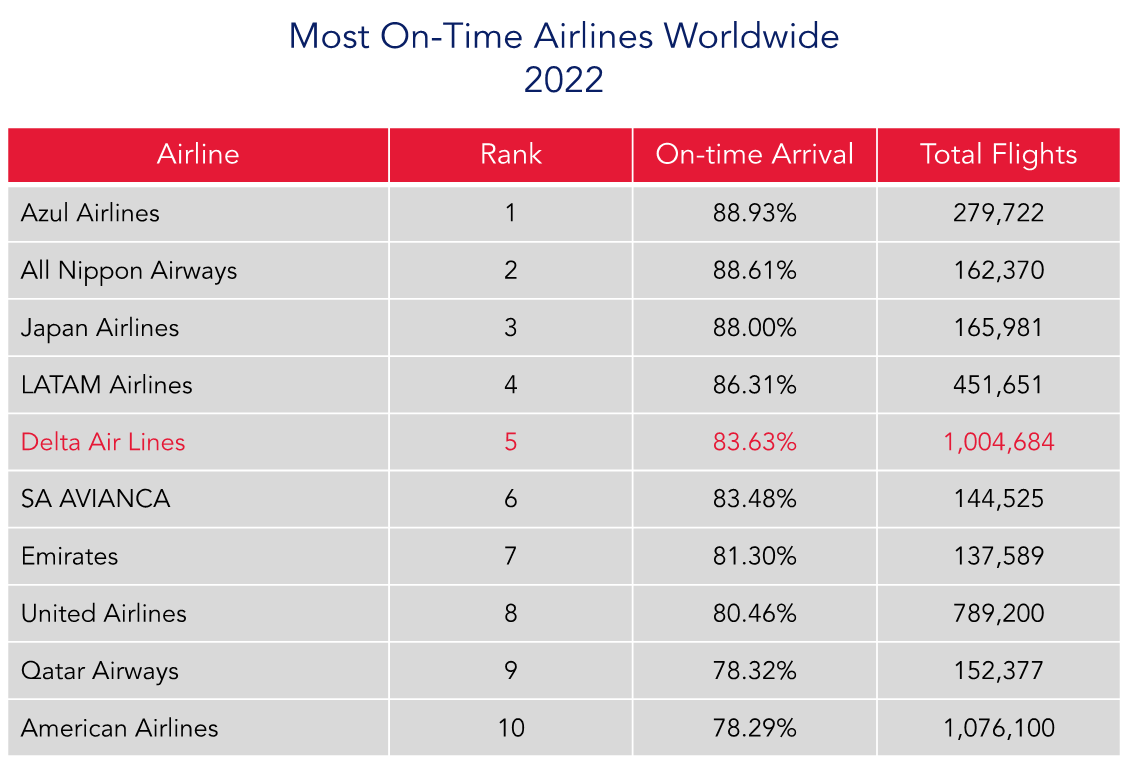 Delta also received the Cirium Platinum Award for global operational excellence for the second consecutive year in 2022. The award cited Delta's efforts to minimize customer disruptions, on-time performance, and operational complexity.[12]
The company has also received other recognitions for its operational excellence, including OAG Aviation Worldwide as the most on-time airline in North America and WalletHub as the most reliable and best carrier in the U.S.[13]
This operational excellence boosts the overall market reputation of Delta Air Lines. It affirms the company's commitment to customers by providing reliable service. It enables the company to attract more customers and foster loyalty among existing ones.
6. Outstanding customer service and experience
Delta strives to provide differentiated, personalized, and seamless travel experiences to its customers. This is evident in how it continually leverages innovative technology and approaches to improve its customer service.
In addition to the recognition it regularly receives from media companies and other industry-focused entities, as highlighted above, Delta's efficient operational performance elicits positive feedback from customers.
For instance, the company was named the number one airline in the Business Travel News Airline survey of corporate travel professionals for the 12th consecutive year in 2022. This survey considers corporate customers' perception of airlines' customer service, sales relationships, distribution networks, and product offerings.[14]
Delta was also recognized as the best airline in the U.S. in 2022 by Conde Nast's readers. Customers lauded the company's in-flight and airport facilities and services, and the use of high-tech innovations as key drivers for their positive feedback.[15]
Delta's commitment to customers extends beyond its operational excellence and the services and facilities it makes available to customers. The company also maintains a comprehensive loyalty program called SkyMiles, to foster deeper customer relationships.
The SkyMiles program enables members to earn miles when traveling with Delta and its international partners, as well as when accessing services offered by partner entities, including credit card providers, hotels, and car rental agencies. Accumulated miles can be exchanged for free flights or upgrades on Delta, its regional carriers, and other partner airlines. Additionally, they can be used to redeem Delta Vacation packages.
Furthermore, select tiers within the SkyMiles program provide additional benefits such as fee waivers for baggage, access to SkyClub, vouchers, and priority check-in and boarding.[16]
These customer-centric initiatives allow Delta to attract new passengers and retain existing ones. With an ongoing commitment to customer satisfaction, a robust loyalty program, and excellent operational performance, Delta secures customer loyalty and trust. This directly contributes to the airline's strong reputation, financial performance, and competitive standing in the highly competitive airline industry.
Weaknesses
1. High dependence on the U.S. market
While Delta Airlines has been pursuing international expansion, primarily via joint commercial agreements with other airlines, the company remains significantly tethered to the U.S. market.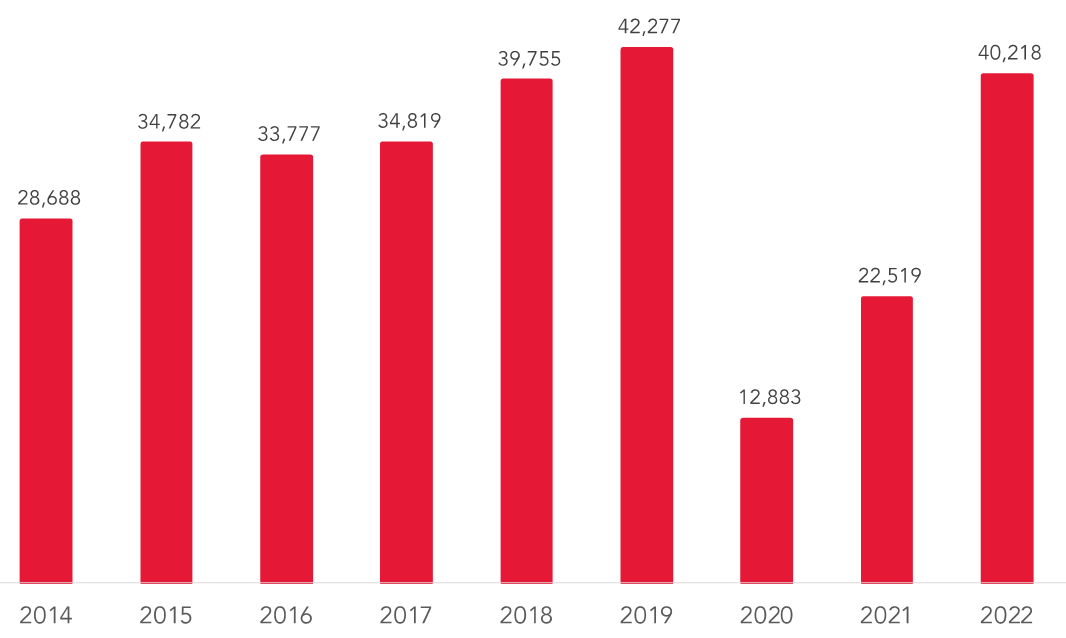 In the past ten years, the company has seen tremendous growth in passenger revenue, reaching $42.3 B in 2019. This seemingly upward trajectory was disrupted only by the COVID-19 pandemic. The company has been recovering since then, with its revenue nearly reaching pre-pandemic levels at $40.2 B by the end of 2022.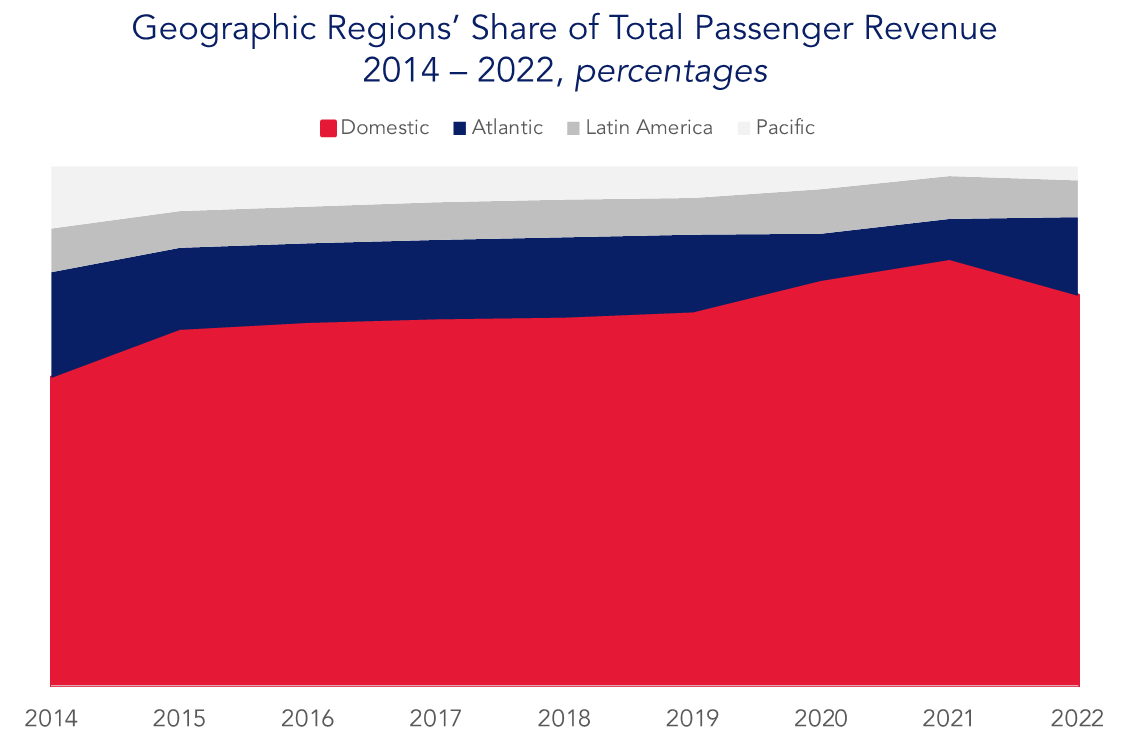 Revenue growth throughout these years was driven only by domestic operations, with the international segment seeing flat or negative growth. The percentage share of the domestic segment in total passenger revenue grew from 59% in 2014 to 75% in 2022, with the highest share seen in 2021 at 82%.
The Atlantic segment's share decreased from 20% to 15% over the same period, while Latin America hovered between 7-9%. The Pacific segment shrank significantly, from 12% in 2014 to just 3% in 2022.[17]
This increasingly high dependence on the domestic segment puts the company in a vulnerable position for any potential economic downturn in the country. Without any other significant segment to rely on, it may struggle to weather the negative effects of such events on the company's financial performance.
2. Unionized part of the workforce
Delta Air Lines is unique due to the relatively low percentage of its workforce that is unionized, at only 20% as of 2022. This stands in stark contrast to some of its competitors, such as American Airlines, where the rate of unionization is significantly higher, at approximately 87%.[18]
The only major unionized group within Delta consists of pilots, with a total of 15,040 Delta pilots and 1,750 pilots from its regional carrier Endeavor Air represented by the Air Line Pilots Association, International. Most of the company's flight attendants are non-unionized, with the exception of 1,800 Endeavor flight attendants who are represented by the Association of Flight Attendants-CWA.[19]
Despite the relatively small fraction of unionized workers, it still poses risks to Delta. For instance, events such as strikes, particularly during intense negotiations for new collective bargaining agreements, could significantly disrupt the company's operations.
As the unionized workforce is largely made up of pilots, the potential for flight cancellations during a strike is high. This could result in increased customer dissatisfaction and additional expenses for the company, such as compensation for affected passengers. Moreover, it could potentially impact Delta's operational efficiency, reputation, and overall customer trust.
3. Precarious financial position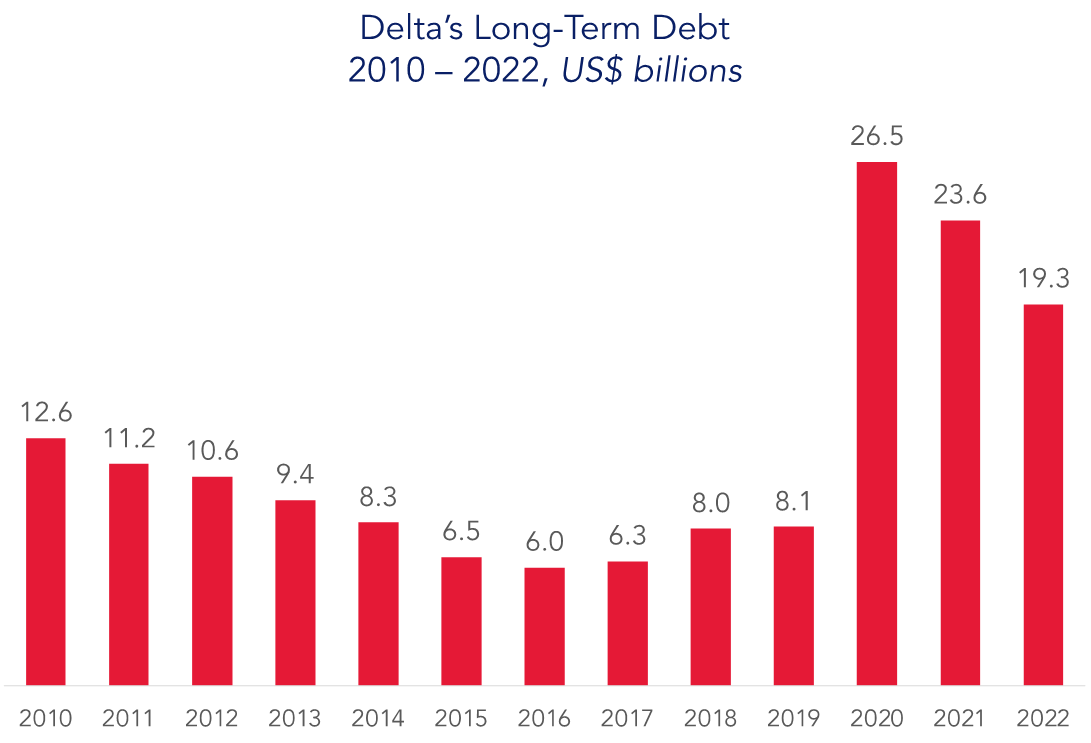 Historically, Delta Air Lines has maintained a robust financial position characterized by minimal indebtedness. Before the year 2020, the company's debt levels remained manageable, standing at $12.5 billion in 2010 and reaching a low of $6 billion in 2016.
The COVID-19 pandemic, however, dealt a severe blow to the firm's operational and financial standing. Travel restrictions and lockdown measures dramatically curtailed demand for Delta's services, leading to a marked drop in revenue. Yet, despite this shortfall, the company had to continue incurring operating expenses to preserve its business operations.
As a result, the company was forced to obtain $25.9 B from financing transactions to mitigate the liquidity risk brought about by the pandemic, much of which came in the form of debt. Consequently, the company's long-term debt ballooned to $26.5 B in 2020.[20]
While Delta is currently in a phase of recovery and has managed to reduce its debt levels as of 2022, another unforeseen event that significantly depresses demand for air travel could have catastrophic implications to its financial health. Such an event could compel the company to allocate a significant part of its cash flow for debt servicing, reducing funds that could have been used for strategic expansion and other growth initiatives, as well as dividend distributions to shareholders.
Accordingly, the company should contemplate developing a more robust contingency plan to safeguard its financial health against potential future crises. Maintaining a healthy cash reserve and establishing flexible credit lines could provide a financial cushion during periods of low demand or unforeseen disruptions.
Opportunities
1. Revitalized global travel
As international borders reopen and mobility restrictions are lifted, domestic and international travel are nearly back to their pre-pandemic levels. Research firm Verified Market Research projects the global airline market to grow from $551.3 B in 2022 to $762.7 B by 2030, representing an annual growth rate of 3.21%.[21]
As people regain some sense of normalcy in their lives and begin to travel once more, Delta should be prepared to meet the rising market demand, continuing to deliver the exceptional customer service for which it is known.
Additionally, Delta could launch fresh promotional campaigns to encourage more people to travel again. These could encompass discounted fares, more flexible booking policies, partnerships with popular travel destinations, complimentary use of amenities, and effective dissemination of information regarding its comprehensive safety and health measures.
By implementing these strategies, Delta could seize a larger share of the market as demand begins to surge again. This would aid the company in boosting its revenue performance and accelerating its financial recovery, ultimately allowing the company to quickly refocus on its growth-oriented objectives.
2. Strengthening complementary business segments
Delta also operates a portfolio of supporting businesses to complement its main airline business.
It manages a refinery through its subsidiary, Monroe Energy, LLC, which supplies jet fuel to the company's airline operations. Delta also generates revenue from its SkyMiles loyalty program through the sales and redemption of miles by third parties, as well as through its co-branded credit card with American Express. The company's ancillary business segment, consisting of Delta TechOps, offers maintenance and engineering support to airline and aviation customers worldwide, alongside its vacation wholesale subsidiary, Delta Vacations.
Delta should continue to explore new ways to further expand these businesses. They can provide a buffer and additional flexibility for the company, helping it withstand declines in demand during unforeseen events, leading to a more stable financial position. Furthermore, they can also continue to drive revenue growth, even amidst market saturation and tight competition in the airline industry.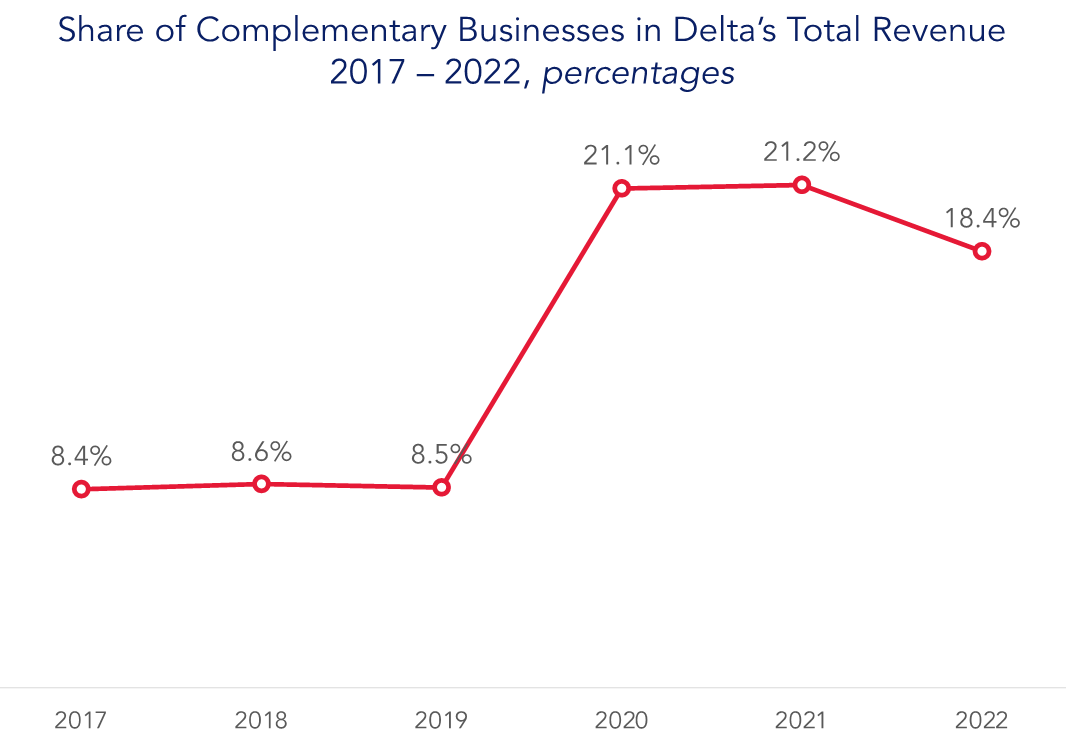 The company has already made significant progress in growing these segments. Their collective share of Delta's total revenue reached 18% in 2022, as opposed to less than 10% share before the pandemic.[22] Further growth in these areas will significantly improve its business performance and competitive position in the market.
3. Leveraging digital technologies
As the competition in the airline industry continues to intensify, particularly among the major U.S. airlines, Delta Air Lines should persist in exploring new ways to offer differentiated products and customer experiences. This can be achieved by investigating digital technologies and how they can transform current processes and value propositions – a strategy the company has already embarked upon.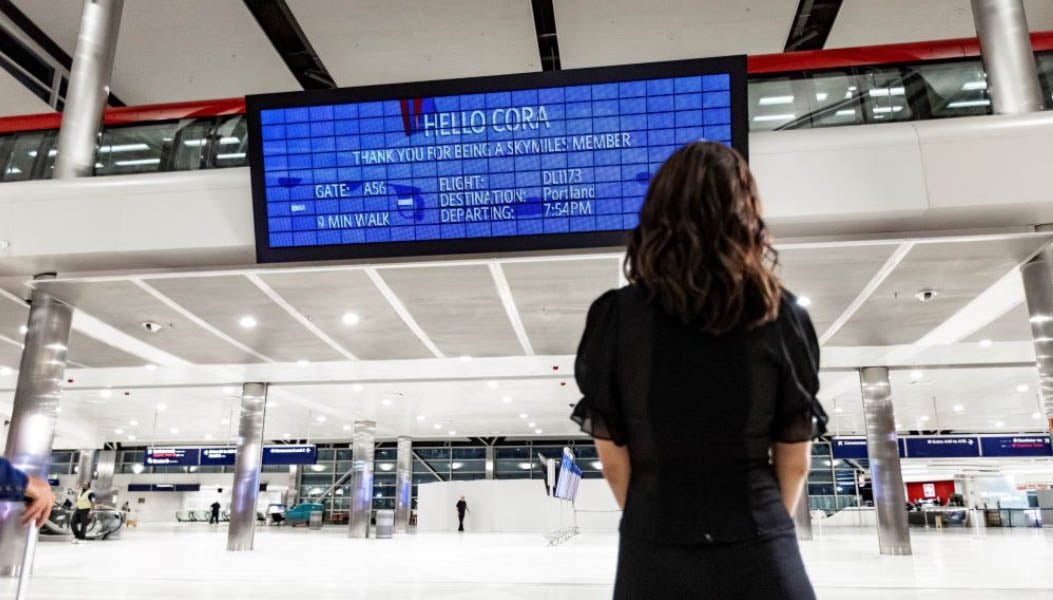 For instance, the company recently launched Parallel Reality at Detroit Metropolitan Airport. This feature allows multiple customers to privately view their flight information on a single shared screen.[23] For this innovative airport experience, the company was recognized as one of the Most Innovative Companies worldwide in 2023 by Fast Company.[24]
Delta continues to work on other technology-enabled initiatives designed to personalize and enhance customer experiences. These initiatives include new terminal and airport facilities, onboard network connectivity, and the use of biometrics for a seamless check-in process.[25],[26]
It has also introduced a weather app that pilots can use to stay informed about weather conditions during flights, enabling them to make better on-demand decisions, which could improve the overall passenger experience.[27]
Aggressively pursuing these digital initiatives could significantly benefit Delta in numerous ways. It could lead to enhanced customer experiences, minimizing disruptions and ensuring comfort throughout their journey, which is a primary driver for fostering loyalty. It could also further improve the company's operations, helping it maintain or even enhance its efficiencies.
Ultimately, all these elements could lead to a larger customer base, increased revenue, and continued success for the company.
4. Exploring innovative marketing strategies
A crucial growth opportunity Delta should consider is the creation of more aggressive marketing campaigns. Currently, the company does not prioritize marketing through popular media channels, with only sparse TV ad campaigns and direct engagement through social media channels.
This is evident in Delta's history, as it took 42 years for the company to launch a major marketing campaign for its SkyMiles loyalty program that was introduced in 1981.[28]
To accelerate business growth, Delta should consider heavier investments in marketing initiatives. As per Expedia Media Solutions, the largest demographic groups of travelers are Millennials, with an average of 35 travel days, and Gen Z, with 29 days.[29]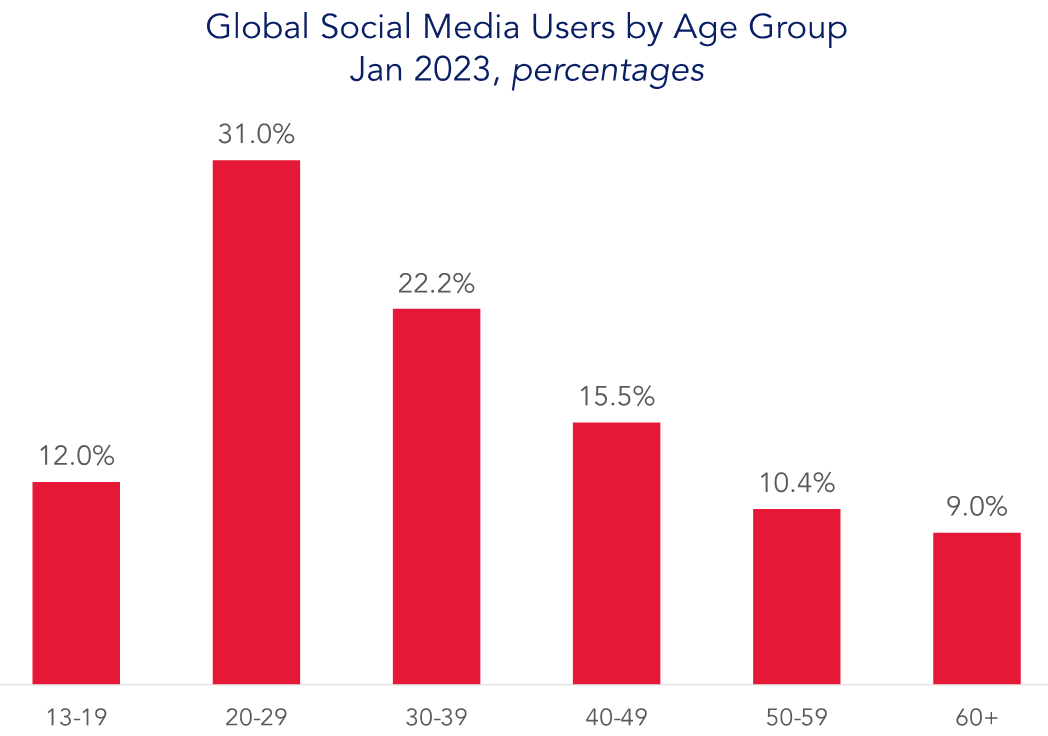 These age groups are most likely to be online frequently and are heavy users of various social media platforms. The Digital 2023 Report by Meltwater and We Are Social indicates that people between the ages of 20-39 make up over 50% of the world's social media users.[30]
Their brand discovery and spending behavior are, consequently, likely influenced by the online content they consume. According to Expedia's survey, 90% of Gen Z respondents reported that their purchase decisions are influenced by social media, while 72% of Millennials stated they are influenced by advertising.
As such, Delta could consider amplifying its social media presence. The company could craft more compelling and relevant social media marketing campaigns with messaging that resonates with these growing market segments' needs and demands. Delta could engage influencers whose opinions are highly regarded in these communities. The airline could also explore creating more personalized marketing campaigns and customer service through its official social media accounts.
While Millennials and Gen Z are known for their budget-conscious lifestyle, their substantial numbers, if effectively targeted by Delta, could still significantly expand its customer base and grow its revenue, boosting its overall performance.
5. Increasing focus on sustainability
As a leader in the global airline industry, Delta is an active player in driving sustainability. The company aims for net-zero carbon emissions by 2050 and to achieve this goal, Delta has launched numerous initiatives.
One of its main priorities is fleet modernization through the acquisition of newer, more fuel-efficient aircraft. Additionally, the company is developing a framework to enable its fleet to utilize sustainable aviation fuel for 10% of its total consumption by 2030, collaborating closely with multiple third-party fuel suppliers.
In parallel, Delta is innovating to make its ground operations more sustainable. The company is in the process of electrifying its essential ground equipment, targeting 50% electrification by 2025. Furthermore, Delta is conscientiously selecting its network of suppliers, favoring those with higher sustainability ratings and encouraging existing ones to adopt more eco-friendly practices.[31]
These focused sustainability efforts could bring significant benefits to Delta. They could strengthen the company's already solid market reputation, increasing its appeal to the growing segment of environmentally conscious customers, investors, and partners. By emphasizing the use of sustainable and more efficient technologies, Delta could also realize operational savings, further improving its bottom line.
Threats
1. Unpredictable crises
Natural disasters, disease outbreaks, geopolitical tensions, terrorist attacks, and other catastrophic events pose a significant risk to Delta's operations. These crises could prompt governments to enforce stringent mobility restrictions and create apprehension among customers about traveling. This, in turn, would lead to a dramatic decline in demand for Delta's services.[32]
Furthermore, if Delta's employees or facilities were directly impacted by any of these events, it could result in severe operational disruptions. The consequences might include reduced operational efficiency, increased customer dissatisfaction, and elevated operating expenses. Inevitably, these situations could negatively impact Delta's market reputation and significantly affect its financial performance.
Therefore, it is paramount for Delta to have a robust response plan in place to address such unpredictable events. Continual monitoring of the external environment for emerging threats that could potentially disrupt its operations and affect its customers is also critical. Through vigilant risk management and proactive planning, Delta can mitigate the impact of these threats and ensure business continuity.
2. Stiff competition
Delta operates in an intensely competitive airline industry. The company primarily competes with the three other largest airlines in the U.S., including American Airlines, United Airlines, and Southwest Airlines, which provide both domestic and international flights.
In the U.S. market, Delta also competes with smaller, domestic point-to-point carriers like Alaska Airlines and JetBlue Airways. Furthermore, there are low-cost airlines that cater to budget-conscious customers, including Spirit Airlines, Frontier Airlines, Allegiant Air, Breeze Airways, and Avelo Airlines.[33]
Internationally, the competitive landscape becomes much more complex, dominated by alliances between airlines, similar to Delta's SkyTeam, including:
Star Alliance – United Airlines, Lufthansa German Airlines, Air Canada, ANA, Air China, Swiss International Airlines, and Singapore Airlines[34]
One World Alliance – American Airlines, British Airways, Alaska Airlines, Cathay Pacific, Iberia, Japan Airlines, Qantas, and Qatar Airways[35]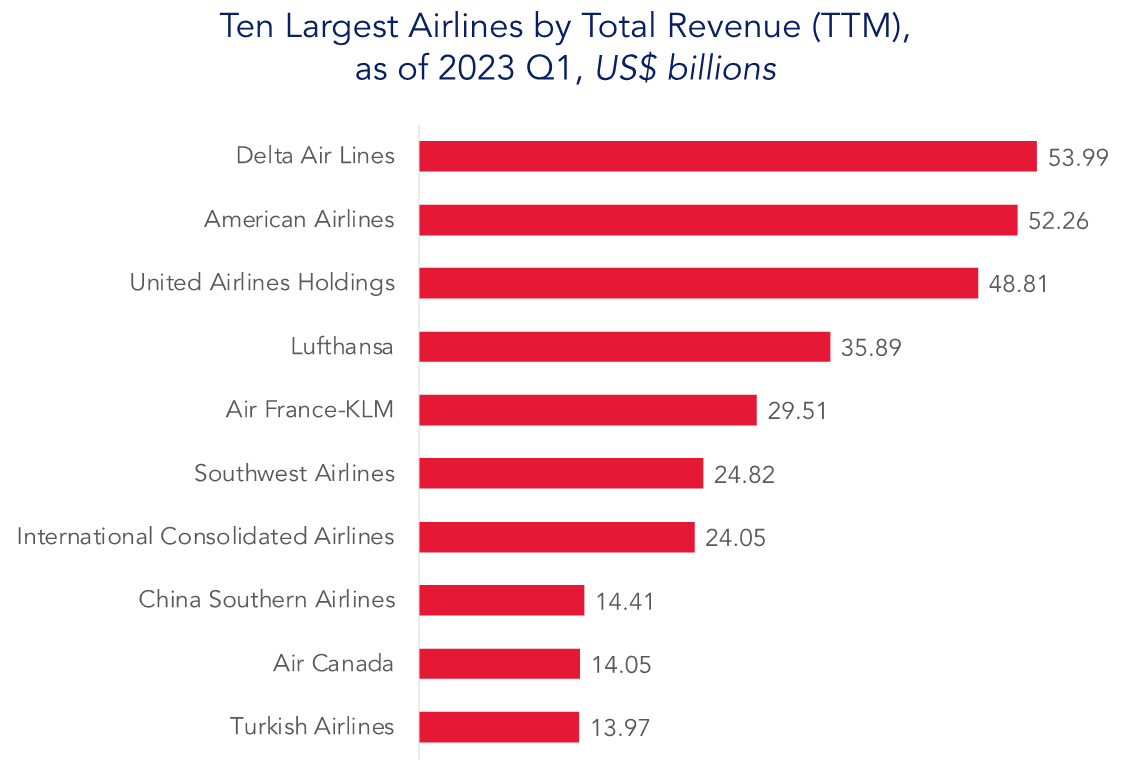 As of the end of Q1 2023, Delta Airlines is the largest airline in the world in terms of revenue, boasting a trailing twelve-month revenue of $53.99 B. It is closely followed by American Airlines at $52.26 B and United Airlines at $48.8 B.[36]
Although Delta currently holds the lead, it must avoid complacency and continue to monitor the market for any competitive developments, such as consolidation and new market entries. Furthermore, Delta should ensure it maintains operational efficiencies and persistently explore new ways to provide differentiated products and experiences to its customers, to solidify its leading position.
3. Economic downturns
Delta's operations can be significantly impacted by economic downturns. In times of economic recession, discretionary spending by consumers typically falls. As a result, many choose to cut back on non-essential expenses, such as leisure travel. Even critical travel can be deferred, or individuals may opt for less expensive alternatives or different modes of transportation when available.
Moreover, Delta's corporate clients are not immune to the effects of an unstable economy. Faced with their own financial uncertainties during such periods, these clients might decide to reduce or, in difficult situations, temporarily halt air travel for their employees as part of cost-saving measures.
These conditions can negatively influence the perceived affordability and accessibility of Delta's services, leading to a decline in market demand. This reduced demand could adversely affect Delta's revenue performance and overall financial health, necessitating a robust plan to maintain resilience during economic downturns. In such times, the company's ability to adjust its operations and offerings to suit the shifting market dynamics becomes an essential part of its survival strategy.
4. Fluctuating fuel supply and costs
Delta has developed a system for sourcing the necessary jet fuel for its operations. Its subsidiary company, Monroe, operates a refinery that supplies a significant amount of jet fuel to Delta. Monroe also maintains active agreements with third parties to exchange its non-jet fuel products for additional jet fuel to meet Delta's needs.
Alongside Monroe, Delta also engages in a number of contracts with external suppliers for jet fuel, the pricing of which is determined based on various market indices. The company occasionally sources fuel from the spot market as well.[37]
However, Monroe's current capacity does not fully safeguard Delta against price increases or supply shortages. Any rise in fuel costs still imposes an additional burden on the company. Furthermore, a global supply shortage could drive costs even higher, or worse, if Delta is unable to source sufficient fuel, it may result in business disruptions.
Delta may find it challenging to pass these increased costs onto customers due to the competitive nature of the airline industry. Attempting to do so might prompt customers to consider switching to competitors' products and services, exacerbating the adverse financial impact on the company.
5. Flight incidents
As an airline, Delta deals with delicate flight operations where passenger lives are under its responsibility. Therefore, any plane crash or severe accident involving one of its aircraft could subject the company to immense liability.
Such events could create a negative public perception of the company and erode customer trust, potentially driving customers away. They would also trigger investigations that could further damage the company's reputation in the eyes of customers, investors, industry partners, regulators, and other stakeholders. Ultimately, these highly sensitive incidents could cause significant harm to the company's success.
Delta has had its share of such incidents in its history. The most tragic occurred on August 2, 1985, when Delta Air Lines Flight 191 from Fort Lauderdale, Florida to Los Angeles crashed while approaching Dallas/Fort Worth International Airport for a scheduled stop. The crash claimed the lives of 128 out of the 152 passengers, along with eight out of the 11 flight crew members.[38]
This incident resulted in the longest trial in the country's aviation history, lasting 14 months from 1988 to 1989. The court found Delta ultimately responsible for the crash due to its pilot's negligence, although the ruling also mentioned negligence on the part of involved government personnel.
The crash cost the company at least $66 million in death, injury, and damage claims, and significantly damaged the company's market reputation.[39]
Consequently, Delta must always prioritize the safety of its passengers and crew. Ensuring this involves rigorous aircraft maintenance, periodic screening and assessment of flight crew members, and continuous dialogue with regulators and other relevant parties.
6. Cybersecurity threats
As part of its regular operations, Delta collects, stores, and processes sensitive data, making it vulnerable to cybersecurity threats. Unauthorized entities could infiltrate the company's systems, as well as those of its partners, causing significant harm to its IT infrastructure and potentially seizing control of its data assets.
Should these attempts prove successful, they could force the company to incur substantial remedial, legal, and other expenses. Compromised systems could also lead to disruptions in the company's operations. Ultimately, such incidents can damage the company's reputation and hurt its overall performance over an extended period.
Consequently, Delta must continue to proactively detect, intercept, and address these risks as they emerge. The company also needs to ensure it has an updated response plan and continuously explore best-in-class digital technologies to better protect its technological infrastructure and data assets.
Sources
1. "Delta's history: From dusting crops to connecting the world," Delta Air Lines, https://news.delta.com/deltas-history-dusting-crops-connecting-world. accessed on June 10, 2023.
2. "World's Most Admired Companies," Fortune, https://fortune.com/ranking/worlds-most-admired-companies/2023/search/. accessed on June 10, 2023.
3. "Airlines 50 2023," Brand Finance, https://brandirectory.com/rankings/airlines/, accessed on June 10, 2023.
4. "Delta Air Lines," Ranking the Brands, https://www.rankingthebrands.com/Brand-detail.aspx?brandID=482. accessed on June 10, 2023.
5. "2022 Annual Report," Delta Air Lines, https://s2.q4cdn.com/181345880/files/doc_financials/2022/q4/DAL-12.31.2022-10K-2.10.23.pdf. accessed on June 10, 2023.
6. "Our Aircraft," Delta Air Lines, https://www.delta.com/us/en/aircraft/overview. accessed on June 10, 2023.
7. "2022 Annual Report," Delta Air Lines, https://s2.q4cdn.com/181345880/files/doc_financials/2022/q4/DAL-12.31.2022-10K-2.10.23.pdf. accessed on June 11, 2023.
8. Ibid.
9. "Airline Partnerships," Delta Air Lines, https://www.delta.com/us/en/airline-partners/overview. accessed on June 11, 2023.
10. "The Best and Worst Airlines of 2022," The Wall Street https://www.wsj.com/articles/best-worst-us-airlines-flights-cancellations-delays-baggage-11673982171. accessed on June 11, 2023.
11. "Delta named top U.S. airline by Wall Street Journal for 2022," Delta Air Lines, https://news.delta.com/delta-named-top-us-airline-wall-street-journal-2022. accessed on June 11, 2023.
12. "Most on-time airlines and airports of 2022 unveiled by Cirium," Cirium, https://www.cirium.com/thoughtcloud/most-on-time-airlines-and-airports-of-2022-cirium/. accessed on June 11, 2023.
13. "OAG rates Delta as North America's most on-time airline," Delta Air Lines, https://news.delta.com/oag-rates-delta-north-americas-most-time-airline. accessed on June 11, 2023.
14. "Delta named No. 1 in Business Travel News Survey for 12th consecutive year," Delta Air Lines, https://news.delta.com/delta-named-no-1-business-travel-news-survey-12th-consecutive-year. accessed on June 11, 2023.
15. "The Best Airlines in the U.S.: 2022 Readers' Choice Awards," Condé Nast Traveler, https://www.cntraveler.com/galleries/best-airlines-in-us. accessed on June 11, 2023.
16. "Medallion benefits at each tier," Delta Air Lines, https://www.delta.com/us/en/skymiles/medallion-program/medallion-benefits. accessed on June 11, 2023.
17. "SEC Filings," Delta Air Lines, https://ir.delta.com/financials/default.aspx. accessed on June 11, 2023.
18. "2022 Annual Report," Americal Airlines Group Inc., https://americanairlines.gcs-web.com/static-files/17d0cc52-6d04-4a6e-b60e-2fcba0e69fc7. accessed on June 12, 2023.
19. "2022 Annual Report," Delta Air Lines, https://s2.q4cdn.com/181345880/files/doc_financials/2022/q4/DAL-12.31.2022-10K-2.10.23.pdf. accessed on June 12, 2023.
20. "SEC Filings," Delta Air Lines, https://ir.delta.com/financials/default.aspx. accessed on June 12, 2023.
21. "Global Airlines Market Size," Verified Market Research, https://www.verifiedmarketresearch.com/product/airlines-market/. accessed on June 12, 2023.
22. "2022 Annual Report," Delta Air Lines, https://s2.q4cdn.com/181345880/files/doc_financials/2022/q4/DAL-12.31.2022-10K-2.10.23.pdf. accessed on June 12, 2023.
23. "Parallel Reality unlocks simpler, personalized airport experience for Detroit customers," Delta Air Lines, https://news.delta.com/parallel-realitytm-unlocks-simpler-personalized-airport-experience-detroit-customers. accessed on June 12, 2023.
24. "Delta earns spot on Fast Company's annual list of Most Innovative Companies," Delta Air Lines, https://news.delta.com/delta-earns-spot-fast-companys-annual-list-most-innovative-companies. accessed on June 12, 2023.
25. "Delta debuts dazzling Terminal C facility at New York's La Guardia Airport," Delta Air Lines, https://news.delta.com/delta-debuts-dazzling-terminal-c-facility-new-yorks-laguardia-airport. accessed on June 12, 2023.
26. "Delta says USA's 'first biometric terminal' is ready to go at Atlanta airport," USA Today, https://www.usatoday.com/story/travel/flights/todayinthesky/2018/11/29/delta-usas-first-biometric-terminal-ready-go-atlanta-airport/2145655002/. accessed on June 12, 2023.
27. "Groundbreaking app helps Delta pilots avoid turbulence," Airline Staff Rates, https://www.airlinestaffrates.com/groundbreaking-app-helps-delta-pilots-avoid-turbulence/. accessed on June 12, 2023.
28. "What Delta's SkyMiles Program campaign tells us about the future of the travel industry," HubSpot, https://blog.hubspot.com/marketing/delta-skymiles. accessed on June 12, 2023.
29. "U.S. Millennials travel the most but Gen Z is on the rise too," Skift, https://skift.com/2017/10/02/u-s-millennials-travel-the-most-but-gen-z-is-on-the-rise/. accessed on June 12, 2023.
30. "Digital 2023: Global Overview Report," We Are Social and Meltwater, https://datareportal.com/reports/digital-2023-global-overview-report. accessed on June 12, 2023.
31. "Our Flight to Net Zero," Delta Air Lines, https://www.delta.com/us/en/about-delta/sustainability. accessed on June 12, 2023.
32. "2022 Annual Report," Delta Air Lines, https://s2.q4cdn.com/181345880/files/doc_financials/2022/q4/DAL-12.31.2022-10K-2.10.23.pdf. accessed on June 12, 2023.
33. Ibid
34. "Star Alliance Member Airlines," Star Alliance, https://www.staralliance.com/en/members. accessed on June 12, 2023.
35. "oneworld Member Airlines," oneworld, https://www.oneworld.com/members. accessed on June 12, 2023.
36. "Top publicly traded airlines by revenue," Companiesmarketcap.com, https://companiesmarketcap.com/airlines/largest-airlines-by-revenue/. accessed on June 12, 2023.
37. "2022 Annual Report," Delta Air Lines, https://s2.q4cdn.com/181345880/files/doc_financials/2022/q4/DAL-12.31.2022-10K-2.10.23.pdf. accessed on June 12, 2023.
38. "Delta Air Lines Flight 191," Wikipedia, https://en.wikipedia.org/wiki/Delta_Air_Lines_Flight_191. accessed on June 12, 2023.
39. "Judge blames crew, absolves weather service in Delta 191 crash," AP News, https://apnews.com/article/e9f59e44de06ce90cd49ab896d8a8444. accessed on June 12, 2023.