Red Bull is the best-selling energy drink in the world. Known for its unconventional marketing tactics, the company has grown exponentially since 2000.
Can Red Bull sustain this growth, or is it in danger of losing its wings? This article takes a look at Red Bull's SWOT (strengths, weaknesses, opportunities and threats) to evaluate the current status of the company and what the future might hold.
Company Overview
| | |
| --- | --- |
| Name | Red Bull GmbH |
| Founded | 1984 |
| Logo | |
| Industries served | Energy Drinks |
| Geographic areas served | Worldwide (over 171 countries) |
| Headquarters | Fuschl am See, Austria |
| Current CEO | 3 member CEO board: Franz Watzlawick (CEO Beverage Business) Oliver Mintzlaff (CEO Corporate Projects), Alexander Kirchmayr (CFO) |
| Revenue | $10.53 billion (2022) |
| Employees | 15,779 (2022) |
| Main Competitors | PepsiCo Inc., The Coca-Cola Company, Rockstar inc,. Monster Beverage, Lucozade, Dr Pepper Snapple Group, Inc. |
Founded in 1984 and now with more than 40% market share worldwide, Red Bull is the world's largest and one of the oldest producers of energy drinks.
Figure 1: Global Energy Drinks Market Share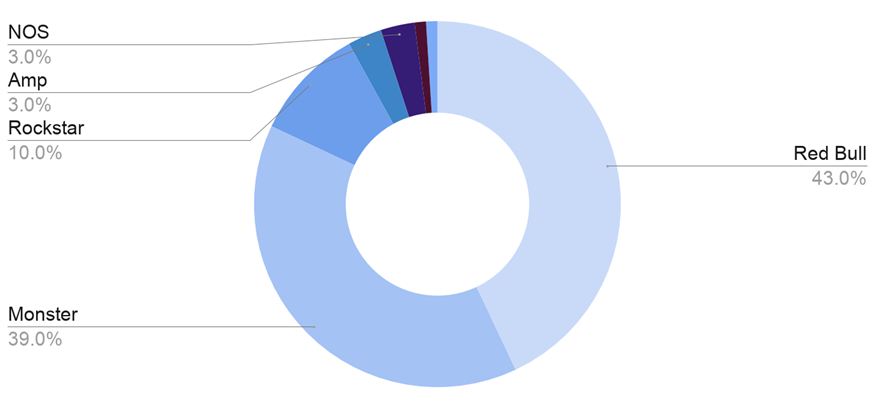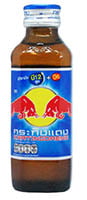 The Red Bull story began when Austrian entrepreneur Dietrich Mateschitz discovered the tonic "krating daeng" during a visit to Thailand. "Krating daeng" was created by a Thai businessman, Chaleo Yoovidhya, to help workers stay alert during long shifts. Mateschitz spotted the potential and partnered with Yoovidhya to bring the drink to Europe. The recipe was adapted to Western tastes, re-branded as Red Bull and marketed as a high-energy drink to fuel athletes and fast-paced lifestyles. It was launched in Austria in 1987, marking the start of the Energy Drinks category.
Figure 2: The Founders of Red Bull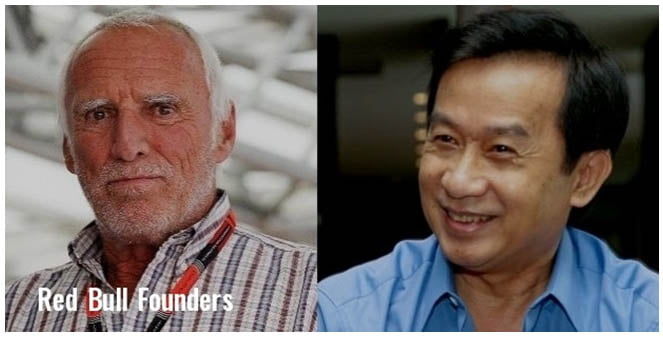 Red Bull has since expanded its reach across the globe and is now sold in more than 171 countries. Today Red Bull offers a variety of energy drinks, including sugar-free, zero-calorie and special edition options, although 'Red Bull Energy Drink' remains its flagship product.
Red Bull's mission statement is "giving wings to people and ideas". Arguably, their ability to center everything they communicate and do around this mission has led to their success.
Red Bull is known for its "bring the people to the product" approach to marketing. It puts its customers at the center and focuses on the activities they love to do.
As a result, Red Bull now plays across a number of industries, including sports, media and travel. However, beverages continue to be its dominant revenue stream. It has been said that Red Bull is a lifestyle, sport and culture company that happens to sell energy drinks.
Figure 5: Timeline of Red Bull Early Years

Red Bull SWOT Analysis
Strengths
Weaknesses
1. Category leader
2. Rapid and sustained growth
3. A marketing powerhouse
4. Powerful brand
5. Efficient supply chain
6. Global reach
7. Product diversification
8. Strong financial position
1. Limited variety
2. Premium pricing
3. Health concerns
4. Environmental impact
5. Copycat products
6. Under investigation for violating antitrust rules
Opportunities
Threats
1. Increase variety
2. Improve health credentials
3. Compete directly in sports energy
4. Emerging markets
5. Invest in sustainability
6. Leverage technology
1. Inflation leading to rising costs
2. Cost of living crisis
3. Stiff competition
4. Increased regulation
5. Health concerns
6. Geopolitical tensions threaten supply chains
Strengths
1. Category leader
Red Bull dominates the energy drinks market with a majority share. This gives Red Bull an unfair competitive advantage, which can be explained by the marketing law of Double Jeopardy.
– Double Jeopardy law states that lower market share brands have fewer buyers (1st jeopardy) and that these buyers will be less loyal (2nd jeopardy).[1]
Red Bull, being the market leader, will not only have more buyers, but they will be more loyal and so will continue to benefit from this advantage.
2. Rapid and sustained growth
Red Bull continues to see double-digit year-on-year growth. In 2022 sales were the best in the company's history to date, with nearly all markets delivering outstanding sales. The company finances growth initiatives from operative cash flow, so a strong business performance enables strong business plans for the future.
3. A marketing powerhouse
Red Bull is known for its innovative and effective marketing. Key strengths are:
Consumer-centric: Red Bull has aligned the brand so closely to what their consumers enjoy (adrenaline sports). They don't push the product; they create a lifestyle their audience wants to be part of.
Produce great quality content: Red Bull Media House, an in-house media department, was established to focus entirely on generating rich content. They have been referred to as a media production company that sells energy drinks.
This content resonates with its audience and reinforces the brand image. The proof is in the scale of their social media channels: more than 11 million subscribers on YouTube, over 17 million followers on Instagram, 47 million likes on Facebook and 2 million followers on Twitter.
They also have a Red Bull Content Pool where journalists can access news, exclusive interviews, photos and videos to be used for free. This gives Red Bull great control over how the brand is presented.
Experiential and sponsorship experts: Red Bull is known for their high-octane events. They are designed with their audience in mind and reflect their brand values, reinforcing the brand's link to their lifestyle.
Heavy marketing investment: It is reported that Red Bull re-invests 25-35% of its revenue on marketing.
This is significantly higher than the likes of Coca-cola and Pepsi, who invest roughly 10% of its revenue on marketing.
4. Powerful brand
Since launch Red Bull has had a consistent messaging strategy around "Red Bull Gives You Wings" resulting in over 90% brand awareness across its key markets.
In 2021 the brand was valued at around 17.5 billion dollars.[2]
5. Efficient supply chain
Red Bull has a highly efficient supply chain. It has established a global network of production facilities and distribution centers, meaning its products can be manufactured close to its target market, minimizing the time and cost to deliver the product.
6. Global reach
Red Bull has a substantial global reach being sold in over 171 countries. A broad presence brings more stability and opportunities for future growth.
7. Product diversification
Red Bull has been diversifying its range with new flavors since 2012 and continues to focus on its 'Organics' range to bring new consumers into the brand.
Red Bull has also diversified through non-beverage sectors such as car racing, air racing and production. Although it could be argued these are all means to build the Red Bull brand and, ultimately, energy drink sales.
8. Strong financial position
Red Bull is a privately held company, meaning it isn't bound to external investors. It avoids debt, using cash flow to fund its investments. Mateschitz once commented, "At Red Bull, we only spend what we have earned, not what we might earn one day." This has allowed the company to invest heavily in marketing and other areas of the business, which has contributed to its success.
Weaknesses
1. Limited variety
The Red Bull portfolio is limited both when compared to what the competition are offering (Monster offers more than twice the variety) and what the possibilities are.
In the UK, flavored energy accounts for more than half of all volume sold.[3] Shoppers are demanding more variety and this weakness could be holding Red Bull back.
2. Premium pricing
Red Bull is positioned as a premium product, which can exclude a large proportion of customers. Energy drinks are often part of a regular routine, and so the price can be a big barrier, particularly during times of economic uncertainty.
3. Health concerns
Customers are increasingly health conscious, yet due to Red Bull's limited variety, they are heavily dependent on unhealthy, sugared products.
4. Environmental impact
Red Bull has been criticized for causing environmental pollution. Across many European countries, it is accused of being the most littered beverage brand.
Red Bull has also been accused of using unsustainable practices, such as using virgin aluminum to make their cans. The process of making aluminum is highly polluting and is a cause of deforestation.[4]
5. Difficult to prevent copycat products
The contents of Red Bull aren't patented, meaning similar products can be made, and they would be hard to stop.
6. Under investigation for violating antitrust rules
As of 21 March 2023, the Commission had concerns that Red Bull may have violated EU antitrust rules that prohibit cartels and restrictive business practices. Companies found breaching EU antitrust rules face fines of as much as 10% of their global turnover.[5]
Opportunities
1. Increase variety
Changing lifestyles, tastes and continuous innovations in the market are driving demand.[6] Red Bull needs to adapt and respond to these changes by extending its product lines to offer more choices. Offering a wider variety can help broaden its consumer base.
Format variety should not be overlooked – the demand for convenience and ready-to-drink is also driving growth.
Expanding its format offering could give Red Bull a wider reach.
2. Improve health credentials
With the rise of healthier lifestyles and new trends, Red Bull could offer reformulated options. Improving differentiation can also help in the fight for shelf space in stores. Plant-based, natural caffeine and nootropic are all options to drive incremental growth.
These options could also help offset the threat of increased regulation.
3. Compete directly in sports energy
Red Bull has a long history of sports. It has the credentials to compete head-to-head with sports drinks.
4. Emerging markets
Red Bull dominates the US and Europe. However, opportunities for growth in mature markets can be hard. Focusing on expansion in emerging markets such as Africa, South America and Asia can bring significant growth.
5. Invest in sustainability
Red Bull has faced criticism for its impact on the environment. There is an opportunity to invest in sustainability initiatives, such as using recycled material to minimize the use of virgin aluminum.
More transparent communication of its initiatives could also help. For example, it is unclear whether they currently use any recycled aluminum in their production process.
6. Leverage technology
Red Bull could use technology to enhance its existing marketing initiatives and broaden their reach. For example, using augmented or virtual reality to create immersive experiences for its customers.
Threats
1. Inflation leading to rising costs
The IMF forecasts global inflation to be 6.6% in 2023. As a result, production costs have risen.
There is a difficult choice to be made between continuing to pass these costs on to the consumer, which may result in a sales decline, or taking a profit hit.
2. Cost of living crisis
As living expenses rise, consumers are becoming increasingly cautious about how they spend their money. The energy drinks category is considered to be a staple product, designed to be part of daily life and so fairly resistant to recessionary times.
However, the premium positioning of Red Bull means trading down to cheaper competitors is a threat.
3. Stiff competition
The energy drink market is very competitive, and in developed markets, it is becoming saturated. Smaller brands occupying niche spaces and offering high quality at competitive prices threaten the growth opportunities for dominant brands such as Red Bull.
4. Increased Regulation
Energy drinks have come under scrutiny in recent years. There are concerns related to the caffeine and sugar content as well as their effects on heart health and mental health. As a result, the category could become increasingly regulated:
– Scientists in Europe are calling for a legal framework to regulate the levels of active components, size and improved labeling to mitigate the health risks associated with excessive use.
– In the UK, the Government is rolling out regulations on HFSS products (High Fat, Salt, Sugar).
October 2022: placement of HFSS products was restricted, meaning they could no longer be placed in high visibility areas of the store, such as checkouts and store entrances.
October 2023: volume promotions (e.g. extra free, multi-buy promotions) will be prohibited on HFSS products.
October 2025: TV adverts for HFSS products will not be allowed between 5.30 am and 9.00 pm.[7]
Increased regulations could affect the marketing, sale and formulation of energy drinks which could impact revenue and profit for companies such as Red Bull.
5. Health Concerns
As people become more health conscious and calls for tighter regulations increase, consumers may seek out healthier alternatives.
6. Geopolitical tensions threaten supply chains
Geopolitical tensions and trade disputes could impact the global supply chain. This could potentially lead to disruptions in production and distribution.
A BDO report which surveyed businesses across Europe, MEA, APAC and the Americas found that 78% of global business leaders believe geopolitical tensions pose the most severe threat to supply chains today.[8]
Summary
Red Bull is a world-class brand and leads the way in the energy drinks sector. Its biggest threats include calls for tougher regulations, price rises and increasing competition.
Their focus on truly keeping the audience at the center of everything they do and building a "Red Bull lifestyle" has put them in a good place to defend their number one position.
The company will need to innovate and adapt to changing market conditions and consumer preferences in order to maintain its position as a market leader.
Sources
1. "How Brands Grow: Part 1—The Double Jeopardy Law Explained." Peel Research, https://peelresearch.com/how-brands-grow-part-1-the-double-jeopardy-law-explained/. Accessed 14 April 2023.
2. "Brand value of Red Bull worldwide from 2016 to 2022." Statista, https://www.statista.com/statistics/1225791/red-bull-brand-value/. Accessed 14 April 2023.
3. "Expanding category – More shoppers are buying energy products." Grocery Trader, https://grocerytrader.co.uk/expanding-category-more-shoppers-are-buying-energy-products/. Accessed 14 April 2023.
4. "3 European environmental NGOs join forces to address the Red Bull can pollution." Recycling Netwerk, https://recyclingnetwerk.org/en/2020/10/21/3-european-environmental-ngos-join-forces-to-address-the-red-bull-can-pollution/. Accessed 14 April 2023.
5. "EU raids energy drink maker Red Bull in antitrust probe" CBS News, https://www.cbsnews.com/news/eu-raids-red-bull-in-antitrust-probe/. Accessed 14 April 2023.
6. "Energy Drinks Market Size." Grand View Research, https://www.grandviewresearch.com/industry-analysis/energy-drinks-market. Accessed 14 April 2023.
7. "Introducing further advertising restrictions on TV and online for products high in fat, salt or sugar." Gov.uk, https://www.gov.uk. Accessed 14 April 2023.
8. "Majority of C-suite leaders say geopolitical tensions pose biggest threat to supply chains." BDO United Kingdom, https://www.bdo.co.uk/en-gb/news/2022/majority-of-c-suite-leaders-say-geopolitical-tensions-pose-biggest-threat-to-supply-chains. Accessed 14 April 2023.