This SWOT analysis of Porsche examines the strengths, weaknesses, opportunities, and threats surrounding this high-performance sports-car manufacturer with a rich legacy of over nine decades.
The report assesses the internal and external factors affecting Porsche's business environment while looking at its current and future potential.
Company Overview
| | |
| --- | --- |
| Name | Porsche (Registered name: Dr. Ing. h.c. F. Porsche AG) |
| Founded | 25 April 1931, Stuttgart, Germany |
| Logo | |
| Website | https://www.porsche.com |
| Industries served | Automotive – Premium, Sports, Crossover E-commerce – Porsche Merchandise products |
| Geographic areas served | Worldwide (120 Countries)[1] |
| Headquarters | Stuttgart, Germany |
| Current CEO | Oliver Blume (2015 – present) |
| Revenue | 37.6 billion € (2022) |
| Profit after tax | 4.957 billion € (2022) |
| Employees | 36,688 (15.3% women) as of 2022 |
| Main Competitors | Mercedes Benz, Ferrari, Jaguar, Aston Martin, Bentley, Lamborghini, Lexus, Maserati, Tesla |
Porsche is one of the world's most successful luxury automotive manufacturers. The brand is synonymous with design & engineering heritage, racing legacy, performance, prestige, innovation, and technological achievement.
Dedicated to track-tuned performance, the German brand is an automotive icon. With a foundation built on power, performance, speed, and emotion, the Porsche brand and its legendary models like the Porsche 911 have stood the test of time.
Porsche's motorsport legacy runs deep.
Take the 24 Hours of Le Mans[2] race for example – an endurance-focused racing event where the car covering the longest distance in 24 hours wins. With speeds reaching up to 366 km/h (227 mph), cars are tested to their limits of performance and reliability.
This is where Porsche shines. Despite 16 years of absence between 1998 – 2014, the brand has won 19 Le Mans (24-hour) races putting it at the top where the best of the cars including Ferrari and McLaren compete.

(For financial reasons, Porsche did not race the Le Mans for 16 years from 1998 to 2014)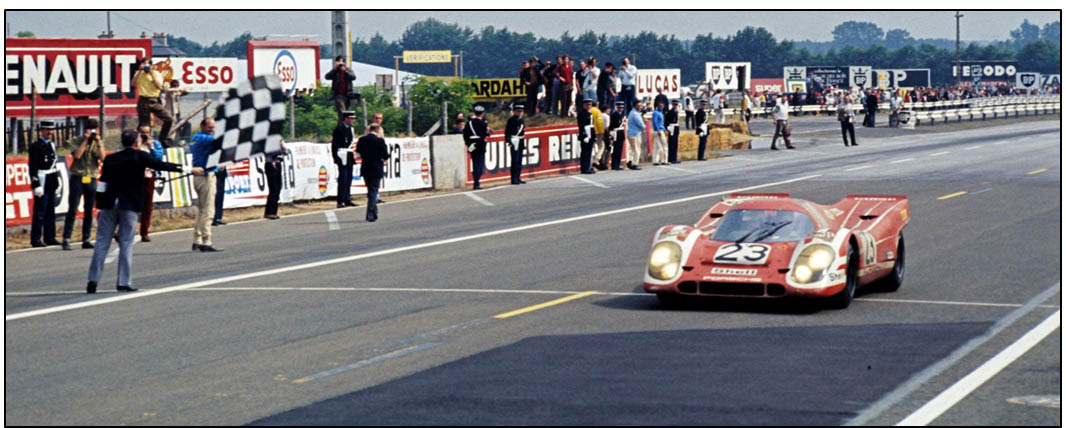 Porsche's origin dates to 1931 when Ferdinand Porsche, an Austro-Bohemian automotive engineer, founded the company. It offered only motor vehicle development work and consulting at the time. Its first assignment was from the German government to design a car for the people (a Volkswagen). This resulted in the legendary Volkswagen Beetle. With this success, the Porsche 64 was developed in 1939 using many designs from the Beetle.
During World War II, Porsche produced several designs for heavy tanks, some of which influenced the Tiger I and the Tiger II tanks. Post-war, Porsche went on to produce the Porsche-356 which was road-certified in 1948.
In 1964, after a fair amount of success in motor racing, the company launched the 911 which remains in its offering to date.[4] Porsche has since grown to become an iconic brand that embodies luxury, performance, and innovative technology in the automotive industry.
As of 2023, Porsche is owned by Volkswagen AG, which is in turn majority-owned by Porsche Automobil Holding SE. This holding company was created in June 2007, by renaming the old Dr. Ing. h.c. F. Porsche AG, to hold families' stake in Porsche Zwischenholding GmbH.
Volkswagen and Porsche merged in 2011, and Volkswagen Group became Porsche's parent company officially in August of 2012.[5]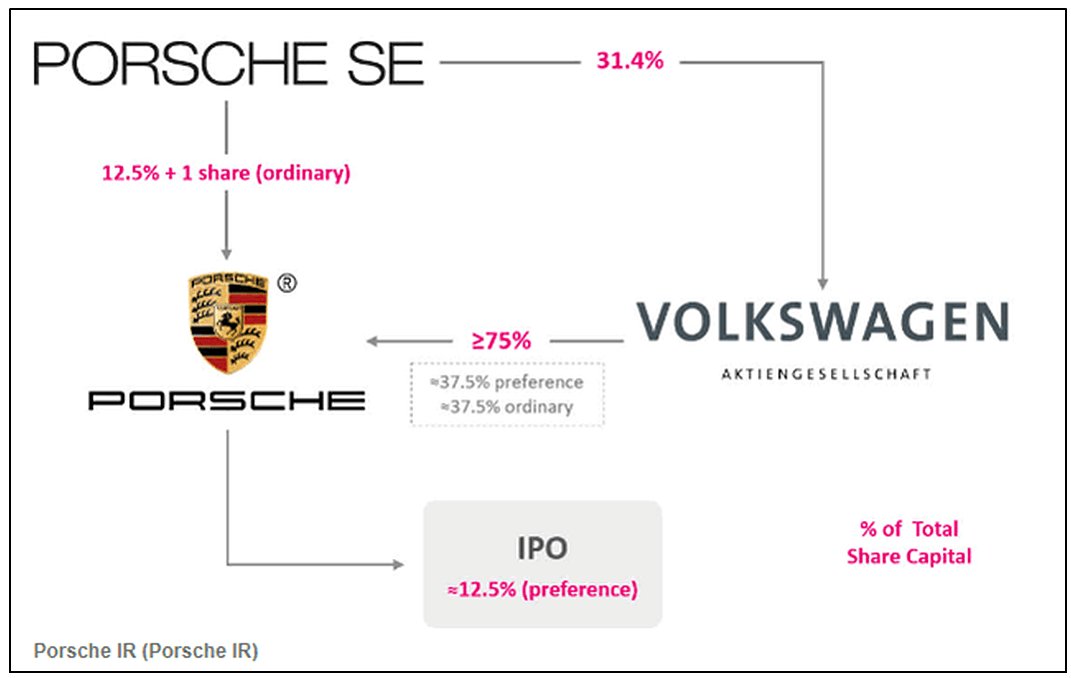 Porsche's current offerings are divided into six models, each offering many variants and customizations to suit the needs of its customers.

Porsche models on offer as of 2023 (Source: Porsche website [7])

Porsche SWOT Summary
Strengths
Weaknesses
1. Brand value and reputation
2. Loyal customer base
3. Ability to sell cars with high margins
4. Culture of innovation and excellence
5. Driver experience and motorsport heritage
6. Synergic advantages of being part of Volkswagen group
7. Messaging luxury through strategic collaborations
1. High maintenance cost
2. Higher delivery time
3. Supply chain vulnerabilities
Opportunities
Threats
1. Luxury car market poised for faster, profitable growth
2. Luxury cars are going global
3. Growth in subscription-based model
4. Vertical brand extension opportunities
1. Everything about car making will change with EVs
2. Value shift from hardware to software
3. Gen-Z's declining interest in car ownership
4. Regulatory challenges in the auto industry
Strengths
1. Brand value and reputation
According to Interbrand, Porsche's brand value is estimated to be $ 13.5 billion, putting it in the 10th position among the global automotive brands. A significant achievement for a premium brand that, unlike many in this list, does not produce high-volume mass-market cars.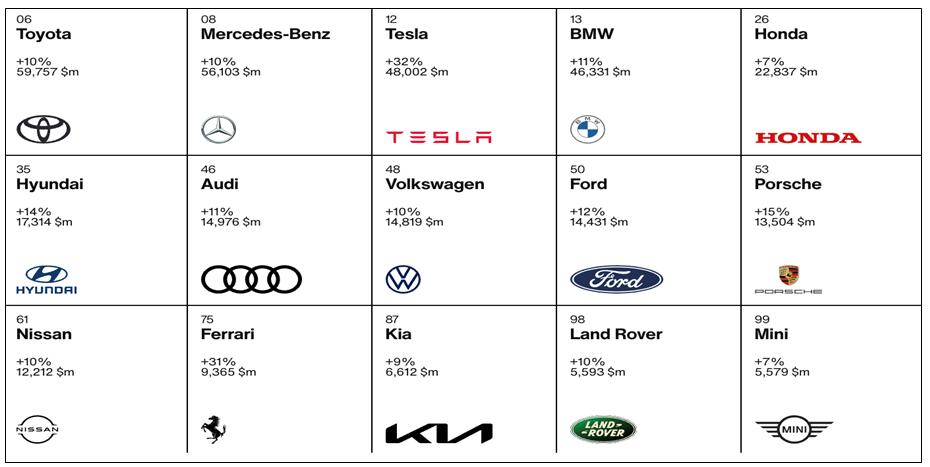 Another 2022 report on the top 50 Luxury & Premium brands compiled by Brand Finance puts Porsche at the top spot with a brand valuation of $ 33.7 billion. Ranking as the world's most valuable luxury brand for the second year in a row, it shared the stage with Louis Vuitton as runner-up and Gucci taking third place.[10]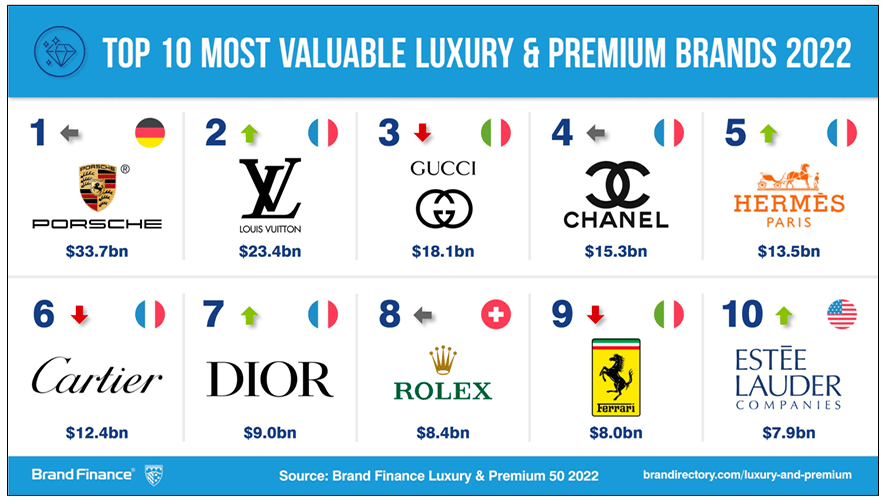 According to Edmunds, a trusted website with over 50 years of experience in car shopping, Porsche cars have a virtually untarnished reputation and are considered among the finest performance vehicles in the world.[11]
2. Loyal customer base
Porsche competes in the luxury car market, where customers' purchase decisions are motivated by factors beyond price. It must achieve a fine balance of intangible aspects like perceived value, status symbol, self-esteem, passion, consumer experience, and quality.
Porsche's long-term sales numbers, growing at a healthy cumulative average growth rate (CAGR) of 7.6% suggest that it understands these factors well and offers a premium experience and exclusivity to its customers.

The brand boasts a diverse group of owners around the world, spanning from the ultra-rich to celebrities across all industries, including well-known figures like Tom Cruise, Bill Gates, Sylvester Stallone, and Elon Musk who owns a 911 Turbo.
According to a study by J.D. Power, Porsche ranks first in brand loyalty among premium car brands with a 57.4% loyalty rate.[13]
Given the brand's rich history and heritage, seven Porsche cars have fetched over $ 5 million each in various auctions worldwide. The 1970, 917K, also featured in Steve McQueen's legendary racing film Le Mans tops this list at $ 14.08 million.
| Year | Car | Auction Price ($ Mn) |
| --- | --- | --- |
| 2017 | Porsche 917K | 14.1 |
| 2015 | Porsche 956 | 10.1 |
| 2012 | Porsche 917/10 | 5.8 |
| 2017 | Porsche 911 GT1 Strassenversion | 5.7 |
| 2015 | Porsche RS60 | 5.4 |
| 2016 | Porsche 550 | 5.3 |
| 2018 | Porsche 550A Spyder | 5.2 |
Source: Wikipedia – List of most expensive cars sold at auction [14]
3. Ability to sell cars with high margins
Porsche is VW's most profitable brand. In 2022, it accounted for 12 % of the group's revenues and a staggering 29 % of profits. To put into perspective, Porsche achieves the same profits selling 314,000 units as Audi does with 902,000 units.
In an industry where operating margins are often in the low single digits, Porsche's exceed 18%, with an average profit per vehicle € 20,450 ($ 22,500) compared with €7,100 for Audi and €1,020 for the mass-market VW brand.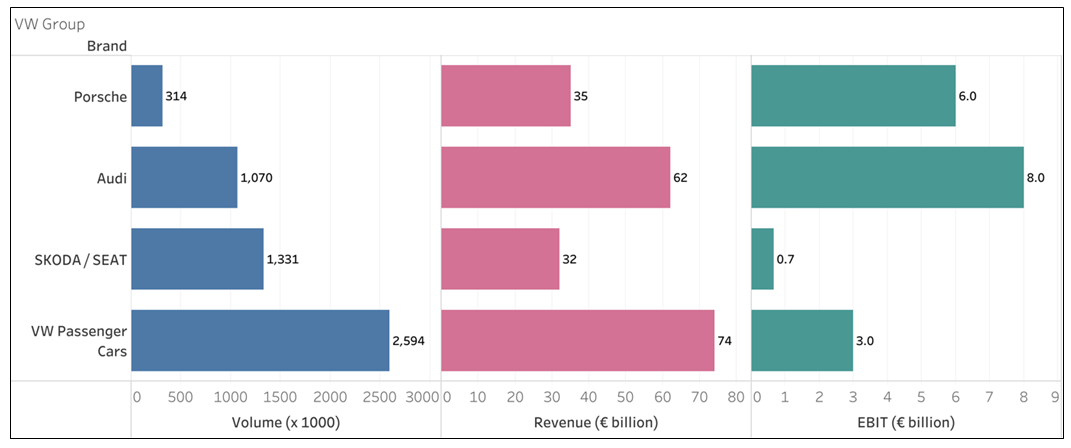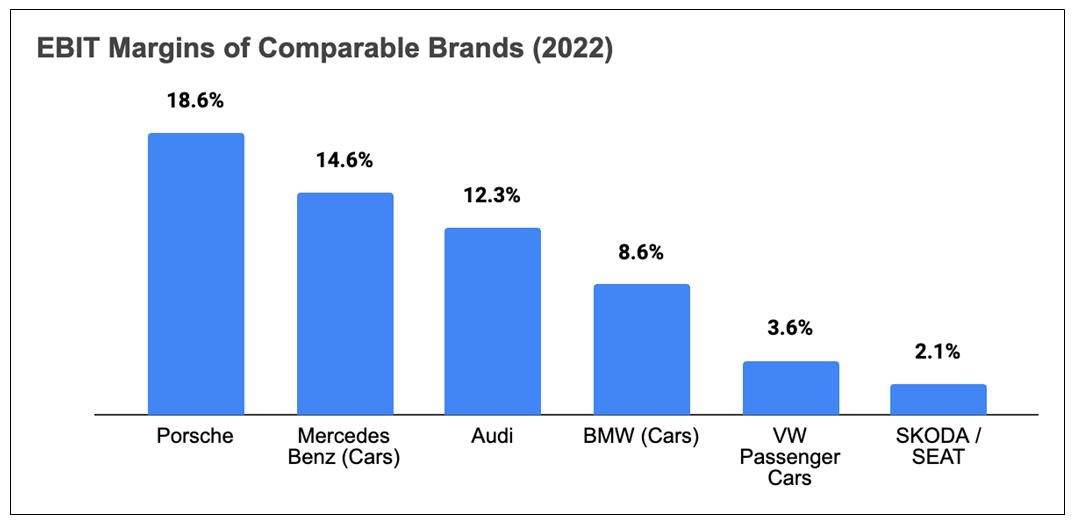 4. Culture of innovation and excellence
Since its beginnings, Porsche has embraced new technologies and ideas, constantly pushing the boundaries of possibilities in automotive engineering. It has developed some of the best sports cars through an intelligent combination of technologies, some of which already existed, such as:
A low-slung, air-cooled four-cylinder boxer engine, a 4-speed transmission, pendulum axle, and torsion bar axle,
The incorporation of parts from the Volkswagen project,
The use of aluminum for the bodywork from aircraft construction
Tubular frame design typical of race cars.
Today, Porsche engineering teams are working on cutting-edge technologies[15], such as:
Vehicle-to-X communication – An advanced aid supporting autonomous driving to prevent accidents and traffic jams
One single platform for a multitude of vehicle models
Advanced high-voltage batteries and associated technologies
Brake force distribution systems for EVs with better recuperation and comfort.
High-resolution LED headlights with HD matrix that offer 2x better illumination
In its 2022 strategy review, the company has defined a materiality matrix that highlights the most important topics for the brand. The matrix identifies innovation as the highest priority for both the brand and its stakeholders.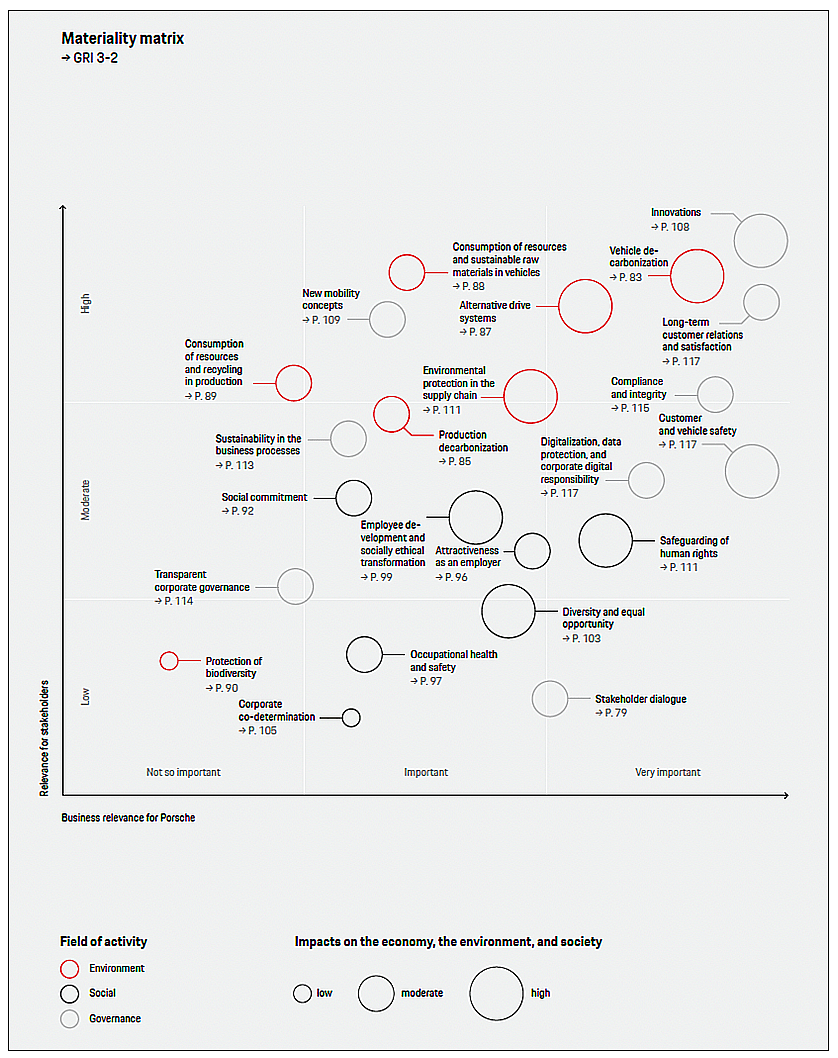 Its venture capital arm, Porsche Ventures[17] engages with top entrepreneurs across the globe through offices in Europe, Silicon Valley, Israel, and China. Focusing on technologies like car & mobility, intelligent software development, and sustainability, these investments help Porsche leverage innovation and provide solutions that excite its customers, expand reach, and empower the Porsche brand.
5. Driver experience and motorsport heritage
Porsche's driver experience and motorsport heritage foster strong emotional bonds.
For Porsche customers, it's not just about the "User" experience. It's about the "Driver" experience.
Customers often rave about the driving feel of their cars, describing it as unique and exhilarating. The precision handling, responsive steering, and powerful acceleration combine to create a sensation of connection between driver and machine that is difficult to replicate with other vehicles.
Since its foundation, Porsche has been synonymous with motorsport. Libraries are filled with Porsche cars and stories from over seven decades dedicated to the track. To the roar of engines, the squeal of tyres, the drama of the race itself – that timeless, intoxicating mix.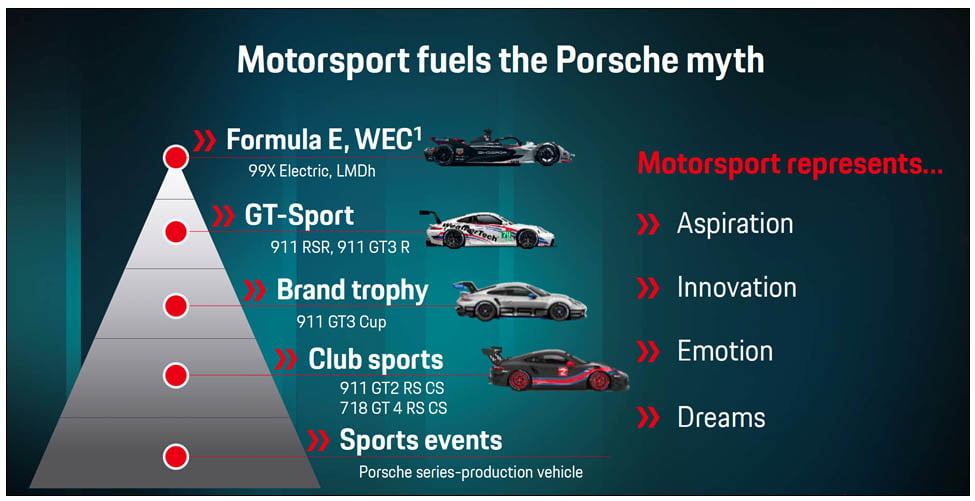 Porsche is able to carry this motorsport heritage into its production cars, resulting in a lineup of vehicles that offer unparalleled driving dynamics and performance. This connection between the track and the road is a fundamental part of the Porsche brand and is evident in every car it produces.
6. Synergic advantages of being part of Volkswagen group
Being a part of Volkswagen allows Porsche to share resources with other brands within the group, including research and development, digital initiatives, manufacturing, and suppliers. This brings cost savings and improved efficiency.
For example, Porsche, Audi, and Volkswagen worked with an Austrian start-up Prewave to minimize supply chain risks using artificial intelligence.[19]
This also gives Porsche access to a wider global market and distribution network where Porsche may not have a strong presence.
Volkswagen Group has made significant investments in electric and hybrid technology, which Porsche has leveraged to develop its own electric sports cars such as the Taycan. This collaboration has allowed Porsche to benefit from the scale and expertise of the larger group while still maintaining its unique brand identity.
7. Messaging luxury through strategic collaborations
Porsche has effectively communicated its brand's luxury image through strategic collaborations with other high-end brands. These collaborations have helped Porsche expand its brand value beyond the automotive industry.
For instance, in 2020, Porsche teamed up with Embraer, a renowned jet plane manufacturer, to offer customers the opportunity to purchase a customized Porsche 911 Turbo S that matched their newly bought Phenom 300E business jet.[20]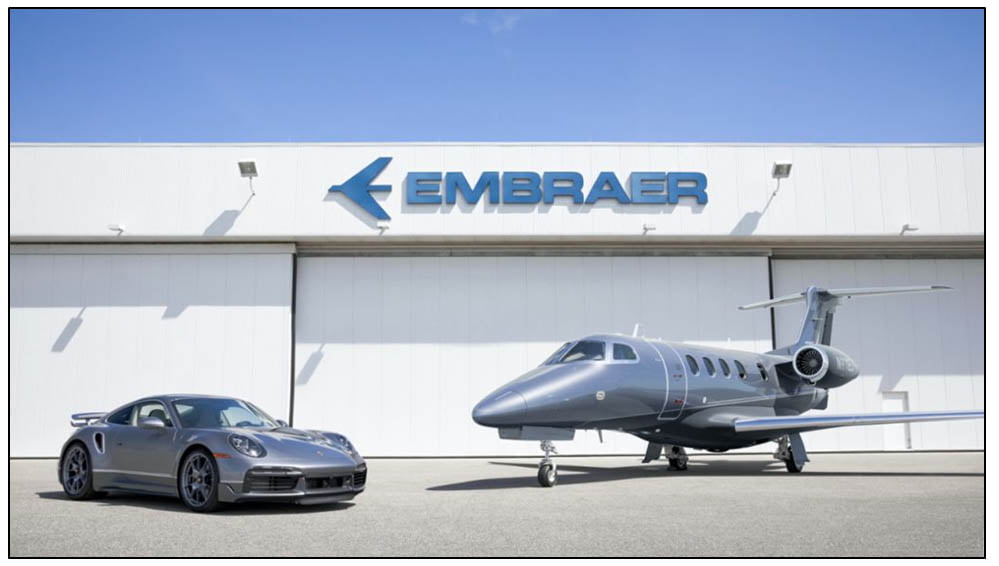 In 2021, Porsche and TAG Heuer commemorated their partnership by launching a limited-edition timepiece, with some pieces retailing for $23,550.[21]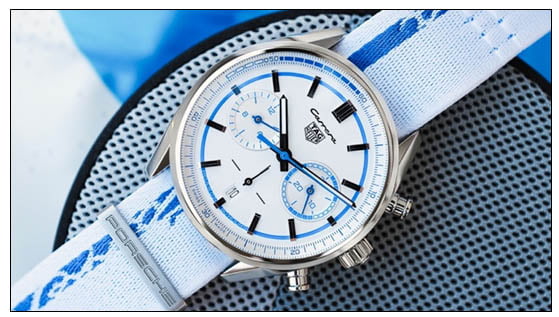 Weakness
1. High maintenance cost
Porsche has a reputation for being expensive to maintain. It does not fare well compared to luxury brands in the same bracket. Its 10-year maintenance cost stands at $22,075, one of the most expensive in the industry.[22]
Porsche is estimated to have a 51.17% probability of requiring a repair costing more than $500 by year 10 of ownership. This is about 16% higher compared to similar brands in the luxury segment.[22]
2. Higher delivery time
Porsche has longer wait times for its models, particularly electric vehicles. Prospective buyers of the new Porsche Taycan EV can expect to face wait times ranging from 6 to 12 months. This delay can potentially impact customers' purchase decisions, as other EV manufacturers offer more competitive deliveries.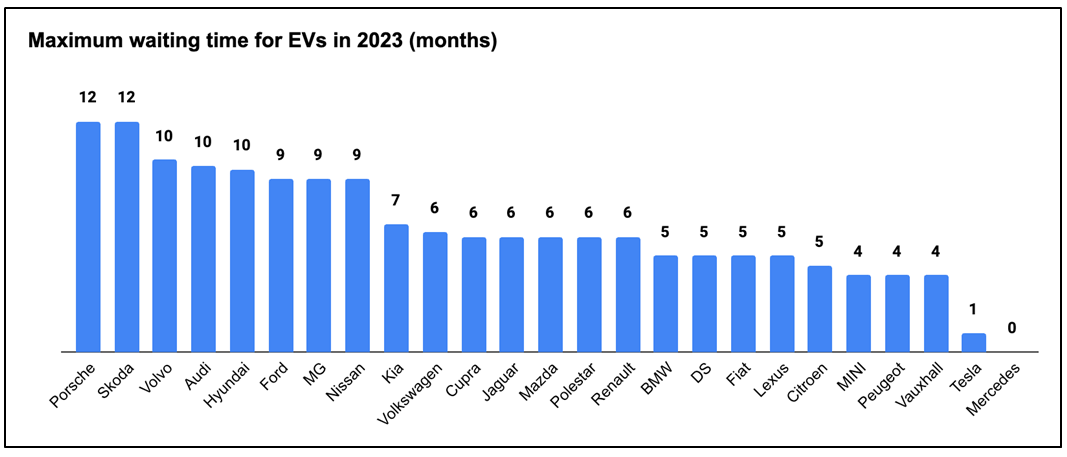 EV Delivery times in 2023 (Source: Electrifying.com [23])
3. Supply chain vulnerabilities
In fiscal year 2022, Porsche faced supply risks caused by the shortage of semiconductors, increased prices and a shortage of commodities, quality problems with bought-in parts and disruptions in the supply chain as well as large loss events at suppliers.
Russia's invasion of Ukraine halted Porsche's electric car – Taycan's production for several weeks. 100% of all wire harnesses for the Taycan were supplied from Ukraine.
COVID-related shutdowns in China, which is a major source of semiconductors, also negatively impacted the company's supply chain, halting production.
Porsche's CEO maintains that the carmaker is working around the supply bottlenecks and expects to deliver at least 40,000 Taycan EVs in 2023 while informing that the supply situation will remain tense throughout the year.
Opportunities
1. Luxury car market poised for faster, profitable growth
According to a 2022 report by McKinsey and Company[24], the luxury market is where the action currently is. While the mass market has largely stagnated with little growth expected through 2031, the luxury segment is expected to gain share at an annual growth between 8 to 14%.
Margins for luxury cars too are higher (double digits) while the mass market cars struggle to sell at single-digit margins.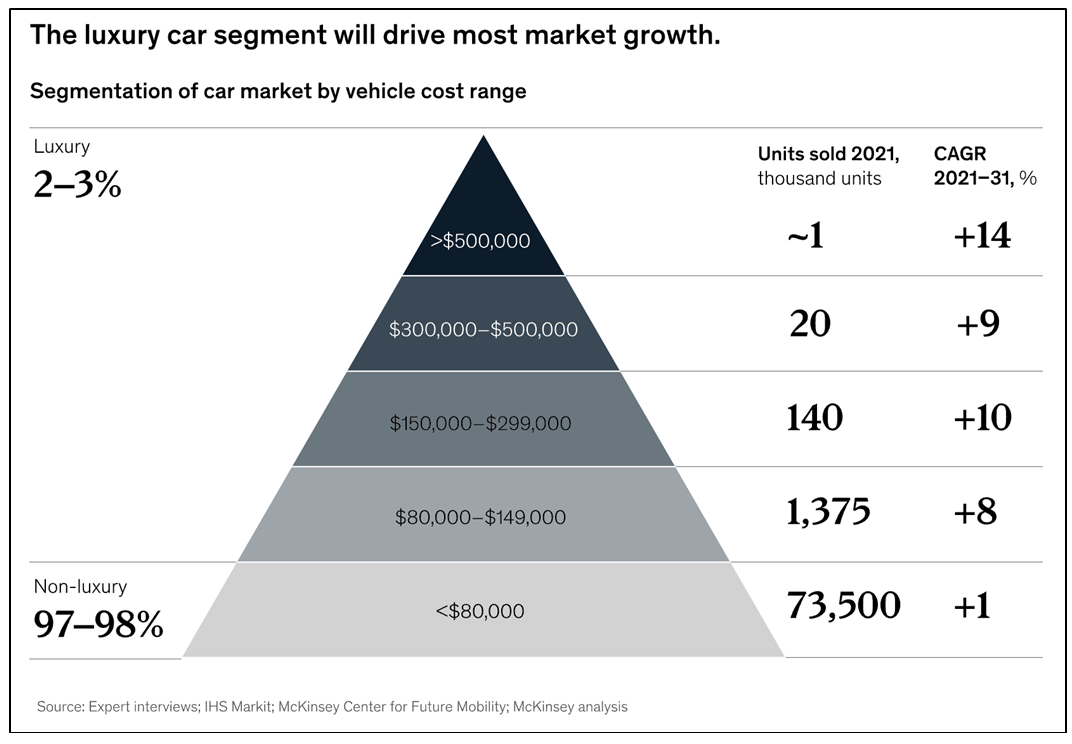 For Porsche, this is an ideal situation to be in, as most of its products range between $80,000 – $300,000.
By 2031, the $80,000 – $149,000 segment is expected to grow by more than 8 percent per year, exceeding three million units while the $150,000 – $299,000 segment is expected to experience 10 and 9 percent annual growth reaching nearly 300,000.
Another 2023 article by The Economist[25] echoes the same predictions. Global car sales in 2022, at around 79m vehicles, are below the level of a decade ago. Yet demand for fancier sets of wheels costing more than €100,000 ($107,000) grew by around 6.5% a year over the same period.
Over the past five years, Porsche has demonstrated its ability to capitalize on this opportunity by achieving sustained profitability. This is evidenced by the upward trend in both revenue and post-tax profits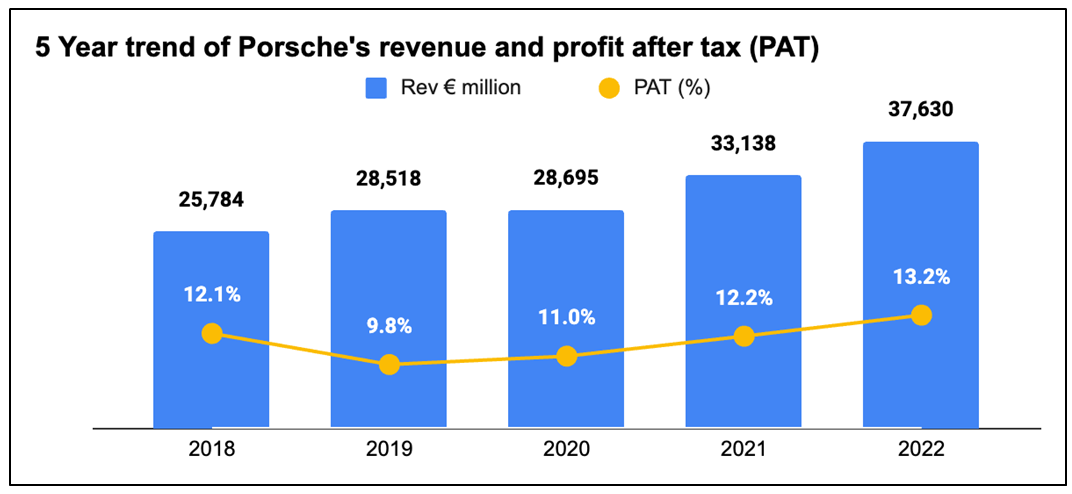 2. Luxury cars are going global
According to McKinsey and Company[24], the luxury segment will likely see significant shifts in its geographical makeup, with nontraditional markets such as China gaining momentum. Asia–Pacific region will drive growth, propelled by factors such as an increase in ultra-high-net-worth individuals and high-net-worth individuals.
Predictions put the percentage growth in the ultra-high net worth individual (UHNWI) population in Asia at 33 percent compared with 28 and 27 percent in the United States and the European Union, respectively. During the same period, the number of UHNWIs in China alone should increase by more than 250 percent,13 albeit from a small base.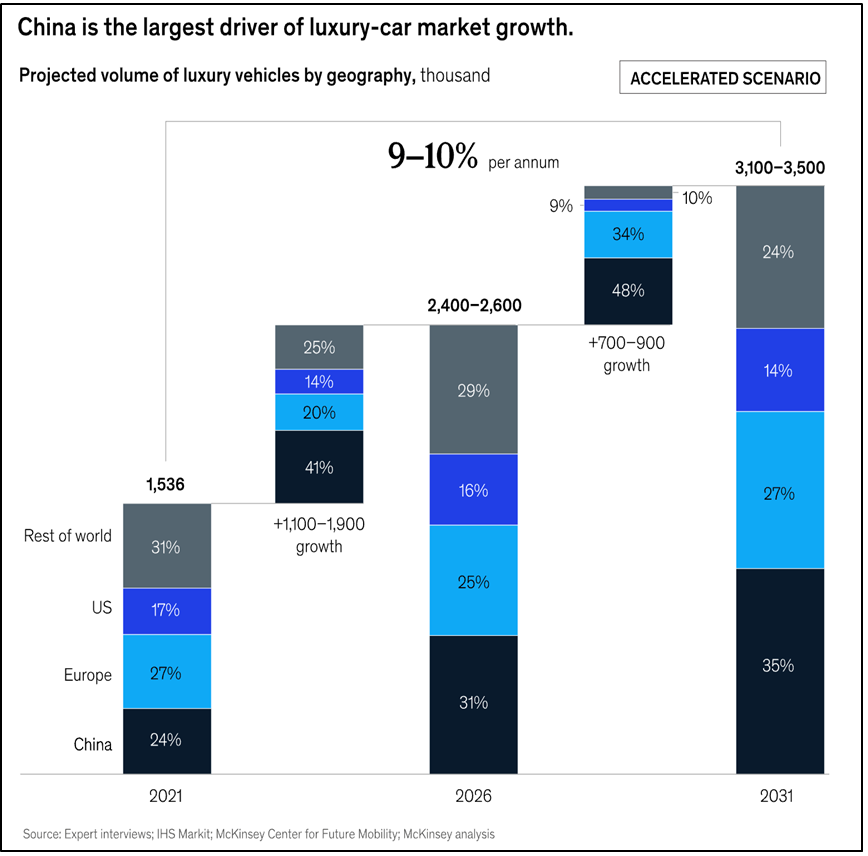 China will be a crucial part of the growth engine for the luxury-automobile market. For example, China will be the fastest-growing market for luxury cars by 2031, with a 14 percent annual growth for the above-$80,000 price tier, thus increasing its global share in the segment from 24 percent in 2021 to about 35 percent by 2030.
Porsche is well-placed to leverage this growth. China remained its largest single market with 93,286 deliveries in 2022, accounting for 30 percent of global sales.[27]
3. Growth in subscription-based model
Demand for car subscriptions is growing rapidly. According to a Porsche Consulting estimate, in 2021 the number of contracts concluded in Germany alone exceeded 50,000.
In this model, customers get to use the vehicle during the contract period for a flat fee. This covers all costs like maintenance, wear and tear, general inspection, insurance, and motor vehicle taxes. The term of the contract is typically less than a standard lease agreement (as low as a month).
A 2020 study by the market research institute Puls reveals that the greatest appeal is for 30- to 50-year-olds; nearly 40 percent of respondents in this age group find car subscription offers "very interesting."
Porsche, through its Financial Services arm, launched the Porsche Drive subscription in August 2020. The company maintains that it has acquired many customers through the model and hopes to see significant increases in 2023 and the following years.[28]
4. Vertical brand extension opportunities
Porsche has established itself as one of the leading luxury brands, competing in a segment alongside other prestigious names such as Ferrari, Lamborghini, and Bugatti.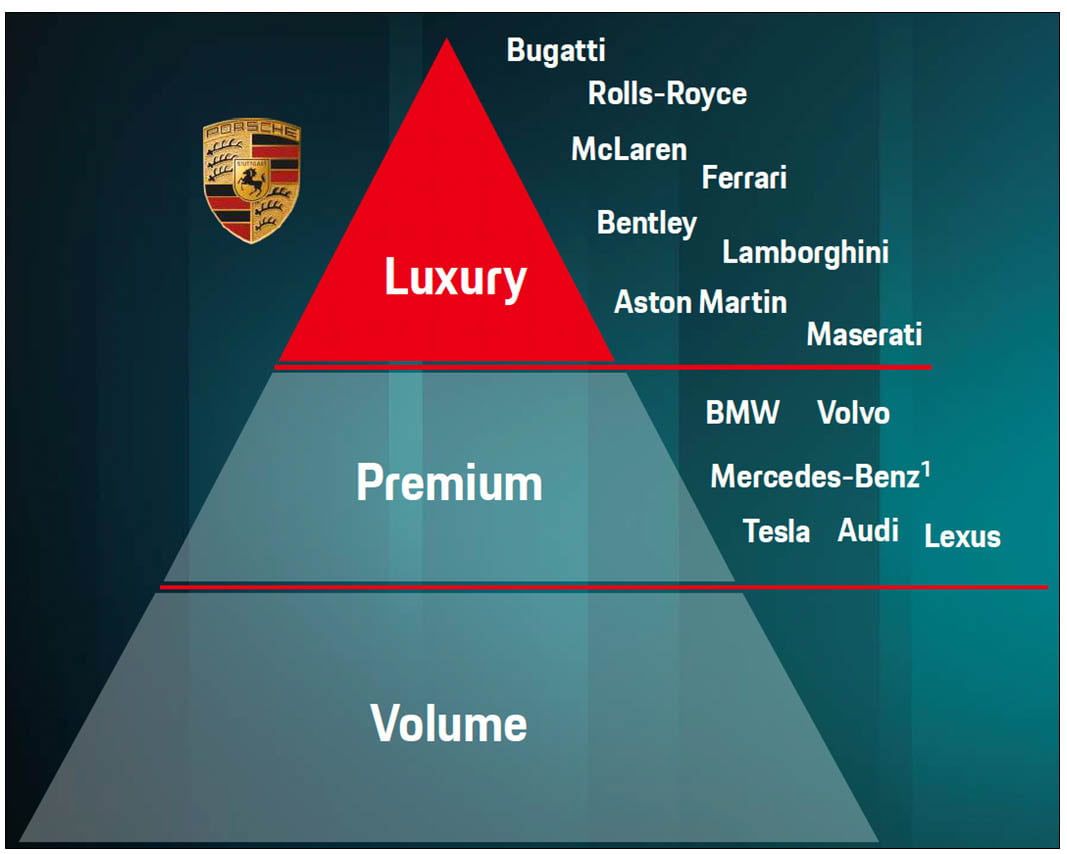 The brand's considerable reputation and high value offer numerous opportunities for vertical brand extension.
Porsche already offers a variety of ancillary products such as clothing, e-bikes, accessories, home and lifestyle items, and model cars. It has the potential for significant vertical brand extension, particularly within the luxury space. For example, it could consider expanding into luxury watches, private jets, yachts, or even high-end furniture design.
Threats
1. Everything about car making will change with EVs
The next phase of the industry's history will be one in which tech-centric firms and the Chinese come to the fore, argues an economist special report.[29]
A host of startups in China (including Li Auto, Nio and Xpeng) and America (such as Fisker, Lordstown, Lucid and Rivian) are now following Tesla's lead. Electrification has given a leg-up to China's established carmakers, which were long kept from global markets by the big obstacle of internal combustion engine (ICE) tech.
Electrification is fundamentally changing the engineering behind car making. Traditionally, car makers relied on the complexity and cost of ICEs to keep new competition at bay. Having to spend $1bn to develop an ICE and another $1bn to scale up production created huge entry barriers.
An ICE car is a complex piece of machinery with thousands of intricate parts. It took many decades of research and development with significant investments to achieve the performance, refinement, and driving characteristics of a modern ICE car. These technologies were mastered by a handful of companies, with almost none from China.
This equation changes with EVs which are relatively simple with batteries and electric motors. Even the need for mechanical transmission is eliminated as, unlike ICE, electric motors can deliver torque over a very broad range.
EVs are also known for superior performance compared to ICEs. This negates the advantage enjoyed by brands like Porsche, beating them in their own turf with new technology.
For example, the Porsche 911 Turbo S has long been one of the most-accelerative production cars on sale, capable of scampering off the line at a truly frightening pace. However, electric vehicles have come so far in recent years that now, a Tesla Model X Plaid can give a 911 Turbo S a run for its money.[31]
While Porsche is committed to the electrification of its offerings, it still has to bridge significant technological gaps to catch up with competitors like Tesla.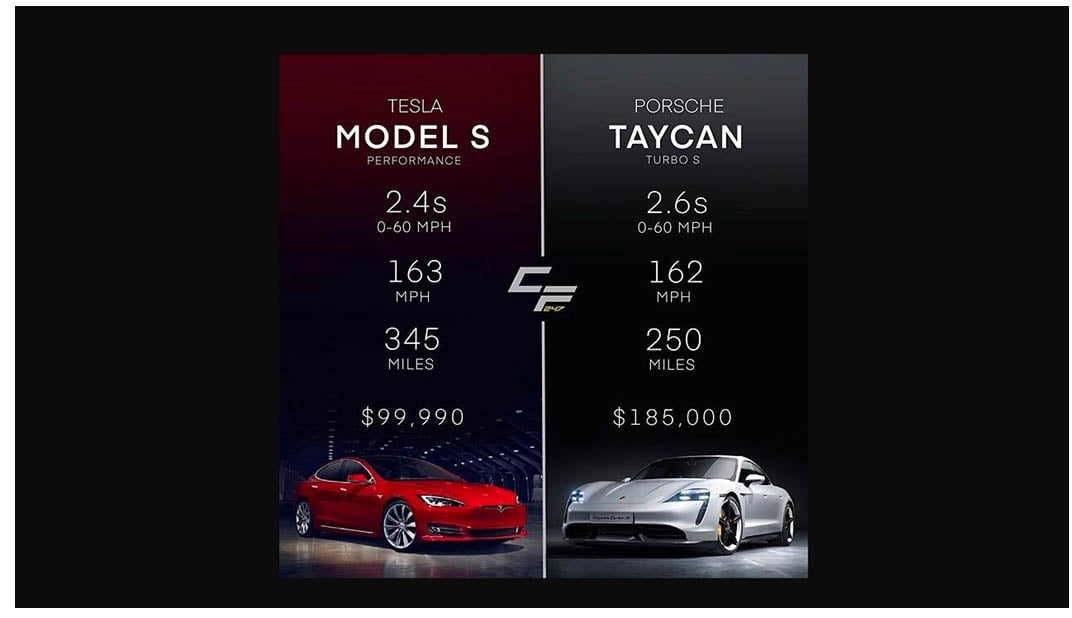 This rise of EVs marks a turning point in the automotive industry as new tech-centric players and Chinese carmakers take the lead, replacing traditional entry barriers with simpler and more accessible technology. This presents a threat to brands like Porsche which are known for their excellence in precision engineering.
2. Value shift from hardware to software
According to an Economist special report[33], the software is now as important as hardware in cars.
The usual way of differentiating car brands by mechanical excellence – ICE's performance, design and build quality, factors like regular gaps between bodywork panels that are hard for newcomers to reproduce no longer matter. A study quoted in the report reveals that only 8% are "petrolheads" who love driving for its own sake.
A report by McKinsey & Company[34] argues that software will be what differentiates players in the automotive industry within a few years. Incumbents must make significant shifts in technology, competitive dynamics, and talent.
For car manufacturers like Porsche, this would need simultaneous technology leaps across many functional areas. Advanced driver-assistance systems (ADAS), over-the-air (OTA) software updates, software-based battery-management software, charging technologies to name a few.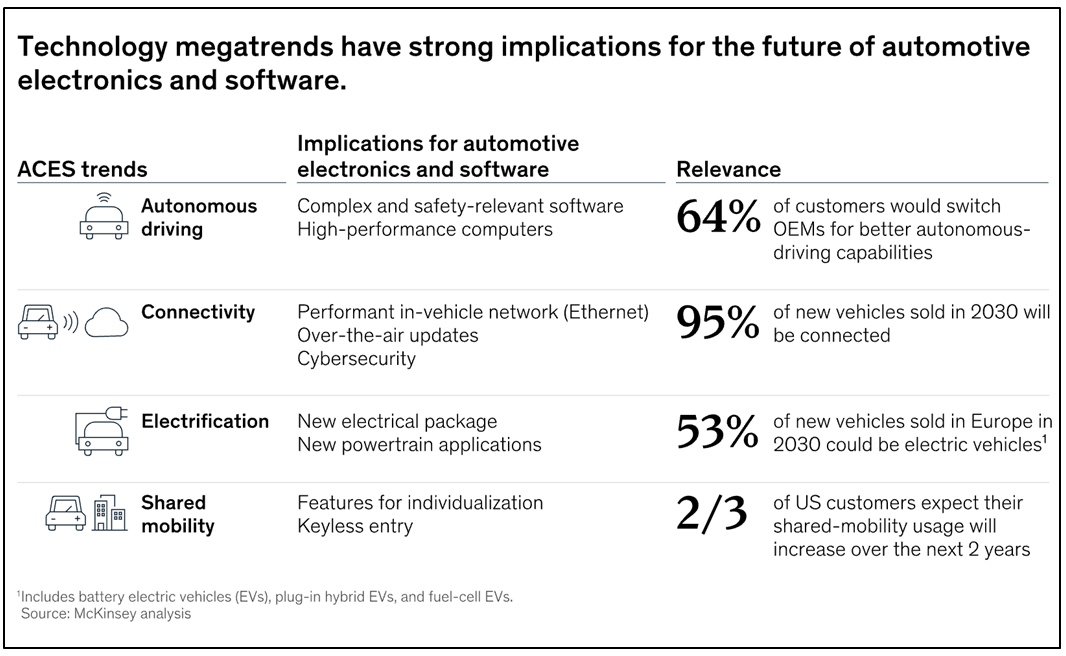 The features and functions that customers now desire rely on software rather than hardware.
It is easier for a tech firm to make cars than for a carmaker to become a tech company.
Porsche will have to rethink its strategy as mastering software will become vital for carmakers just to stand still. This presents significant challenges, for example:
The transition from a business model dedicated to mechanical-engineering excellence to a holistic technology bundle with software playing an equal role
Establishing facilities for software development / making deals with tech firms that today matter as much as traditional suppliers
Striking the right balance in software development – wanting to do everything in-house can mean expensive failure while 100% outsourcing will be bad for brand equity.
Handling complexities in data sharing, information safety, and cybersecurity
Strike deals with tech firms that are also eyeing their business as a potential source of new revenues- for example Apple Car play
As megatrends will push software to the forefront, Porsche will need to make large investments in acquiring, developing, and retaining new software and system-engineering talent and capabilities. The automotive industry will ultimately become a software-enabled industry, either transformed by its traditional players or reimagined by new entrants.
3. Gen-Z's declining interest in car ownership
Traditionally, owning a car was a crucial part of life, something that was a must-do. Getting a driver's license was a rite of passage, being able to legally sit behind the steering wheel was a source of pride. The car gave street cred.
According to a Forbes article[35] millennials aren't as car crazed as baby boomers. purchases of cars by the younger set are dropping precipitously and surveys have shown that the latest generations don't put car ownership high on their to-do list.
This Mindset Change About Cars is driven by several reasons:
Latest gens are often saddled with student debt and aren't interested in digging into the debt abyss any further.
Ridesharing provides a viable alternative.
Don't want worries about car glitches and burdens.
Driving is not fun, it's a chore – Increasingly the Gen-Z see driving as something you do to get from point A to point B.
Traffic – More cars came along. Roads haven't changed much. Today's driver is going to find themselves in traffic, stuck in snarls, and moving at a snail's pace.
Ecological and ecosystem awareness.
Luxury brands like Porsche may face significant challenges due to the changing mindset regarding car ownership. High-end vehicles are often purchased for reasons beyond mere utility, and the shift in the Gen-Z mindset may eventually result in an overall decline in interest in these brands.
4. Regulatory challenges in the auto industry
From zero-emissions regulations to the rules governing autonomous vehicles to the management of battery waste in electric vehicles, the auto industry is facing a multi-fronted regulatory onslaught with an element of uncertainty.
The shift towards zero-emission vehicles means that ICEs will eventually be phased out. For Porsche, a significant portion of its engineering excellence, which is based on ICE engines will eventually become irrelevant.
The company is taking several steps to transform into a greener brand. For example,[36]:
By 2030, it aims to increase the share of electric motor-based cars to over 80 percent.
Manufacture CO2-neutral ZEVs that also do not leave any environmental footprint
Use 100 percent renewable energy for manufacturing
Implement sustainability in the whole supply chain
Mandating suppliers to manufacture battery cells using sustainable energy
Use of recycled, renewable, and recyclable materials
While efforts are in the right direction, navigating this shift through changing regulatory environment poses significant execution risk.
Conclusion
Porsche is a classic example of a luxury car brand that has effectively blended its cultural legacy, motor-sport success, and engineering brilliance into a narrative to establish a distinctive niche within the luxury car industry.
Despite having a devoted customer base that values the brand for what it represents, the near future brings significant changes such as vehicle electrification, zero emissions, and the eventual death of ICEs.
As Porsche shifts its business model towards EVs and cars of the future, some of its traditional core competencies may no longer apply. The company must make every effort to make this transition while competing with new players, some of whom have a natural advantage in future technologies.
Its ability to swiftly adapt and excel in previously unfamiliar technologies will be vital.
Porsche's reputation, emphasis on excellence, and innovative culture will be key drivers to its success in this new era of the automotive industry.
Sources
1. "Porsche – Investment strategy." Porsche, https://www.porsche-se.com/en/company/investments. Accessed 21 April 2023.
2. "24 Hours of Le Mans." Wikipedia, https://en.wikipedia.org/wiki/24_Hours_of_Le_Mans. Accessed 21 April 2023.
3. "Porsche achieved the first overall victory at Le Mans 50 years ago." Porsche Newsroom – The Media Portal by Porsche, https://newsroom.porsche.com/en/2020/history/porsche-le-mans-first-overall-victory-50-years-ago-917-kh-anniversary-weekend-21080.html. Accessed 21 April 2023.
4. "Porsche." Wikipedia, https://en.wikipedia.org/wiki/Porsche. Accessed 21 April 2023.
5. "Who owns Porsche?" Beverly Hills Porsche, https://www.beverlyhillsporsche.com/who-owns-porsche/. Accessed 21 April 2023.
6. "Porsche Automobil Holding: IPO Will Unlock Incredible Value" Seeking Alpha, https://seekingalpha.com/article/4538351-porsche-se-stock-ipo-unlock-incredible-value. Accessed 21 April 2023.
7. "Porsche Car Configurator." Porsche, https://www.porsche.com/international/modelstart/. Accessed 21 April 2023.
8. "Porsche Finder Middle-East." Porsche, https://www.porsche.com/countries/porschefinder-middle-east/. Accessed 21 April 2023.
9. "Best Global Brands (Automotive)." Interbrand, https://interbrand.com/best-global-brands/?filter-brand-sector=automotive. Accessed 21 April 2023.
10. "Porsche is most valuable luxury brand." Brand Finance, https://brandfinance.com/press-releases/porsche-is-most-valuable-luxury-brand. Accessed 21 April 2023.
11. "Porsche." Edmunds, https://www.edmunds.com/porsche/. Accessed 21 April 2023.
12. "Porsche Sales & Production Numbers," Stuttcars, https://www.stuttcars.com/porsche-sales-production-numbers/. Accessed 21 April 2023.
13. "Brand Loyalty Strong among New-Vehicle Owners, J.D. Power Finds." J.D. Power, https://www.jdpower.com/business/press-releases/2022-us-automotive-brand-loyalty-study. Accessed 21 April 2023.
14. "List of most expensive cars sold at auction." Wikipedia, https://en.wikipedia.org/wiki/List_of_most_expensive_cars_sold_at_auction. Accessed 21 April 2023.
15. "Porsche Newsroom – The Media Portal by Porsche (Engineering)." Porsche, https://newsroom.porsche.com/en/innovation/engineering.html. Accessed 21 April 2023.
16. "Porsche AG finished the 2022 financial year with four new records."Porsche, https://newsroom.porsche.com/en/2023/company/porsche-annual-press-conference-financial-year-2022-annual-and-sustainability-report-31485.html. Accessed 22 April 2023.
17. "Ventures." Porsche, https://www.porsche.ventures/. Accessed 21 April 2023.
18. "Presentations – Capital Markets Day Presentation July 2022." Porsche, https://investorrelations.porsche.com/en/calendar/cmd/. Accessed 22 April 2023.
19. "Porsche, Audi and Volkswagen use Artificial Intelligence to minimise sustainability risks." Porsche Newsroom, https://newsroom.porsche.com/en/2021/sustainability/porsche-audi-volkswagen-pilot-project-artificial-intelligence-minimisation-sustainability-risks-supply-chain-23801.html. Accessed 22 April 2023.
20. "Porsche and Embraer present the ultimate pair: a sports car and a jet." Porsche Newsroom, https://newsroom.porsche.com/en/2020/products/porsche-embraer-cooperation-duet-911-turbo-s-business-jet-phenom-300e-22768.html. Accessed 22 April 2023.
21. "TAG Heuer's Newest LE Turns The Classic Porsche 911 Carrera RS 2.7 Into A Watch (Live Pics, Pricing, And Bonus Pictures Of Vintage Porsches)." Hodinkee, https://www.hodinkee.com/articles/two-tag-heuer-limited-edition-watches-fuse-the-911-carrera-rs-27-into-a-watch-live-pics-pricing-and. Accessed 22 April 2023.
22. "5 Luxury Brands With the Most Expensive 10-Year Maintenance." MotorBiscuit, https://www.motorbiscuit.com/5-luxury-brands-most-expensive-10-year-maintenance/. [Accessed 04 21 2023].
23. "Waiting times for new electric car deliveries dip to their lowest in nine months." Electrifying.com, https://www.electrifying.com/blog/article/waiting-times-for-electric-cars. Accessed 21 April 2023.
24. "Five trends shaping tomorrow's luxury-car market." McKinsey & Company, https://www.mckinsey.com/industries/automotive-and-assembly/our-insights/five-trends-shaping-tomorrows-luxury-car-market. Accessed 21 April 2023.
25. "The priciest cars are selling fast." The Economist, https://www.economist.com/business/2023/01/12/the-priciest-cars-are-selling-fast. Accessed 21 April 2023.
26. "Financial Reports." Porsche, https://investorrelations.porsche.com/en/financial-figures/. Accessed 21 April 2023.
27. "Porsche moves full speed ahead with its electrification transformation and strengthens its new business in China." Porsche, https://www.porsche.com/china/en/aboutporsche/pressreleases/international/?lang=en&pool=china&id=2023-03-09. Accessed 22 April 2023.
28. "A World of Cars in One Subscription." Porsche Newsroom, https://newsroom.porsche.com/en/2022/company/porsche-consulting-a-world-of-cars-in-one-subscription-30748.html. Accessed 22 April 2023.
29. "Everything about carmaking is changing at once." The Economist, https://www.economist.com/special-report/2023/04/14/all-change. Accessed 21 April 2023.
30. "Global EV Sales for 2022." EV-Volumes, https://www.ev-volumes.com/country/total-world-plug-in-vehicle-volumes/. Accessed 21 April 2023.
31. "Electric Vs. Gasoline: Can A 1,000-HP Porsche 911 Turbo S Outrun A Tesla Model X Plaid?" CarScoops, https://www.carscoops.com/2023/03/you-wont-believe-how-well-matched-a-tesla-model-x-plaid-and-1000-hp-porsche-911-turbo-s-are/. Accessed 21 April 2023.
32. "Tesla Trolls Porsche With Model S Performance vs. Taycan Turbo S Comparison." Autoevolution.com, https://www.autoevolution.com/news/tesla-trolls-porsche-with-model-s-performance-vs-taycan-turbo-s-comparison-137243.html. Accessed 21 April 2023.
33. "Software is now as important as hardware in cars." The Economist, https://www.economist.com/special-report/2023/04/14/tech-wars. Accessed 21 April 2023.
34. "Rewiring car electronics and software architecture for the 'Roaring 2020s'." McKinsey & Company, https://www.mckinsey.com/industries/automotive-and-assembly/our-insights/rewiring-car-electronics-and-software-architecture-for-the-roaring-2020s. Accessed 21 April 2023.
35. "The Reasons Why Millennials Aren't As Car Crazed As Baby Boomers, And How Self-Driving Cars Fit In." Forbes, https://www.forbes.com/sites/lanceeliot/2019/08/04/the-reasons-why-millennials-arent-as-car-crazed-as-baby-boomers-and-how-self-driving-cars-fit-in/?sh=3eb7735a63fc. Accessed 21 April 2023.
36. "Sustainability is top of the agenda at Porsche." Porsche, https://www.porsche.com/stories/culture/earth-day-2021-seven-ways-porsche-is-leading-the-sustainability-charge. Accessed 23 April 2023.