This article contains a deep dive into Nordstrom, one of the luxury fashion retailers in the U.S. Specifically, we will discuss how the company capitalizes on its strengths to ensure consistent strong performance, as well as the emerging opportunities it could pursue to realize its growth goals.
We will also look at the internal weaknesses it needs to address, as well as the external threats that can severely affect its business.
Company Overview
| | |
| --- | --- |
| Official Name | Nordstrom, Inc. |
| Logo | |
| Foundation Year | 1901 |
| Founder | John W. Nordstrom and Carl F. Wallin |
| Industry | Fashion retailing |
| Headquarters | Seattle, Washington |
| Website | https://www.nordstrom.com |
| Markets Served | U.S., Canada (winding down physical operations), 96 countries online |
| CEO | Erik B. Nordstrom |
| Number of Employees | 60,000 |
| Revenue | $15.530 billion (2022) |
| Net Income | $0.245 billion (2022) |
| Competitors | Macy's, Dillard's, Neiman Marcus, Saks Fifth Avenue, and Amazon (online retailing) |
Nordstrom is a retail company, founded in 1901 by John W. Nordstrom and Carl F. Wallin, currently headquartered in Seattle, Washington. The company operates department stores, off-price retail outlets, concept stores and e-commerce websites. It is primarily focused on selling luxury and high-end fashion products, including clothes, shoes, accessories, jewelry, fragrances, as well as home goods.
Nordstrom stores are full-line department stores that offer a wide variety of luxury brands and products. These stores are typically found in upscale shopping malls and commercial locations, providing customers with premium shopping experiences through personalized services. Nordstrom Rack stores, on the other hand, are the company's off-price retail outlets offering discounted merchandise to budget-conscious consumers.
The company also operates separate e-commerce websites for both Nordstrom and Nordstrom Rack. The Nordstrom.com website caters to 96 countries worldwide, while Nordstrom Rack is limited to U.S. customers only.
Nordstrom also offers and maintains a portfolio of private-label and co-branded credit cards through its partnership with TD Bank Group to enhance customer experience and deliver additional loyalty benefits.
Nordstrom SWOT Analysis
Strengths
Weaknesses
1. Strong brand recognition and reputation
2. Diverse product offerings
3. Innovative supply chain management
4. Established omnichannel presence
5. Exceptional service leading to enhanced customer experiences
6. Strong financial position
7. Leadership in corporate social responsibility (CSR)
1. High dependence on the U.S. market
2. Limited product differentiation
3. High product price points
Opportunities
Threats
1. Expanding online presence
2. Establishing regional hubs
3. Growing demand for sustainable and ethical fashion
4. Embracing showrooming
1. Highly fragmented competitive landscape
2. Economic downturns
3. Shifting consumer preferences
4. Supply chain disruptions
5. Cybersecurity attacks
6. Continuously evolving regulatory environment
Strengths
1. Strong brand recognition and reputation
Nordstrom's brand recognition and reputation are two of the company's most valuable assets. It is consistently ranked as one of the most admired companies in the U.S., not just in the retail industry, but in others as well.
In Fortune's World's Most Admired Companies list of 2023, an annual survey of corporate reputations among 1,500 companies with more than $100 billion in revenue, Nordstrom ranked 27th overall and 4th among companies from the General Merchandisers industry. Consequently, this marks the company's 14th consecutive year on the list.[1]
The company is also recognized by other reputable companies, including Forbes, with Nordstrom ranking 75th in its Best Brands for Social Impact list and 62nd in Customer Experience – All-Stars list, both in 2023.[2] Other companies that have given the company recognition in recent years include Brand Finance (Best Retail Brands), Kantar (BrandZ Top 75 Global Retail Brands), Moosylvania (Top 100 Brands for Millennials), Fortune (100 Best Companies to Work for), and C Space (Most Customer Inspired Brands).[3]
This overall good market reputation has allowed the company to build a strong and loyal customer base. Additionally, Nordstrom's brand recognition can help the company attract top talent, which is critical in its highly competitive industry.
To maintain its strong brand reputation, Nordstrom must continue to prioritize customer experience and the quality of its products. Any misstep in these areas could damage Nordstrom's reputation and erode customer loyalty.
2. Diverse product offerings
Nordstrom's diverse product offerings are a significant strength for the company. According to its website, Nordstrom currently offers products in the following categories: beauty, clothing, shoes, accessories, jewelry, and home goods.
By offering a wide variety of products across different categories, Nordstrom is able to appeal to a broad range of customers. This allows the company to take advantage of any increase in consumption across different segments, further growing its market share and revenue. Additionally, it can also help weather periodic downturns in specific product categories.
However, Nordstrom must be careful not to heavily rely on any one product category or segment of the market. Diversification is important, but Nordstrom must also ensure that it is not spreading itself too thin and diluting its brand.
3. Innovative supply chain management
Nordstrom is one of the early adopters of digital technologies in the retail industry, particularly in the area of supply chain management. These technologies empower the company to meet the demands of a rapidly-evolving retail market.
One of its key initiatives is its buy online, pickup in-store (BOPIS) option for online shoppers. First introduced in 2008, it allows customers to shop online and pick up their orders at a nearby Nordstrom location.[4] In 2020, the online service was expanded across their brands, including NordstromRack.com and Hautelook.com, with pick-up option enabled across all Nordstrom Rack and Nordstrom Local stores.[5]

By leveraging its e-commerce channels to complement its extensive brick-and-mortar footprint, the company is able to provide a convenient and flexible experience for customers who prefer the speed and ease of online shopping without having to wait for order delivery.
Another example is its investment in data analytics. In 2016, Nordstrom acquired a minority stake in Ds Co, a supply chain software provider. This partnership led to the development of an inventory central control center, which improved the transparency between the company and its suppliers.[6]
With greater access to both parties' information, the company was also able to adopt dropshipping, in which Nordstrom's suppliers can directly fulfill customers' orders. This enabled Nordstrom to offer a broader variety of products to customers without taking on the cost and risk of inventory. It also helps reduce overhead costs and increase the speed of order fulfillment.
Finally, there is the company's use of RFID technology. Nordstrom mandates suppliers to attach RFID tags to the products sold in stores. This allows the company to quickly and accurately track inventory levels, enabling it to make more informed decisions in purchasing and allocation, which could improve total sales and sell-throughs.[7]
4. Established omnichannel presence
Nordstrom is widely recognized as one of the pioneers in the retail industry to fully embrace online shopping. The company launched the first version of its shopping website in 1998. Since then, Nordstrom has made heavy investments in the e-commerce space, focusing on personalizing the shopping experience, as well as optimizing its inventory management and order fulfillment capabilities.[8]
Its robust e-commerce platform also enabled the company to expand its presence internationally. Nordstrom now serves 96 countries through its partnership with Borderfree, a global e-commerce provider.
In 2020, share of Nordstrom's digital sales reached an all-time high at 55%, highlighting the company's success in e-commerce.[9]
This successful online strategy greatly complements the company's vast network of physical stores in the markets it operates in. As of end-2022, it currently has 94 Nordstrom stores, 241 Nordstrom Rack stores, seven Nordstrom Locals, two Last Chance Clearance stores and one ASOS | Nordstrom store in the U.S. In Canada, it operates six Nordstrom and seven Nordstrom rack stores.[10]
With a compelling omnichannel presence, Nordstrom empowers its customers by giving them the flexibility to choose whether they prefer the convenience of online ordering, the speed of in-store shopping, or both through its BOPIS option. For the company, this approach allows Nordstrom to retain its competitive edge in an ever-changing retail landscape.
5. Exceptional service leading to enhanced customer experiences
Nordstrom has built a great reputation for providing exceptional customer service, as evidenced by their approach detailed in the book, "The Nordstrom Way to Customer Service Excellence."[11] The company's commitment to outstanding service is evident in several ways.
For instance, Nordstrom's shopping assistants are renowned for going above and beyond to help customers. They bring customers to the shelves or racks they want to explore and even hand-deliver purchases to them by going around the cashier counter.[12] This level of personal attention and service is rare in today's retail landscape, setting Nordstrom apart from its competitors.
Moreover, Nordstrom maintains an accessible loyalty program called The Nordy Club that rewards its most loyal customers. In this program, members earn points that they can exchange for Nordstrom Notes, which can be used to redeem goods or services. Additionally, it also gives members exclusive access to products and events, free shipping, and other complementary services.
In addition to these initiatives, Nordstrom offers a range of personalized services, including access to stylists online and in-store who help customers create the perfect outfit and alteration services to ensure the perfect fit for their purchases.
Finally, Nordstrom is always seeking innovative ways to enhance the customer experience. For instance, in 2014, the company partnered with eBay to test smart fitting rooms that use technology to provide real-time information about items customers bring into the fitting room. By simply putting them in front of a mirror or a screen, customers can receive product information and save time and effort while trying on clothes.
By combining high-touch and high-tech solutions, Nordstrom elevates its customer service to a level that many companies across industries strive to replicate, resulting in a favorable market reputation and a loyal customer base.
6. Strong financial position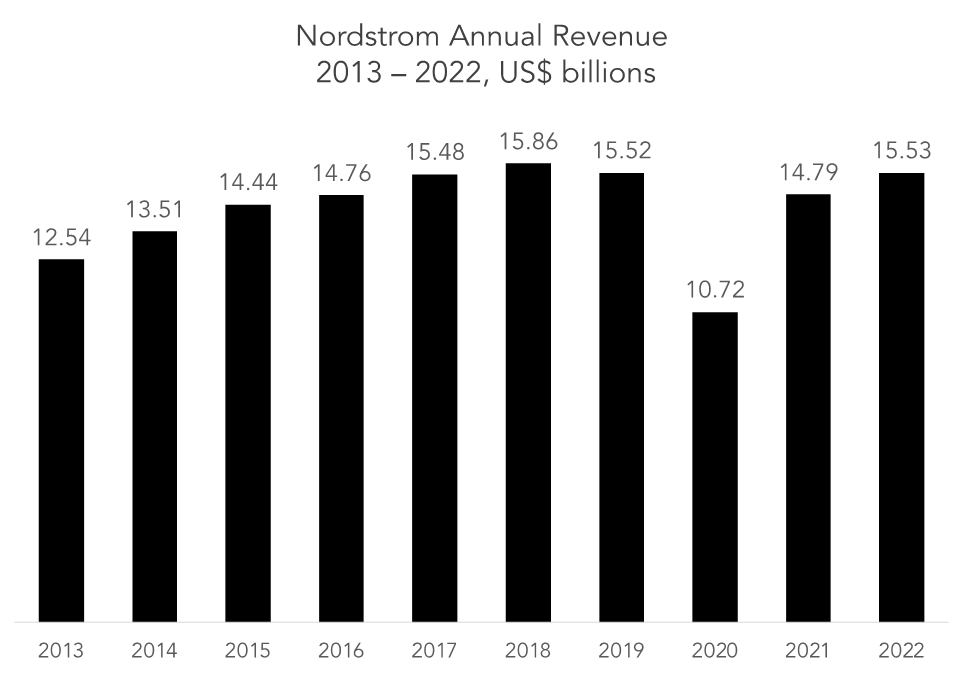 Nordstrom's impressive financial track record is a testament to the company's ability to execute its business strategy effectively and adapt to changing economic conditions.
For instance, after consistently achieving positive growth for decades, Nordstrom reported a 31% decline in revenue in 2020, dropping from $15.5B in 2019. This was due to the COVID-19 pandemic, which negatively impacted consumer behavior and was further exacerbated by high inflation rates. Despite this setback, Nordstrom's revenue rebounded quickly and is now at par with its 2020 level, with $15.5B in 2022.[13]
Likewise, Nordstrom has been generating positive net income for the most part, except for 2020 when it reported a loss of $690M.[14] However, unlike its revenue, net income took longer to recover as the company had to right-size its inventory by selling old stocks at highly discounted rates, which ultimately hurt its margins.
Nevertheless, this recent event demonstrated its ability to aptly respond to its evolving environment and maintain a strong financial position over time.
7. Leadership in Corporate Social Responsibility (CSR)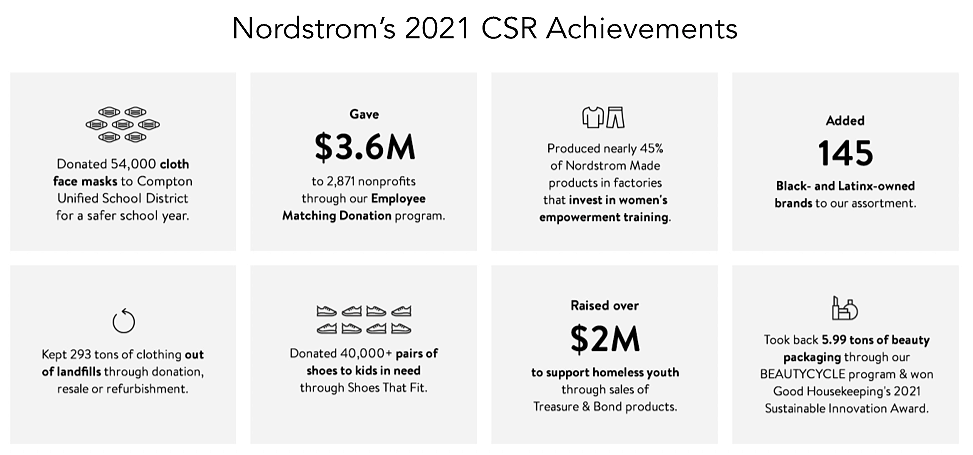 Nordstrom is also a market leader in Corporate Social Responsibility, diligently embracing ethical practices, environmental sustainability, and social equity. The company's dedication to these principles is demonstrated through a range of projects and partnerships that collectively deliver a positive impact on the environment and society.
One aspect of Nordstrom's CSR is its commitment to supply chain transparency and ethical sourcing. The company's responsible sourcing program ensures that suppliers adhere to stringent guidelines, protecting human rights and promoting ethical production.[15]
Nordstrom set a goal for itself that by 2025, 90% of Nordstrom Made products disclose traceability, ensure that all suppliers and business partners adhere to its partnership guidelines, and that 100% of its strategic suppliers should be paying a living wage.[16]
Nordstrom's environmental stewardship is evident in its efforts to reduce its ecological footprint. The company aims to reduce single-use plastic consumption, ensure that a percentage of its product assortment are sustainable, and that half of its own products use sustainable raw materials.
Philanthropy and community investment are also integral components of Nordstrom's CSR efforts. Primarily through its give-back brand Treasure & Bond, the company has been facilitating significant donations to non-profit organizations, addressing issues such as homelessness, education, and children's health. Additionally, Nordstrom encourages employee volunteerism, further contributing to the welfare of local communities.
Nordstrom's proactiveness in pursuing environmental and societal initiatives helps solidify its caring brand image, reinforcing its already strong market reputation. It also creates a better appeal to a growing number of consumers who are increasingly conscious of the social and sustainability practices of the companies they engage with.
Weaknesses
1. High dependence on the US market
Nordstrom recently announced plans to consolidate its business by winding down its operations in Canada. Beginning in 2023, the company will cease operations across its six Nordstrom stores, seven Nordstrom Rack stores, and the Nordstrom.ca website in the country.[17]
This strategic move came after Nordstrom reported losses every year since entering the Canadian market in 2014, with no clear path to profitability. This enables Nordstrom to focus on strengthening its U.S. operations. However, it also increases the company's vulnerability to economic downturns and fluctuations in consumer spending in the country.
As such, Nordstrom must implement strategies to mitigate this risk, while maximizing its growth potential. One strategy is to expand its product offerings, which could help the company attract a wider audience, thereby reducing its dependency on a single segment and providing a buffer against economic fluctuations.
Another potential approach is for Nordstrom to double down on its e-commerce platform which now reaches international markets. With a robust and accessible online channel, Nordstrom can cater to more customers both locally and globally without the need for significant investments in infrastructure and operating costs associated with building and running brick-and-mortar stores.
Through these initiatives, Nordstrom can continue to address the increasing market pressure it faces and maintain its status as a premier luxury retailer, while adapting to the evolving dynamics of the local and global retail landscape.
2. Limited product differentiation
Nordstrom, renowned for its high-quality fashion and apparel, faces the challenge of differentiating its product offerings from other players in the luxury retail space. Many competitors provide a similar product mix that includes clothing, accessories, cosmetics, and fragrances. This is compounded by the fact that many of the established players in the space partner with the same set of suppliers, and follow the same fashion trends.
In an effort to offer unique products, Nordstrom maintains an in-house brand called Nordstrom Made where it partners with private-label businesses like Zella, BP, Caslon, Tucker + Tate, and Open Edit.[18] However, its scope remains limited compared to competitors, leading to missed opportunities to distinguish itself and cater to a broader customer base.
To address these challenges, Nordstrom could adopt several strategies. First, it could expand its Nordstrom Made brand to increase the unique items it sells across its product categories. These types of products can also bring higher profit margins and attract a more diverse customer base for the company.
Nordstrom could also explore collaborations with designers and manufacturers to sell products that cannot be found elsewhere. Finally, it could take a look at new retail sectors to diversify its range and appeal to various customer segments.
3. High product price points
Nordstrom is known for its high-end brand image that predominantly offers products from popular and luxury brands. This focus on premium items entails relatively higher prices, which can limit the company's appeal to the more affluent segment of the market. As a result, Nordstrom finds itself at a disadvantage compared to other competitors that offer a broader range of products at varying price points.
Offering more expensive products than average consumers can afford sometimes leads to an oversupply, especially during periods of declining consumer spending. This compels Nordstrom to right-size inventory by liquidating these surplus items through promotional campaigns or sending them to its off-price channel, Nordstrom Rack. While this practice helps to manage inventory, it results in lost revenue and decreased profit margins.
To address this challenge, Nordstrom could consider introducing more products at different price points, while simultaneously improving its ability to predict demand for higher-end items to prevent oversupply. By doing so, the company would be able to serve a wider market segment, generate more revenue, and improve its competitive edge.
Opportunities
1. Expanding online presence
As Nordstrom moves to consolidate its brick-and-mortar store operations in U.S., the company should consider complementing it with an intensified online presence to increase its share of the rapidly growing global e-commerce market.
Statista forecasts that total revenue in the global e-commerce market will reach $6.35T by 2027, with an average annual growth rate of 11.51%.[19] This presents a significant opportunity for the company, especially since its primary product categories, fashion and beauty, are expected to be among the fastest-growing segments globally.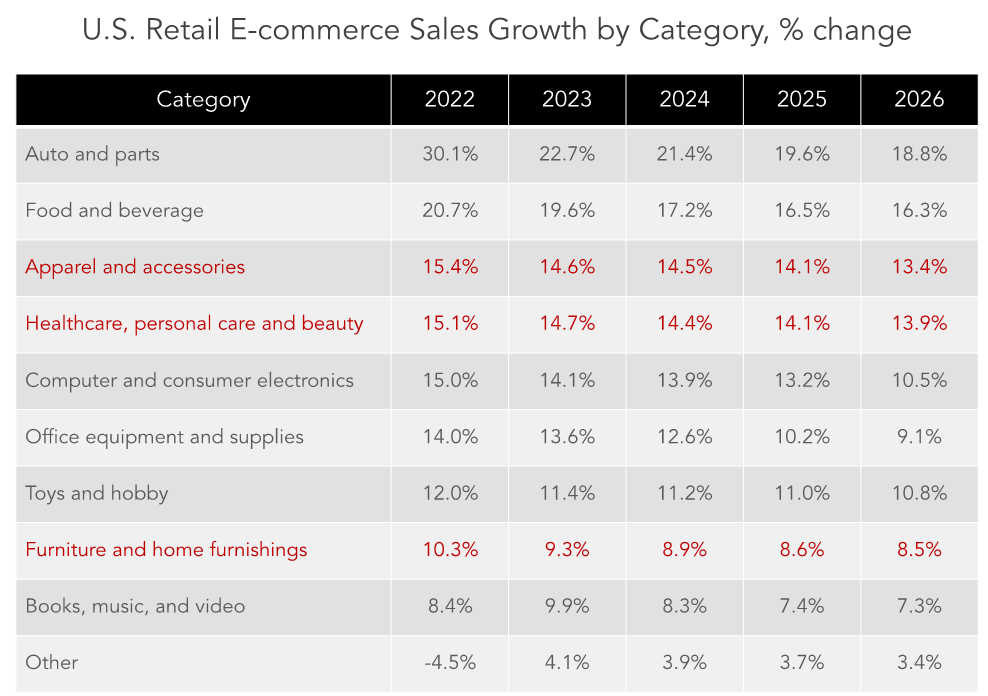 A similar trend is also projected to occur in the U.S., where the market size is anticipated to reach $1.01T by 2023 and further grow to $1.56T by 2027.[20] According to eMarketer, the apparel and beauty segments are two of the four sectors projected to experience the highest growth in the next five years.[21]
To fully capitalize on this opportunity, Nordstrom must continue enhancing its e-commerce platform, ensuring the delivery of exceptional service and experiences to a diverse global customer base with varying needs and preferences. Furthermore, it must also intensify customer engagement through social media channels to raise brand awareness and attract more followers beyond the U.S. market.
2. Establishing regional hubs
Nordstrom currently leverages Borderfree's network to cater to customers in international markets. However, if the company decides to pursue growth opportunities beyond the U.S., especially through online channels, its existing partner may not have sufficient capability to match its scale, which could be detrimental in the long run for the company.
As such, the company could consider building Supply Chain Networks in key regions and markets to increase its flexibility and speed in fulfilling customer orders globally. By having a global network of distribution and fulfillment centers, Nordstrom would also be able to establish partnerships with a broader range of suppliers, further expanding its product offerings.
3. Growing demand for sustainable and ethical fashion
As global fashion consumers increasingly prioritize sustainability, Nordstrom has the opportunity to capitalize on this trend. A report by Bain & Company revealed that 15% of shoppers now factor sustainability into their purchasing decisions, which the firm expects to rise to 50% in the coming years.[22]
Nordstrom is already ahead of the curve in incorporating sustainability practices into its operations, as highlighted in the Strengths section of this report. To maintain a competitive advantage, the company should continue to strive towards achieving its sustainability targets and integrate these initiatives into its brand image.
One way Nordstrom can enhance its sustainability efforts is by implementing traceability across its products. The company could explore the use of blockchain to record supply chain transactions, which customers can access through scannable codes or tags attached to the products. By scanning these codes, customers could receive detailed information about their purchases, including the raw materials used, where they were manufactured, and under what conditions. Such transparency fosters trust and confidence among consumers, further strengthening the Nordstrom brand.
IBM's "Meet the 2020 Consumers Driving Change" report suggests that embracing transparency and traceability could also translate into significant profits for Nordstrom. According to the study, seven in ten consumers are willing to pay a premium for products from companies offering complete transparency.[23] By prioritizing sustainability and embracing product traceability, Nordstrom can capture a growing market segment and boost its bottom line.
4. Embracing showrooming
Showrooming is a shopping behavior where customers try on products in brick-and-mortar stores before completing their purchases online. This trend emerged in the early 2010s, driven by the proliferation of e-commerce platforms that offer lower prices compared to offline options.
Nordstrom has previously dabbled in this strategy, allowing suppliers like Blue Nile to utilize its retail space to display jewelry products that customers could only purchase online. This partnership provided Nordstrom with a new revenue stream and helped attract more customers to its Wedding Suite category.[24] However, the concept did not fully take off at the time.
As online shopping behavior has matured and e-commerce platforms have become more established, Nordstrom could consider revisiting the showrooming strategy. The company could offer display items in different variants and sizes for customers to try. It could attach tags in product displays that, when scanned, would take customers to the company's e-commerce platform to add the items to their carts. This would reduce the need for large storage spaces and extensive in-store inventory management.[25]
To further incentivize customers to make purchases through Nordstrom, the company could offer special discounts on online orders. Although this strategy might result in slightly lower profit margins, the reduced costs associated with maintaining smaller store spaces could offset these losses. By reevaluating showrooming as a retail strategy, Nordstrom can streamline its operations while adapting to evolving consumer preferences.
Threats
1. Highly fragmented competitive landscape
In the highly fragmented and immensely competitive retail industry, Nordstrom faces significant competition in both physical and online sales channels. Similar to the company, major department store chains like Macy's, Dillard's, Neiman Marcus, and Saks Fifth Avenue also focus on high-end fashion products.
Additionally, large retailers such as Kohl's, Target, TJX Companies, Walmart, Urban Outfitters, and Ross Stores offer a range of products similar to Nordstrom's selection. Vertically integrated clothing retailers like Gap and Delta Apparel, Inc. also maintain their own stores to sell in-house products.[26]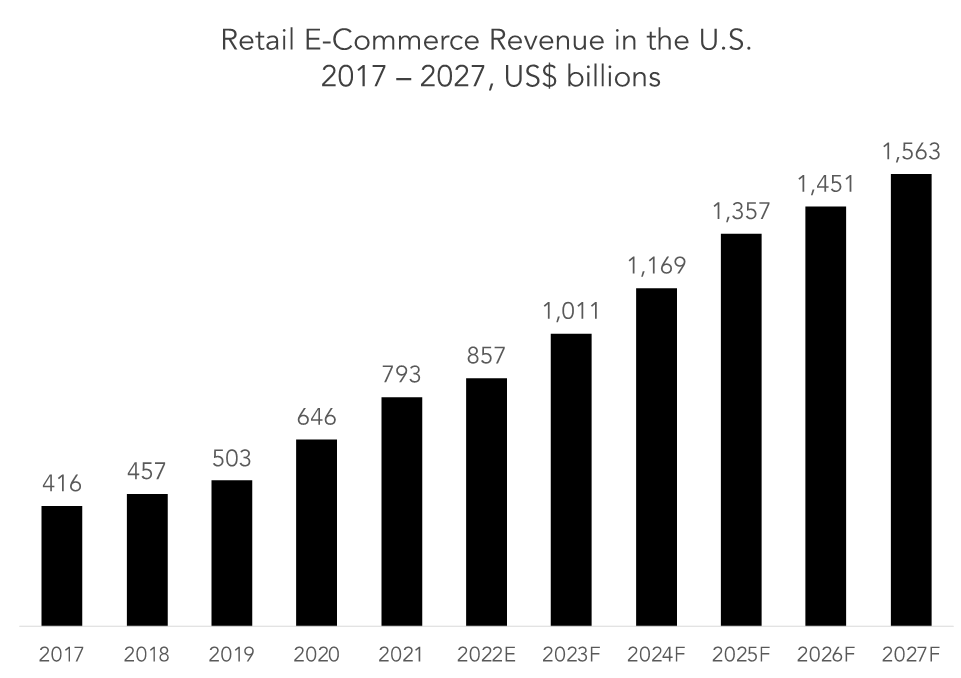 The rapid growth of e-commerce in the U.S. and globally presents further challenges, with a plethora of online native commerce platforms like Amazon, Alibaba, and Shein also competing for customer attention. In the U.S., Statista forecasts retail e-commerce sales to reach $1.57 T by 2027.[27] According to the research firm, Amazon has already captured the largest market share as of 2022, with nearly 38% of total.[28]
To maintain a competitive edge, Nordstrom must continually innovate and find ways to attract customers to its physical stores and online sales channels. This could involve expanding product offerings, differentiating the brand through exceptional customer service, and providing personalized shopping experiences.
2. Economic downturns
A significant threat that could impact Nordstrom's business is an economic downturn. During periods of economic uncertainty, consumers typically reduce spending on non-essential items like luxury goods, which can substantially affect the company's sales performance.
In recent years, the U.S. has seen a sustained increase in the prices of goods, with annual inflation reaching as high as 8% in 2022 – the highest level since the early 1980s.[29] Moreover, recessions can lead to higher unemployment rates, further dampening consumer spending.
To address these challenges, Nordstrom could consider offering value-based products and promotions that appeal to budget-conscious consumers. Additionally, the company should continue leveraging data analytics to anticipate market fluctuations and changing consumer demands. By doing so, Nordstrom can develop timely strategies to navigate adverse events and minimize their impact on its operations, ensuring the company remains agile and resilient during periods with poor economic conditions.
3. Shifting consumer preferences
The continuous shift of consumer preference in both sales channels and product taste can have a significant impact on Nordstrom's business. As consumers increasingly embrace online shopping and move away from traditional brick-and-mortar stores, Nordstrom needs to adapt its retail strategy to maintain its competitive edge and meet changing customer demands.
The rise of e-commerce platforms has led to higher expectations for convenience, speed, and personalized experiences among customers. Nordstrom must ensure that its online channels offer an intuitive, user-friendly interface and features such as personalized recommendations, efficient customer support, and a seamless checkout process. Failure to adapt to these expectations may result in lost sales and reduced customer loyalty.
In addition to channel preferences, changing product tastes also pose a challenge for Nordstrom. Consumer preferences can shift rapidly due to factors such as evolving fashion trends, growing awareness of sustainability, and the influence of social media. Nordstrom must stay informed about these trends and adjust its product offerings accordingly, continuously updating its inventory to remain relevant and appealing to its target market.
By closely monitoring and responding to these changes, Nordstrom can maintain its reputation as a leading fashion retailer and continue to meet the needs of its customer base. Failure to do so could lead to customer attrition, decrease in sales, and ultimately a weakened market position.
4. Supply chain disruptions
Nordstrom's intricate supply chain relies on a vast network of suppliers, vendors, and service providers, across hundreds of locations globally.[30] This complexity exposes the company to potential disruptions, such as factory closures, rising freight expenses, port disruptions, natural disasters, or trade conflicts.[31]
These disruptions can negatively affect the company's inventory levels, delivery timelines and ability to meet customer demand at any given time, ultimately affecting Nordstrom's reputation and bottom line.
To mitigate this threat, the company should focus on maintaining strong relationships with its supplier network and diversifying sourcing to minimize dependency on a single region or vendor. The company should also invest in advanced supply chain management tools such as real-time monitoring, predictive analytics, and contingency planning to enhance its supply chain visibility and resilience.
This proactive approach will enable the company to better anticipate, assess and address potential disruptions, ensuring a seamless customer experience and safeguarding its business operations.
5. Cybersecurity attacks
As Nordstrom increasingly relies on its online channels for customer interactions and sales, it becomes more susceptible to cybersecurity threats like data breaches and hacking. The company is an attractive target for malicious actors, given the sensitive customer information it holds, including names, addresses, and financial data.
IBM reports that the average total cost of a data breach reached $4.35 million in 2022, the highest since the company began tracking this figure.[32] In the U.S., the cost is more than double at $9.44 million.[33] Experiencing such a malicious attack, particularly one that exposes customer data, could significantly impact Nordstrom's financial position, tarnish its market reputation, and erode customer trust.
To safeguard against such incidents, Nordstrom must prioritize investing in robust cybersecurity measures, including data encryption, network security, AI-driven threat detection, and employee training on data security best practices. Furthermore, the company should regularly conduct security audits and tests to identify and address any vulnerabilities, ensuring that its online infrastructure remains secure and customer data is protected.
6. Continuously evolving regulatory environment
Nordstrom must implement systems to continuously monitor the regulatory environment, not just in the U.S., but also globally as it maintains relationships with a global network of suppliers and vendors, and scales its international presence through its online sales channels.
The company must ensure full compliance with laws in countries where it operates, particularly those that protect customer data and in areas where it has physical operations. Nordstrom must also monitor changes in laws and regulations related to labor, taxes, and trade, which could affect its operations and profitability.
In addition, Nordstrom should continue to engage with regulators and advocate for policies that support its business interests. Furthermore, the company must invest in contingency planning to quickly and appropriately respond to any regulatory changes that could impact its business.
Summary
Nordstrom is a leading fashion retailer based in the U.S. with strong brand recognition and an excellent market reputation. It maintains a diverse product portfolio that appeals to a broad range of consumers. The company also enforces exceptional service, which has led to enhanced customer experiences and loyalty.
Moreover, Nordstrom continues to focus on innovation to adapt to changing customer needs, particularly in the areas of supply chain management and distribution channels. All these initiatives have contributed to the company maintaining a strong financial position throughout multiple decades. Nordstrom is also a market leader in corporate social responsibility (CSR), further strengthening its reputation.
However, the company still needs to address several critical weaknesses to ensure continued success. First, as it winds down its operations in Canada, Nordstrom will be highly dependent on the U.S. market. Although it currently serves 96 countries through the Nordstrom e-commerce website, its international market presence remains limited. The company's products also offer limited to no differentiation vis-à-vis its competitors, which could lead to high customer attrition. Furthermore, as the company offers luxury products with high price points, it is not able to cater to a wider market segment.
While addressing those weaknesses, Nordstrom could also pursue various opportunities for growth. The company can expand its international presence by enhancing the features and functionalities of its e-commerce website, as well as establishing regional hubs worldwide. It could also capitalize on the growing demand for sustainable and ethical fashion to appeal to more consumers. Embracing showrooming could also be a strategic move, enhancing the in-store experience and driving online sales.
Nordstrom must also be cautious of potential threats to its business, including a highly fragmented competitive landscape, looming economic downturns, shifting consumer preferences, unforeseen supply chain disruptions, possible cybersecurity attacks, and an evolving regulatory environment. The company should put in place proper systems to appropriately monitor and address changes in its external environment as they occur.
Sources
1. "World's most admired companies 2023," Fortune, https://fortune.com/company/nordstrom/worlds-most-admired-companies/. Accessed April 24 2023.
2. "Nordstrom," Forbes, https://www.forbes.com/companies/nordstrom/?sh=7f8d4f2b6835. Accessed April 24 2023.
3. "Nordstrom," Ranking the Brands, https://www.rankingthebrands.com/Brand-detail.aspx?brandID=1445. Accessed April 24 2023.
4. "Nordstrom launched 'buy online, pick up in-store'," Nordstrom, https://press.nordstrom.com/news-releases/news-release-details/nordstrom-launches-buy-online-pick-store. Accessed April 24 2023.
5. "Nordstrom expands buy online, pick up in-store offering to stores nationwide," Retail Bum, https://retailbum.com/2020/retail/nordstrom-expands-buy-online-pickup-in-store-offering-to-stores-nationwide/. Accessed April 24 2023.
6. "Department store woes? Nordstrom responds with digital supply chain innovation," Harvard Technology and Operations Management, https://d3.harvard.edu/platform-rctom/submission/department-store-woes-nordstrom-responds-with-digital-supply-chain-innovation/. Accessed April 24 2023.
7. "RFID Summit FAQs," Nordstrom, https://nordstromsupplier.com/Content/SC_Manual/Reference_Documents/FAQs%20RFID%20Summit.pdf. Accessed April 24 2023.
8. "Company history," Nordstrom, https://www.nordstrom.com/browse/about/company-history. Accessed April 24 2023.
9. "In-store and digital sales share of Nordstrom worldwide from 2015 to 2022," https://www.statista.com/statistics/1035249/nordstrom-retail-sales-share-by-sales-channel-worldwide/. Accessed April 24 2023.
10. "Nordstrom annual report 2022," Nordstrom, https://press.nordstrom.com/static-files/789539ef-2c11-439f-9d71-efa4cf4e86f0. Accessed April 24 2023.
11. "The Nordstrom Way: Second Edition," Amazon, https://www.amazon.com/Nordstrom-Way-Customer-Service-Excellence/dp/1118076672. Accessed April 24 2023.
12. "How Nordstrom made its brand synonymous with customer service (and how you can too)," Shopify, https://www.shopify.com/ph/retail/119531651-how-nordstrom-made-its-brand-synonymous-with-customer-service-and-how-you-can-too. Accessed April 24 2023.
13. "Nordstrom Revenue 2010-2023," Macrotrends, https://www.macrotrends.net/stocks/charts/JWN/nordstrom/revenue. Accessed April 24 2023.
14. Ibid
15. "Responsible Sourcing," Nordstrom, https://www.nordstrom.com/browse/nordstrom-cares/human-rights/ethical-business. Accessed April 24 2023.
16. Ibid
17. "Nordstrom closing down in Canada, shuttering all 13 stores," CBC, https://www.cbc.ca/news/business/nordstrom-canada-1.6766073. Accessed April 25 2023.
18. "Nordstrom has its own in-house brands – shop Zella, BP., and more," Reviewed, https://reviewed.usatoday.com/lifestyle/features/nordstroms-own-brands-shop-zella-caslon-leith-and-halogen. Accessed April 25 2023.
19. "eCommerce worldwide," Statista, https://www.statista.com/outlook/dmo/ecommerce/worldwide#revenue. Accessed April 25 2023.
20. "Retail e-commerce revenue in the United States from 2017 to 2027," Statista, https://www.statista.com/statistics/272391/us-retail-e-commerce-sales-forecast/. Accessed April 25 2023.
21. "U.S. Ecommerce by Category 2022," eMarketer, https://www.insiderintelligence.com/content/us-ecommerce-by-category-2022. Accessed April 25 2023.
22. "How brands can embrace the sustainable fashion opportunity," Bain & Company, https://www.bain.com/insights/how-brands-can-embrace-the-sustainable-fashion-opportunity/. Accessed April 25 2023.
23. "Meet the 2020 consumers driving change," IBM Institute for Business Value, https://www.ibm.com/thought-leadership/institute-business-value/report/consumer-2020. Accessed April 25 2023.
24. "Nordstrom found a brilliant way to profit from showrooming," The State Journal-Register, https://www.sj-r.com/story/news/2013/12/16/nordstrom-found-brilliant-way-to/41530332007/. Accessed April 26 2023.
25. "Why retailers are trying on showrooms," Retail Dive, https://www.retaildive.com/news/why-retailers-are-trying-on-showrooms/439990/. Accessed April 26 2023.
26. "Nordstrom, Inc.," CSIMarket, https://csimarket.com/stocks/competitionSEG2.php?code=JWN. Accessed April 26 2023.
27. "Retail e-commerce revenue in the United States from 2017 to 2027," Statista, https://www.statista.com/statistics/272391/us-retail-e-commerce-sales-forecast/. Accessed April 26 2023.
28. "Market share of leading retail e-commerce companies in the United States as of June 2022," Statista, https://www.statista.com/statistics/274255/market-share-of-the-leading-retailers-in-us-e-commerce/. Accessed April 26 2023.
29. "Projected annual inflation rate in the United States from 2010 to 2028," Statista, https://www.statista.com/statistics/244983/projected-inflation-rate-in-the-united-states/. Accessed April 26 2023.
30. "Nordstrom Product Group (NPG) Tier 1 Factory List," Nordstrom, https://n.nordstrommedia.com/id/90d214d0-1d65-4119-99c5-c461f37ec721.pdf. Accessed April 26 2023.
31. "Nordstrom annual report 2022," Nordstrom, https://press.nordstrom.com/static-files/789539ef-2c11-439f-9d71-efa4cf4e86f0. Accessed April 24 2023.
32. "Cost of a Data Breach Report 2022," IBM Security, https://www.ibm.com/downloads/cas/3R8N1DZJ. Accessed April 26 2023.
33. Ibid