This SWOT analysis of Nintendo examines the brand by its strengths, weaknesses, opportunities, and threats. The report assesses the internal and external factors affecting Nintendo's business environment while looking at its current and future potential.
Company Overview
| | |
| --- | --- |
| Company name | Nintendo Co., Ltd. |
| Logo | |
| Foundation Date | September 23, 1889 |
| Founder | Fusajiro Yamauchi |
| Industry | Home Entertainment |
| Geographic areas served | Worldwide |
| Headquarters | Kyoto, Japan |
| Website | https://www.nintendo.com |
| CEO | Shuntaro Furukawa |
| Revenue | $15.089 billion (2022) |
| Net Income | $4.251 billion (2022) |
| Number of Employees | 6,717 (2022) |
| Competitors | Sony Corporation (PlayStation), Microsoft Corportation (Xbox), Steam |
Nintendo is a multinational technology company focused on home entertainment. Founded in 1889 in Kyoto, Japan, originally as a manufacturer of playing cards, it has evolved to now focus on the development, manufacturing, and sales of gaming systems, including console devices, software, and other gaming products.
To achieve its mission of bringing smiles to the faces of everyone it touches, it maintains an extensive portfolio of iconic game franchises, including Super Mario, the Legend of Zelda, and Pokémon. It also continues to enhance the gaming experience by developing, evolving, and launching a long line of gaming consoles that includes the Family Computer, Game Boy, Wii, and the Switch.
Nintendo is one of the leaders in the video game industry. Over the decades, the company was able to maintain a strong market position and generally good brand reputation that can be attributed to its highly customer-centric approach and depth of resources, including its widely popular IP, an extensive list of third-party partners, robust customer relationships, great organizational culture, and unique value propositions.
However, like all companies, it also has a fair share of weaknesses and challenges that it needs to address to ensure continued growth. The list includes a suboptimal supply chain management system, an ineffective pricing strategy, overreliance on developed markets, and a skewed revenue stream.
Furthermore, there are also emerging opportunities that the company could pursue to remain ahead of the pack, including expansion into emerging markets, increased attention given to mobile games, exploration of disruptive technologies, becoming a more open gaming ecosystem, and introduction of eSports to Switch.
While considering all these things, the company must also look out for and adequately address external threats that could disrupt its business, including intensifying competition in the space, the continued popularity of mobile games that could take away share from the primary market it is in, new supply chain disruptions, and the persistent case of intellectual property infringement.
Nintendo SWOT Analysis
Strengths
Weaknesses
1. Long history of innovation and resiliency
2. Widely popular digital properties
3. Strong partnerships with global brands
4. Augmented gaming experiences
5. Great organizational culture
6. Differentiated customer segmentation
1. Lagging supply chain management
2. Ineffective pricing strategy
3. Overreliance on developed markets
4. Skewed revenue stream
Opportunities
Threats
1. Expansion into emerging markets
2. Increased penetration of mobile game
market segment
3. Exploration of disruptive technologies
4. Becoming a more open gaming ecosystem
5. Introduction of eSports to Switch
1. Intensifying competition in the gaming
console space
2. Continued popularity of mobile games
3. Supply chain disruptions
4. Persistent case of intellectual
property infringement
Strengths
1. Long history of innovation and resiliency
Nintendo has existed for more than 133 years with a long history of innovation. It started as a playing card manufacturer that continued to diversify its products to include electronic toys, arcade games, and ultimately gaming consoles, which became the company's primary revenue stream.[1]
Throughout its century of existence, the company has withstood a slew of internal and external challenges. During the early years, Nintendo's business was severely disrupted by wars and abandonment. With the advent of gaming consoles, they were constantly pressured by the proliferation of competitors, dominated by big tech companies Microsoft and Sony.[2]
They were able to continue to compete for market share through continuous innovation, until in the mid-2000s when they released the Nintendo Wii. This console was initially believed to be a breakthrough in the area, but it did not live up to expectations due to poor design, library of games, and equipment quality.[3] This failure caused the company to almost be put out of relevance, but it remained resilient.
Then in 2017, Nintendo launched the Switch, a hybrid gaming console that can be used at home by connecting it to a screen or as a standalone, portable device. Although not as powerful as other consoles in the market, it quickly became a hit due to its unique design, value proposition, and market positioning.
Soon after, it became Nintendo's flagship product and the innovation that put the company back on the radar of gamers.[4]
2. Widely popular digital properties
Highest-Selling Nintendo Franchises Worldwide as of 2022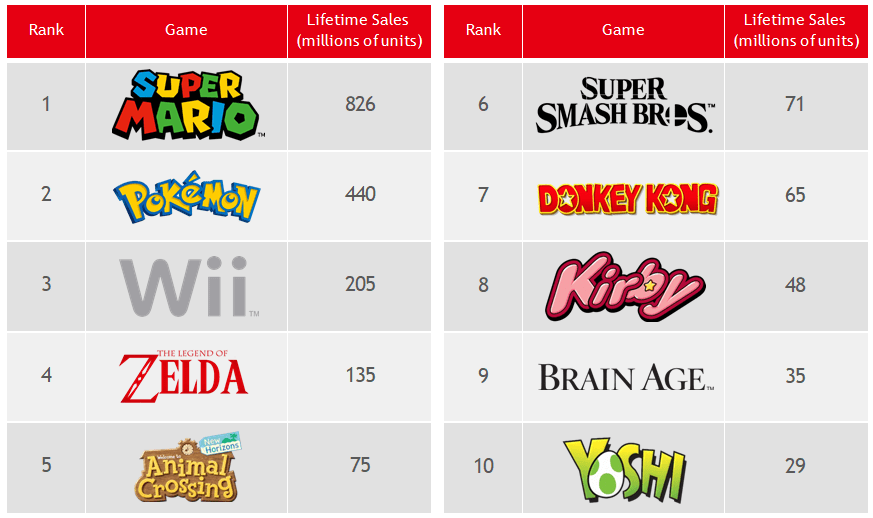 Nintendo owns a wide variety of long-standing game franchises that are widely recognized and followed globally. These games have piqued gamers' interest across generations and continuously evolved to match the shifting gaming preferences and trends over time. Some of the popular franchises include Mario, Pokémon, The Legend of Zelda, Donkey Kong, and Kirby.[5]
These games have also seen different adaptations, including toys, collectibles, card games, television programs, movies, and other merchandise, primarily through licensing to third-party entities.[6]
3. Strong partnerships with global brands
Throughout the years, Nintendo has formed and maintained successful strategic partnerships with established companies in the gaming and entertainment industry to increase its market presence and expand its scope.
For example, its partnership with Disney, which started in 1959, has enabled both companies to collaborate on a wide range of initiatives, including the production of playing cards, as well as the development of games, television shows and merchandise.[7]
Another good example is its partnership with Universal Destinations & Experiences, in which they collaborate to construct Super Nintendo World sections inside Universal Studios theme parks, providing customers opportunities to feel closer to their beloved game franchises in a high-touch environment.[8]
Furthermore, Nintendo also maintains an extensive list of well-known AAA game developers producing games for the Switch. The list includes Activision, Bethesda, Capcom, Konami, Square Enix, Sega, Ubisoft and Unity.[9]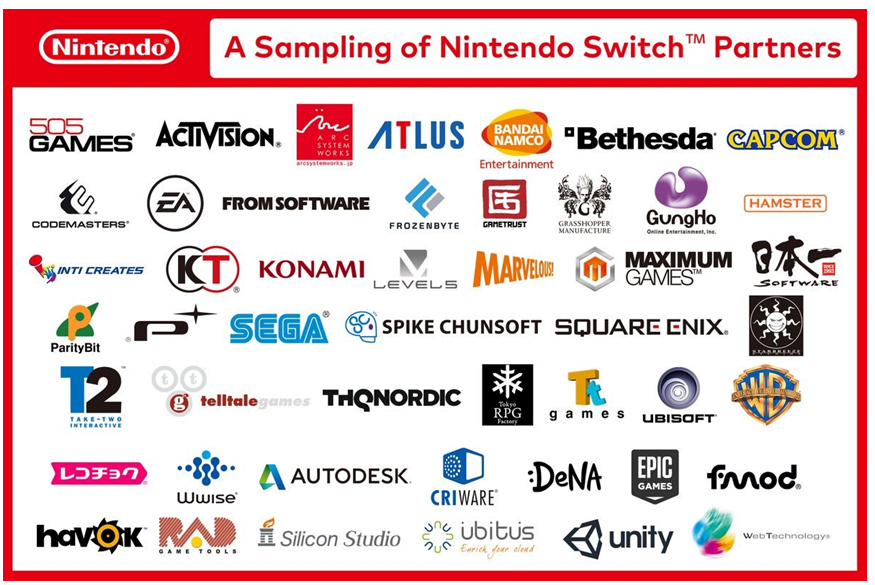 4. Augmented gaming experiences
Nintendo's strategy to achieve its mission to "put smiles on the faces of everyone we touch" does not end at developing consoles and games. The company has also built a vast collection of merchandise for its most beloved game franchises to provide a better gaming experience for its customers.
A good example is the Amiibo, a game collectible that can take many forms, from action figures to rings and cards. It also functions as a physical key that helps players unlock new in-game items or features when scanned through the NFC readers attached to their Nintendo devices. Nintendo also has apparel, like shirts and hats, that customers can use to demonstrate their love for their favorite games.
The Super Nintendo World theme park also offers the company's customers a unique opportunity to connect with their favorite games' worlds through a simulated environment.
5. Great organizational culture
Nintendo doesn't only pride itself in putting smiles on the faces of its customers but on its employees as well. It boasts of having an average employee tenure of almost 14 years.[10] That figure is more than three times higher than the median tenure of wage and salary workers in the U.S., which according to the U.S. Bureau of Labor and Statistics, stood at 4.1 years as of January 2022.[11]
This implies a good working environment within the company, supported by competitive compensation packages and policies that promote the wellness of its employees.
6. Differentiated customer segmentation
Nintendo's customer base was initially the same as its major competitors' when the Nintendo Switch was first released in 2017. According to a report published by Electronic Entertainment Design and Research (EEDAR), early adopters of the console skewed towards males at 70% to 30% for females. However, by 2019, the ownership split by gender has almost reached parity levels.
In terms of age groups, the majority of Nintendo users are aged 18 and older, extending until the age of 60. However, a good 30% are still under 18, with most of them between the ages of 10 and 12.[12] This starkly differs from its competitors' target market, dominated by young adult hardcore gamers.
This unique gamer demographics can be attributed to a number of factors. First, the company's positioning for Switch is a gaming device that family members can share in a household. Nintendo also focused its messaging on the idea of people playing together through its original slogan, "Anytime, anywhere, with anyone."
Next, they also made older titles from earlier generations of Nintendo devices available on Nintendo Switch, making it more attractive for older gamers who have grown up playing them. Another factor is the consistent release of new titles that potentially have more appeal to families, kids, and women, such as Animal Crossing New Horizon, Kirby and Pokémon games, as depicted in a promotional video[13] that Nintendo of America released in December 2020.
Weaknesses
1. Lagging supply chain management
In early 2020, the demand for the Nintendo Switch surged, driven by the stay-at-home orders globally due to the COVID-19 pandemic and the release of the widely popular game "Animal Crossing: New Horizons."
However, the demand was not met by a comparable increase in supply, resulting in the stock being completely sold out at many retailers globally, forcing customers to resort to third-party marketplaces and resellers where units are sold at almost twice the suggested retail price.[14]
This demonstrated that the company lacked the ability to predict demand for its products, preventing them from making insightful decisions in inventory and supply chain management. It was further exacerbated by external forces as the COVID-19 pandemic and the U.S.-China trade war continued to intensify in 2020, which caused severe disruption in the operations of Foxconn, Nintendo Switch's manufacturer based in China.
In late 2020, Nintendo announced that it was expanding its production by leveraging Sharp's manufacturing site in Malaysia.[15] However, the inability to manage supply and demand has already caused a high degree of customer dissatisfaction and forgone earnings for the company.
2. Ineffective pricing strategy
Nintendo Switch's game library continues to expand as many more big-budget and indie games from third-party developers are being ported. However, it is worth noting that the prices for many of these games were higher in Switch's eShop, compared to other gaming platforms, enough that gamers have coined a special term, called the "Switch tax."
Switch-focused blog Switcher conducted a study in 2019 and found that games on Nintendo's platform are, on average, 10% higher than on Steam, Valve's gaming platform.[16] In another article published by Eurogamer, they found two main reasons for the higher prices.
First, publishing games on Switch costs higher because the cartridges are more expensive than Blu-ray discs used by other gaming systems. The cost tends to go even higher as the size of a game increases.
In addition, Nintendo also has a strict policy that the prices of games' downloadable versions should be the same as their prices in cartridge format.17 This results in the cost of production being passed on even to customers who only buy downloadable versions of games.
If not addressed appropriately, this could lead to higher customer dissatisfaction, which could force them to switch over to the company's competitors, especially if games are released simultaneously across different platforms.
3. Overreliance on developed markets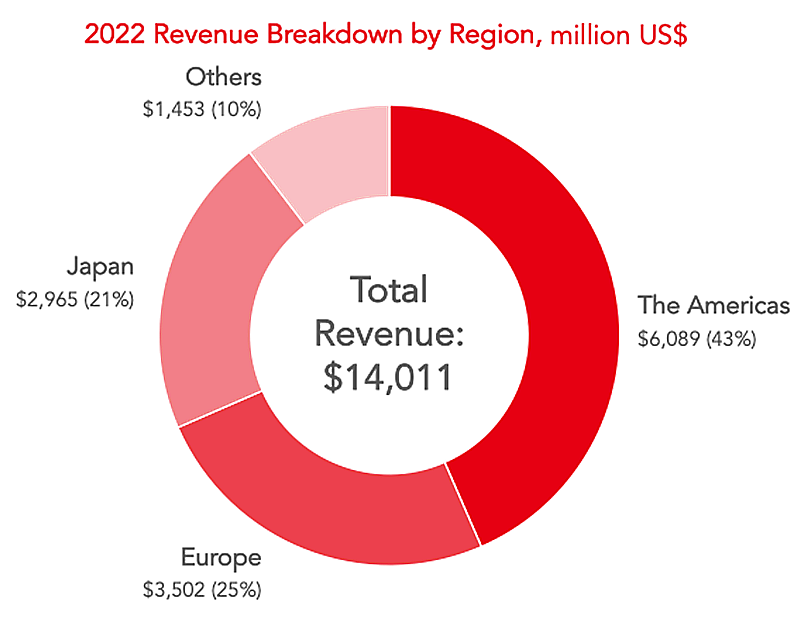 Nintendo's revenue mainly comes from developed markets. In 2022, 43% of its $14B total revenue came from the Americas, followed by 25% from Europe. Japan only contributed 21%, while the rest of the smaller regions contributed only 10%.[18] However, the developed market is becoming saturated and tightly contested among top industry players.
Nintendo also seems very unwilling to fully penetrate emerging markets as the players in those countries have different psychography and buying behavior. It was highlighted in an investor Q&A with Satoru Iwata, Nintendo's president, in 2010, where he stated that doing business in newly-emerging countries may estrange the company's loyal customers in developed markets if they do an entirely new business model in emerging markets because of the customers' different buying behaviors.[19] As of today, Nintendo only has presence in 41 countries worldwide.
4. Skewed revenue stream
2022 Revenue Breakdown by Source, millions US$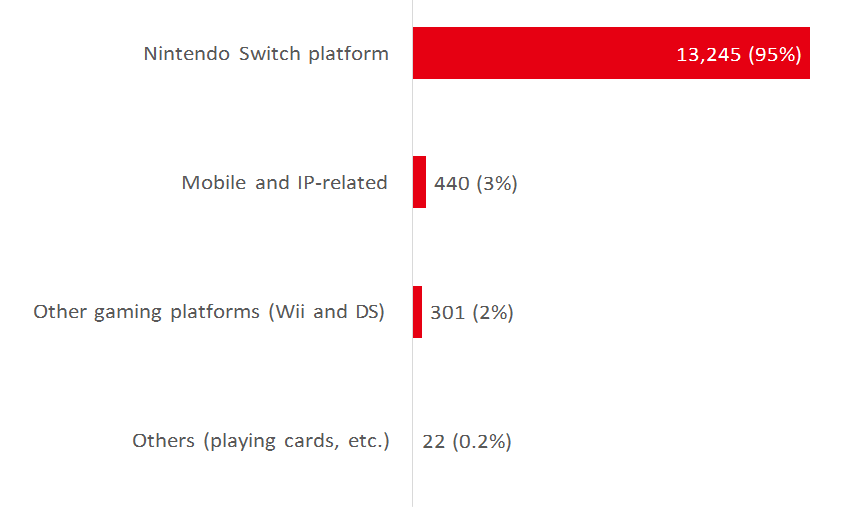 Nintendo's revenue stream is heavily skewed towards the Nintendo Switch gaming platform, which includes hardware, software and accessories. In 2022, almost 94.5% of its global revenue came from Switch, with only 3% from mobile games and IP licensing.
Heavily relying on one revenue stream may become very detrimental to future growth as a potential decline in Switch's sales will severely affect the company's financial position.[20] And if Nintendo fails to diversify its revenue stream, it would need to double down on introducing better value propositions for the Nintendo Switch, potentially by ensuring a consistent stream of games to retain gamers' interest and introducing newer models with better features and capabilities.
Opportunities
1. Expansion into emerging markets
Nintendo's Markets Worldwide, as of 2023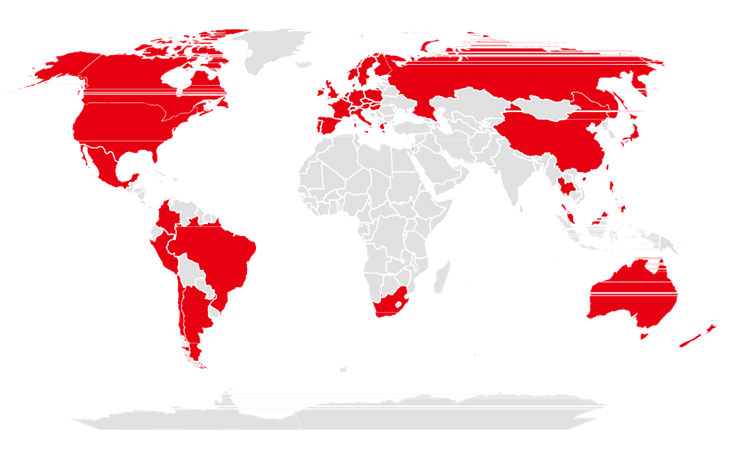 To ensure the company's continued growth, Nintendo could start exploring other high-growth areas, particularly in emerging markets in Asia, Latin America and Africa. Despite the company's hesitation due to the stark difference in buying patterns, Nintendo could begin to penetrate them using its existing business models and learn more about them.
It could then evolve its approach based on the insights it will get to capitalize on the rapidly growing gaming industry in these markets. This will ensure that Nintendo has a strong foothold in the global video game market, which is expected to grow from $197 in 2020 to $321B by 2026, according to PwC.[21]
2. Increased penetration of the mobile game market segment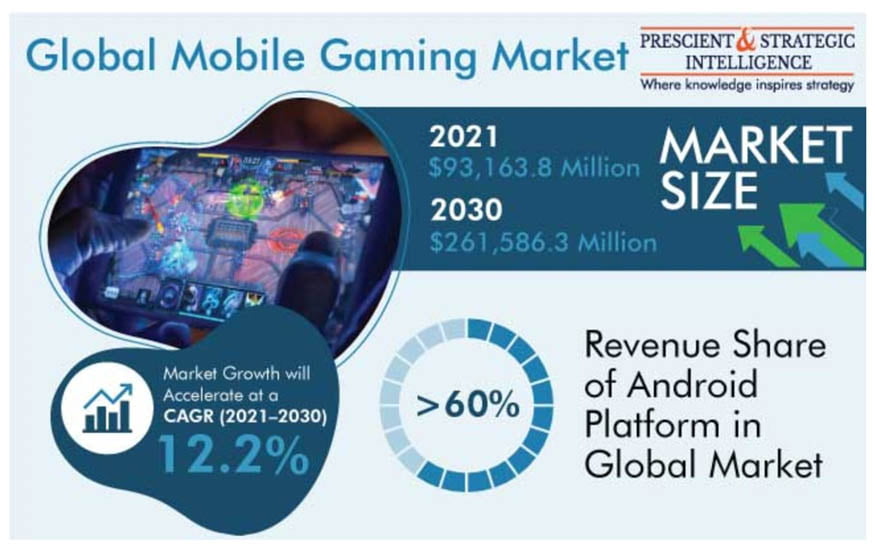 The global mobile market is projected to grow rapidly through 2030, reaching
$261B from just $93B in 2021.[22] However, Nintendo is currently not in a position to fully capitalize on this burgeoning opportunity. While the company has achieved some success with its six mobile games, generating $1.4B in lifetime revenue as of May 2022, the comparison with Pokemon Go is striking.[23]
The Nintendo-licensed game developed by Niantic has already generated $6B in lifetime revenue as of 2022, highlighting the vast potential and missed opportunity in the mobile gaming space.
Nintendo has taken the first step towards capitalizing on this opportunity by establishing Nintendo Systems, a joint venture with established mobile developer DeNA.[24] To further augment its mobile gaming efforts, Nintendo could expand its first-party titles or collaborate with more third-party developers to launch games that appeal to a broad range of gamers.
Furthermore, the company could explore how to best leverage the increasing sophistication of smartphones to capture gamer attention and provide differentiated experiences.
3. Exploration of disruptive technologies
Nintendo has long been known for its innovative approach to bringing new experiences to its customers. The company should consider continuing this tradition by exploring a few emerging disruptive technologies.
One area to explore is Web3, specifically the adoption of non-fungible tokens (NFTs). With NFTs, Nintendo can evolve existing game items, turning them into collectibles for players. It will bring gamers closer to their favorite franchises and add another layer of utility to Nintendo's content.
By leveraging this technology, Nintendo can establish a new competitive moat in the market, especially since its rival Microsoft has already expressed that it has no plans to incorporate NFTs into its gaming segment. Meanwhile, Sony has already filed for an NFT patent, suggesting that it is already working on an NFT-related implementation within its gaming platform.
Another technology the company could pursue is augmented and virtual reality (AR/VR). Gaming can become even more immersive by leveraging this technology, offering an added layer of depth to the content. Nintendo already has its own branded VR headset, but its current version has limited functionalities and only supports a few games in the Switch library.
Nintendo should consider expanding resources allocated in this area to develop better devices and more content that will offer higher entertainment value for its customers.
4. Becoming a more open gaming ecosystem
Nintendo should consider relaxing its controls on the Switch ecosystem to allow for more participation from customers and developers. For example, it could establish a marketplace where gamers can buy, sell, or trade items across games.
This will further incentivize playing, creating new opportunities for players to interact, compete and collaborate with each other. It will also open a new revenue stream for the company, wherein it could take a percentage fee for each transaction, similar to the marketplace model used by Valve's Steam gaming platform.
Nintendo will also greatly benefit by improving its relationship with third-party developers. This could be achieved by making the internal screening process for game developers less rigid and providing more accessible development tools.
By making third-party game development for the Nintendo Switch a lot easier, it will create a self-reinforcing network effect wherein an increase in the quantity and quality of third-party game developers will result in a more extensive and compelling Switch library that could, in turn, attract more customers, and therefore an increase in revenue for the company.
5. Introduction of eSports to Switch
Global eSports Market Size, 2021-2029F, billions US$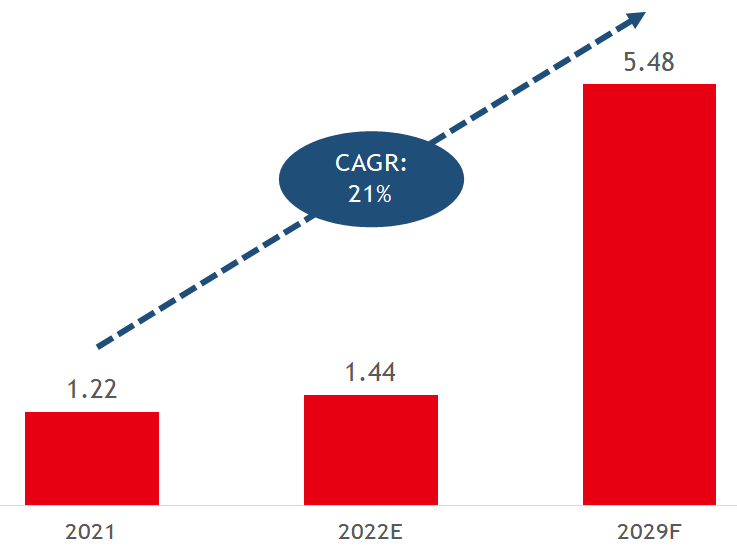 Although Nintendo focuses on casual gaming, it can still leverage the growing eSports segment as another path for future growth. In the past, competitive communities have been established for some of its first-party titles, but the company not only did not support them, it even went as far as banning the broadcast of those titles in several eSports scenes.[25]
However, by venturing into eSports, Nintendo could significantly enhance its brand power, attract more customers across different segments, and gain a share of this bourgeoning space, which is predicted to reach more than $5 billion by 2029.[26] To capitalize on this opportunity, Nintendo can start by developing more competitive games and sponsoring events for those with existing competitive communities. The company can also partner with more established entities in the scene to navigate the opportunities, complexities and nuances of eSports.
Threats
1. Intensifying competition in the gaming console space
Nintendo must lookout for intensified competition in the video game and console space. Although it maintains a dominant position in the market, along with significant competitors Microsoft and Sony, new players are starting to image. For example, Valve, which operates Steam, a traditionally PC-based gaming platform, has released its own portable gaming console called Steam Deck that enables users to play games even when they are far from their computers.
Nintendo should also keep in its radar screen cross-industry convergence wherein non-traditional but established companies from different industries begin penetrating the market as it becomes more appealing due to its growing market size. For example, Amazon already has a presence in the market with its popular streaming service Twitch, as well as its own game development studio called Amazon Games, established in 2012. The tech giant certainly possesses the technology, network and talent to develop its own console and expand its game library should it choose to do so.
2. Continued popularity of mobile games
Mobile gaming has seen significant growth in recent years, with customers increasingly preferring to play on their mobile devices instead of traditional gaming systems. However, Nintendo has not been able to keep up with the market's growth, which is evident in the dismal performance of its current roster of mobile games.
With the Cambrian explosion of mobile games that compete for customers' ever-shortening attention, failure to understand and grasp the market could put the company at risk of losing its customers and the opportunity to gain another significant revenue stream, especially if the increasing preference for mobile game continues in the long-term.
3. Supply chain disruptions
Potential disruptions in Nintendo's supply chains could severely impact its ability to serve its customers. A good example is the chip shortage that started in 2020, in which many, if not all, electronics manufacturers, including Nintendo, were not able to meet the surge in demand for electronics products due to the lack of supply of chips as production was halted due to the COVID-19 global lockdown.
Other external factors that could disrupt the company's supply chain include the rise of geopolitical issues similar to the trade war that occurred between the U.S. and China during the Trump administration, as well as potential abrupt changes in the regulatory environment, particularly in countries where Nintendo source its materials and manufacture its products.
4. Persistent case of IP infringement
As with other forms of content, tools and devices, the video game industry continues to suffer from intellectual property breaches. For Nintendo, it mainly comes in the form of illegal reproduction and distribution of games as well as the development of device emulators that allow players to access Nintendo's gaming assets without needing to buy them.
There are also instances where third parties use the company's brand assets to manufacture toys, accessories and apparel, and other things without the company's knowledge or authorization. Malicious acts like these could damage the company's reputation and cause a significant loss in revenue.
Summary
Nintendo is truly a global brand that is loved by gamers almost everywhere. But it must not be complacent in leveraging its long history of innovation to ensure its continuity. It must put in place systems and safeguards that will enable it to continuously anticipate, assess, and address the emerging opportunities and challenges in the rapidly growing, but tightly contested, video game space.
Sources
1. "Nintendo." Wikipedia, https://en.wikipedia.org/wiki/Nintendo. Accessed 7 April 2023.
2. Ibid
3. "3 Reasons the Nintendo Wii Failed." The Motley Fool, https://www.fool.com/investing/general/2013/10/30/3-reasons-the-nintendo-wii-failed.aspx. Accessed 7 April 2023.
4. "Annual Report 2017." Nintendo, https://www.nintendo.co.jp/ir/pdf/2017/annual1703e.pdf. Accessed 7 April 2023.
5. "Best-selling Nintendo games." Video Game Sales Wiki, https://vgsales.fandom.com/wiki/Best_selling_Nintendo_games. Accessed 7 April 2023.
6. "List of Nintendo movie adaptations." Nintendo Wiki, https://nintendo.fandom.com/wiki/List_of_Nintendo_movie_adaptations. Accessed 7 April 2023.
7. "The Walt Disney Company." Nintendo Wiki, https://nintendo.fandom.com/wiki/The_Walt_Disney_Company. Accessed 7 April 2023.
8. "Nintendo's huge new deal with Universal shows just how far it'll go to turn the ship around." Business Insider, https://www.businessinsider.com/nintendo-partnered-with-universal-studios-2015-5. Accessed 7 April 2023.
9. "Nintendo Switch: List of confirmed games and developers/publishers." Perfectly Nintendo, https://www.perfectly-nintendo.com/nintendo-switch-list-confirmed-games-developers/. Accessed 7 April 2023.
10. "Nintendo annual report reveals average age and salaries of its employees." GameRant, https://gamerant.com/nintendo-employee-age-wages/. Accessed 7 April 2023.
11. "Employee Tenure in 2022." U.S. Bureau of Labor Statistics, https://www.bls.gov/news.release/pdf/tenure.pdf. Accessed 7 April 2023.
12. "Second Quarter Financial Results and Corporate Management Policy Briefing for Fiscal Year Ending March 2023." Nintendo, https://www.nintendo.co.jp/ir/pdf/2022/221109e.pdf. Accessed 7 April 2023.
13. "Welcome to Nintendo Switch!" Nintendo of America via Youtube, https://www.youtube.com/watch?v=WniaKJzCNRI. Accessed 7 April 2023.
14. "How Animal Crossing and the coronavirus pandemic made the Nintendo Switch fly off the shelves." CNBC, https://www.cnbc.com/2020/06/02/nintendo-switch-animal-crossing-and-coronavirus-led-to-record-sales.html. Accessed 7 April 2023.
15. "Nintendo adding Sharp as Switch manufacturing partner could boost Q4 sales year-on-year." Nintendo Life, https://www.nintendolife.com/news/2020/11/nintendo_adding_sharp_as_switch_manufacturing_partner_could_boost_q4_sales_year-on-year. Accessed 7 April 2023.
16. "The Switch tax: How much more are you paying for digital games?" Switcher, https://switcher.co/features/switch-tax-analysis/. Accessed 7 April 2023.
17. "Why Nintendo Switch games are ending up more expensive?" Eurogamer, https://www.eurogamer.net/why-nintendo-switch-games-are-ending-up-more-expensive. Accessed 7 April 2023.
18. "Annual Report 2022." Nintendo, https://www.nintendo.co.jp/ir/pdf/2022/annual2203e.pdf. Accessed 7 April 2023.
19. "Is Nintendo missing out on developing markets?" Kotaku, https://kotaku.com/is-nintendo-missing-out-on-developing-markets-5602068. Accessed 7 April 2023.
20. "Annual Report 2022." Nintendo, https://www.nintendo.co.jp/ir/pdf/2022/annual2203e.pdf. Accessed 7 April 2023.
21. "Gaming is booming and is expected to keep growing. This chart tells you all you need to know." World Economic Forum, https://www.weforum.org/agenda/2022/07/gaming-pandemic-lockdowns-pwc-growth/. Accessed 7 April 2023.
22. "Mobile Gaming Market Report." Prescient & Strategic Intelligence, https://www.psmarketresearch.com/market-analysis/mobile-gaming-market. Accessed 7 April 2023.
23. "Nintendo close to hitting $1.8B in revenue from mobile games." Nintendo Life, https://www.nintendolife.com/news/2022/05/nintendo-close-to-hitting-usd1-8-billion-in-revenue-from-mobile-games. Accessed 7 April 2023.
24. "Nintendo and mobile giant DeNA launch mysterious Nintendo Systems subsidiary." Engadget, https://www.engadget.com/nintendo-and-mobile-giant-dena-launch-mysterious-nintendo-systems-subsidiary-175102761.html. Accessed 7 April 2023.
25. "Nintendo's 'complicated' relationship with eSports." Gamma Law, https://gammalaw.com/nintendos-complicated-relationship-with-esports/. Accessed 7 April 2023.
26. "eSports Market." Fortune Business Insights, https://www.fortunebusinessinsights.com/esports-market-106820. Accessed 7 April 2023.