This SWOT analysis examines the strengths, weaknesses, opportunities, and threats of YouTube, the second most viewed website in the world after Google.
YouTube boasts some mind-boggling statistics.
With over 2.6 billion monthly active users, over a quarter of the world's population is on YouTube every month. Its 122 million daily active users spend an average of 19 minutes each on the website. About 694,000 hours of videos are consumed each minute, much higher than Netflix's 452,000 hours.[1]
In 2023, If one decided to watch all the videos on YouTube (assuming no new videos are uploaded), it would take about 17,810 years of consecutive watch time!
In an age where attention is gold, YouTube enjoys a lion's share of it.
This report assesses both internal and external factors that impact YouTube's business environment while looking at its current and future potential.
Company Overview
| | |
| --- | --- |
| Name | YouTube |
| Founded | February 14, 2005 |
| Logo | |
| Website | https://www.youtube.com |
| Industries served | Online video sharing, Social media |
| Geographic areas served | Worldwide (Excluding blocked countries – China, Eritrea, Iran, North Korea & Turkmenistan as of May 2023[2]) |
| Headquarters | San Bruno, California, United States |
| Current CEO | Neal Mohan (February 2023 – present) |
| Revenue | $ 29.24 billion (2022) |
| Profit | Not reported (Gross profit margin is estimated to be around 38%[3]) |
| Employees | 2800 (estimated [4]) |
| Main Competitors | Vimeo, Instagram TV, Facebook, TikTok, Dailymotion, Twitch, Wistia, Behance, Brightcove, Loom |
YouTube was founded in 2005 by Steve Chen, Chad Hurley, and Jawed Karim, who were early employees of PayPal.
Shortly after the site opened on a limited ("beta") basis in May 2005, it attracted some 30,000 visitors per day. By its official launch on 15th of December 2005, it registered almost two million daily views, increasing to 25 million by Jan 2006.

By the summer of 2006, YouTube was serving more than 100 million videos per day, showing no signs of a slowdown in new videos uploaded.
This immense growth in traffic forced the company to burn through cash while running out of server space and weathering litigation threats from record labels. Its staff were working around the clock and its founders were growing increasingly wary of how to sustain the company without some serious financial muscle. With limited success in commercializing its website or containing growing costs, YouTube began looking for a buyer.
In November 2006, Google, prompted by the failure of its own video platform "Google Video," purchased YouTube for $1.65 billion in stock and decided to continue YouTube's operation independently.[6]. It was, at the time, an eye-popping figure to pay for a startup barely two old.
Following the purchase, Google negotiated deals with several entertainment companies allowing copyrighted video material to appear on YouTube and would give users the right to include certain copyrighted songs in their videos. It also agreed to remove tens of thousands of copyrighted video files from YouTube, thus containing the risk of copyright-infringement lawsuits.
Since then, YouTube's growth has been phenomenal, relentlessly adding users over the years.

As of 2022, YouTube was estimated to be worth over US$180 billion, delivering Google a 110x + return. If YouTube as a standalone listed company, it would be amongst the largest video and entertainment companies in the world.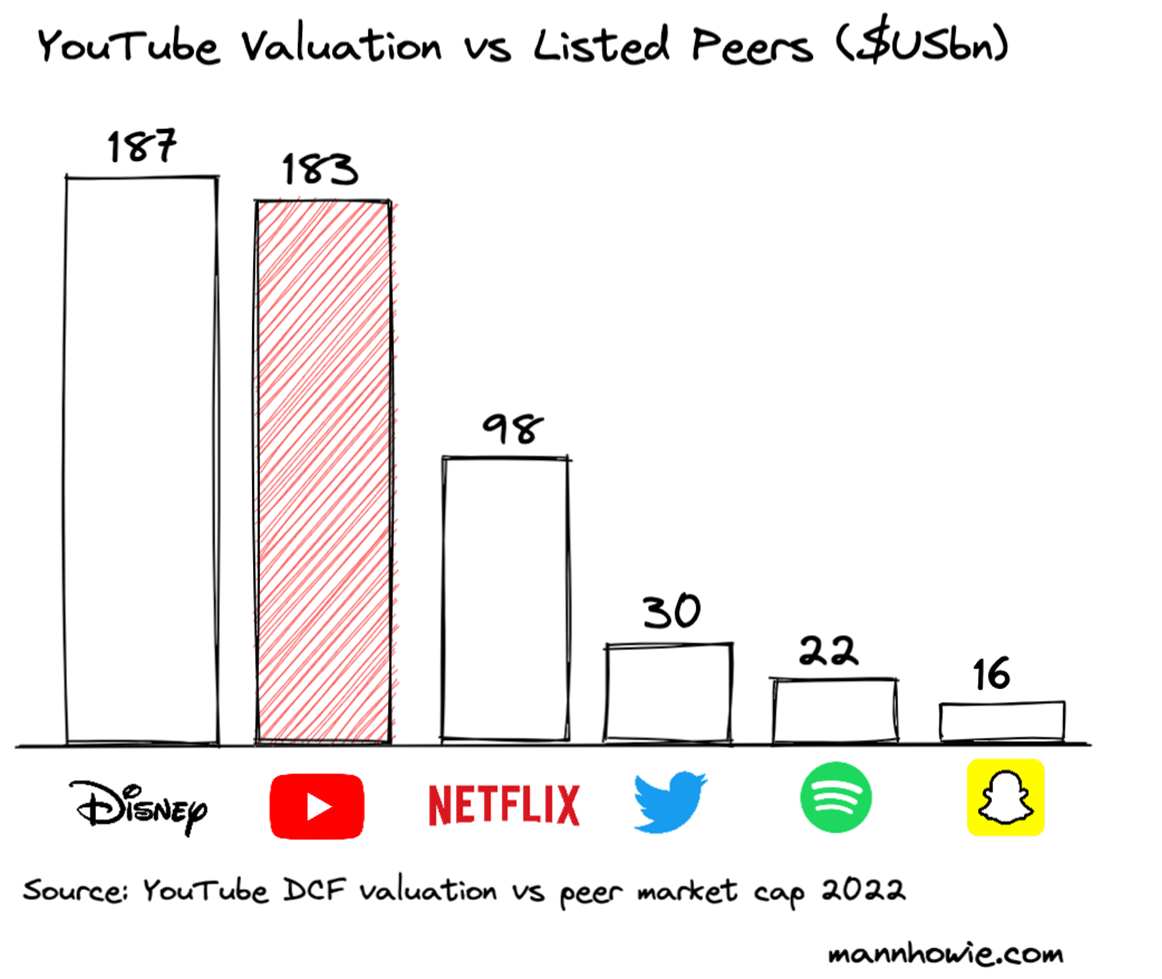 Key milestones in the journey of YouTube's growth: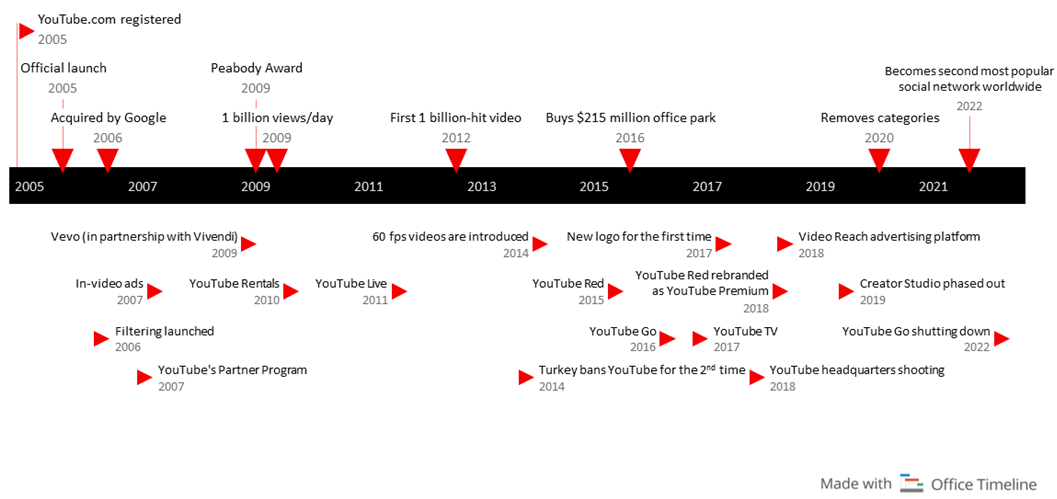 In October 2015, Google was restructured to create Alphabet Inc., a multinational technology conglomerate holding company that is currently the parent company of Google LLC, of which YouTube is a part.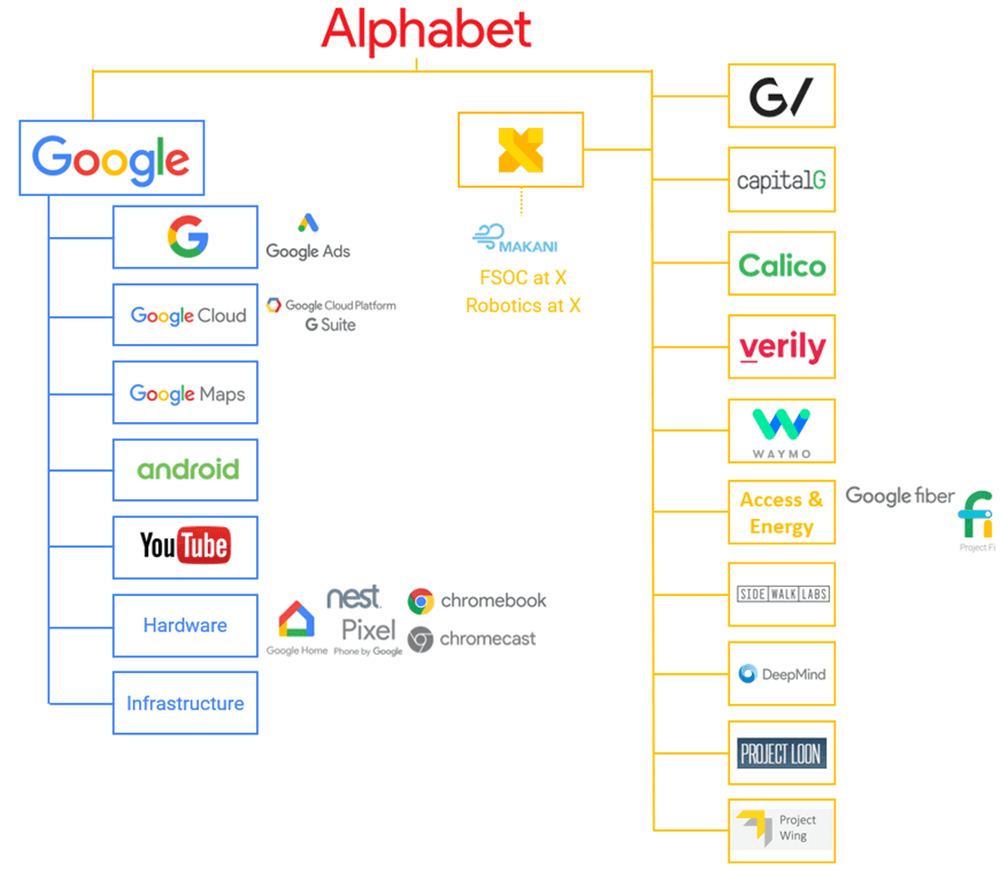 From its humble beginnings, YouTube has come a long way to become an integral part of the internet culture and a powerful platform for creativity, expression, and learning.
It has an unprecedented influence on society, encompassing both advantageous and detrimental aspects. While serving as a catalyst for innovation, education, and active participation, it also concurrently propagates harmful material and extremist ideologies. It is also a formidable instrument for political campaigning and marketing, allowing individuals and businesses to monetize their content and expand their reach to broader audiences.
Youtube SWOT Summary
Strengths
Weaknesses
1. Leader in a network-effect-driven market
2. Synergy with Google's revenue model
3. Backend infrastructure support by Google
4. Use of Artificial Intelligence
5. Revenue sharing with content creators
6. Innovation and agility
1. Not the best in terms of ROI
2. Comparatively lower Average Revenue Per User (ARPU)
3. Among the most toxic platforms online
4. Role in fueling radicalizing & conspiracy theories
5. User data privacy concerns
Opportunities
Threats
1. More room for growth in developing countries
2. Generative AI-assisted content creation
3. Web3, NFTs, and Metaverse
4. Exclusive partnerships with content providers
1. Evolving competition with specific niches
2. Increasing awareness about digital well being
3. Regulatory threats – Censorships
4. Use of add-blocking software
Strengths
1. Leader in a network-effect-driven market
YouTube is a platform that operates in a market with network effect[10], i.e., scale and value are strongly correlated. Greater scale leads to greater value for users, which consequently attracts more users to join the platform, increasing scale further.
Similarly, content (videos) that receives more views are likely to receive even more attention as users are inclined to watch videos with a high number of views. This results in an information cascade that helps increase the popularity of the content and, in turn, the platform.
With every user added and video uploaded, the whole YouTube network becomes more valuable to all.
In 2022, YouTube ranked as the second most popular social media network in terms of Monthly Active Users (MAU).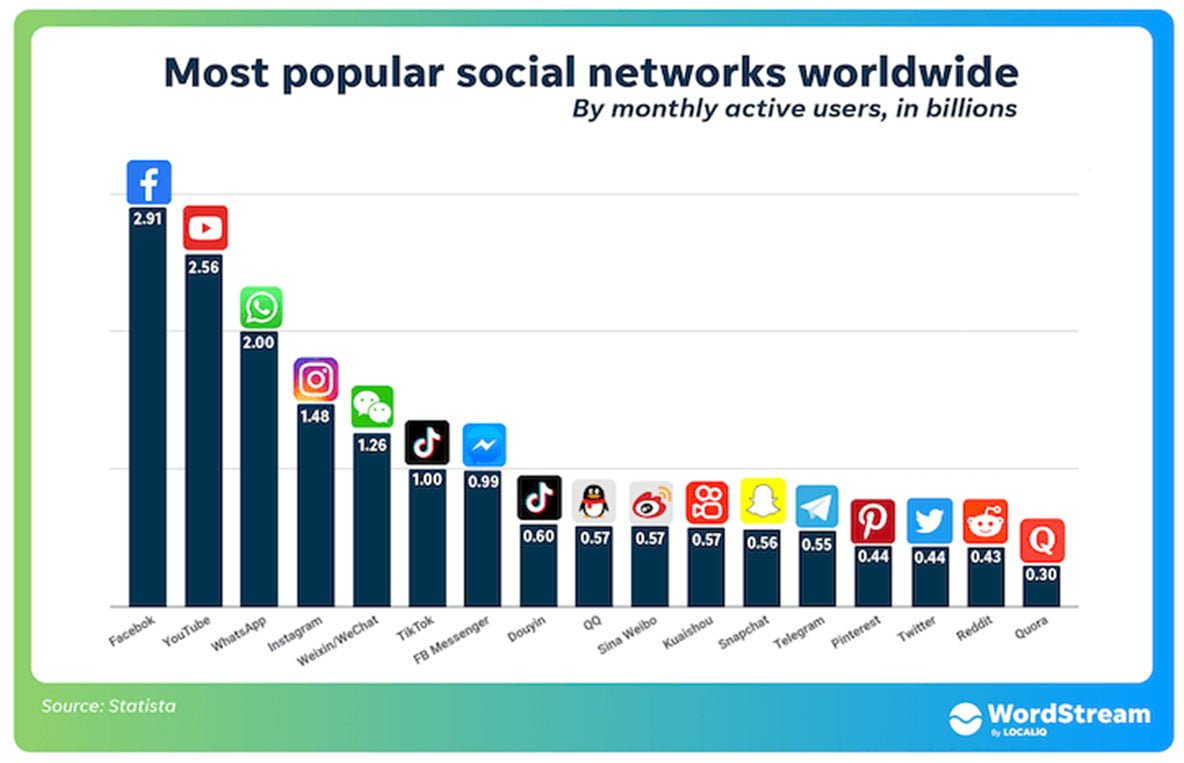 March 2023 ranking of websites by user visits puts YouTube in the second place, next only to Google, its own parent company. Third position is held by Facebook, albeit by a much lower number when compared to the traffic attracted by the top two.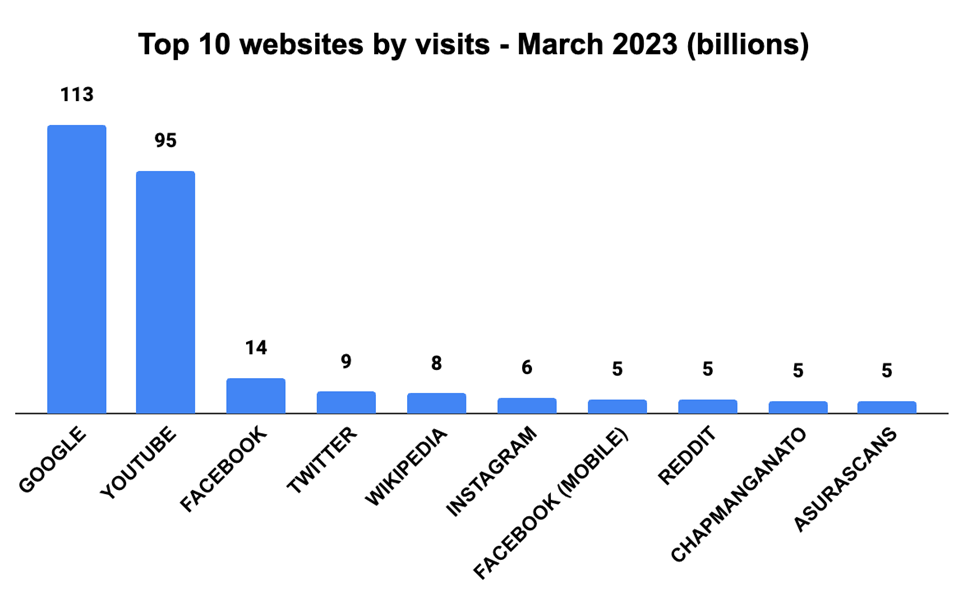 This puts YouTube in a winner-takes-all situation in which advertisers compete for attention with huge marketing budgets.
2. Synergy with Google's revenue model
YouTube's parent company, Google, is the number one most visited website for search while YouTube is the go-to place for long-form video content.
Working together, these top sites are interconnected, sharing audiences and ad formats with the end goal of cultivating the ultimate journey for consumers.[13]
For example, many users (potential customers) who search for products, movies, and other items on Google's search and its products, like the Chrome browser, are pointed to YouTube to watch reviews, unboxing videos, and other related content. This then triggers data-driven, relevant adverts which have a high chance of conversion (leading to a purchase). The synergy between these platforms hence becomes invaluable for marketers looking to maximize the return from their advertisement budget.
This unique combination is also a key component to staving off competition from Facebook and, increasingly, Amazon, which has built its own powerful, product-based ad business based on Amazon product searches.
3. Backend infrastructure support by Google
YouTube delivers over a billion hours of video streams every single day while simultaneously managing 2,500+ new video uploads every minute.
It utilizes cutting-edge software and hardware technologies (collectively called tech stacks)
to ensure a seamless streaming experience where everything is available at the press of a
button. Much of this remarkable capability is attributed to Google's exceptional infrastructure and software solutions.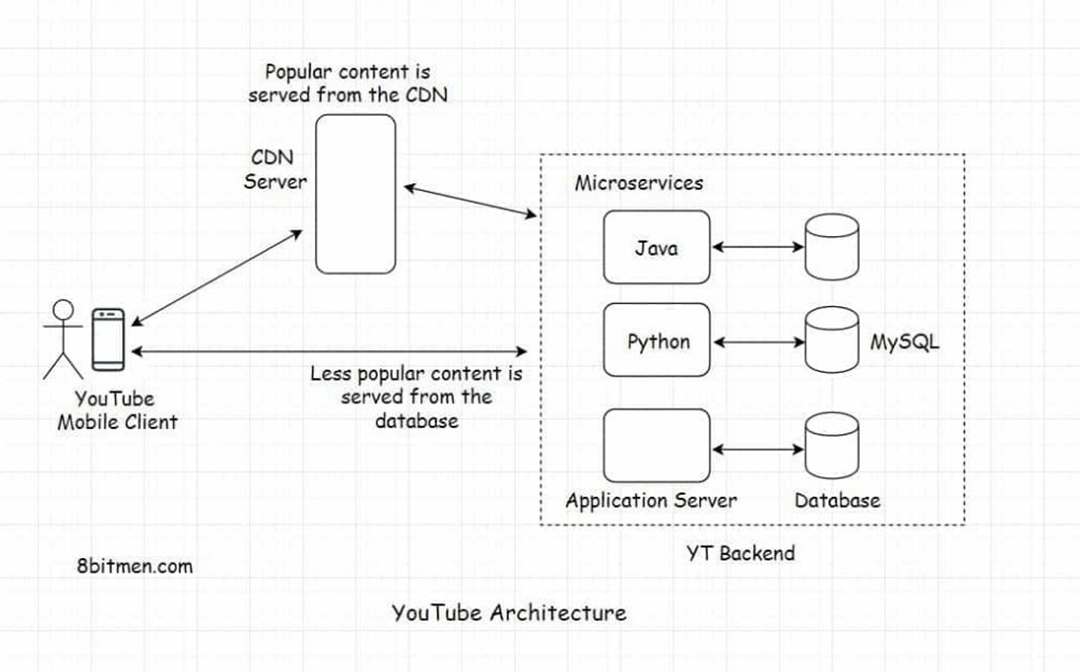 For example, YouTube videos are stored in hard drives in warehouse-scale Google data centers. This data is managed by the Google File System (GFS) and BigTable.
GFS is a distributed file system developed by Google to manage large-scale data in a distributed environment, while BigTable is a low-latency distributed data storage system built on GFS to deal with petabyte-scale data spread over thousands of machines[14].
Another important part of the system is the Content Delivery Network (CDN). CDN is a geographically distributed group of servers that caches content close to end users allowing for quick transfer and short loading time for videos. YouTube uses Google's global edge network to serve content closer to users, which accelerates streaming speeds.[15]
A host of technologies, such as dynamic adaptive streaming, HTTP technologies, database management systems, server load balancing, security, and privacy management systems come together to power YouTube.
As part of Google, YouTube leverages the parent company's know-how and infrastructure while keeping the associated costs within the group. In contrast, a streaming service like Netflix which deploys AWS (Amazon Web Services) for its to support its streaming platform pays almost $10 Mn a month for the service[16].
4. Use of Artificial Intelligence
According to YouTube, its recommendations system drives a significant amount of the overall viewership on the platform, even more than channel subscriptions or search.[17]
Over the years, YouTube's algorithm has evolved both in terms of goals and the way it utilizes technology.
| Period | Goal(s) |
| --- | --- |
| 2005 – 2011 | Optimizing for clicks & views |
| 2012 – 2014 | Optimizing for watch time |
| 2015 – 2016 | Optimizing for satisfaction |
| 2016-present | Tailored based on users' interests and watch history. Reduce spread of harmful misinformation. |
(Source: Hootsuite[18])
As of 2023, YouTube uses artificial intelligence tools in various ways beyond just recommending content, such as:
Content moderation – detect and remove harmful or inappropriate content, such as violence, hate speech, or spam, and to enforce its community guidelines.
Video analysis – enhance the quality and accessibility of videos, such as by generating captions, translations, thumbnails, tags, and descriptions.
Advertising – match advertisers with relevant audiences and content, and to optimize the performance and revenue of ads.
Content creation – enables creators to produce and edit videos, such as by using virtual reality, augmented reality, or 3D animation.
Much of YouTube's AI is powered by Google Brain, the parent company's artificial intelligence division, which YouTube began using in 2015. Brain employs an artificial
intelligence technique known as unsupervised learning. Its algorithms can find relationships between different inputs that software engineers would never have guessed.
As a result, more than 70 percent of the time people spend watching videos on the site is driven by YouTube's algorithmic recommendations.
By using AI, YouTube is in a unique position to offer more value and convenience to its viewers, creators, and advertisers.
5. Revenue sharing with content creators
YouTube empowers creators to earn money directly on its platform in a variety of different ways, including through placed advertising, merchandise sales, and subscriptions.
First introduced in Dec 2007, YouTube's Partner Program allows channels that meet certain metrics to run ads on their videos and earn money doing so.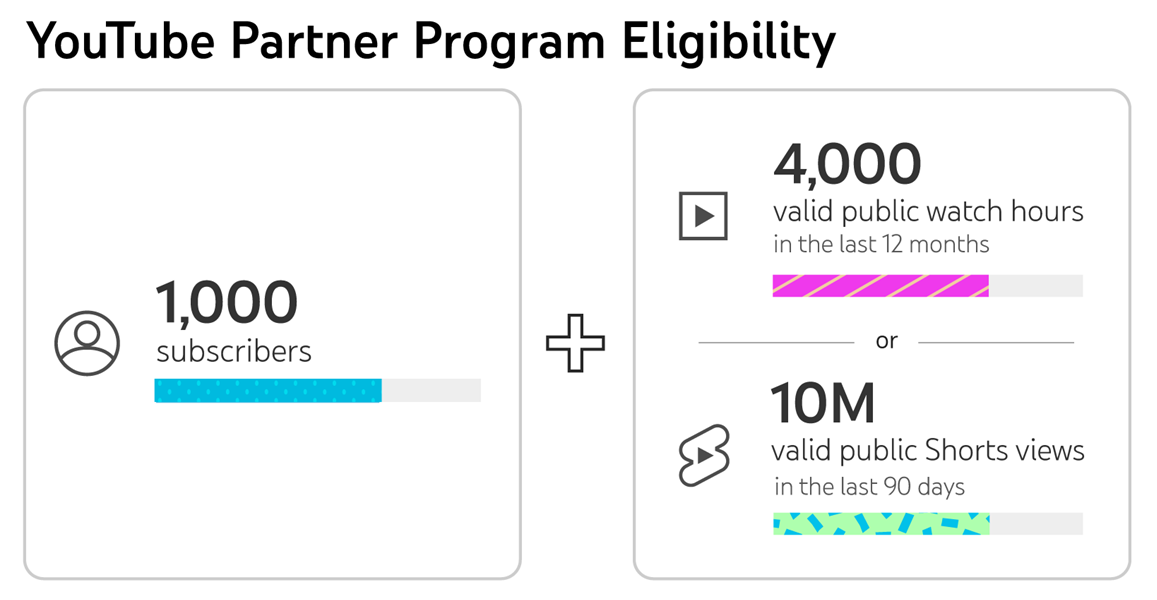 Advertising is the most common way for content creators to earn money on YouTube. Advertising revenue is generated when people watch ads that are running on videos. This revenue from ads is shared between YouTube and the creator – thus empowering creators to directly profit from their work.[20]
Besides advertising, the platform also provides alternate monetization sources like channel memberships, where fans can join a creator's channel with monthly recurring payments and get access to members-only perks like badges, custom emojis, and exclusive content. Super Chat and Super Stickers is another way where fans can buy and send text or digital sticker messages to highlight their live chat messages and connect with their favorite creators.[20]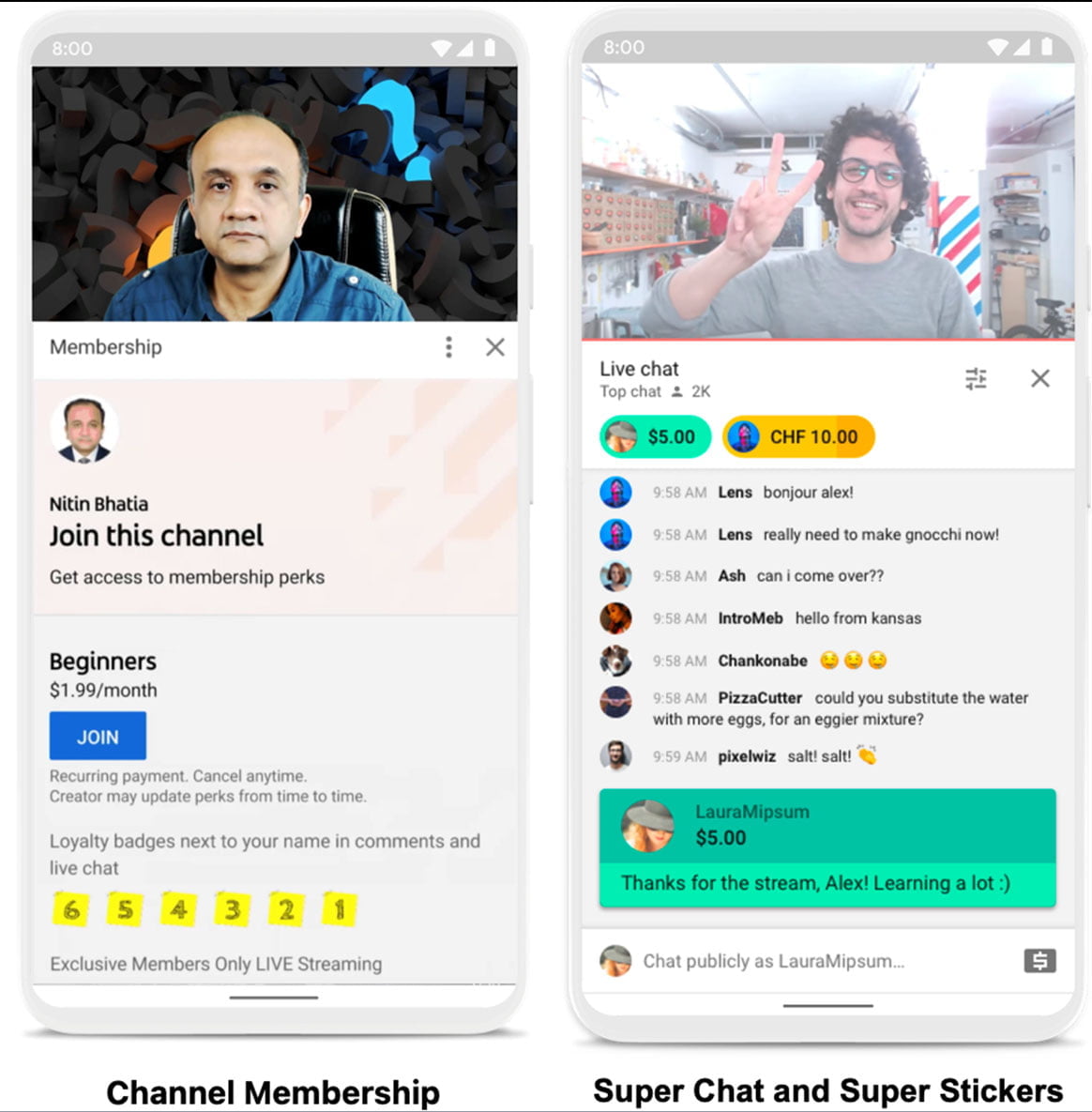 Depending on the number of views, audience location, and content category, earnings on the platform for most content creators (who meet monetization requirements) can range anywhere between $82 and $83,000 per month.[21]
Most successful content creators (called YouTubers), however have managed to make millions of dollars using YouTube's Partner Program. These enjoy celebrity status, with their content garnering billions of views.
| YouTuber (Name of the channel) | Estimated annual earnings |
| --- | --- |
| Mr. Beast | $ 54 million |
| Jake Paul | $ 45 million |
| Markiplier | $ 38 million |
| Rhett and Link | $ 30 million |
| Unspeakable | $ 28.6 million |
| Nastya | $ 28 million |
| Ryan Kaji | $ 27 million |
| Dude perfect | $ 20 million |
| Logan Paul | $ 18 million |
| Preston Arsement | $ 16 million |
Top 10 YouTubers in 2023 (Source: Demandsage.com[22])
YouTube's Partner Program is a way of sharing the revenue with the creators which encourages quality content that further generates more views leading to a positive feedback loop that the platform benefits from and is one of the key drivers of its success.
6. Innovation and agility
Innovation has been central to the growth journey of YouTube ever since it launched in 2005.
To give creators the opportunities they need to find success, YouTube has evolved from being just a place where people upload and share videos to a destination where creators can find new audiences, connect with fans in different ways, and build growing businesses.
The platform now has 10 ways to monetize content.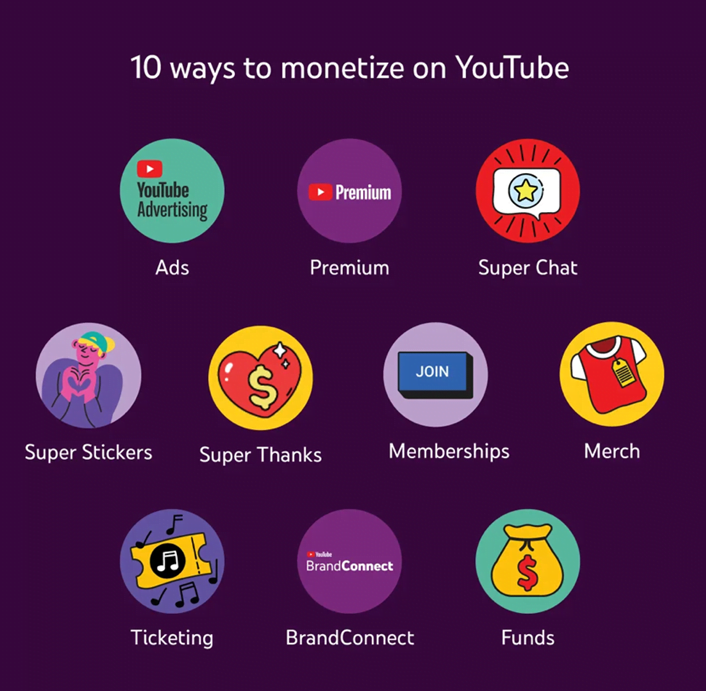 When TikTok became one of the hottest apps on the planet through the success of short-form videos, YouTube was quick to introduce its own format of shorts integrated within its existing app. YouTube Shorts has since crossed 50 billion daily views indicating the platform's agility in adapting to changing market trends.
Not all its new ventures have been successful. For example, in 2022, it killed its YouTube Originals division created in 2016. Originals did not see any massively successful hits during its operation.
YouTube's drive for innovation is evident through its relentless release of new features and updates over the decade. It has the backing of Google's ecosystem that provides leverage in technology, infrastructure, skills, and the financial muscle, which is a natural advantage over the competition.
Weakness
1. Not the best in terms of ROI
When applied in the context of social media, ROI (Return on Investment) is a measure of return on the social media activities and expenses incurred by a marketer. One of the most popular ways to measure social media ROI is through paid advertising.
While YouTube receives over 34 billion monthly visits and commands an audience of 2.5+ billion people, the platform's ROI is not the best. Instagram and Facebook remain top choices with 25% and 23% ROI compared to YouTube's 14%.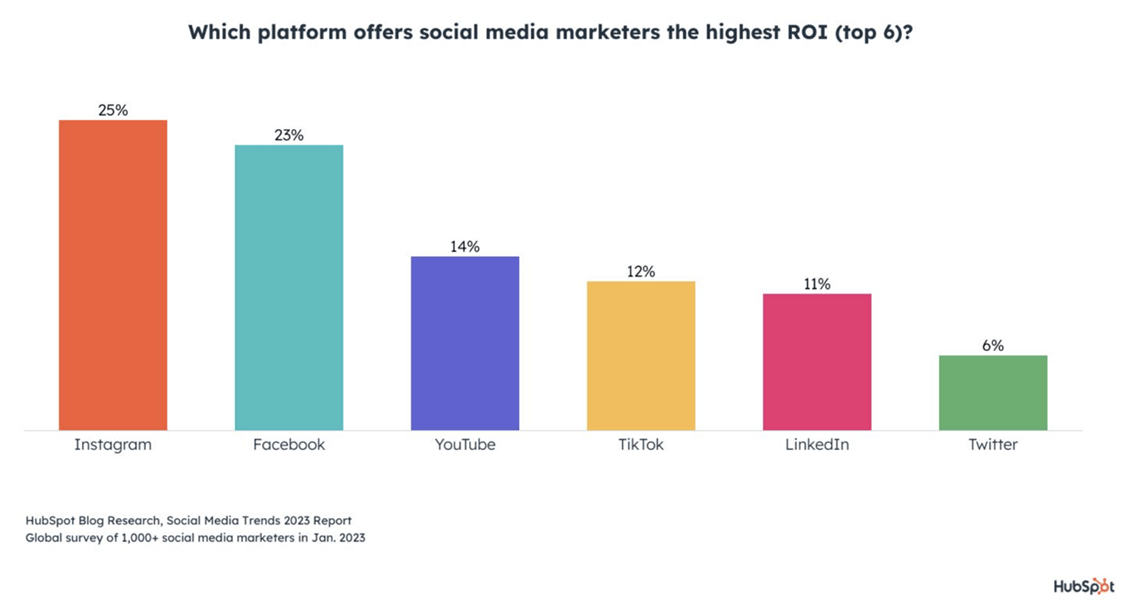 2. Comparatively lower Average Revenue Per User (ARPU)
YouTube has a harder time converting its users into paying users than other apps because it has been free for a long time.
It's a psychological effect of a habit. If something has been free for a long time and suddenly no longer is, customers begin to feel ripped off. But if something is new, they are more likely to accept the price.
Comparatively, Amazon (Prime), Netflix, and Spotify have a much higher percentage of paying subscribers than YouTube.
YouTube's paid subscription benefits (with the exception of access to its music app) are limited to in-app benefits like ad-free viewing, downloads for offline viewing, background play, etc.
Comparatively, Amazon takes its Prime membership benefits to a whole new level with benefits like free same-day or two-day delivery, free access to Prime Video, Prime Music, Prime Gaming & Prime Reading, exclusive deals on selected products, discounts & free delivery benefits from Amazon's subsidiary stores like Amazon Fresh & Whole Foods Market which offers a lot more value to customers as a package[25].
YouTube has the option to offer similar bundled packages, including Google services like cloud storage and workspace.
Facebook currently generates ~3x higher ad revenue per active user than YouTube across both Facebook and Instagram platforms.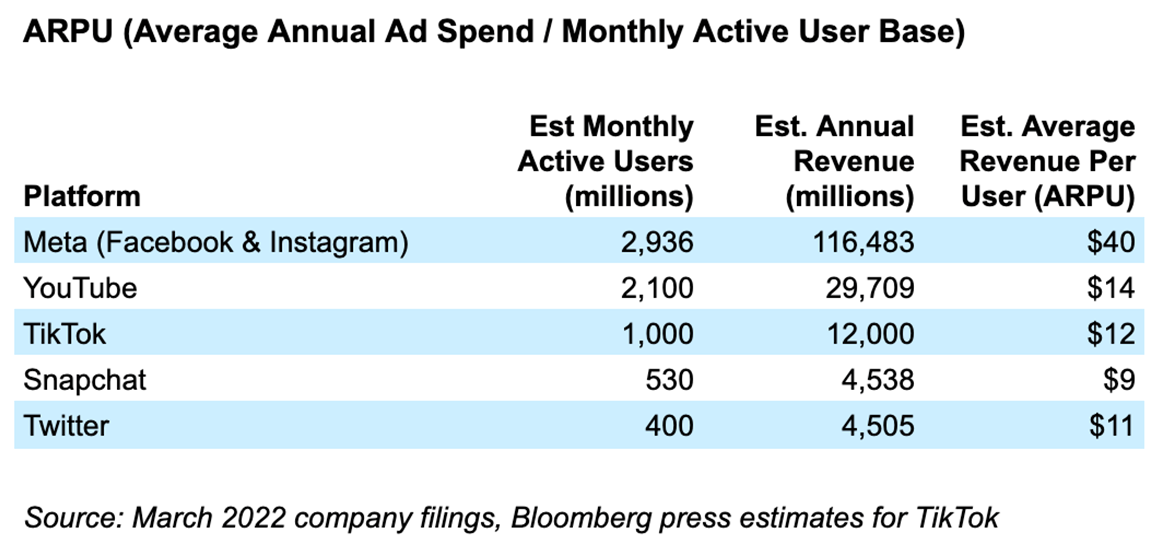 This could be due to Facebook's greater variety of ad formats and granular audience targeting (interests, age, behavior, lookalike audience).
Facebook platforms gain a distinct advantage in understanding their users through access to posts, likes, and group affiliations, providing valuable insights into user behavior. This wealth of information enables them to deliver more precisely targeted advertisements, resulting in enhanced effectiveness and relevance.
3. Among the most toxic platforms online
In a 2023 study[26], ExpressVPN surveyed over 2,000 children aged 4 to 13 in the U.S. and UK who have access to the internet, as well as their parents or guardians (over 2,000 adults).
The study evaluated online platforms for potential dangers that come with social media, like cyberbullying, invasion of privacy, depression that stems from comparing oneself to another, and online predators who prey on young children.
YouTube did not fare well in the study with over 43% of the users in the US and 34% in the UK reporting that they have experienced these negative scenarios frequently.
In the U.S.
In the U.K.
1. YouTube (43%)
2. Facebook (35%)
3. TikTok (28%)
4. Roblox (27%)
5. Instagram (26%)
1. Roblox (34%)
2. YouTube (34%)
3. TikTok (25%)
4. Fortnite (21%)
5. Facebook (16%)
Platforms where children say they experience these negative scenarios (Source: ExpressVPN[26])
In 2019, Bloomberg[27] reported that YouTube executives ignored warnings, letting toxic videos run rampant. Proposals to change recommendations and curb conspiracies were sacrificed for engagement.
4. Role in fueling radicalizing & conspiracy theories
Radicalization on social media is a controversial and complex topic, and YouTube in the past has been accused, among others.
While YouTube's primary intention is to provide a platform for users to share and access a wide variety of content, including educational, entertaining, and informative videos, there have been concerns about its role in facilitating the spread of extremist ideologies and radicalization.
YouTube's recommendation algorithm plays a significant role in suggesting videos to users based on their viewing history, search, and preferences. However, this algorithmic system can unintentionally contribute to the echo chamber effect[28], where users are exposed to increasingly extreme and polarizing content. This can lead to the reinforcement of existing beliefs and potential radicalization.
The platform has also faced criticism for hosting and promoting extremist content, including hate speech, conspiracy theories, and radical ideologies[29].
Amplification of Conspiracy Theories is another area where YouTube has been criticized. The platform has hosted content related to conspiracy theories[30].
Extremist groups and individuals have in the past exploited[31] YouTube for recruitment and propaganda by disseminating materials and instructional content. The platform has been used to reach and radicalize individuals by exploiting their vulnerabilities, grievances, and search for identity.
YouTube is making an effort to bring down the negative impact through policies[32], but the fact that very little is known about its recommendation algorithm and inner workings raises doubts on the effectiveness of these efforts.
5. User data privacy concerns
YouTube has been faced with a growing number of privacy issues ranging from allegations that it allows users to upload unauthorized copyrighted material to allowing personal information from young children to be collected without their parents' consent.
For example,[33]:
In 2007, Viacom sued YouTube, demanding $1 billion in damages. Viacom won the court ruling requiring YouTube to hand over 12 terabytes of data detailing the viewing habits of every user who had watched Viacom's videos on YouTube.
In April 2018, a coalition of 23 groups filed a complaint with the Federal Trade Commission (FTC), alleging that YouTube collected information from users under the age of 13 without parental consent, in violation of the Children's Online Privacy Protection Act (COPPA).
YouTube was fined $170 million by the FTC in 2019 for collecting personal information from minors under the age of 13 without parental consent to allow channel operators to serve targeted advertising on their videos.
Opportunities
1. More room for growth in developing countries
Seven of the top-ten markets in terms of active YouTube users are developing countries. India, Brazil, Indonesia, Mexico, Pakistan, Vietnam, and Philippines together account for over a billion YouTube users.
Some of these are also the countries where there is more room for growth. India, for example, which accounts for 467 million YouTube users, also has 913 million more population that do not yet use YouTube. With rapidly growing internet penetration and smartphones getting affordable, there is a lot of growth potential for the platform in these geographies. Together, these developing countries represent an un-addressed population of almost 1.4 billion as of 2023.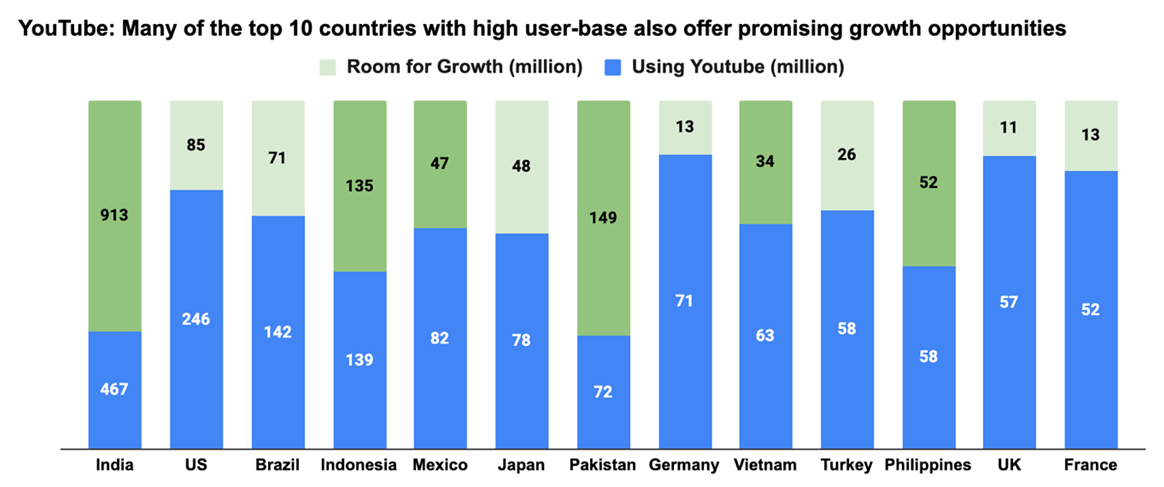 2. Generative AI-assisted content creation
In his 2023 letter discussing priorities for YouTube, CEO Neal indicated that the platform is developing generative AI tools for content creators[34]. Using these soon expected features, creators will be able to expand their storytelling and raise their production value, from virtually swapping outfits to creating a fantastical film setting through AI's generative capabilities.
Generative AI tools like ChatGPT, Microsoft's new Bing and Google Bard have the potential to produce a wide variety of content upon entering certain prompts. Creators can leverage AI tools to improve video scripts, generate images, create virtual avatars, change voice, and even generate complete videos. These AI tools can also be used to significantly speed up editing process.
With access to Google Brain (Google's AI development team), YouTube is well-placed to develop products that could attract more creators on its platform.
3. Web3, NFTs, and Metaverse
Web3 technologies like NFTs and Metaverse present new opportunities for creators, which can foster deeper connections between creators and fans. This can open up new revenue streams for platforms like YouTube.
For example, creators can use Non-Fungible Tokens (NFTs) to give fans verifiable ownership of unique videos, photos, art, and experiences while Metaverse has the potential to create more immersive viewing experiences.
According to an estimate by McKinsey & Company[35], the estimated market value of metaverse activity in June 2022 was between $200 billion and $300 billion and is projected to be between $4 trillion to $5 trillion by 2030.
Ever since the Metaverse has gained attention across the globe, technology giants have tried to make their mark. For example, Roblox[36], originally an ordinary gaming platform, has been making a lot of efforts to establish itself in the Metaverse. It now boasts over 60 million daily active users.
Advertisement revenues might be pulled into the Metaverse in the future. Nike has already hosted more than 26 million visitors at Nikeland, its space in Roblox, and it has sold over $185 million of NFTs for digital sneakers and similar products.[35]
YouTube's CEO has announced[37] the platform's commitment in exploring the integration of Web3, NFTs, and metaverse technologies into its products. This could open new growth opportunities for the platform.
4. Exclusive partnerships with content providers
YouTube can explore exclusive partnerships with creators and content providers that can attract viewership by differentiating the platform from competitors.
The platform has taken steps in this direction. For example, In 2023, YouTube acquired rights for the NFL's Sunday Ticket package for roughly $2 billion a year, beating out Amazon, Apple, and Disney, thus making a significant entry into live sports content streaming[38].
Such exclusive deals can allow higher ad revenues and monetization and increase user engagement.
Threats
1. Evolving competition with specific niches
According to the 2023 Global Internet Phenomena Report by Sandvine[39], Netflix + MAMAA (Microsoft, Alphabet, Meta, Amazon, Apple) contributed 48% of the internet traffic in 2022, down 9% compared to 2021. These are the Big-six behind the terabytes, gigabytes, and petabytes traversing the internet.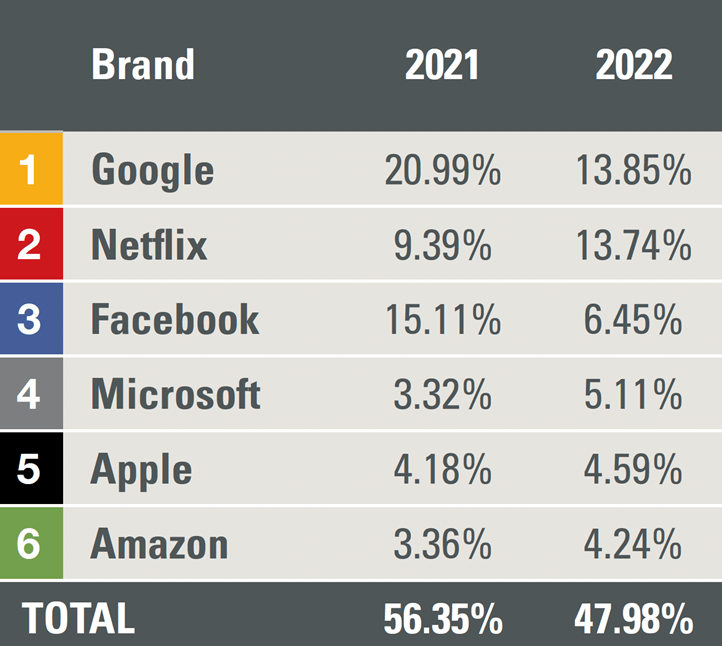 This drop is attributed to an expanding number of app categories and a greater number of new apps producing more data overall. Relatively new players like TikTok are contributing a sizable volume of traffic.
Within the Big-six, Netflix has made serious progress. In 2022, it managed to take the throne from YouTube and contributed to 13.74% of the total internet data volume. The billions of dollars Netflix invested in video content seem to be paying off.
TikTok, a relatively new platform launched in 2016, revolutionized the popularity of short videos (called shorts). It experienced a remarkable surge in revenue in 2022, reaching an estimated $9.4 billion – a 100% increase year-on-year. With over 1.4 billion monthly active users in 2022, TikTok has firmly established its presence and is expected to reach 1.8 billion users by the end of 2023.
In response to TikTok's growing popularity, YouTube, in September 2020, launched its own short-form videos up to a length of 30 seconds. As of 2023, YouTube Shorts attracts more than 50 billion daily views[40].
Twitch, another video live-streaming service backed by Amazon, has managed to carve out a niche for itself around live-streaming content for gaming. It has a thriving community atmosphere, with over 22.4 billion hours of content consumed on the platform in 2022. It is now the largest gaming live-streaming platform in the world.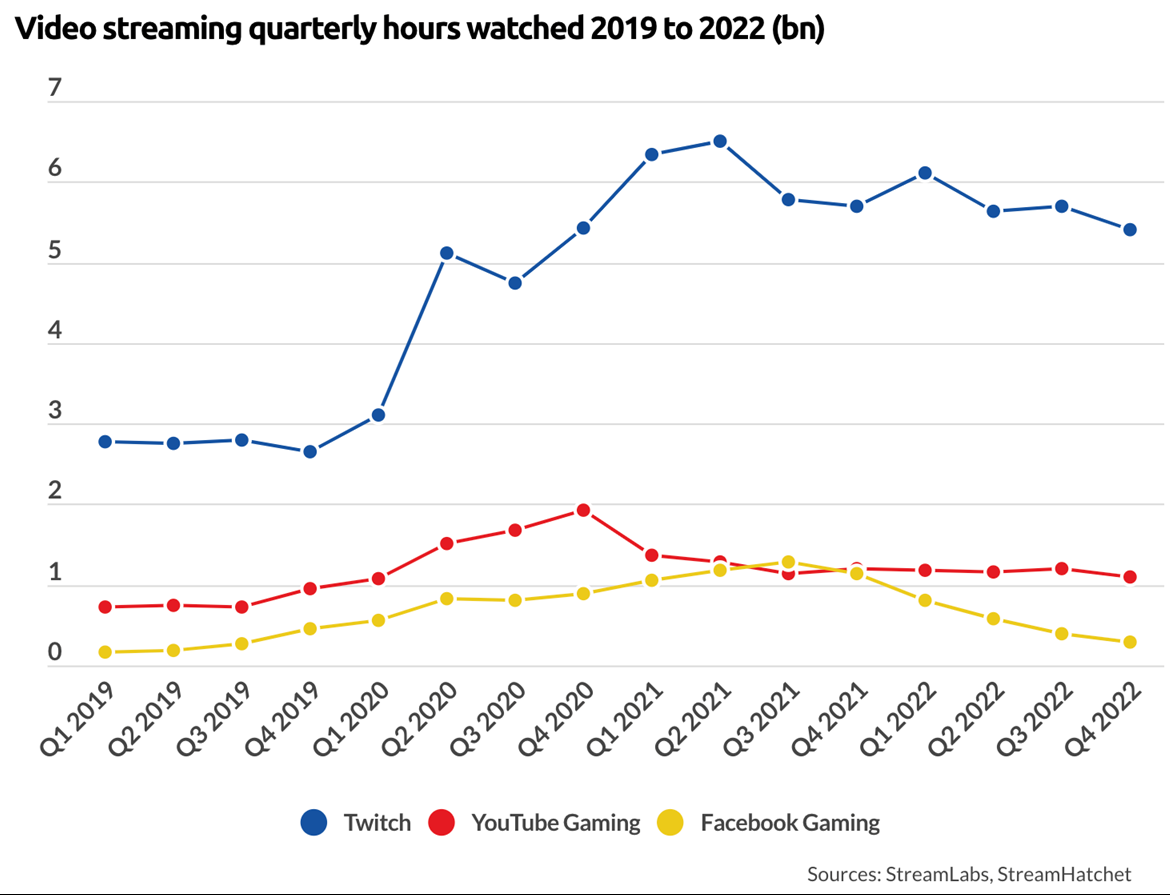 Facebook-owned Instagram has its own video content (called IGTV) available in four formats: Reels, Live, Stories, and Instagram Video. With Instagram boasting over 2 billion monthly active users, its video formats have quickly grown in popularity and are used by top brands like Nike and Louis Vuitton for marketing.
These are a few examples of an increasing number of players entering video-format social media, some of them with an already established audience base and popularity.
While YouTube continues to hold the position as the leading platform for video sharing, it faces relentless competition from constantly evolving alternatives that seek to carve out their own niches within the vast video landscape.
2. Increasing awareness about digital well being
Digital wellbeing is a term used to describe the impact that technologies and digital services have on physical, mental, and emotional wellbeing.
As society becomes increasingly aware of the negative consequences associated with excessive screen time and the use of handheld devices, such as digital eye strain, headaches, and fatigue, individuals are actively taking steps to limit their exposure to these technologies.
YouTube faces the risk of experiencing a decline in viewership and revenue as users choose to reduce their time spent on the platform.
YouTube may also lose some viewership and revenue to substitutes like Podcasts, Audiobooks, Radio and Live Broadcasting, Music Streaming Services and Interactive Voice Assistants that do not require screen time.
3. Regulatory threats – Censorships
Regulatory threats such as censorship and copyright violations have significant implications for YouTube. The platform is subjected to censorship measures, often employed to prevent criticism of government officials, religious leaders, or to curb racist content.
It is subject to a wide range of rules and regulations related to copyright, hate speech, ethics, morality, and national security over different geographics that exposes it to the threat of lawsuits and bans.
Copyright violations can also lead to content removal and restrictions on monetization for creators, thus affecting revenue streams and discouraging certain types of content creation.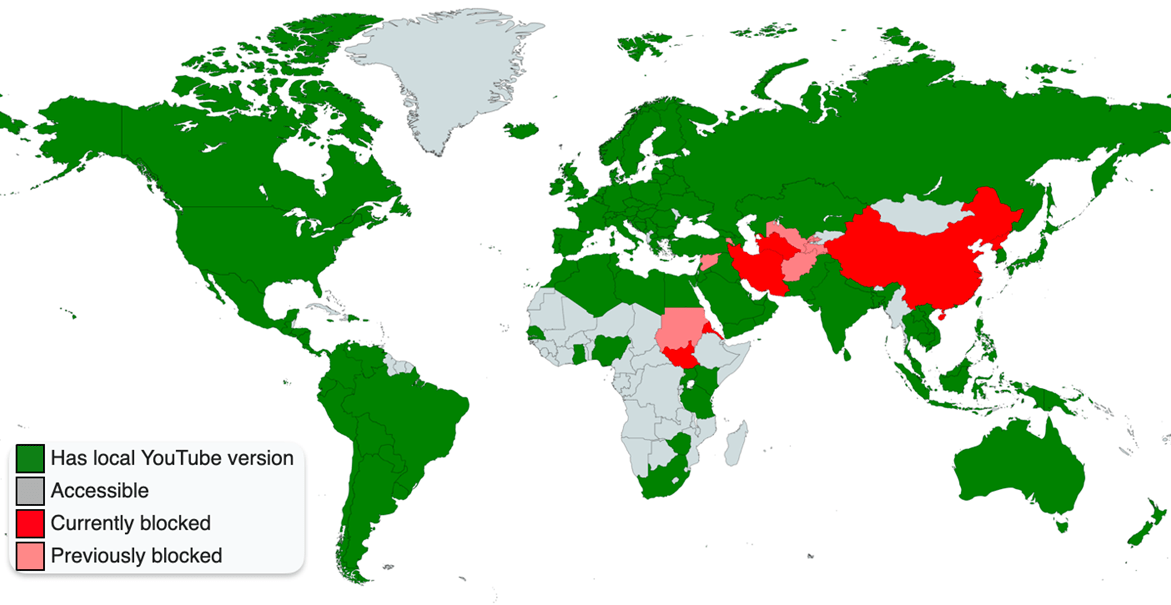 Source: Wikipedia[2]
Notably, YouTube remains inaccessible in China, which could have been the largest market for the platform.
4. Use of add-blocking software
YouTube ads have the potential to reach 2.6 billion users. However, with the use of browser extensions and apps that block ads, this reach could be massively affected. It is reported that over 42% of internet users worldwide use ad-blocking tools at least once a month[42].
YouTube add blockers keeps ads from popping up and interrupting videos. Several of them are freely available, including on Google's own Chrome browser extension marketplace.
These add blockers impact the revenue of both YouTube and its creators.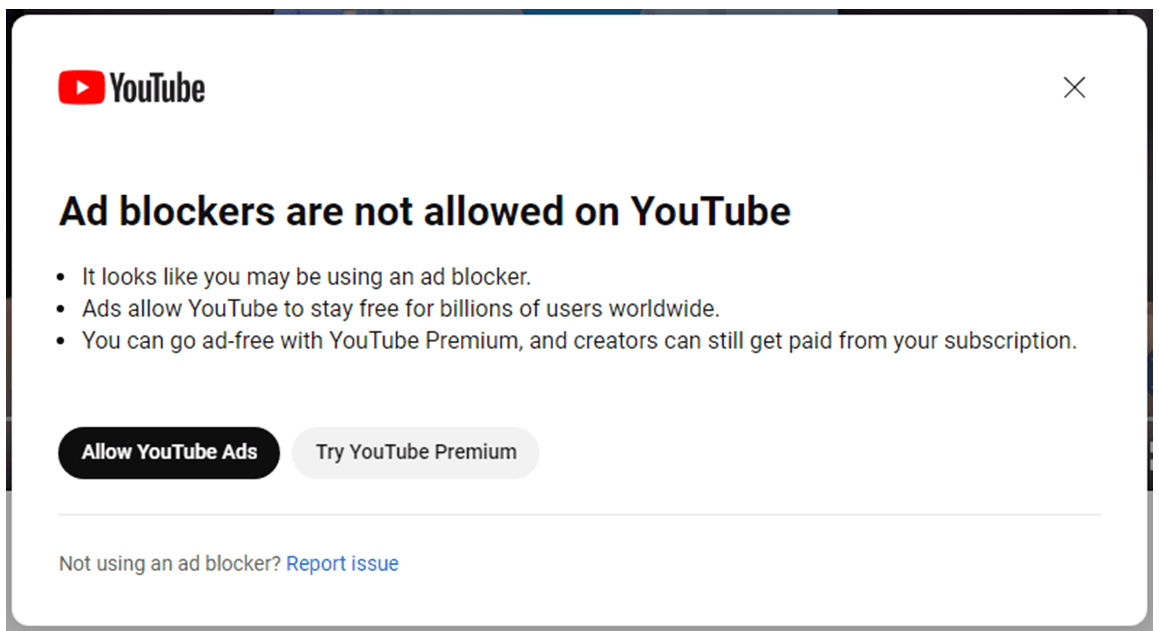 YouTube's add block prevention feature as reported by a reddit user in 2023 (Source: [43])
YouTube is taking steps to limit the impact of the add blockers. For example, in 2023, on an experimental basis, the platform has restricted the use of ad blockers preventing users from streaming videos when such software is detected.
Conclusion
YouTube is a powerful platform for video sharing, social media, and online advertising with a large and loyal user base. Its synergy with Google's ecosystem provides several unique advantages like a complimentary revenue model, access to state-of-the-art AI tools and cutting-edge hardware infrastructure.
To attract more advertising revenue and improve profitability, it must focus on improving ROI and ARPU while securing exclusive partnerships with content providers. It must also develop robust systems to contain toxicity, privacy violations, and radicalization that could threaten its reputation.
The future will bring more opportunities in terms of potential growth in developing markets, the evolution of generative AI tools for content creation and increased adoption of Web3, NFTs, and Metaverse technologies.
As a leader in a network-effect-driven market, it is well placed for growth. Innovation and responsible use of technology will be crucial for long-term success.
Sources
1. "YouTube Stats: Everything You Need to Know In 2023!." Wyzowl, https://www.wyzowl.com/youtube-stats/. Accessed 9 May 2023.
2. "Censorship of YouTube." Wikipedia, https://en.wikipedia.org/wiki/Censorship_of_YouTube#Countries_where_access_to_YouTube_is_currently_blocked. Accessed 9 May 2023.
3. "How Much is YouTube Worth? Over US$180bn in 2022." Howie Mann Startup Strategy, https://mannhowie.com/youtube-valuation#youtube-profit-margins. Accessed 9 May 2023.
4. "HOW MANY EMPLOYEES DOES YOUTUBE HAVE IN 2023?." Earthweb, https://earthweb.com/how-many-employees-does-youtube-have/. Accessed 9 May 2023.
5. "YouTube." Wikipedia, https://en.wikipedia.org/wiki/YouTube. Accessed 9 May 2023.
6. "YouTube." Britannica, https://www.britannica.com/topic/YouTube. Accessed 9 May 2023.
7. "YouTube Revenue and Growth Statistics (2023)." Signhouse, https://www.usesignhouse.com/blog/youtube-stats. Accessed 9 May 2029
8. "History of YouTube: a timeline." Officetimeline, https://www.officetimeline.com/blog/youtube-history-timeline. Accessed 9 May 2023.
9. "Alphabet's Next Billion-Dollar Business: 12 Industries To Watch." Cbinsights, https://www.cbinsights.com/research/report/industries-disruption-alphabet/. Accessed 10 May 2023.
10. "WHAT ARE NETWORK EFFECTS?." Harvard Business Schoole Online, https://online.hbs.edu/blog/post/what-are-network-effects. Accessed 10 May 2023.
11. "The 6 Biggest, Baddest, Most Popular Social Media Platforms (+How to Wield Their Power)." Wordstream, https://www.wordstream.com/blog/ws/2022/01/11/most-popular-social-media-platforms. Accessed 10 May 2023.
12. "Most Visited Websites by Traffic in the world for all categories, March 2023." Semrush, https://www.semrush.com/website/top/global/all/. Accessed 10 May 2023.
13. "Ads on videos you watch." YouTube support, https://support.google.com/youtube/answer/3181017?hl=en&ref_topic=9257519&sjid=7081656187765629376-AP. Accessed 10 May 2023.
14. "YouTube database – How does it store so many videos without running out of storage space?." Scaleyourapp.com, https://scaleyourapp.com/youtube-database-how-does-it-store-so-many-videos-without-running-out-of-storage-space/. Accessed 11 May 2023.
15. "Google Cloud's Media CDN lets companies build on the network that keeps YouTube running." TheVerge, https://www.theverge.com/2022/4/25/23041049/google-youtube-media-cdn-streaming-cloud-services. Accessed 11 May 2023.
16. "This Free Tool Exposes the Cloud Spend of Netflix and Any Other Company." Intricately.com, https://www.intricately.com/articles/netflix-aws-spend. Accessed 11 May 2023.
17. "On YouTube's recommendation system." YouTube (official blog), https://blog.youtube/inside-youtube/on-youtubes-recommendation-system/. Accessed 11 May 2023.
18. "How the YouTube Algorithm Works in 2023: The Complete Guide." Hootsuite, https://blog.hootsuite.com/how-the-youtube-algorithm-works/#A_brief_history_of_the_YouTube_algorithm. Accessed 11 May 2023.
19. "YouTube Partner Program overview & eligibility." YouTube help page, https://support.google.com/youtube/answer/72851?hl=en. Accessed 11 May 2023.
20. "Monetisation for creators." YouTube product features, https://www.youtube.com/howyoutubeworks/product-features/monetization/#overview. Accessed 11 May 2023.
21. "How much money YouTubers earn, according to creators." Businessinsider, https://www.businessinsider.in/advertising/news/how-much-money-youtube-stars-earn-according-to-dozens-of-creators/articleshow/83764528.cms. Accessed 11 May 2023.
22. "YouTube Statistics 2023: Data For Brands & Creators." Demandsage, https://www.demandsage.com/youtube-stats/. Accessed 12 May 2023.
23. "10 ways to monetize on YouTube." YouTube, https://blog.youtube/news-and-events/10-ways-monetize-youtube/. Accessed 14 May 2023.
24. "Which Social Media Channels See the Most ROI? [New Data + Expert Tips]." HubSpot, https://blog.hubspot.com/marketing/social-media-channel-roi#what-is-social-media-ROI. Accessed 12 May 2023.
25. "Amazon Prime." Amazon, https://www.amazon.com/gp/help/customer/display.html?nodeId=G6LDPN7YJHYKH2J6. Accessed 12 May 2023.
26. "ExpressVPN survey reveals the perils of young children on social media." Expressvpn, https://www.expressvpn.com/blog/survey-children-on-social-media/. Accessed 13 May 2023.
27. "YouTube Executives Ignored Warnings, Letting Toxic Videos Run Rampant." Bloomberg, https://www.bloomberg.com/news/features/2019-04-02/youtube-executives-ignored-warnings-letting-toxic-videos-run-rampant. Accessed 13 May 2023.
28. "Echo chamber (media)." Wikipedia, https://en.wikipedia.org/wiki/Echo_chamber_(media). Accessed 14 May 2023.
29. "The New York Times." YouTube, the Great Radicalizer, https://www.nytimes.com/2018/03/10/opinion/sunday/youtube-politics-radical.html. Accessed 14 May 2023.
30. "Conspiracy theories flourish on YouTube, study reports." Phys.org, https://phys.org/news/2022-10-conspiracy-theories-flourish-youtube.html. Accessed 14 May 2023.
31. "Alternative Influence: Broadcasting the Reactionary Right on YouTube." Data & Society – Rebecca Lewis, https://datasociety.net/wp-content/uploads/2018/09/DS_Alternative_Influence.pdf. Accessed 14 May 2023.
32. "Does YouTube contribute to radicalisation?." Youtube, https://www.youtube.com/howyoutubeworks/our-commitments/curbing-extremist-content/. Accessed 14 May 2023.
33. "YouTube and privacy." Wikipedia, https://en.wikipedia.org/wiki/YouTube_and_privacy#COPPA_settlement. Accessed 14 May 2023.
34. "Letter from Neal: Our 2023 Priorities." blog.youtube, https://blog.youtube/inside-youtube/2023-letter-from-neal/. Accessed 13 May 2023.
35. "A CEO's guide to the metaverse." McKinsey & Company, https://www.mckinsey.com/capabilities/growth-marketing-and-sales/our-insights/a-ceos-guide-to-the-metaverse. Accessed 13 May 2023.
36. "Roblox – About page." Roblox, https://corp.roblox.com/. Accessed 13 May 2023.
37. "A Look at 2022: Community, Collaboration, and Commerce." Youtube (Official Blog), https://blog.youtube/inside-youtube/innovations-for-2022-at-youtube/. Accessed 13 May 2023.
38. "YouTube's NFL Sunday Ticket deal is a brilliant move for its subscription future." The Verge, https://www.theverge.com/2022/12/22/23522535/youtube-nfl-sunday-ticket-bundle-subscriptions. Accessed 14 May 2023.
39. "2023 Global Internet Phenomena Report." Sandvine, https://www.sandvine.com/global-internet-phenomena-report-2023. Accessed 12 May 2023.
40. "YouTube Shorts surpassed 50 billion daily views, a bright spot for Alphabet as it faces fierce competition from TikTok and declining ad revenue." Business Insider, https://www.businessinsider.in/tech/news/youtube-shorts-surpassed-50-billion-daily-views-a-bright-spot-for-alphabet-as-it-faces-fierce-competition-from-tiktok-and-declining-ad-revenue/articleshow/97565515.cms. Accessed 12 May 2023.
41. "Twitch Revenue and Usage Statistics (2023)." Businessofapps, https://www.businessofapps.com/data/twitch-statistics/. Accessed 12 May 2023.
42. "Ad Blocker Usage and Demographic Statistics in 2023." Backlinko, https://backlinko.com/ad-blockers-users#ad-blocking-stats. Accessed 14 May 2023.
43. "YouTube is testing blocking ad blockers." 9to5google.com, https://9to5google.com/2023/05/10/youtube-ad-blockers/. Accessed 14 May 2023.