This article contains a deep dive into DoorDash, one of the top food delivery services in the U.S. Specifically, we will discuss how the company can capitalize on its strengths and emerging opportunities to ensure its future success.
We will also look at the internal weaknesses it faces, as well as external threats it must address to avoid potential disruptions in its business.
Company Overview
| | |
| --- | --- |
| Official Name | DoorDash, Inc. |
| Logo | |
| Foundation Date | January 12, 2013 |
| Founder | Tony Xu, Andy Fang, Stanley Tang, and Evan Moore |
| Industry | Food delivery service |
| Headquarters | San Francisco, California |
| Website | https://www.doordash.com |
| Markets Served | Australia, Canada, Germany, Japan, New Zealand, and the United States; 21 other countries through Wolt Enterprises Oy |
| CEO | Tony Xu |
| Number of Employees | 16,800 |
| Revenue | $6.583 billion (2022) |
| Net Revenue | $-1.365 billion (2022) |
| Competitors | Uber Eats, Postmates (acquired by Uber), and GrubHub (acquired by Just Eat Takeaway) |
DoorDash is a technology company founded in 2013 by four former Stanford students that provide an online food delivery service, connecting customers with restaurants and other select merchants through its website and mobile app.
It allows customers to browse through a wide variety of menus and place orders directly through the service. DoorDash sends the orders to its partner restaurants, and then arranges for its drivers, called Dashers, to pick them up once they are ready and deliver them to customers.
DoorDash generates revenue primarily by charging restaurants a commission fee for orders placed through its platform, which varies but typically ranges from 15 to 30% of order value. It also earns revenue from delivery fees paid by the customer through one-time or monthly subscription fees, as well as surge fees during peak periods. Additionally, it accumulates gains from promotions run by partner merchants on its platform.
DoorDash SWOT Analysis
Strengths
Weaknesses
1. Market leadership, preferred by many consumers
2. Strong brand health
3. Enabled by its successful IPO
4. Robust delivery infrastructure
5. Continuously growing restaurant
and merchant partnerships
6. Portfolio of acquisitions
7. Value differentiation and innovation practices
1. Strong dependence on gig workers
3. Lack of profitability
4. Dependence on the U.S. market
Opportunities
Threats
1. Venturing into burgeoning markets
2. Creating a virtual concierge
3. Expansion of ghost kitchens
4. Deployment of robotics in operations
5. Exclusive partnerships with restaurants
1. Intense competition and potential industry consolidation
2. Intensifying regulatory oversight
3. Reversion to pre-pandemic consumption behavior
4. Criticisms against its environmental impact
Strengths
1. Market leadership, preferred by many consumers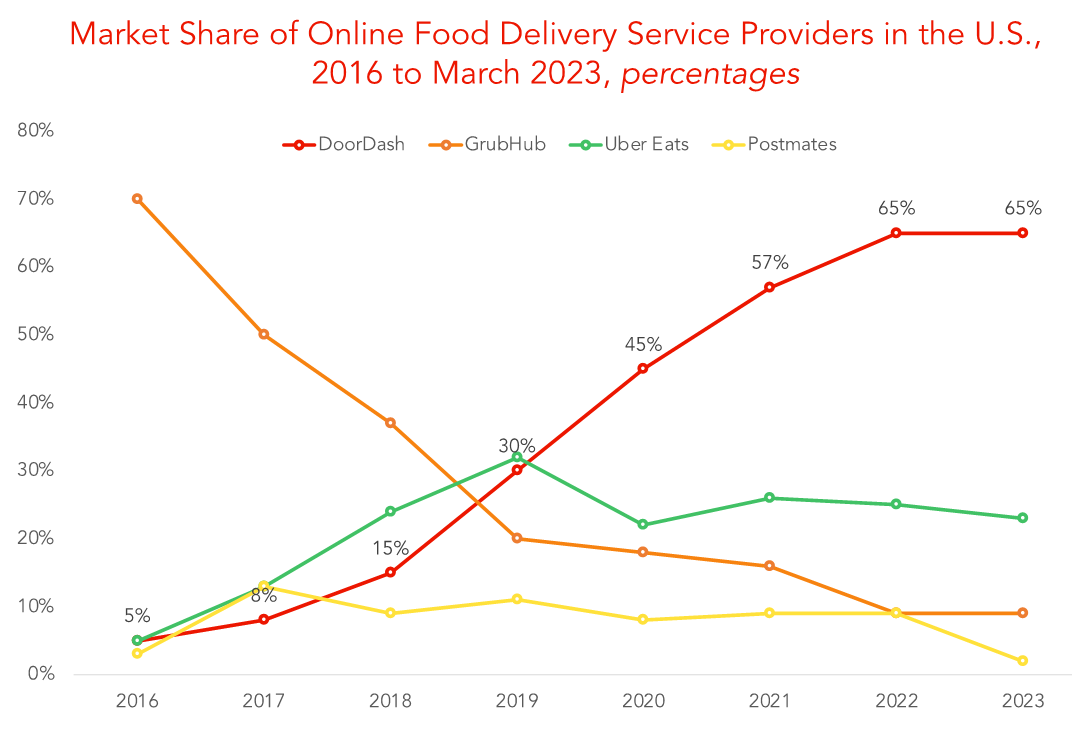 DoorDash has emerged as the clear market leader in the online food delivery service in the U.S. In the past five years, its share of monthly sales increased from 15% in 2018 to 65% as of March 2023. This share is almost three times larger than its biggest competitor, Uber Eats, at 22%.[1]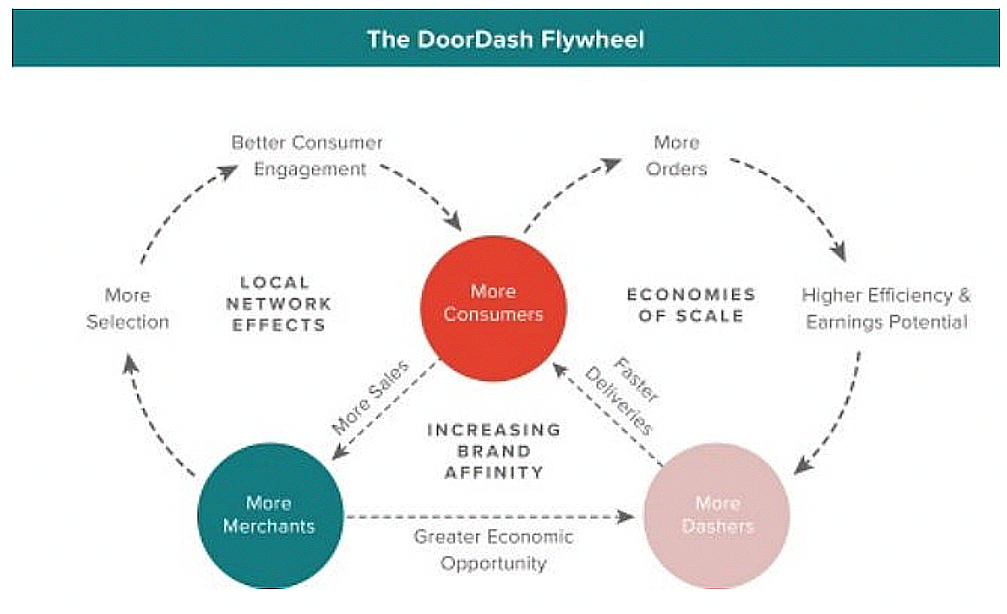 This growth is primarily driven by the strong network effects it has established, which starts with high customer loyalty and satisfaction. In Q1 2022, the average user spent $334 monthly across nine orders, more than double 2018's figures of $134 across four orders.[2] This encourages more restaurants to join the platform, which in turn attracts new customers and retains existing ones.
2. Strong brand health
DoorDash enjoys favorable brand health among consumers. It has strong brand recognition, driven by its aggressive marketing strategy, highlighted by partnerships with big brands, like the National Basketball Association (NBA), TripAdvisor, and Roku, to extend its audience reach.
The company has also launched socially relevant omnichannel campaigns over the years, including the 2020 COVID-19 campaign called "Open for Delivery," which encouraged customers to help local restaurants survive the crisis by ordering food delivery.[3]
DoorDash's brand image has also greatly benefitted from the launch of its social marketing campaign, Project Dash. The project, established in 2018 in collaboration with Feeding America's MealConnect system, aims to reduce food waste and aid in hunger relief by redirecting food surplus from partner restaurants to local communities with food insecurity through its delivery network.[4] As of 2022, the project has delivered over 60 million meals to people in need across select communities in the U.S. and Canada.[5]
3. Enabled by its successful IPO
DoorDash's successful IPO, which raised $3.4 billion in December 2020,[6] has provided it with a multitude of competitive advantages. First, it provided the company with dry powder that it can use to fund its growth initiatives, including expansion of operations, enhancement of its technology portfolio, strategic acquisitions, and investment in marketing campaigns to broaden its reach.
The IPO has also allowed greater financial flexibility for the company, providing it with easy access to more capital if needed. Furthermore, it greatly improved the company's brand image, making it more credible from the perspective of investors, customers, partners, and even its talent pool.
4. Robust delivery infrastructure
DoorDash's delivery infrastructure relies on a network of independent contractors called Dashers. Dashers generate income by picking up orders from merchants and delivering them to customers, earning a combination of base pay, incentives, and tips. As of end-2022, DoorDash had more than six million Dashers in the markets they operate, earning a total of over $13 billion.[7]
The use of independent contractors allows DoorDash to easily scale its logistics capability without a heavy burden on operating expenses and capital expenditures. It also eliminates the need to recruit, hire, and manage a large workforce of full-time employees. Furthermore, it enables the company to be more flexible and agile, able to quickly adapt to changing economic conditions and new business strategies.
5. Continuously growing restaurant and merchant partnerships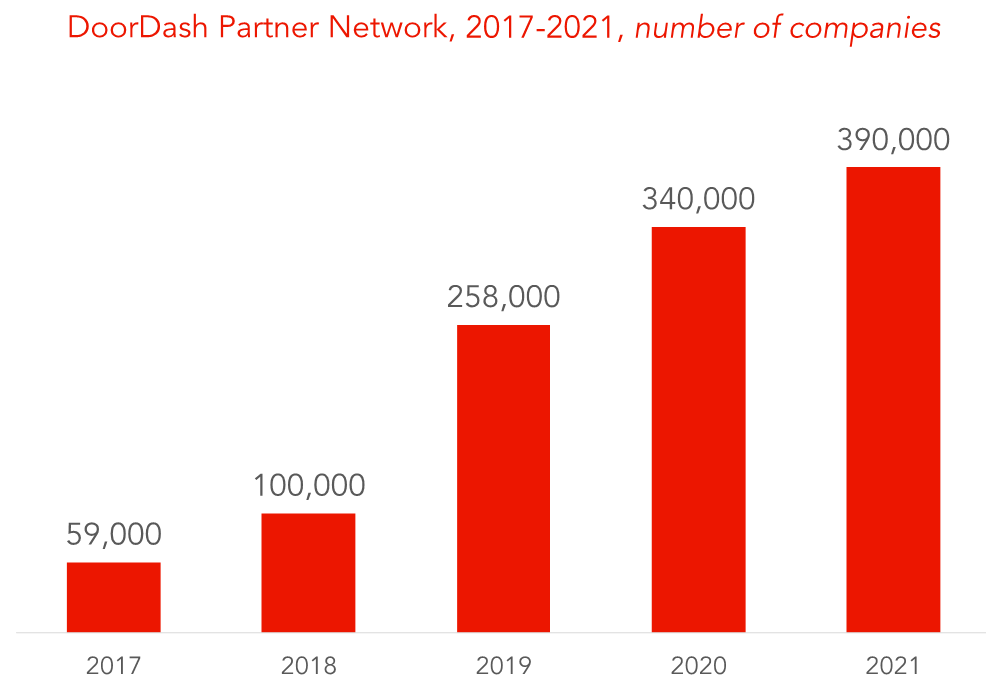 Despite being commonly known as an online food delivery service provider, DoorDash continuously emphasizes that it is a technology company providing logistics solutions.
According to the company, food is just the natural first step to achieving its goal of being the last-mile logistics for everything. As such, the company continues to build its already extensive network of local and national restaurant partners, which in 2021 has already reached 390,000. That figure is six times larger than the 59,000 partners they had in 2017.
Even within the food category, the company continues to expand its range. In 2021, it launched a nationwide shipping service in the U.S. that enables customers to order items from the country's top restaurants, including Milk Bar, Carbone, Levain Bakery, Carlo's Bakeshop and Katz's Deli.
Beyond food, DoorDash has been adding more verticals to its delivery service. In 2020, it introduced a grocery delivery service that directly competes with existing solutions like Amazon and Instacart. It also launched DashMart, an online convenience store owned, operated, and curated by the company, that showcases household essentials and other retail items from small and big businesses alike.
In the same year, it also announced that customers can start using its platform to order over-the-counter and prescription drugs, as well as beauty products, which was initially made possible through its partnership with Walgreens.[8] In 2021, it further expanded to accommodate alcoholic drinks, as well as pet supplies.[9],[10]
6. Portfolio of acquisitions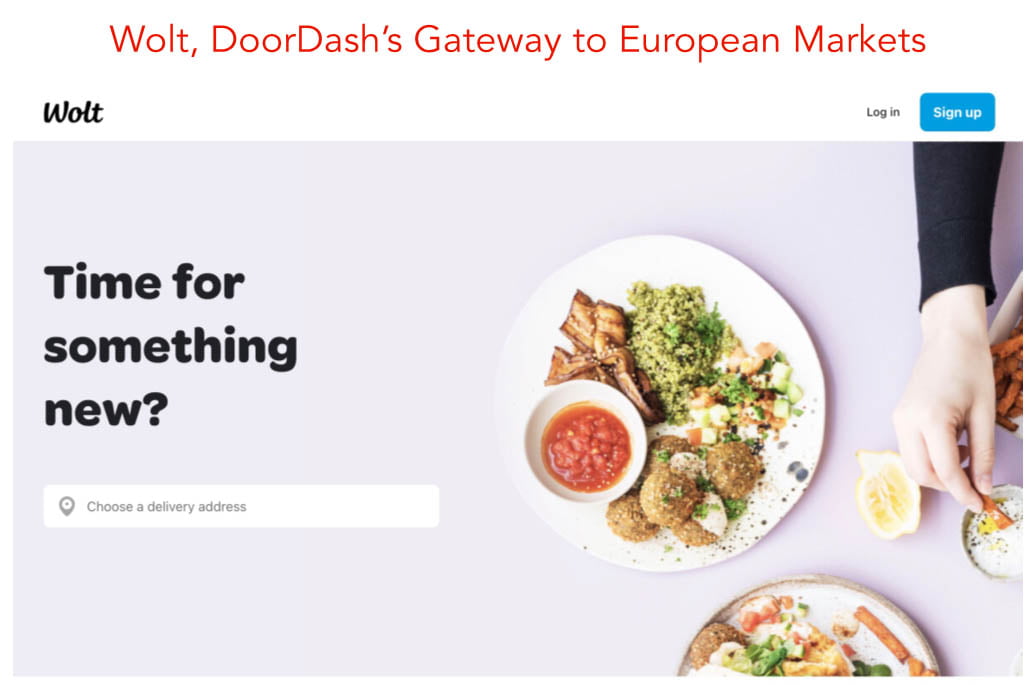 DoorDash has made several strategic acquisitions that enable the company to further explore new value propositions for its customers and merchants beyond food delivery as well as expand into new markets. They include:
Wolt Enterprises Oy – Food delivery service founded in Finland with a market presence in 23 countries, mainly in Europe, acquired in November 2019 for €7B in stock to accelerate the company's product development and scale in international markets[11]
Bbot – Ordering solutions provider acquired in March 2022 to provide more solutions that can help partner merchants improve their online and in-store channels[12]
Chowbotics – Robotics company famous for its salad-making robot, acquired in February 2021 to explore new offerings that can help partner merchants grow their business[13]
Scotty Labs – Mobility startup focusing on self-driving and remote-controlled vehicles, acquired in August 2019 to explore next-generation delivery solutions[14]
Caviar – Food delivery service focused on upscale restaurants that typically do not offer in-house delivery, acquired from Square, Inc. in August 2019 for $410 million to expand its restaurant segments[15]
7. Value differentiation and innovation practices
DoorDash constantly engages in research and development activities that aim to provide more value to its users and merchant partners. It has never shied away from leveraging disruptive technologies to introduce new solutions to the market.
For instance, it continuously updates its website and mobile app properties to ensure that customers get the best and most convenient experience ordering food online. Its user-friendly interface allows customers across different age groups to easily navigate the app and find what they need.
DoorDash also makes full use of data accumulated from user consumption along with a variety of artificial intelligence and machine learning techniques to maximize operational efficiencies, ultimately resulting in shorter delivery times, higher pay for Dashers, and increased income for merchants.[16] As an example implementation, the company uses these algorithms on different internal and external data, such as food preparation times, customers' locations, and current traffic situation, to determine optimal delivery routes for Dashers.
Innovation for the company, however, is not limited to technology-enabled solutions. The company also explores other high-touch offerings that could help its merchants to grow.
One such example is its introduction of ghost kitchens in 2019 to the delivery platform. In a ghost kitchen, restaurants can lease individual spaces that they have to manage by themselves. These kitchens do not have a storefront and only accept pickups and deliveries, which are coursed through the company's app or website.
With ghost kitchens, DoorDash enables restaurants to expand their footprint in new areas and lower the cost of operations, especially for those that are just starting out. For the company, this means deeper relationships with their merchants and more revenue in the long run.
Weaknesses
1. Reliant on gig workers
While DoorDash benefits from the flexibility and scalability of using gig economy workers as Dashers, there are also significant disadvantages to this approach.
One major concern is the lack of control and consistency in service quality. As independent contractors, Dashers are not bound by the same rules and standards as internal employees, which can lead to variations in the quality of service they provide. This potential area of inconsistency can result in customer dissatisfaction, which could damage DoorDash's reputation.
Another issue is the high turnover rate among gig economy workers, which can lead to higher recruitment and training costs, as well as a loss of institutional knowledge and experience. Additionally, DoorDash is at risk of losing Dashers to competitors or other gig economy platforms that offer more attractive incentives or benefits.
Furthermore, relying only on gig economy workers may result in inefficiencies and operational challenges, particularly during periods of high demand. Delays and decline in quality of service may become unavoidable if there are not enough Dashers available in a particular area, especially since there is no internal DoorDash workforce that can support them.
2. Lack of profitability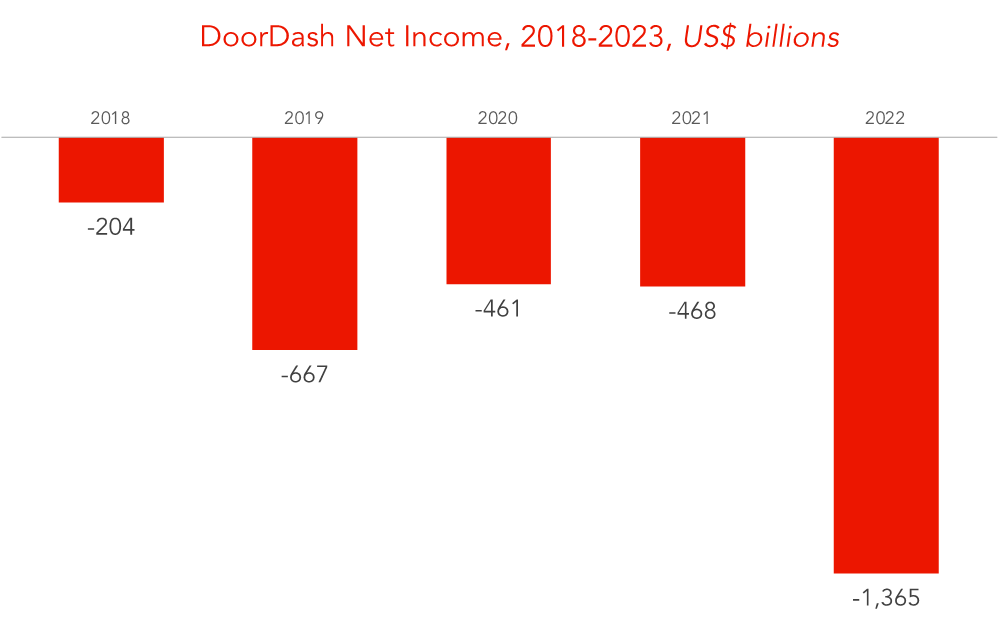 Despite its status as the leading online food delivery service, DoorDash has consistently failed to turn a profit over the past five years. In 2022, the company reported a staggering loss of $1.35 billion, nearly three times the previous year's loss of $468 million.[17]
This lack of profitability can largely be attributed to the company's business model. DoorDash operates a low-margin business where significant portions of revenue are allocated to order management expenses, such as payment processing fees, canceled order management, and insurance expenses, among others.[18]
In addition, DoorDash incurs substantial costs in maintaining its platform, including the provision of support and onboarding to its three main customer segments: consumers, merchants, and Dashers.
To address these challenges and improve profitability, DoorDash must focus on enhancing operational efficiency and identifying new sources of higher-margin revenue. Failure to do so may result in continued losses, ultimately threatening the company's long-term viability.
3. Overreliance on the U.S. market
Despite operating in several other countries like Canada, Germany, Japan, Australia, and New Zealand, DoorDash's main source of revenue is heavily reliant on the U.S. market. The U.S. market historically accounted for more than 99% of DoorDash's total revenue, making the company highly vulnerable to any adverse changes in the country's economic conditions, competitive landscape, or consumer behavior.
In 2022, DoorDash's international segment saw growth after acquiring Wolt, which gave it access to 21 other countries. However, it only grew to 5%, indicating that DoorDash remains at risk for its overreliance on the U.S.
To minimize the risk and ensure future success, DoorDash should now shift its focus on capitalizing on the potential of other markets it now has access. It must develop and execute strategies that cater to the specific needs of each market to stimulate growth and increase revenue. This approach will help the company reduce reliance on its primary market and establish it as a global player in the food delivery industry.
Opportunities
1. Venturing into burgeoning markets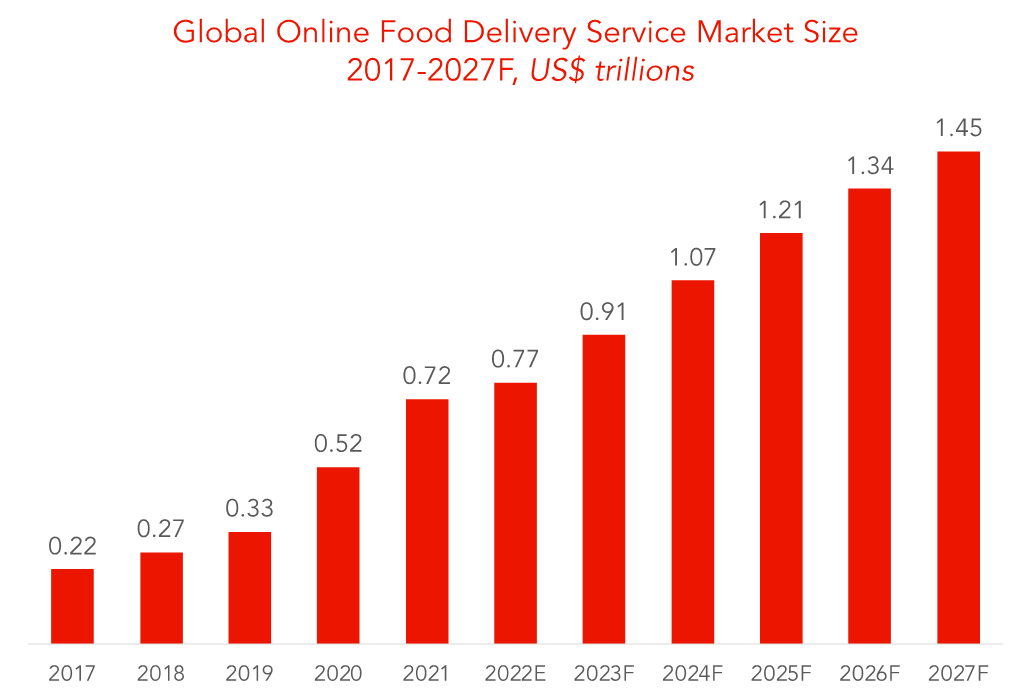 DoorDash, including its Wolt acquisition, is currently highly concentrated in North America and European markets. While the company still has yet to capitalize on these markets' potential, there are more emerging markets for online food delivery services that it could consider investing in.
According to Statista, the online food delivery market is forecasted to grow from $770 billion in 2022 to $1.45 trillion in 2027.[19] In another study, The Brainy Insights estimated that 45% of the total market size in 2022 came from Asia Pacific. Furthermore, the region is expected to grow even further, outpacing global market growth through 2030.[20]
However, penetrating countries within this region could pose a challenge as several regional competitors have already captured a significant share of the market, such as Grab Food, Foodpanda, Deliveroo and Zomato. As such, DoorDash could explore the possibility of acquiring an established player that has a presence in multiple countries, similar to the Wolt acquisition for European expansion, to quickly establish its foundation in the region.
2. Creating a virtual concierge
As DoorDash expands its delivery verticals, it could consider offering bundled deliveries to consumers, known as the "virtual concierge" service.[21] This feature would allow delivery riders to stack orders in one trip, increasing the company's efficiency and providing an opportunity to expand into other logistics-based services.
One application of this service would be to allow customers to request for delivery riders to carry out simple tasks in addition to delivering their food order, such as picking up laundry or buying items from local stores.
This would result in higher customer satisfaction, as customers would no longer need to switch between multiple apps to address their needs. For Dashers, this could mean additional sources of income, and for DoorDash, it could contribute towards achieving its goal of becoming a logistics platform for all needs, as well as a new source of revenue.
Another potential implementation of the virtual concierge service would be to pool orders from a specific location and assign them to a single delivery rider. DoorDash could offer lower delivery fees to each customer in the pool, offsetting the potential longer waiting time for their order to arrive.
This would enable Dashers to serve multiple orders in a shorter amount of time, resulting in higher income for them. Additionally, this could greatly improve efficiencies for DoorDash, allowing the company to serve more customers, especially during peak periods, while also increasing margins in the long run.
3. Expansion of ghost kitchens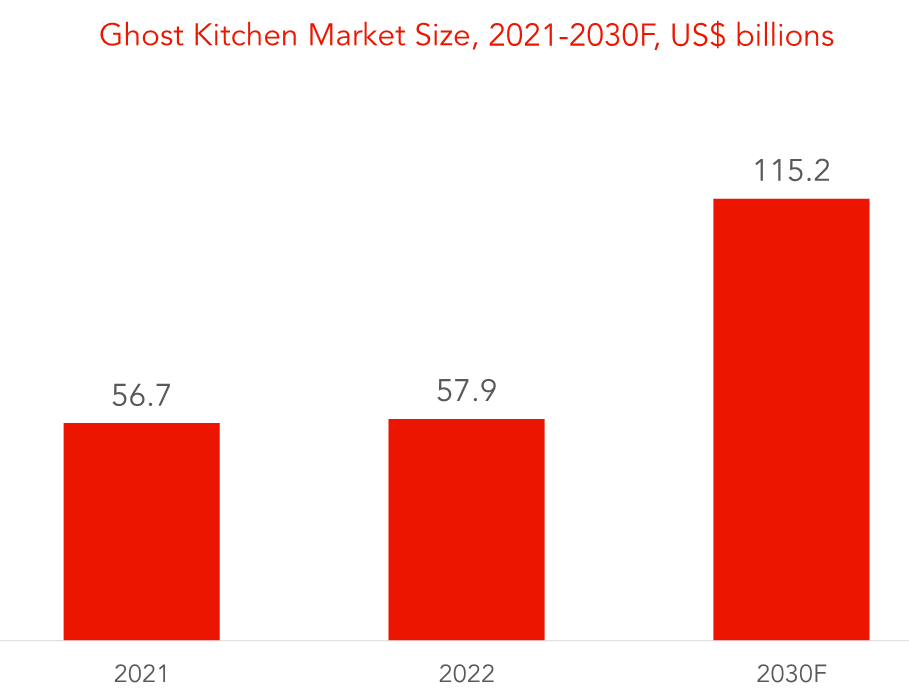 Since the launch of its ghost kitchen called DoorDash Kitchens in Redwood City, California in 2019, only two more facilities have been added as of 2023 – one in San Jose California and one in Brooklyn, New York.
The company could consider adding more facilities, especially in areas that are farther away from urbanized areas. This would help more established merchants reach new markets and test food concepts, as well as help entrepreneurs start their own food businesses at significantly lower costs.
For DoorDash, this would mean capturing its share of a rapidly growing ghost kitchen market that is estimated to reach $115.2 billion globally.[22] Furthermore, by establishing ghost kitchens in areas where it operates, DoorDash would be able to establish closer connections with local communities, merchants and customers, which could lead to higher satisfaction and retention among its users.
4. Deployment of robotics in operations
DoorDash has been very aggressive in the use of rapidly advancing technologies to improve its operational efficiencies and deliver better value propositions. Aside from the use of advanced data analytics and machine learning algorithms, the company has also been exploring robotics to complement its existing operations.
In 2017, it partnered with Starship Technologies and Marble Robot to test the companies' delivery robots in controlled delivery environments. In 2019, DoorDash also worked with Cruise to test the ability of its self-driving cars to deliver orders to select customers in San Francisco.[23]
In more recent years, DoorDash has doubled down its efforts in the field when it acquired Chowbotics and Scotty Labs which led to the creation of its own robotics lab. The company has also filed separate patents for a delivery robot model and a logistics hub powered by autonomous technologies.
By continuing to invest in this initiative that will culminate in the widescale deployment of autonomous robots, drones and vehicles in delivery operations, Doordash can significantly reduce its operating expenses. Ultimately, this could lead to higher margins, a stronger market reputation and the potential for long-term profitability.
5. Exclusive partnerships with local merchants
DoorDash has previously established exclusive partnerships with prominent food chains like Wingstop, Wendy's, and the Cheesecake Factory. However, as the online food delivery service market has grown, these chains realized the need to increase their availability across different platforms to better serve their customers, leading to the discontinuation of these agreements.
While exclusive partnerships may not work for widely available chains anymore, DoorDash could explore the potential of reintroducing this model to in-demand local restaurants in different communities. The company could offer discounted commission fees and premium marketing services in exchange for exclusivity. In return, the company could attract more users and increase revenue, as customers use the DoorDash app to order food from those exclusive restaurants.
Threats
1. Intense competition and potential industry consolidation
As the market leader for online food delivery service, DoorDash faces increased scrutiny and competition from other players in the industry. The company operates in a tightly contested space, where there is little differentiation in core services provided to consumers.
Combined with the growing bargaining power of buyers, this results in further erosion of profit margins as market players need to constantly run promotional activities that further increase their operating expenses or reduce their prices to remain competitive.
As a result, established players turn to other paths to regain their share of the market. One key strategy is consolidation, where several big market players are acquiring or merging with others to bolster their economies of scale. This market movement is already becoming a trend, with Uber's acquisition of Postmates and Just Eat Takeaway's acquisition of GrubHub.
If this trend continues, it could pose a significant threat to DoorDash as it would have to compete with larger players that are equipped with more resources and the ability to scale.
Aside from established players, DoorDash also faces an emerging threat in smaller, but focused market players, such as Slice for pizza deliveries and Hungry Panda for Asian cuisine. These upstarts can leverage their narrow focus to offer tailored services to both consumers and merchants. These could include management tools, marketing services, lower fees and supplier relationships for merchants, and personalized services for consumers.
2. Increasing regulatory oversight
DoorDash continues to face increased regulatory scrutiny, along with other industry players across multiple fronts, especially in the U.S. One of the main regulatory pressures is related to commission fees. Regulators in some cities, including New York, San Francisco, Las Vegas, and Seattle, have deemed the 30% commission fees charged by DoorDash as exorbitant and harmful to restaurants. Consequently, these regulators have placed fee caps on commission fees.[24]
To address this change, DoorDash has revised its pricing model for merchants. It introduced a tiered partnership structure that allows restaurants to choose a tier that determines the commission fees they pay along with the additional services they will receive.
Another regulatory issue for DoorDash is the reclassification of Dashers from contractors to full-time employees eligible for benefits such as guaranteed minimum wages, overtime pay, mileage reimbursements, and health plans. DoorDash has already paid a $100 million settlement in a lawsuit related to this issue.[25] If this trend continues in markets where DoorDash operates, it could significantly increase the company's operating costs to maintain its delivery network.
Furthermore, as DoorDash expands its delivery verticals, it may become a target for potential antitrust violations due to its growing market power. Therefore, DoorDash needs to be cautious in its expansion and acquisition strategy, and promptly address any concerns that regulators might have regarding such initiatives.
3. Return to old consumption patterns
The online food delivery service market experienced an upsurge during the COVID-19 pandemic as customers were forced to stay at home. Delivery apps, like DoorDash, enabled customers to enjoy their favorite restaurants' food while continuing to stay at home. It also allowed many restaurants to stay afloat despite the lack of foot traffic.
However, this trend may soon plateau, or even revert to pre-pandemic levels, as customers are becoming more mobile again and can get back to their previous lifestyles. As such, DoorDash could see a significant decline in demand for its service.
The company would have to come up with new ways to incentivize customers to still use the app to order food from restaurants. It could be by introducing new services, like the pick-up option it launched, or by offering more incentives such as exclusive discounts and other promotions.
4. Criticisms against its environmental impact
The environmental impact of food delivery services is a growing concern, with carbon emissions being one of the primary issues. The average passenger vehicle emits around 4.6 metric tons of greenhouse gases per year.[26] Given DoorDash's six million Dashers, this translates to a potential carbon emission of up to 20 million metric tons annually. This is a significant environmental problem that the company needs to address.
Another major issue is the use of single-use plastics in packaged food. The demand for take-out food has increased with the rise of food delivery services, resulting in a corresponding increase in the consumption of single-use plastics.[27] This contributes significantly to environmental waste problems globally. DoorDash must encourage its partner merchants to use more sustainable packaging options to help mitigate this problem.
Negative publicity about DoorDash's environmental impact could significantly harm its market reputation. As a result, the company needs to explore ways to offset its carbon footprint and implement more environment-friendly practices. By demonstrating its commitment to sustainability, DoorDash can appeal to customers who prioritize environmental responsibility and differentiate itself from competitors in the food delivery service industry.
Summary
DoorDash is one of the largest online food delivery service providers, especially in the U.S., and continues to be the preferred choice by many consumers in the markets it is in. It possesses strong brand reputation and recognition, propelled by its successful marketing campaigns, ability to deliver on its commitments to its customer base, as well as its willingness to contribute positive impact to society.
DoorDash also has a wealth of resources at its disposal, boosted by its successful IPO and portfolio of acquisitions, which it uses to invest heavily in value differentiation and innovative activities. The company also maintains strong partnerships with a huge number of restaurants in its markets, as well as gig economy workers who serve as its delivery fleet.
However, there are still some challenges that the company needs to address to ensure continued growth. They include strong dependence on gig workers; lack of profitability; and overreliance on the U.S. market.
Furthermore, there are also new emerging paths to future success that DoorDash could explore. They include venturing into less mature or established markets; creating a virtual concierge that bundles food with other delivery services; expanding ghost kitchen services to establish more restaurant partnerships; adopting robotics to explore new modes of delivery; and building exclusive partnerships with merchants.
While pursuing these growth opportunities, DoorDash must also be aware of its external environment that could pose threats to its operations. For example, established players could continue their aggressive initiatives in the market, which could potentially lead to industry consolidation. Niche players are also beginning to emerge, leveraging the existing business model but with a more focused differentiation. Moreover, consumption behavior could return to its pre-pandemic state, reducing demand for food delivery services.
The company must also take appropriate actions to address intensifying regulatory pressures from different entities, as well as the increasing criticisms online delivery models face due to their potential negative long-term impact on the environment.
Sources
1. "DoorDash revenue usage and statistics." Business of Apps, https://www.businessofapps.com/data/doordash-statistics/. Accessed April 18 2023.
2. "July 21: DoorDash customer loyalty drives market share gains." Danny Sheridan via Medium, https://medium.com/fact-of-the-day-1/july-21-doordash-customer-loyalty-drives-market-share-gains-45c8cd6dcc5d. Accessed April 18 2023.
3. "DoorDash launches comprehensive campaign to promote restaurant delivery." Restaurant Business, https://www.restaurantbusinessonline.com/operations/doordash-launches-comprehensive-campaign-promote-restaurant-delivery. Accessed April 18 2023.
4. "What is Project DASH?" DoorDash, https://help.doordash.com/dashers/s/article/What-is-Project-DASH-Dasher?language=en_US. Accessed April 18 2023.
5. "Celebrating more than 60 million meals delivered through Project DASH." DoorDash, https://doordash.news/community/celebrating-more-than-60-million-meals-delivered-through-project-dash/. Accessed April 18 2023.
6. "DoorDash soars in first day of trading." The New York Times, https://www.nytimes.com/2020/12/09/technology/doordash-ipo-stock.html. Accessed April 18 2023.
7. "2022 Annual Report (10-K)." DoorDash, https://d18rn0p25nwr6d.cloudfront.net/CIK-0001792789/6c80c6fa-ff0b-44e3-963b-a6c60669ff56.pdf. Accessed April 18 2023.
8. "DoorDash launches grocery delivery to compete with Amazon and Instacart." The Verge, https://www.theverge.com/2020/8/20/21376552/doordash-grocery-delivery-amazon-instacart-compete-launch-california-midwest. Accessed April 18 2023.
9. "DoorDash now lets you order alcohol." CNBC, https://www.cnbc.com/2021/09/20/doordash-will-soon-deliver-alcohol-to-customers.html. Accessed April 18 2023.
10. "DoorDash announces partnership with PetSmart offering on-demand delivery of pet essentials." DoorDash, https://ir.doordash.com/news/news-details/2021/DoorDash-Announces-Partnership-with-PetSmart-Offering-On-Demand-Delivery-of-Pet-Essentials/default.aspx. Accessed April 18 2023.
11. "DoorDash to acquire food delivery company Wolt." Tech Crunch, https://techcrunch.com/2021/11/09/doordash-to-acquire-food-delivery-company-wolt/. Accessed April 18 2023.
12. "DoorDash enters definitive agreement to acquire Bbot." DoorDash, https://www.prnewswire.com/news-releases/doordash-enters-definitive-agreement-to-acquire-bbot-301492224.html. Accessed April 18 2023.
13. "DoorDash acquires salad-making robotics startup, Chowbotics," Tech Crunch, https://techcrunch.com/2021/02/08/doordash-acquires-salad-making-robotics-startup-chowbotics/. Accessed April 18 2023.
14. "DoorDash acquires autonomous driving startup Scotty Labs." Tech Crunch, https://techcrunch.com/2019/08/20/doordash-acquires-autonomous-driving-startup-scotty-labs/. Accessed April 18 2023.
15. "The future of food delivery just got flatter." Eater, https://www.eater.com/2019/8/1/20750912/doordash-buys-caviar-food-delivery-app-410-million. Accessed April 18 2023.
16. "How artificial intelligence powers logistics at DoorDash." DoorDash Engineering, https://doordash.engineering/2018/07/20/how-artificial-intelligence-powers-logistics-at-doordash/. Accessed April 18 2023.
17. "DoorDash, Inc." The Wall Street Journal, https://www.wsj.com/market-data/quotes/DASH/financials/annual/income-statement. Accessed April 19 2023.
18. "2022 Annual Report (10-K)." DoorDash, https://d18rn0p25nwr6d.cloudfront.net/CIK-0001792789/6c80c6fa-ff0b-44e3-963b-a6c60669ff56.pdf. Accessed April 18 2023.
19. "Revenues of the online food delivery market worldwide from 2017 to 2027, by segment." Statista, https://www.statista.com/statistics/1170631/online-food-delivery-market-size-worldwide/. Accessed April 19 2023.
20. "Online food delivery market." The Brainy Insights, https://www.thebrainyinsights.com/report/online-food-delivery-market-12992. Accessed April 19 2023.
21. "Ordering in: The rapid evolution of food delivery." McKinsey & Company, https://www.mckinsey.com/industries/technology-media-and-telecommunications/our-insights/ordering-in-the-rapid-evolution-of-food-delivery. Accessed April 19 2023.
22. "Ghost kitchen market overview." Market Research Future, https://www.marketresearchfuture.com/reports/ghost-kitchen-market-11417. Accessed April 19 2023.
23. "DoorDash is building its own delivery robots." The Robot Report, https://www.therobotreport.com/doordash-building-own-delivery-robots/. Accessed April 20 2023.
24. "Regulators across the U.S. are targeting the food delivery industry." Quartz, https://qz.com/2059086/regulators-across-the-us-are-targeting-the-food-delivery-industry. Accessed April 20 2023.
25. "$100 million DoorDash settlement won by the law offices of Todd M. Friedman, P.C." Law Offices of Todd M. Friedman, P.C., https://www.toddflaw.com/blog/100-million-doordash-settlement-won-by-the-law-offices-of-todd-m-friedman-p-c-%EF%BF%BC/. Accessed April 20 2023.
26. "The carbon footprint of food delivery services." Workwave, https://insights.workwave.com/industry/home-delivery/the-carbon-footprint-of-food-delivery-services/. Accessed April 20 2023.
27. Ibid