This SWOT analysis of Caterpillar Inc examines the strengths, weaknesses, opportunities, and threats surrounding this manufacturing giant with a history of almost 100 years.
The report assesses the internal and external factors affecting Caterpillar's business environment while looking at its current and future potential.
Company Overview
| | |
| --- | --- |
| Name | Caterpillar Inc. |
| Founded | April 15, 1925 (Wisconsin, USA) |
| Logo | |
| Website | https://www.caterpillar.com/ |
| Industries served | Construction, Mining, Oil & Gas, Marine, Power Generation, Rail, Industrial Engines (Gas & Diesel), Agriculture, Defense |
| Geographic areas served | Worldwide – 192 Countries [2] |
| Headquarters | Irving, Texas, U. S |
| Current CEO | Jim Umpleby (Jan'17 – present) |
| Revenue | $59.427 billion (2022) |
| Net Income | $6.705 billion (2022) |
| Employees | 109,100 (~23% women) |
| Main Competitors | John Deere, Volvo Construction Equipment, Komatsu, JCB, SANY, XCMG, Terex Corporation, Liebherr Group, Hitachi Construction Machinery, CNH Industrial |
Caterpillar Inc is the world's leading manufacturer of construction, mineral resource, energy, and transportation equipment. Over 4 million Caterpillar products worldwide enable heavy industries to efficiently build, power, and maintain modern infrastructure.
Caterpillar's product portfolio is wide-ranging from construction & mining equipment to off-highway diesel & natural gas engines, industrial gas turbines, and diesel-electric locomotives. It also extends financial services to its customers through Cat Financial, a subsidiary company.
The brand has evolved to include machines, engines, components, services, and renewable energy solutions to meet the unique needs of a variety of industries and customers around the world.

Caterpillar SWOT Analysis
Strengths
Weaknesses
1. Extensive product portfolio
2. Brand value
3. Global dealership network
4. Early adopter of digitalization
5. Financial solutions
6. Ability to acquire companies
7. Focus on Research and Development
1. Exposure to construction and mining sector
2. Limited geographic diversification
3. Sales dependent on dealer inventory
Opportunities
Threats
1. Mining boom fueled by energy transition
2. Demand for distributed energy systems
3. Demand for hydrogen combustion engines
4. Growth in lithium-ion battery chain
1. Aggressive competition
2. Supply chain disruptions
3. Regulatory risks
Strengths
1. Extensive product portfolio
Operating through a portfolio of about 20 brands, Caterpillar offers over 300 highly customizable machines to meet unique industrial needs. Its portfolio also includes technology products, solutions for renewable energy generation and a broad array of services such as rental and finance.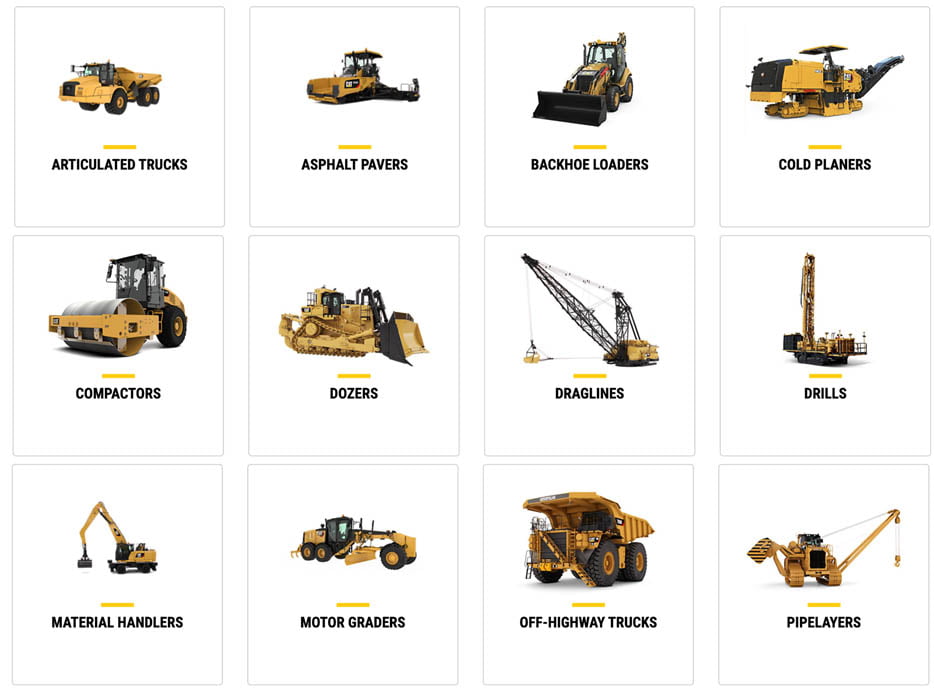 Caterpillar builds engines with a capacity of – 5kw to 16,000 kw, enough for most industrial and marine applications. Its wholly owned subsidiary, Solar Turbines inc., manufactures the world's most widely used family of mid-sized industrial gas turbines ranging from 1 to 39 megawatts.
This wide equipment offering, combined with advanced platform-based technology services such as fault detection, payload optimization, equipment health monitoring, fleet management, and more, enables it to deliver a comprehensive package to its customers.
2. Brand value
Caterpillar is one of the most recognizable industrial brands. According to Interbrand[4], its estimated brand value is $7.34 billion – 83rd among top global brands. In the diversified business segment category, it ranks 4th.

As a global leader in construction and mining equipment, its brand is associated with reliability and durability. It has received numerous accolades and recognition from leading industry experts and publications, some[5] of which are:
| | |
| --- | --- |
| #102 | Fortune – World's Most Admired Companies |
| #29 | The Wall Street Journal – Best-Managed Companies Of 2022 |
| #7 | Newsweek – Most Trusted Companies |
| #116 | Forbes – World's Best Employers |
| Top-100 | Enterprises in Digital Transformation – Economic Observer (China) |
Caterpillar has carried its reputation for toughness into areas that are unexpected. It has achieved the feat of being a B2B IP that's successfully translated into the consumer space and achieved $2.89 billion in retail sales of Cat licensed merchandise in 2021.[6]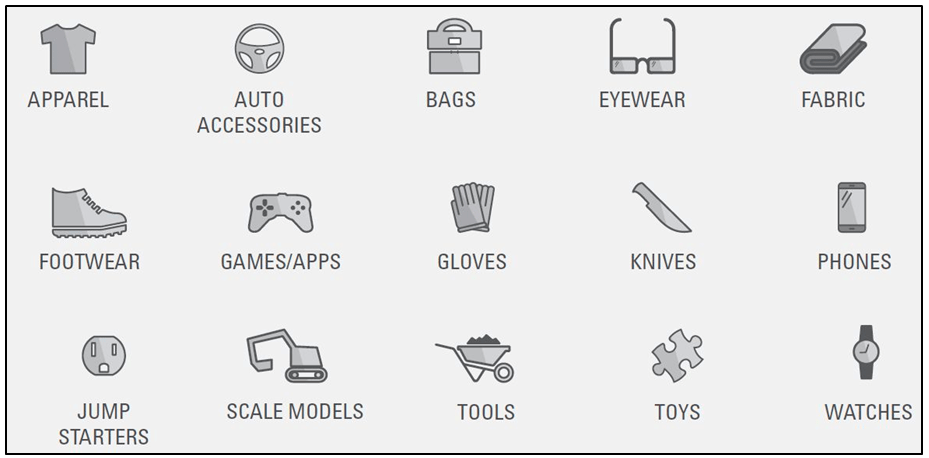 Caterpillar's success points to the power of building its reputation by going beyond what it is currently known for to give consumers even more of what they want from the brand.
3. Global dealership network
Caterpillar operates through a network of over 160 independent dealers. It enjoys long-lasting, valued relationships with each of them while serving customers in over 190 countries.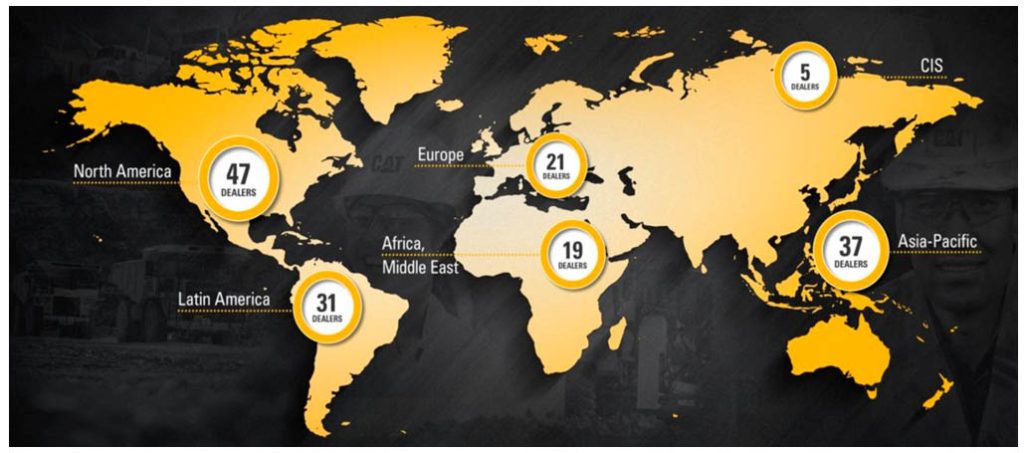 The average tenure of its dealers worldwide is over 50 years, while some have existed even before the 1925 merger that created Caterpillar. Operating as independently owned businesses, most of them have been associated with the company for multiple generations. The team of Caterpillar Dealership worldwide is nearly 170,000 strong.
4. Early adopter of digitalization
As an early mover, Caterpillar has been incorporating digital technologies into its products and services for decades.
It has the world's largest autonomous fleet of haul trucks numbering more than 500. These technologies help solve real-world problems, such as – taking humans out of a potentially dangerous environment and having an operator remotely operate multiple machines.
Caterpillar's platform collects telematics data from over 1.4 million connected assets. Using advanced analytics and machine learning, this is transformed to provide actionable insights and deliver game-changing customer value.
It has a well-planned digital strategy focusing on seven areas crucial to its business[8] – Connectivity, Cloud, Service information, Equipment management, Condition monitoring, Lead/Opportunity management and E-commerce/Digital. Each of these areas help Caterpillar deliver intelligent solutions while cementing its position as an industry-leading innovator.
5. Financial solutions
Financing is often a bottleneck for capital-intensive equipment that Caterpillar offers. It addresses this by providing retail and wholesale financing solutions through its wholly-owned subsidiary – Cat Financial.
Customers have a variety of options, from purchasing, leasing, or financing equipment to protecting and servicing it. As a captive finance company, Cat Financial has close ties to Caterpillar's equipment operations in addition to the vast network of Cat dealers and service technicians. For customers, this is a one-stop solution.
6. Ability to acquire companies
Caterpillar has made 19 acquisitions and 42 investments till date.[9] The company has spent over $3.04 billion in acquisitions spanning multiple sectors such as Construction Tech, Manufacturing Tech, Field Force Automation and more.
It also makes minority investments, up to $5.0 million, in early round ventures in the field of energy, robotics, digital and advanced materials.
While not all Caterpillar acquisitions have been successful, this ability to acquire businesses that complement its existing product portfolio helps deliver more value to its customers.
7. Focus on Research and Development
Caterpillar's R&D budget has been consistently above 3% of its revenue. Over $1.5 billion are allocated annually to R&D initiatives making it one of the top R&D spenders in the heavy equipment manufacturing industry.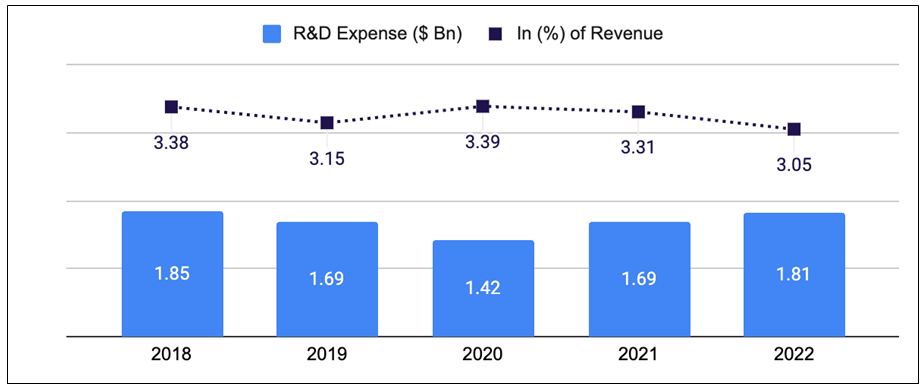 It has dedicated R&D teams working across the globe on areas like Autonomy, Connectivity, Electrification, Alternative fuels, digitalization and enabling technologies. It also collaborates with educational institutions and universities for cutting-edge research.
Weakness
1. Exposure to construction and mining sector
Caterpillar generates over 60% of its revenue from construction and mining. It is exposed to the cyclic nature of these sectors. Its revenue and profitability are affected by factors like project funding, fluctuations in commodity prices, political uncertainties, macroeconomic conditions, and changes in global demand.

Caterpillar's financials tend to fluctuate in tandem with the construction demand and commodity price fluctuations in mining.
2. Limited geographic diversification
Over 40% of Caterpillar's revenue is generated from North America, mainly the United States and Canada.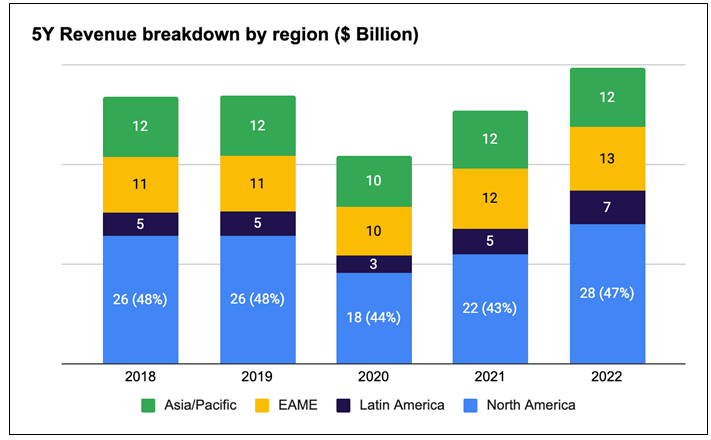 This disproportionate reliance on North American markets could put Caterpillar at a disadvantage as developing countries with abundant mineral resources and growing construction sectors present robust growth opportunities.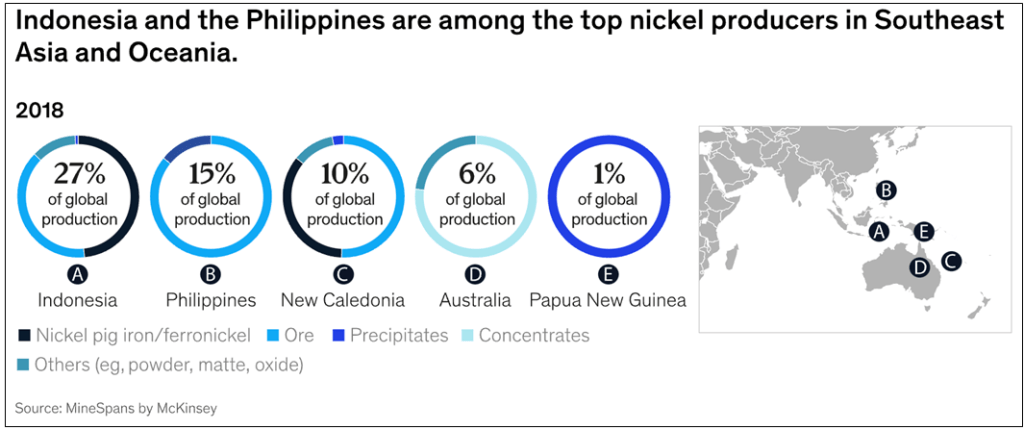 Southeast Asia, for example, has a firm grip on the nickel value chain, a crucial metal for electric vehicles. This is a huge opportunity for mining equipment sales.
3. Sales dependent on dealer inventory
Caterpillar's business is influenced by inventory management decisions and sourcing practices of its dealers and original equipment manufacturers (OEM). The company sells finished products primarily through an independent dealer network and directly to OEMs.
It is exposed to the risks of abrupt fluctuation in sales if dealers / OEMs decide to postpone product purchases or react abruptly during a downturn. This can also lead to loss of time-sensitive sales if its dealers / OEMs do not maintain inventory levels sufficient to meet end customer demand.
Opportunities
1. Mining boom fueled by energy transition
Clean energy technologies – from wind turbines and solar panels to electric vehicles and battery storage will require a wide range of minerals and metals. The International Energy Agency (IEA)[11] estimates the total mineral demand from clean energy technologies to increase between 2x to 4x the current levels.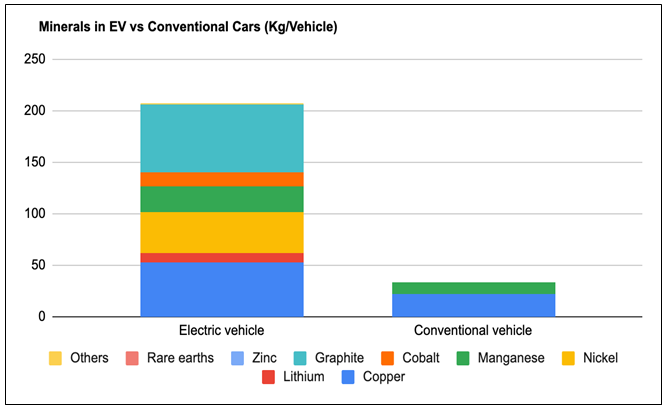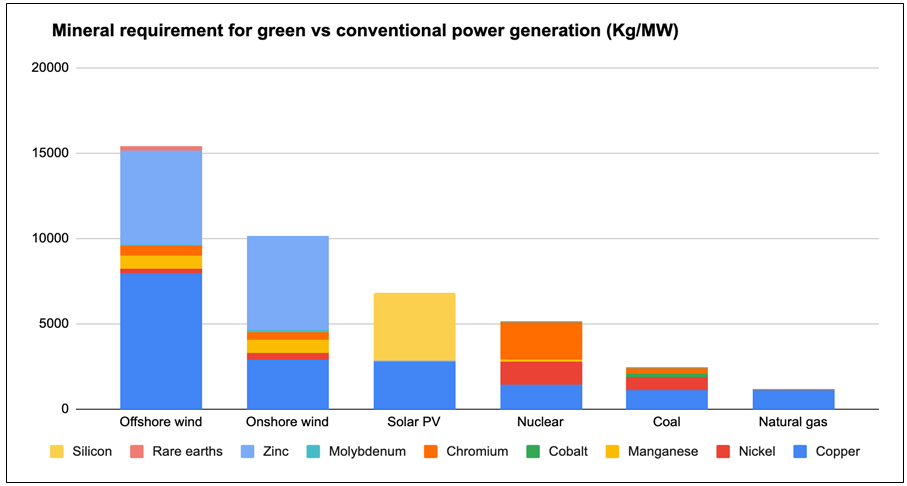 With its broad mining equipment portfolio, Caterpillar is well-positioned to leverage this growth. It has already taken steps by entering into a series of transformative agreements with key mining customers. For example:[12]
Nouveau Monde Graphite (NMG) – a supplier to battery and automobile manufacturers announced an agreement with Caterpillar to be the exclusive supplier of an all-electric mining fleet.
Rio Tinto – a global mining company that produces iron ore, aluminum, copper, titanium, and borates, announced a collaboration agreement to advance Caterpillar's development of the 793 zero-emissions autonomous haul truck for use at one of Rio Tinto's Western Australian mining operations.
BHP – a leading provider of copper, iron ore and nickel, announced an agreement to accelerate Caterpillar's development of zero-emissions, battery-powered, large mining trucks to be deployed at BHP sites.
Newmont – the world's largest gold mining company, announced a strategic alliance with Caterpillar to deliver a fully connected, automated, zero-carbon emitting, end-to-end mining system to support the company's carbon emission target.
2. Demand for distributed energy systems
Electricity grids across the globe are undergoing a transition by increasingly adopting Distributed Energy Generation (DEG) systems. DEG provides customers with a choice in energy source and the ability to proactively manage energy use.
According to Custom Market Insights[13], The Global Distributed Energy Generation Market Size was valued at USD 296.78 billion in 2021 and is expected to reach USD 932.34 billion by the end of 2030 at a CAGR of about 16.5%.
Caterpillar is at the forefront of this energy transition with products like gas turbines, reciprocating generator sets, microgrid solutions, solar power systems and energy-as-a-service offerings.
3. Demand for hydrogen combustion engines
The global hydrogen combustion engine market is projected to grow at a CAGR of 9.78% during the period 2023-2033 from US$ 18.22 Billion in 2023 to US$ 46.31 Billion by the year 2033.[14]
According to a McKinsey & Company report [15], hydrogen combustion engines can leverage existing technologies and provide a zero-emissions option for specific use cases while supporting the growth of hydrogen infrastructure.
Caterpillar has over 35 years of expertise in hydrogen technologies across multiple end markets. Its hydrogen-fueled power technologies continue to improve in performance. Caterpillar engines sold today can run on 5 to 10% hydrogen mixtures. Some customized projects have operated more than 200,000 hours running on up to 60% hydrogen blend.
In 2021, Caterpillar added generator sets capable of operating on 100% hydrogen, including fully renewable green hydrogen, on a designed-to-order basis.[16]
4. Growth in lithium-ion battery chain
A 2022 analysis by the McKinsey Battery Insights team[17] projects that the entire lithium-ion battery chain could grow by over 30 percent annually from 2022 to 2030, reaching a value of more than $400 billion.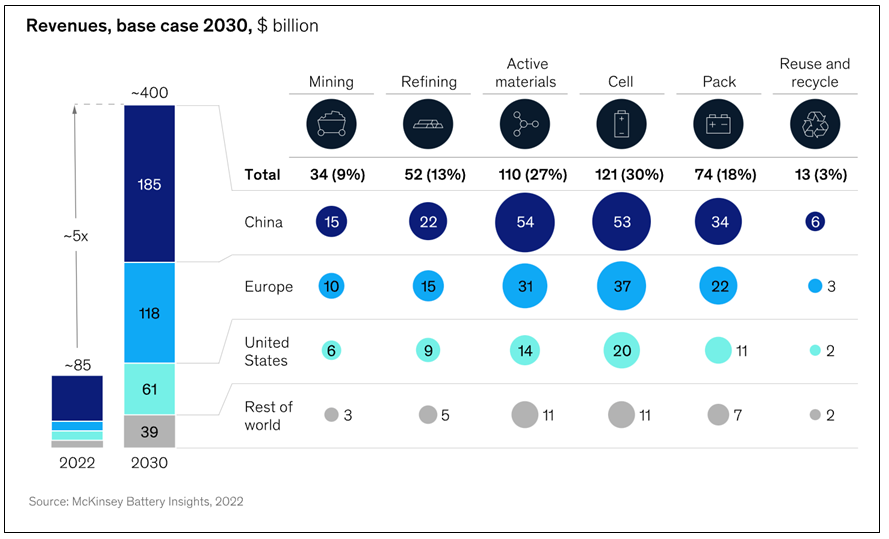 Caterpillar can participate at multiple levels in this value chain. It has demonstrated battery electric machine prototypes, including the 301.9 mini excavator, 320 medium excavator, 950 GC medium wheel loader and 906 compact wheel loader.
It is investing steadily in battery technologies through acquisition and investments.
In Jan 2023, it invested in Lithos Energy Inc., a San Francisco based engineering firm that designs, builds, and integrates lithium-ion battery systems.[18]
In Mar 2023, FREYR Battery, a developer of clean, next-generation battery cell production capacity, announced a potential strategic coalition with Glencore Plc, Caterpillar Inc., Siemens AG, and Nidec Corporation to pursue the scale-up of sustainable battery solutions across Europe, North America, and beyond.[19]
Threats
1. Aggressive competition
While Caterpillar is the leader in construction equipment sales, it faces intense competition from companies capable of providing customers with similar products, particularly from China. These competitors have the advantage of low-cost labor and better access to raw materials and components.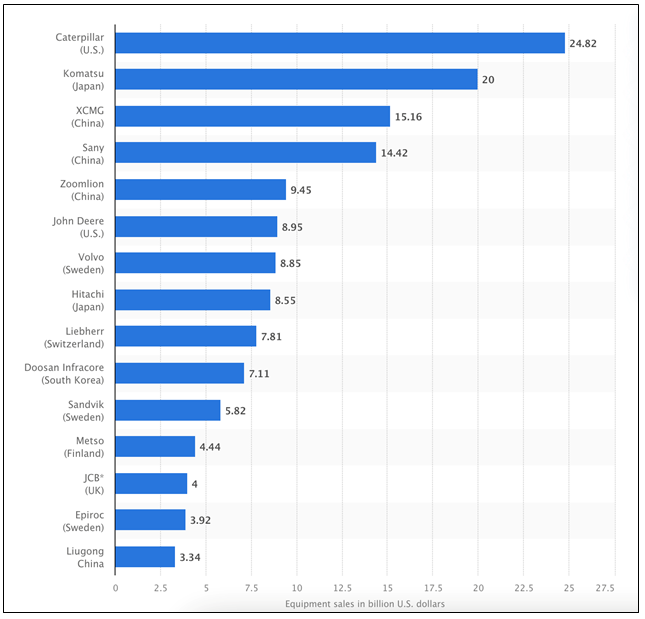 In 2022, lower domestic demand due to the deflated real-estate sector and the Covid-Zero policy led some of the largest Chinese construction-machinery makers to turn to export markets. Chinese-made excavators registered immense growth in global demand by 59.8% YoY, compared to CAT's 16.5% revenue growth at the same time.[20]
At the 2023 CONEXPO-CON/AGG – North America's largest construction trade show in Las Vegas, lots of advanced Chinese equipment and new electric fleets for the construction industry were on the show floor, attracting the attention of exhibitors and dealers worldwide.
Offered at about 20% lower costs, these equipment pose a significant threat to Caterpillar's market share.[21]
2. Supply chain disruptions
Caterpillar's production relies on both domestic and international suppliers for raw materials and manufactured components. The company follows a global sourcing model to meet its production needs. Its equipment comprises of thousands of components and is complex in nature. As a result, any delay in a single component can potentially cause expensive shipping delays.
It is also exposed to logistic constraints and supply chain disruptions. For example, in 2022, amidst a robust demand for construction equipment, it had to extend delivery periods for some products due to semiconductor shortages.
To keep its supply chain running, the company employs thousands of people around the world, exposing it to risks such as political instability, labor shortages and economic downturns.
3. Regulatory risks
Caterpillar is exposed to regulatory pressures in many markets. Its operations are subject to a wide range of laws, regulations and rules ranging from worker safety to trade to anti-corruption laws. Its operations, especially in new geographics, expose it to the risk of violations.
According to Violation Tracker[22], Caterpillar, including its subsidiary companies, have paid a cumulative penalty of $119 Million since 2000.

In Sep 2022, Caterpillar reached a settlement with the Internal Revenue Service (IRS) in a seven-year tax dispute in which the IRS claimed the company owed $2.3 billion in taxes and penalties. The case was resolved without penalties, but the amount of settlement was not disclosed in the company's SEC filing.
Summary
Within the heavy industry, Caterpillar has been an early adopter of technologies that will evolve to shape the future. It stands to benefit from macroeconomic trends such as the shift to clean energy, the rapid spread of digitization, the mining boom in rare-earth metals, and the growing demand for battery technology and alternative power generation.
Caterpillar must continue its innovation journey to maintain differentiation amidst rapidly evolving competition in legacy products. Establishing a strong foothold in markets outside of North America, especially Southeast Asia and China, will be crucial for growth.
Caterpillar's strong brand image and extensive dealer network will work to its advantage. A proactive approach will help it win.
Sources
1. "Meet Our Family of Brands." Caterpillar, https://www.caterpillar.com/en/company/history/history-timeline/meet-the-family-of-brands.html. Accessed 11 April 2023.
2. "About." Caterpillar, https://www.caterpillar.com/en/company.html. Accessed 11 April 2023.
3. "Caterpillar Equipment." Caterpillar, https://www.cat.com/en_US/products/new/equipment.html?page=2. Accessed 12 April 2023.
4. "Interbrand Rankings." Interbrand, https://interbrand.com/. Accessed 12 April 2023.
5. "Awards and Recognition." Caterpillar, https://www.caterpillar.com/en/news/c/awards.html. Accessed 11 April 2023.
6. "Caterpillar Licensing." Caterpillar, https://www.caterpillar.com/en/brands/cat/licensing.html. Accessed 11 April 2023.
7. "Cat Dealer Network." Caterpillar, https://www.cat.com/en_US/support/dealer-network.html. Accessed 12 April 2023.
8. "7 Ways Cat Digital is Helping Our Customers Succeed." Caterpillar, https://www.caterpillar.com/en/news/caterpillarNews/2022/focus-on-digital.html. Accessed 11 April 2023.
9. "Acquisitions by Caterpillar." Tracxn, https://tracxn.com/d/acquisitions/acquisitionsbyCaterpillar. Accessed 11 April 2023.
10. "Has Southeast Asia taken a firm grip on the nickel value chain?" McKinsey & Company, https://www.mckinsey.com/industries/metals-and-mining/our-insights/has-southeast-asia-taken-a-firm-grip-on-the-nickel-value-chain. Accessed 11 April 2023.
11. "In the transition to clean energy, critical minerals bring new challenges to energy security." IEA, https://www.iea.org/reports/the-role-of-critical-minerals-in-clean-energy-transitions/executive-summary. Accessed 11 April 2023.
12. "Transforming the Future of Mining." Caterpillar, https://www.caterpillar.com/en/news/caterpillarNews/2022/ar-transforming-the-future-of-mining.html. Accessed 11 April 2023.
13. "Global Distributed Energy Generation Market 2022 – 2030." M. Insights, https://www.custommarketinsights.com/report/distributed-energy-generation-market/. Accessed 11 April 2023.
14. Future Market Insights, 22 03 2023. https://www.futuremarketinsights.com/reports/hydrogen-combustion-engine-market. Accessed 11 April 2023.
15. McKinsey & Company, McKinsey Insights, https://www.mckinsey.com/industries/automotive-and-assembly/our-insights/how-hydrogen-combustion-engines-can-contribute-to-zero-emissions. Accessed 11 April 2023.
16. "Caterpillar to Offer Power Solutions Operating on 100% Hydrogen to Customers in 2021." Caterpillar, https://www.cat.com/en_US/news/engine-press-releases/caterpillar-to-offer-power-solutions-operating-on-100-hydrogen-to-customers-in-2021.html. Accessed 11 April 2023.
17. "Battery 2030: Resilient, sustainable, and circular." McKinsey & Company, https://www.mckinsey.com/industries/automotive-and-assembly/our-insights/battery-2030-resilient-sustainable-and-circular. Accessed 12 April 2023.
18. "Caterpillar Announces Investment in Lithos Energy Inc. to Further Battery Pack Development and Manufacturing." Caterpillar, https://www.caterpillar.com/en/news/corporate-press-releases/h/lithos-energy-investment.html. Accessed 12 April 2023.
19. "FREYR Battery Targets Strategic Coalition with Glencore, Caterpillar, Siemens and Nidec." Batteries News, https://batteriesnews.com/freyr-battery-targets-strategic-coalition-glencore-caterpillar-siemens-nidec/. Accessed 12 April 2023.
20. "Caterpillar: It may be time to cash out." Seekingalpha, https://seekingalpha.com/article/4574362-caterpillar-it-may-be-time-to-cash-out. Accessed 11 April 2023.
21. "Chinese construction equipment wins recognition from overseas customers, partners." Xinhua, https://english.news.cn/20230317/169bad61e6d24f9f849b688da7e1b66c/c.html. Accessed 12 April 2023.
22. "Violation Tracker." Violation Tracker, https://violationtracker.goodjobsfirst.org/parent/caterpillar-inc. Accessed 11 April 2023.