Definition
Benchmarking is a strategy tool used to compare the performance of the business processes and products with the best performances of other companies inside and outside the industry.
Benchmarking is the search for industry best practices that lead to superior performance.[1]
Understanding the tool
Comparing your own business to a rival is essential when competing. Without it, you would never know how successful your performance is in a market or whether you perform one or another task better than your competitor does. For example, 85% customer satisfaction might look great for you or even compared to your industry's average, but what if some other companies (not necessarily rivals) easily achieve 97% rate? In this situation, your 85% satisfaction rate doesn't look that brilliant. To better understand your situation and improve company's performance, the managers use benchmarking.
Some form of comparison in the companies was used, since 1800s, and mainly included product's quality and feature comparison. This type of comparison was scarcely used and didn't become a valuable management tool until late 1980s and 1990s, when Xerox introduced the process benchmarking technique.[2] This type of comparison proved very beneficial and Xerox, AT&T and other companies began comparing the performance of their processes to the best standards in the industry. The following table shows how benchmarking evolved into a modern strategy tool:
Benchmarking history
| | |
| --- | --- |
| 1950-1975 | Reverse engineering |
| 1976-1986 | Competitive benchmarking |
| 1982-1986 | Process benchmarking |
| 1988+ | Strategic benchmarking |
| 1993+ | Global benchmarking |
Source: J. Blakeman, University of Wisconsin-Milwaukee[3]
According to Camp,[1] benchmarking is simply "Finding and implementing the best business practices". Managers use the tool to identify the best practices in other companies and apply those practices to their own processes in order to improve the company's performance. Improving company's performance is, without a doubt, the most important goal of benchmarking.
It's a very important tool in strategic management, because it often reveals how well your organization performs compared to rivals.
Other uses of the tool:
To reveal successful business processes. It is often unclear how successful companies achieve superior performance. By observing and scrutinizing such companies you can identify the processes, skills or competences that contribute to organization's success and then apply the same practices to your own company.
To facilitate knowledge sharing. The knowledge acquired about other businesses can be easily transferred to your own organization.
To gain competitive advantage. The company can gain a competitive advantage if it applies the best practices from other industries to its own industry. For example, a small family owned farm selling its own agricultural products online could apply the same social media strategies as internet blogs to attract attention and gain new customers. This would be a new way to gain customers and may result in at least temporary competitive advantage.
Popularity
The tool is one of the most recognized and widely used tools of all the business strategy tools. The survey done by The Global Benchmarking Network[4] reveals that adaptation of the tool in organizations vary from 68% for informal benchmarking to 49% and 39% for performance and best practice benchmarking, respectively. In addition, annual surveys from Bain & Company's[5] indicate similar results.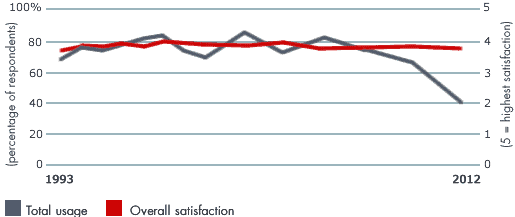 Source: Bain & Company[5]
The graph shows that, although, the satisfaction of the tool is high, the usage of it has declined since the heights in 1999. Still, benchmarking remained the 4th top used tool by businesses in the world in 2013.[6]
Types
There are different types of benchmarking the managers can use. Tuominen[7] and Bogan & English[8] identified these 3 major types:
Strategic benchmarking. Managers use this type of benchmarking to identify the best way to compete in the market. During the process, the companies identify the winning strategies (usually outside their own industry) that successful companies use and apply them to their own strategic process. It is also common to compare the strategic goals in order to spot new strategic choices.
Performance benchmarking. It is concerned with comparing your company's products and services. According to Bogan & English[8] the tool mainly focuses on product and service quality, features, price, speed, reliability, design and customer satisfaction, but it can measure anything that has the measurable metrics, including processes. Performance benchmarking determines how strong our products and services are compared to our competition.
Process benchmarking. It requires to look at other companies that engage in similar activities and to identify the best practices that can be applied to your own processes in order to improve them. Process benchmarking is a separate type of benchmarking, but it usually derives from performance benchmarking. This is because companies first identify the weak competing points of their products or services and then focus on the key processes to eliminate those weaknesses. For example, an organization using performance comparison identifies that their product 'X' is superior in features, manufacturing quality and design, but pricier than competitor's product 'Y'. Then the company determines, which processes add the most to the cost of the product and seek how to improve them by looking at similar, but less cost heavy processes in other companies.
Approaches
In addition to the types, there are four ways you can do benchmarking. It is important to choose the optimal way because it reduces the costs of the activity and improves the chances to find the 'best standards' you can rely on.
Internal benchmarking. In large organizations, which operate in different geographic locations or manage many products and services, same functions and processes are usually performed by different teams, business units or divisions. This often results in processes performed very well in one division but poorly in another. Internal benchmarking is used to compare the work of separate teams, units or divisions to identify the ones that are working better and share the knowledge throughout the company to other teams to achieve higher performance. It is usually employed by the companies that have recently expanded geographically, but haven't yet created proper knowledge sharing systems between divisions. If such systems are in place, there's no need to use internal benchmarking to look for best practices.
External or competitive benchmarking. Some authors use these terms interchangeably but there are a few differences between them. First, competitive benchmarking refers to a process when a company compares itself with the competitors inside its industry. Whereas external benchmarking looks both inside and outside the industry to find the best practices, thus, including competitive benchmarking.[9] Second, competitive benchmarking, in my opinion, will only be used with performance benchmarking to compare your products and services. Strategic or process benchmarking won't be viable options, because it'll be very hard to find a competitor, who wants to share sensitive information with you and you'll never outcompete your rival if you'll be using his strategy or processes. Besides, external benchmarking is a more beneficial approach to use due to higher possibilities of finding the best practices.
Functional benchmarking. Managers of functional departments find it useful to analyze how well their functional area performs compared to functional areas of other companies. It is quite easy to identify the best marketing, finance, human resource or operations departments, in other companies, that excel in what they do and to apply their practices to your own functional area. This way the companies can look at a wide range of organizations, even unrelated ones, and instead of improving separate processes, they can improve the whole functional areas.
Generic benchmarking. According to Kulmala,[9] it refers to comparisons, which "focus on excellent work processes rather than on the business practices of a particular organization". For example, your company tries to improve its marketing capabilities and benchmarks itself against company 'A'. While observing company's 'A' marketing processes you also notice how well their human resources are managed using 'big data' analytics. This gives you an idea to implement the data collecting and analysis team in your own company to significantly improve its overall performance.
The other example of generic benchmarking would be to compare your processes against generally accepted best standards. For example, every organization strives to become a learning organization, because such an organization is better equipped to overcome challenges and adapt to the market changes. By comparing your company to some general standards, which would indicate that your company is a learning organization, you would be using generic benchmarking.
The following diagram summarizes the types and approaches to benchmarking: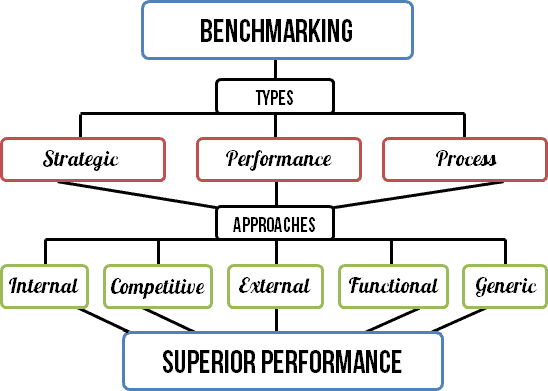 Advantages
Easy to understand and use.
If done properly, it's a low cost activity that offers huge gains.
Brings innovative ideas to the company.
Provides you with insight of how other companies organize their operations and processes.
Increases the awareness of your costs and level of performance compared to your rivals.
Facilitates cooperation between teams, units and divisions.
Disadvantages
You need to find a benchmarking partner.
It is sometimes impossible to assign a metric to measure a process.
You might need to hire a consultant.
If your organization is not experienced at it, the initial costs could be huge.
Managers often resist the changes that are required to improve the performance.
Some of best practices won't be applicable to your whole organization.
Using the tool
Benchmarking is used extensively by organizations, but no universal process of how to conduct it is established. Each organization designs its own way of using the tool. Before revealing some of the examples, we provide you with the guidelines[3] to make the process easier.
Guidelines:
Only choose the products, services or processes, which perform poorly. Comparing the processes you are good at will be a waste of time and money, and won't bring the desired results.
Define the specific metrics or processes to measure. Be careful not to choose too broad processes that can't be measured as you won't be able to compare it properly.
Prepare your company for change. Your organization must overcome the resistance to change to implement new best practices.
Choose the team that is qualified. Although benchmarking is easy to use, you shouldn't pick up just anybody to do it. Include the people that will be responsible for implementing the changes and the people that are skilled at it.
Participate in benchmarking networks and use the appropriate software to facilitate the process. There are various benchmarking networks, where participating companies can find benchmarking partners or gather the data for the metrics they need. Such participation facilitates the process significantly by reducing the costs and time spent looking for the right data.
Look for the best standards and ideas even in unrelated areas. Many significant discoveries will be made by observing the companies that are completely unrelated to your organization.
Benchmarking Wheel
The benchmarking wheel model introduced in article "Benchmarking for Quality"[10] is a 5 stage process that was created by observing more than 20 other models.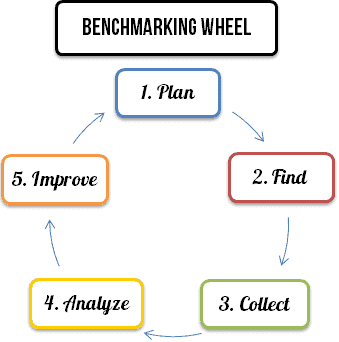 It's fairly simple and comprises of following stages:
Plan. Assemble a team. Clearly define what you want to compare and assign metrics to it.
Find. Identify benchmarking partners or sources of information, where you'll be able to collect the information from.
Collect. Choose the methods to collect the information and gather the data for the metrics you defined.
Analyze. Compare the metrics and identify the gap in performance between your company and the organization observed. Provide the results and recommendations on how to improve the performance.
Improve. Implement the changes to your products, services, processes or strategy.
Xerox Process
Xerox has popularized benchmarking and was one of the first companies to introduce the process of doing it. This 5-phase and 12-step process was created by Camp, R. the manager of Xerox responsible for benchmarking.[3]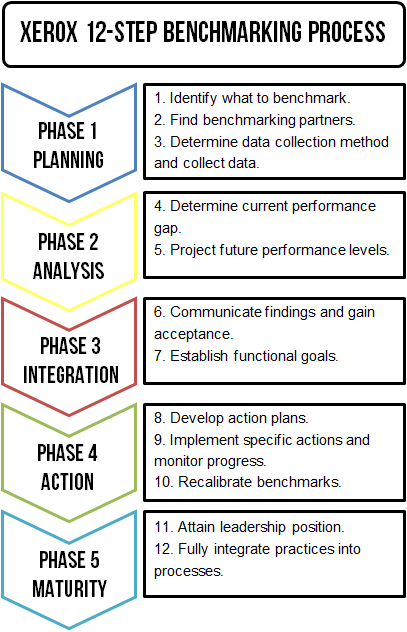 Most of the processes are similar to the examples above and can be applied to any company or non-profit organization that strives to achieve superior performance using benchmarking.
Example
Company 'A' has used performance benchmarking to compare its product 'X' with the competitor's product 'Y' and found out that the product 'X' is priced slightly lower, but it also has fewer features than product 'Y'. The company recognized that in order to win a larger market share and establish itself in the market, it has to increase the number of features in its product while keeping the price at the same level or even decreasing it.
To achieve this, the company 'A' has set up a team that investigated product 'X' value chain analysis. The team identified that the activities adding the most to the cost are marketing and purchasing parts in an open market. The team also identified that by buying standards parts in the market, the company has little room to introduce new features as this would require customized parts for its product 'X'. The next step was to assign the proper metrics to marketing and purchasing activities and gather the required data. The company joined the benchmarking network and in a few weeks gathered enough data to compare the performance of its processes.
The results indicated that the marketing activities could be improved significantly. The team recognized that many businesses in the industry were able to attract new customers profitably through heavy advertising online. Yet, further observations of the companies outside the industry showed that the average returns on advertising weren't so huge compared to the returns when attracting customers through social media. Therefore, the team decided to rely on social media rather than advertising to attract more customers, while reducing its costs by 20%.
The next activity analyzed was the purchase of parts in the open market. While this was a convenient way to conduct the business it was costing more and didn't allow customizing the product. The team identified that this activity could be improved by manufacturing the parts inside the company or by establishing long term relationships with suppliers. The collected data and the experience of other similar businesses showed that the best option would be to establish long term relationships with suppliers. It would cost less than manufacturing the parts inside the company or buying them in an open market. It would also allow ordering customized parts that were needed for the new features.
By engaging in benchmarking activities, the team has identified the gaps in company's performance and introduced new ways to improve the current processes to achieve the higher performance.
Sources
Camp, R.C. (1989). Benchmarking. The Search for Industry Best Practices That Lead to Superior Performance. ASQC Quality Press
Spendolini, M. (1992). The Benchmarking Book. American Management Association
Blakeman, J. (2002). Benchmarking: Definitions and Overview. University of Wisconsin – Milwaukee . Available at: https://www4.uwm.edu/cuts/bench/bm-desc.htm
Global Benchmarking Network (2010). Global Survey on Business Improvement and Benchmarking. Available at: http://www.globalbenchmarking.ipk.fraunhofer.de/fileadmin/user_upload/GBN/PDF/2010_gbn_survey_business_improvement_and_benchmarking_web.pdf
Bain & Company (2013). Benchmarking. Available at: https://www.bain.com/insights/management-tools-benchmarking
Rigby, D. & Bilodeau, B. (2013). Management Tools & Trends 2013. Available at: https://www.bain.com/insights/management-tools-and-trends-2013
Tuominen, K. (1997). Muutoshallinnan mestari. Kuinka toteuttaa strategiset suunnitelmat kilpailijoita nopeammin? Suomen Laatuyhdistys ry.
Bogan, C. E., & English, M. J. (1994). Benchmarking for best practices: Winning through innovative adaptation. McGraw-Hill
Kulmala, J. (ND). Approaches to Benchmarking
Shah, D. and Kleiner, B. H. (2011). Benchmarking for Quality. Industrial Management, pp. 22-25
Wikipedia (2014). Benchmarking.